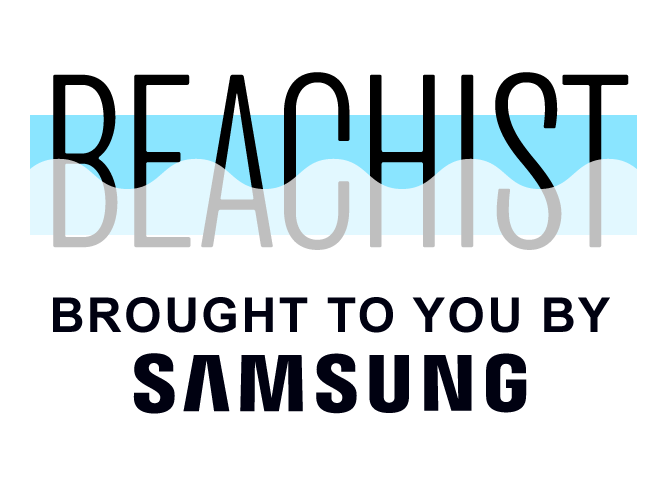 The Beachist is in Ptown this weekend, and we're sharing our best tips for choosing the beach that's best for you (and then navigating the tides there), hitting up the town bookstores, catching the best drag performers, and eating great razor clams and linguine.
How to Get There …
Driving can take six-plus hours from New York. There is one road up Cape Cod, Route 6, so if you take it Friday afternoon, expect Hamptons-style traffic. Parking can be a challenge in town. Try to park your car at your rental home and forget about it all week. A flight with Cape Air, available year-round from Boston, takes 30 minutes and costs $80 to $230. The Plymouth Brockton Bus from Boston's bus terminal is a cheaper option at $32 (the trip is three hours total, though, plus a layover at Hyannis Transportation Center for the bus up the Cape). For an even cheaper (and longer) trip, take Cape Cod public transportation's H2O bus from Hyannis to Harwich, then switch to the Flex Bus ($2 one way), which ends up at the Stop & Shop in Provincetown. And the high-speed ferries from Boston ($59 one way) depart three times a day. Bay State Cruise Company leaves from Boston's World Trade Center waterfront, and Boston Harbor Cruises leaves from the Long Wharf docks by the Boston Aquarium. They each take an hour and a half; food and booze available onboard. It's best to buy tickets in advance because they sell out, especially during Provincetown theme weeks like Bear Week and Family Week. Of all the choices, the ferry is the most inspirational way to get to Ptown. On a nice day, you fly across the water, and it becomes a psychic journey that transitions you from real life to vacation mode.
… And Then Get Around
Cape Cod public transportation's seasonal shuttle buses run every 30 minutes, seven days a week, to and from a number of Ptown areas, like Herring Cove Beach and North Truro. (But it will stop anywhere on the route; just flag it down.) There are also plenty of cabs and pedicabs, but the best way to get around is by bike: Try Gale Force, Ptown Bikes, and Arnold's. Day rates average $20, weekly around $90 to $100.
First Things First
Most weekly rentals here run on a Saturday-to-Saturday schedule, which means many weekly visitors arrive all at once. Try to get there early on Saturday, and immediately rent a bike. Then get yourself to Stop & Shop for groceries before the throngs of people pull into town.
Where to Stay
Expect high prices all over town in the summer, especially Memorial Day weekend. If you can, book your stay for after September 4, when the town quiets and rates go down. The days are still warm, the ocean is invigorating, and you feel the beautiful (and heartbreaking) first whispers of autumn.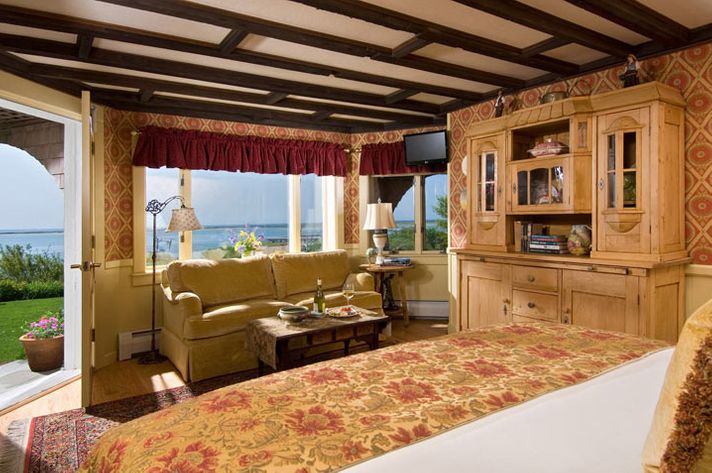 Overlooking the harbor, breakwater, and tidal basin, Land's End Inn has been taking in guests since 1926. The 18 rooms are elaborately themed; there's the Gold Room (from $300), the octagonal-shaped Moroccan Tower (from $605), etc. The décor makes this an antiques obsessive's Shangri-La.
The Gifford House is one of the last affordable old-school gay guesthouses ($118 for a standard room during high season). During the day, it's peaceful, but at night it becomes a social nexus. The Porch Bar is the town's gathering place for artists, writers, and drag performers needing a drink after their gigs. The energetic Doug Repetti transforms the lower level and lobby into a piano sing-along on Thursdays and Fridays, while the edgier, extraordinary singer Billy Hough takes over Saturday through Monday. The basement dance club, Purgatory, hosts the Underwear Party (Thursdays and Saturdays) and Fagbash (Wednesdays), one of the most original queer dance nights on the East Coast.
Harbor Hotel and Provincetown Inn sit on either end of town. Both are large, kid-friendly, and have big views of the harbor. Rooms range from $200 to $400 a night until September 4.
A note on weekly rentals: As real-estate prices here skyrocket, locals and longtime visitors are lamenting the lack of affordable rentals. Still, there is no shortage of homeowners who depend on summer vacationers to pay off their property taxes. You can find some great weekly rentals on Airbnb and VRBO for around $2,000 a week, especially if you are willing to stray from the center of town. Check for places on the East End along Route 6A.
Navigating the Beaches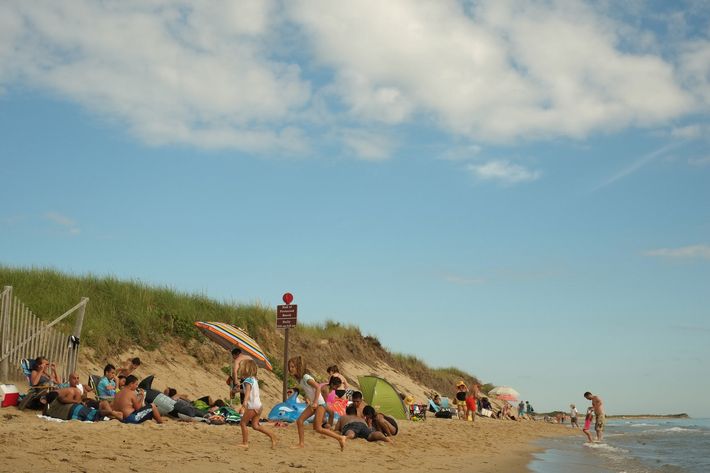 Herring Cove, the main beach, spans about five miles. A common misunderstanding is that it's just one uniform beach, but along its coast the people and vibes shift greatly.
Families gravitate around Herring Cove Beach Bathhouse, a newly renovated facility where there are lifeguards, bathrooms, changing rooms, and Far Land on the Beach, a souped-up concession stand with great lobster-salad rolls and cod-cake sliders.
On the south corner of the parking lot is another entrance where lesbians and gay male couples with kids tend to frequent. Walk left (facing the ocean), and the beach becomes less populated. This tends to be where serious readers park themselves under umbrellas and devour novels.
Farther south (to the left), things pick up at Boy Beach, where, during peak season, boys in colorful Speedos hang out and listen to summer pop hits on portable speakers. The best access to this section of sand is a bike-and-hike situation. Go to the end of Bradford Street and turn right on Province Lands Road. Not far up is a wood fence (look for lots of bikes secured to it). Lock yours up, take off your shoes, and hike across the flat, open tidal basin. It's a 10-to-15-minute walk, so bring flip-flops, a hat, and patience. The scene-y section of the beach is typically immediately to the left once you make it to the area.
The crowd begins to thin out and gets more nude and isolated the further left you go. Here, you also have better access to the tidal basin. At high tide, it fills up, and you can swim in the slightly warmer, saltier water, watching the crabs below you. Note that paths here change with the tides. Be prepared to wade waist-high in water.
For solitude, Wood End and Long Point place you at the very last little curl of the Cape. You can also reach this area by hiking across the breakwater, a mile-long wall of large rocks, or by taking a shuttle at Flyers Boat Rental ($15 round trip).
Race Point Beach, accessible by car or bike, offers a broad, beautiful vista. Unlike Herring Cove, Race Point is unprotected by the bay, so the water can get wilder with the power of the Atlantic Ocean. Check the timing of the sunset, pick up some lobster rolls from Mac's Fish House, and take in the view.
Best Beach for Kids
East End Beach, in front of the Harbor Hotel, is an open area with shallow water and plenty of room for kids to run, jump, and deprogram themselves from screens. When water rolls out at low tide, the beach extends seemingly infinitely. Tide pools form, full of tiny marine life.
Best Beach to 'Shroom
Hatches Harbor (on the right side of Herring Cove's bathhouse, facing the ocean) is breathtaking. This is where friends go to trip and commune with nature. Bike past the crumbled, eroded asphalt, cross over the temporary sand mats, and you will find a bathroom and bike rack. Walk right along the beach to where it widens. When the tides comes in, marvelous currents, inlets, and pools form. Bring an umbrella for shade, or get creative with some sticks and sarongs.
A Note on the Tides
Ruled by the tides, Provincetown's beaches can shift from a wide, open expanse to a thin ribbon in an hour, so it's a good idea to check the tide chart for the week. Always bring a plastic bag and rain poncho with you for sudden rainstorms and hikes back from the beach at high tide.
Beach Eats
Grab and Go
On your way to Herring Cove, hit up Pop and Dutch for lunch or a hangover-curing breakfast sandwich. Last-stop beach food and supplies can be found at Relish or the small market at Gale Force Bikes. East End has Angel Foods and East End Market, which both offer a wide range of breakfast and lunch options, as well as wine and beer for your cooler.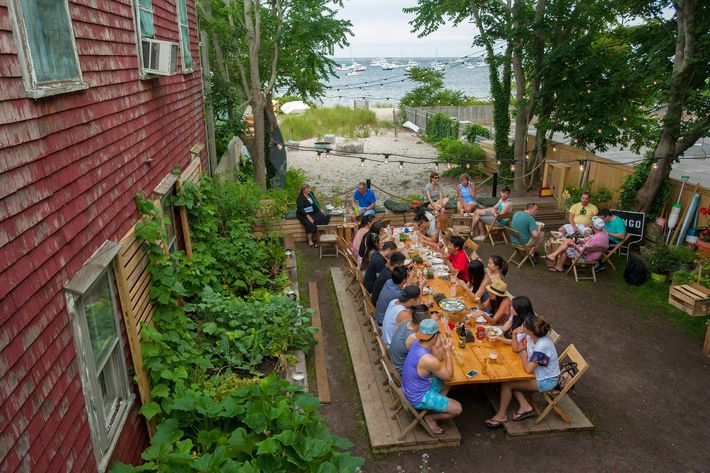 Casual
Canteen is busy but efficient and offers impressive options like the cod bánh mì. The Nor'East Beergarden nearby has a relaxed, friendly staff and great food, and the Squealing Pig, a townie favorite, has incredible, no-fuss food and local oysters.
Upscale
There are plenty of nice restaurants in town. Try the elegant, wine-centric Joon Bar, the solid but innovative Mediterranean menu at Strangers & Saints, or legendary gems like Napis, Ciro and Sals, and The Mews. Best kept secret: Jimmy's Hideaway.
Après-Beach Cocktail
Go to the Boatslip Tea Dance if you feel like dancing to loud music in a sweaty crowd and drinking Planter's Punch until your face falls off ($10 cover on weekends, 3 to 7 p.m.). If you like your post-beach outfit and want a more mellow vibe, visit the airy, light-filled Harbor Lounge. Or try the beautiful and worn-in charmer the Red Inn, which has the best raw-bar happy hour in town (2:30 to 5 p.m. daily).
Off-Beach Activities
Stroll the Art Walk
Ptown has a century-old artist legacy — so you won't be limited to beach-cottage dolphin art. On Friday evenings from around 6 to 9 p.m., the galleries on the East End have openings of the town's finest painters and photographers. Walk from gallery to gallery, sip some prosecco, and take in the visionary work.
See a Show
Check out the Art House for acts like RuPaul's Drag Race star Jinx Monsoon and San Francisco drag star Peaches Christ or brilliant burlesque from the Atomic Bombshells. Go to the Fishermen Hall for the dependable Gold Dust Orphans' latest pop-culture mash-up, Greece. Crown & Anchor hosts great drag performances by Illusions. And don't forget the legends: The inimitable vocalist Jimmy James at Sage, the hilarious Varla Jean Merman at the Art House, and the madcap Miss Richfield and the acid-trip comedic brilliance of Dina Martina, both at Crown & Anchor.
Get Literary
When was the last time you were in a vacation town with three thriving bookstores? Provincetown Bookshop is smack-dab in the center of town. East End Books, a new addition, has had readings all summer by LGBT authors like Jennifer Finney Boylan and Anne Christine D'Adesky. But the real gem is Tim's Used Books — a quiet, enchanting little house full of life-changing finds. Also check out the Fine Arts Work Center schedule to see when dazzling writers like Eileen Myles and Brenda Shaughnessy are reading their work.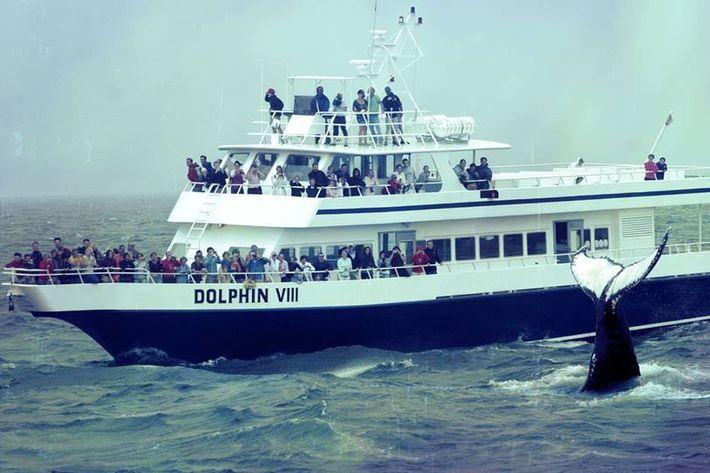 Go on a Whale Watch
They come, they spout, they inspire. To book a trip, visit Provincetown Whale Watch, the Dolphin Fleet, or Sea Salt Charters.
Let a Local Plan Your Day
Multi-instrumentalist singer-songwriter Zoe Lewis arrived in 1992 after backpacking around the world. "In Provincetown, I can immerse myself in nature every day, play music every night, and be totally free to be exactly who I am."
First of all, ditch the car. Pedal power is the way to go in Provincetown. (I favor Arnold's bicycles, as they always fix my ancient Western Flyer for a very reasonable amount and are lovely!) Then I'd head to Chach on Shankpainter Road for breakfast — get the classic breakfast sandwich or the fried-oyster Benedict.
Then I'd pedal across Route 6 to Beech Forest and walk the beautiful trail loop or take one of the bicycle trails, eventually ending up at the Breakwater at the end of Commercial Street. In Provincetown, we tend to live by the tides, so time it right and you'll either get a beautiful swim off the rocks or, if you're nimble, you can hike across the rocks to the historic Wood End Lighthouse or even go all the way to Long Point at the very tip of the Cape, if you have enough time. Bring good shoes!
I'd head back to town to Baie, a great new restaurant run by Ptown native Raina Stefani and indulge in a plate of razor clams or the linguine with garlic shrimp and a tasty IPA on the upstairs terrace with a bay view. Sal's Place is another option, full of the feel of old Provincetown (rare these days).
If you happen to be in town on a Wednesday or Sunday in July and August, the Far Land on the Beach music series at Herring Cove is the place to go. I love these summer evenings with great bands, dancing, sunset, then a beach bonfire. It's young, old, gay, straight — community at its best and it's free! (6:30 to 8:30 p.m.–ish. Check for times, as they change with the sunset.)  I play here a couple of times each summer, and it's the most blissful gig of the season!
End your evening with more people watching on the seat outside Spiritus Pizza with a Lewis Brothers homemade ice cream. I like the coffee with hot fudge.