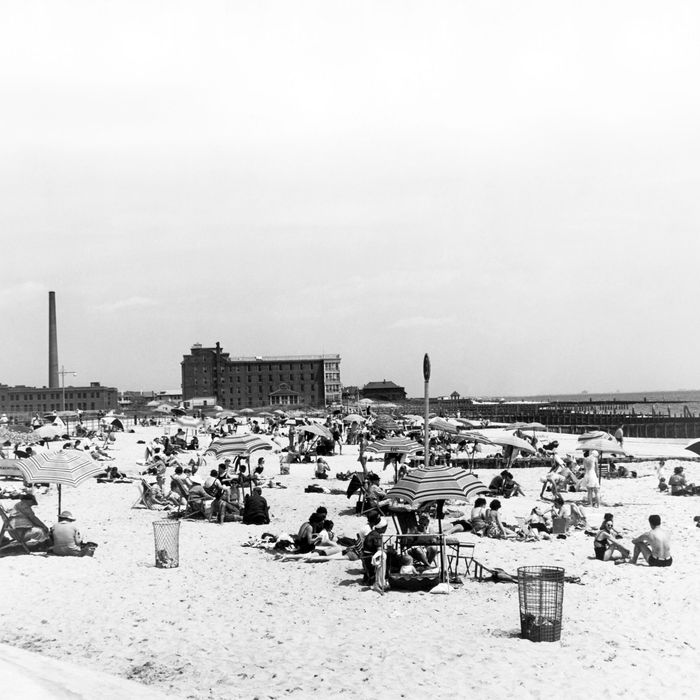 Depression-era Riis Park Beach.
Photo: Underwood Archives/Getty Images
Virtually since its inception in the 1930s, Riis Park Beach has been a gathering place for gay New Yorkers, and that is still true today. Go down any summer weekend and head to the easternmost portion of the beach, in front of the abandoned hospital by 149th Street (not, in fact, a former asylum, as the rumor goes), and you'll find a lively, crowded group of sunbathers who are part of New York's queer community.
We spoke to Max Bernstein, a Brooklyn resident who's been going to Riis for most of the 13 years he's lived in the city (for the past four years, he's been going nearly every summer weekend). Here, he tells us why he spends his summers there.
Obviously, there's the proximity to where I live in Brooklyn. But the big reasons I go are that I love the beach, and that it's a queer beach. It's nice to sequester myself from the rest of the average beachgoing population — there's an atmosphere out there that you cannot find on any other beach in New York City. It's a party all the time. And it's very egalitarian in a way: queer people from all walks of life, all over the city, all colors, rich people, poor people, everyone in between.




You go out there on the weekend and you'll see the rest of the beach isn't that crowded, but in the queer section, people are blanket to blanket. It's like being at a nightclub, except it's during the day. Riis is not really a relaxing beach, for me at least: I don't ever bring a book. I'm not going to be able to concentrate because there's just so much going on. There's beautiful people, there are drinks being served, there's music everywhere.




After last year, when the Park Service dragged a man off the beach, the police got really aggressive, but I have seen a very limited presence this year. As for straight people, there's no rule, obviously, keeping them out. But you see a straight couple and you wonder, Have they gotten lost? Look, I think if straight people want to show up there, it's fine. But I would invite them to check out the rest of the beach first, and if they come, to remember that they are guests of the queer community, and this is our place. So if you want to hang out there and be cool? No problem. If you want to make comments, be a dick, be aggressive? Don't come.




I think it's very important for queer people to have spaces of their own and to just be able to be free around one another. There's no better feeling than the feeling I have when I'm surrounded by other queer people and everyone's just having a good time. I think that's why people talk about the gay bar as a sacred space, and I think the beach is very much the same.




Riis feels like a community. You read about stuff like this when you grow up elsewhere, and by the time you arrive in New York, most of those places are gone. But this is one of the spaces that has never been touched. 
Edited for length and clarity.