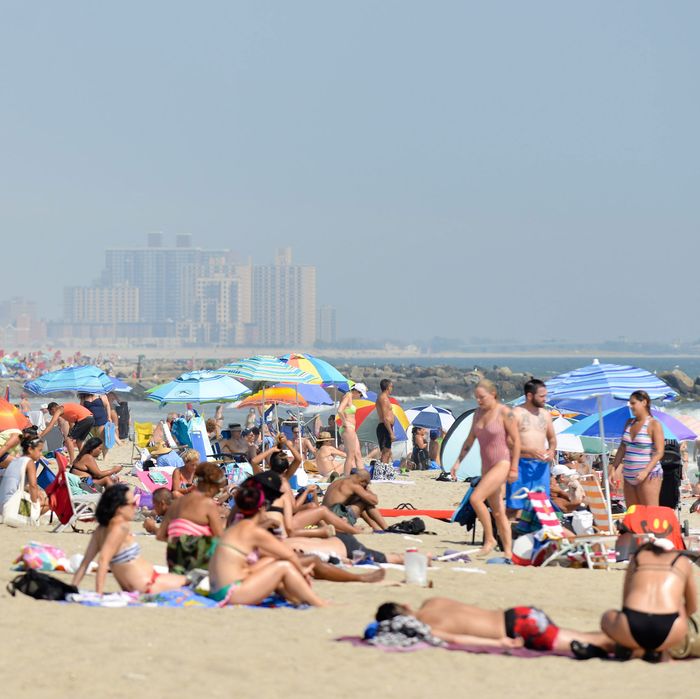 We won't make any Dee Dee Ramone references in this article!
Photo: Daniel Avila/NYC Parks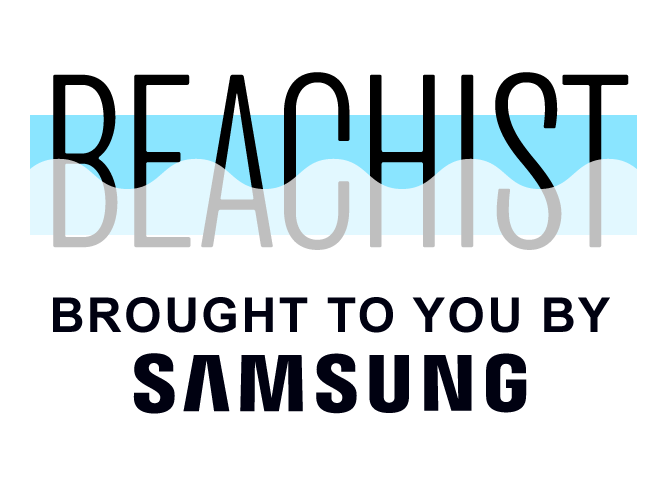 The Rockaways can be magical. They can also be mystifying for those who've never been.
Here, some help for newcomers: how to figure out which beach to choose … and where to drink after.
There are lots of easy New York day trips everyone's always meaning to take — but there's always one place you just never make it to. Seeing the art at Dia:Beacon. Skiing at Hunter. Hiking Bear Mountain. Taking a picture of your breakfast at Phoenicia Diner for those golden Instagram likes. Just a mention of the words Storm King can inspire a profound sense of guilt.
A beach day at the Rockaways is a prominent member of this I-really-should group. I'm stunned by the number of longtime New Yorkers I meet who have never ventured out there. (Equally impressive is how, once they do go, they tend to spend every weekend there.) This, coupled with the general resistance of Rockaway shop clerks and concession staffers to keeping to posted hours ("Out surfing, back soon") and updating their webpages more than once a year, can make the peninsula hard to navigate for those who've never been.
How to Get There, and Then Get Around
The ferry is wonderful, when it's not a hellscape. We've found some success estimating the length of the line to board a boat by searching for Twitter complaints. General tips: It's easier to board at Wall Street, and better to get on Rockaway-bound ferries in late-afternoon or early-morning shuttles. Contra most reports, they don't all have bars, though some do.
One good thing about the ferry is that it seems to have — anecdotally at least — reduced A-train crowds slightly. Our favorite way to get to the peninsula is to take the A to Beach 67th Street and then rely on the bus to get wherever we want to go. You can also drive, but almost everywhere on the peninsula is easily accessible by bus, and there are a lot of good bars you'll want to linger at. Uber's an option, though often you'll find that the nearest cars are ten to 20 minutes away. Try Deuces Car Service, the local cab company.
Where to Stay
You don't have a lot of options outside of Airbnb and/or hooking up with a lifeguard.
There are a couple of choices in Arverne: The Arverne by the Sea Inn includes parking and breakfast, and the La Quinta Inn aims to serve employees of JFK but is super-close to Edgemere Farm and the beach.
At Beach 117 is The Castle, a gorgeously appointed, highly Instagrammable house that sleeps six (book on vrbo.com; around $725 a night). Also, the Bungalow Bar guys are looking to open a hotel in 2019.
Navigating the Beaches
Beach 3 to Beach 32
This stretch of beach tends to be much, much quieter than the beaches from 86 to 116 but is still easily accessible by the A train. The boardwalk begins at Beach 9th, where you'll feel you can practically reach out and touch Atlantic Beach, you're so close. Around Seagirt and 15th, you'll find the beach's only regulated barbecue area and DredSurfer Grill's Caribbean concessions. At Beach 30th, there's a comfort station, parking, and a playground, and on the Fourth of July weekend, when sunbathers were towel-to-towel at Beach 90th, there were only a handful of families here. (We saw one guy catch a two-foot shark!) Pardon the use of the H-word, but the area doesn't seem to have been colonized by hipsters (yet).
Beach 32 to Beach 56
This beach abuts the Edgemere community. It's mostly closed currently, from 36th to 57th, to protect the piping plovers nesting there. (You can volunteer with the New York Audubon Society to help protect them on the peninsula!)
Beach 56 to Beach 79
When you get off the A train at Beach 67th, plenty of people will transfer to the Q22 bus to head up near the concessions, but you can make a great day at this quieter beach, next to Arverne. Because beachside concessions are slim, hit the Stop & Shop right outside the subway. The store is large and well stocked, vending such important items as coolers, a selection of Bloody Mary mixes, Solo cups, and plenty of snacks. Beach 67 is also home to Locals Surf School, the best-regarded place to take lessons on the peninsula.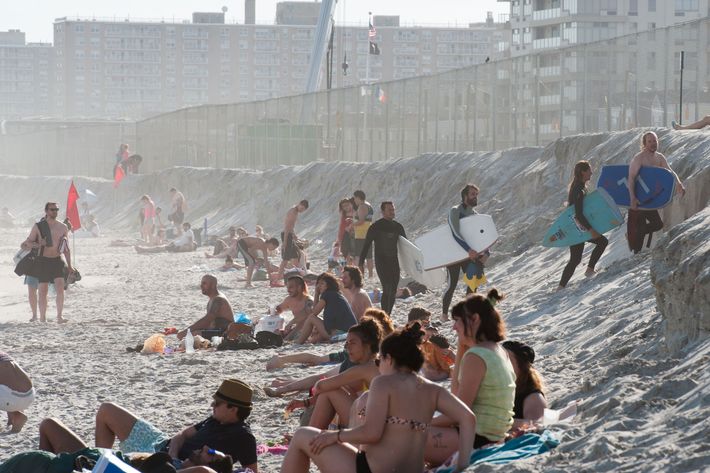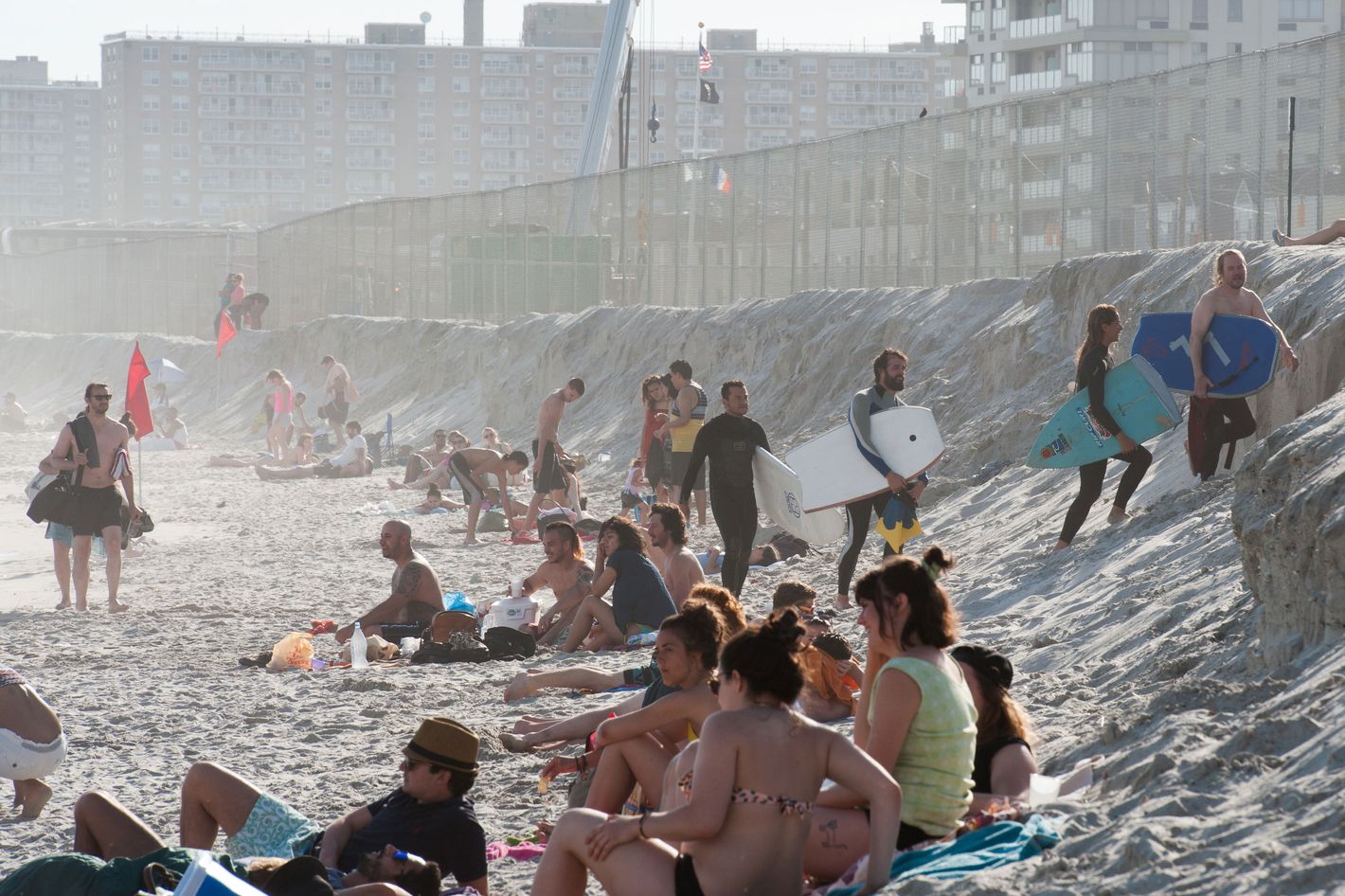 Beach 79 to Beach 90
Generally considered the Hammels area. The beach here starts to become more crowded — the Rippers concessions are at Beach 86. You can surf from 67 to 69, but you'll find more surfers from 90 to 92.
Beach 90 to Beach 106
Probably the busiest part of the beach. There are two concession stands here: at 97th and 106th. Virtually all the vendors are good, but they're all also very hard to predict — on slower days, some may skip a day without warning — so if you're out here on a weekday, don't expect much choice. On weekends, don't skip La Cevicheria at 97th. Get drinks at the Low Tide Bar at the 97th concessions, but it's a little harder here to sneak drinks onto the beach than at other beaches on the peninsula (cough, Riis, cough, Tilden).
Beach 106 to 116
The street of Beach 116th between Beach Channel Drive and the boardwalk is a fun, campy, Jersey Shore–feeling stretch with stores vending affordable Rockaway-branded tchotchkes, beach towels, shelling shoes, and the like; a liquor store; slice joints; bodegas; and the excellent Cuisine by Claudette. (This is also where the Flight 587 memorial is.)
Beach 116 to Beach 153
The boardwalk ends at 126th, and because the shuttle doesn't continue past 116, it's quieter there. From 126th to 153rd are the communities Belle Harbor and Neponsit, and private homes abut the beach for the most part. If you've brought your bike, it's pleasant to ride through the adjacent quiet streets to peep all the pretty homes. And while the beach here seems extra-private, it's public and managed by the city up to 153rd. (Jacob Riis Park and Fort Tilden are part of Gateway National Recreation area and managed by the National Park Service.)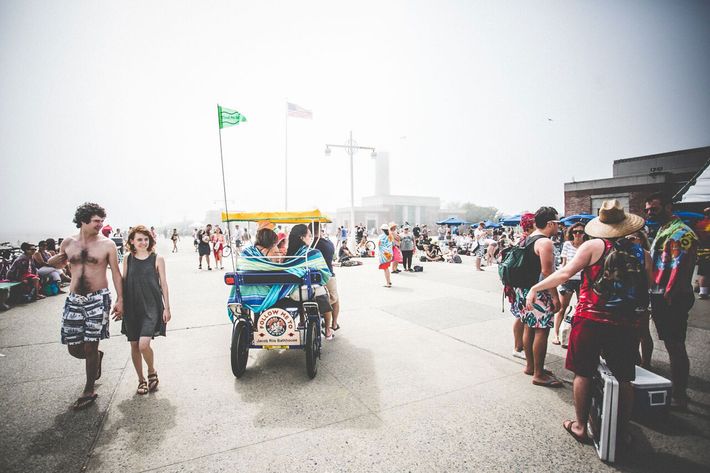 Beach 153 to Beach 169
Jacob Riis Park, or "the People's Beach," was opened in the 1930s and designed by Robert Moses. Moses had imagined Jones Beach in a way that kept out poor people; Riis was the more accessible beach he designated for the poor and disadvantaged. Through the decades, its eastern section, near the border of the city's and the NPS's property and in front of the abandoned Neponsit Health Care Center at 149th Street, has functioned as a gay beach enclave, and still does today.
For more on the queer beach at Riis, read our article here, with thoughts from a frequent visitor.
Riis has also historically been a nude beach: New York's resident punk historian points us to a Terrorists song from the '70s called "Riis Park" that alludes to the beach's relaxed reputation: "Every day from morning till dark … all the naked people down at Jacob Riis Park …" (Nude bathing is not technically legal; you'll see more topless bathers.)
As you walk west toward the Art Deco bathhouses, you'll see a number of families; opposite the beach are popular picnicking areas on the grass near the very large parking lot. The bathhouses had long been abandoned but have since 2015 been leased by Riis Park Beach Bazaar, from which you can rent beach umbrellas and the like; get confoundingly good burgers, eat chocolate-dipped frozen pineapple pops, and grab beers from the bar; and stick around for occasional events like the Wednesday-night volleyball league.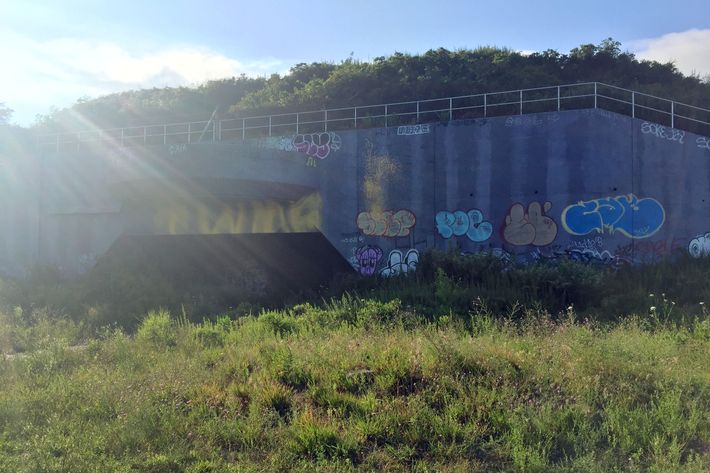 Beach 169 to Beach 193
West of Riis is Fort Tilden, an unguarded beach that is crowded with every white person who has moved to Brooklyn in the past ten years. Behind it is a park housed in the former military fort, the remnants of which are super-interesting: Walk about half a mile down the beach, until you see abandoned stone buildings. Look for a walking path that takes you away from the beach and follow it to reach Battery Harris East lookout point, which brings you high above the park and offers 360-degree views that reach to Manhattan. You'll see animals (bunnies!) and should bring bug spray.
Beach 201 to Beach 227
If you keep walking past Tilden and around the Silver Gull Beach Club at Beach 193 (a private cabana club with $35 day passes), you'll hit the tip of the peninsula, home to the co-op community Breezy Point, where the population is largely Irish and almost entirely white. There are a couple of bars and restaurants; the most notable is the Sugar Bowl, which feels a bit like a middle-class country club's pool house, complete with sliding window so you can order drinks and food without taking your sandy feet inside. The Sugar Bowl sits directly against the beach, and the place acts as a communal living room for the residents here. If you're with a group coming by cab or bike, it's worth heading into Breezy at least once for drinks here — driving is difficult, as there's virtually no public parking, and most people bike around here anyway. Open daily; the kitchen closes at 9 p.m.
Where to Eat
We went from Breezy Point to Far
Rockaway, trying tacos, ceviche, and
many, many frozens to find our favorite restaurants in the Rockaways.
Check out our Absolute Best Restaurants
in the Rockaways guide here (and let us know
if you disagree with our rankings in the
comments section.)
Where to Drink
Rockaway's big bars, reviewed in a sentence.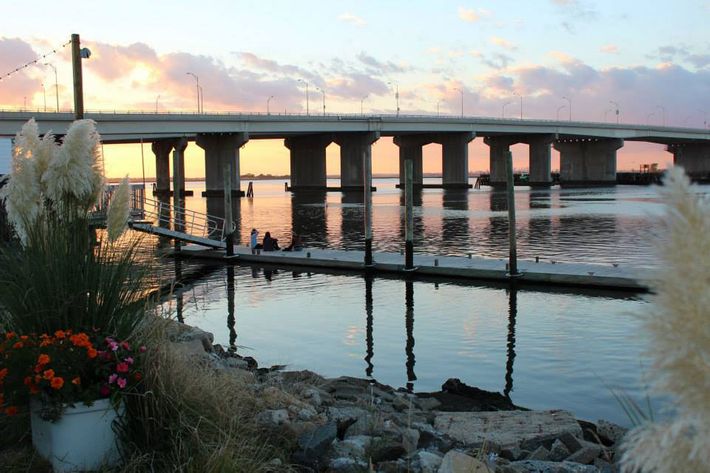 Bungalow Bar: Beautiful bay views, kind of crazy weekend crowds, reliable; the quintessential Rockaway spot.
Epstein's Beach: A divey, cash-only spot for summer residents who don't need a beach view, with pool and live music.
The Sugar Bowl: Nightly serving burgers, grilled cheese, and four types of frozens; a DFD (down for the day) will stick out, but people are friendly (there's even a gender-neutral bathroom).
Rockaway Beach Surf Club: Mingle with summer locals to get Rock gossip; stay for margs and a taco.
Rockaway Nutcrackers: "Take a sip, bust ya lip" is the motto; what more do you want for $10 at the beach?
Sayra's Wine Bar: A pretty backyard and a better wine selection than you'll find most anywhere else.
The Rock: Gets a little crowded starting around 5 with sunburnt revelers, but has decent tapas.
The Wharf: Similar to Bungalow, though more subdued and cash only — but closer to the ferry.
Healy's Pub: Mostly locals Irish pub.
Roger's Irish Tavern: Mostly locals, old-school Irish pub.
Connolly's: Irish pub, not mostly locals, but more iconic frozens in de facto to-go cups.
The Shore Shack: Bungalow family's outdoor late-night spot in the old Dalton's parking lot.
Rockaway Brewing Company: Beer, beer, beer, in a big garage on the bay side.
Riis Park Beach Bazaar Bar: Grab a final one on the way out—by the bathrooms and Fletcher's.
Low Tide Bar: Drink the beachfront concession's micheladas all day; stay around at night for events like Jello wrestling and surfing-movie screenings.