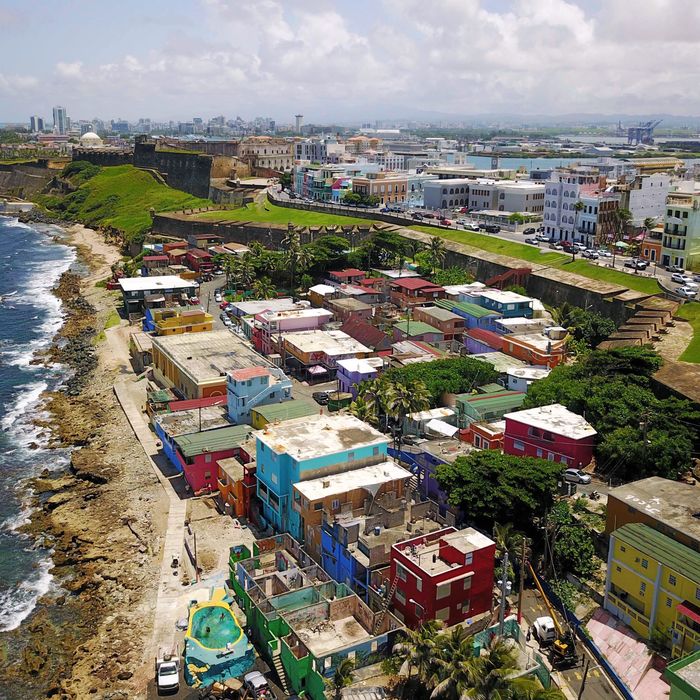 The recovery in San Juan has already begun.
Photo: AP/REX/Shutterstock
I visited Puerto Rico for the first time in April 2018, seven months after Hurricane Maria tormented the island. During the two years that I edited New York's travel section and especially since I visited San Juan, I've thought a lot about the ethics of tourism, particularly in disaster-ravaged places. I've read stories considering this question. I think of every travel piece I've seen that describes a place's residents as so friendly, a turn of phrase that may be well-intentioned but is condescending. Here's SE Smith in The Guardian:
"When you are a white, socially powerful person travelling overseas and you're describing the people you meet in simplistic terms, you elide the reality of their lives and turn them into Disney sideshow attractions there for your entertainment, rather than human beings going about their daily lives."
But I also consider that the capital produced by tourism can be tremendously helpful in rebuilding, especially after events like Maria, which devastated Puerto Rico and produced a death toll, at last count, of 3,000. This idea is basic, and it's one that presumes an innocence among travelers that quite often isn't there (a recent GQ headline: "How Puerto Rico Became a Tax Haven for the Super Rich"). I don't think that's reason to not travel to Puerto Rico, but do it with these kinds of ethical questions in mind.
I happened to be in San Juan during an islandwide blackout in April. I was struck by how people seemed so prepared and accepted it as the status quo — generators appeared everywhere on sidewalks outside businesses, restaurants and bars opened without lights or working grills, workers led tourists through gift shops with flashlights. But of course they were prepared; it had been the status quo: Maria had caused the worst power outage in U.S. history. Everyone who could just grabbed a Medalla and went to the beach.
We've covered San Juan before (pay special attention to this guide on how to help with recovery efforts); a year after Maria, we wanted to revisit the question of whether you should travel there. Despite my reservations, I think you should absolutely go. Puerto Rico, I keep telling friends, was wonderful. Some tips here for how to be thoughtful about a trip and have a good time.
Where to Stay
I stayed at the Serafina Beach Hotel, a brightly colored, sunny property that just opened this year, with a pool overlooking the ocean, in the Condado neighborhood. The rooms were spacious, well-lit with floor-to-ceiling windows, and decked out with nice touches like Malin+Goetz toiletries. From the hotel, it's a 45-minute walk to Old San Juan along a path whose fallen branches and boarded up buildings served as a reminder of the damage and neglect the island experienced after the hurricane. But the beauty of the walk remained overwhelming — to the right was the Atlantic, to the left the Laguna de Condado, and further along the walk the National Guard Museum, parks, and the Castillo de San Cristóbal, a UNESCO World Heritage site.
You'll see many beautiful homes advertised on Airbnb at low rates (this apartment is $110 per night). While I was there, I didn't see the kind of anti-Airbnb sentiment I see in New York, but some locals are criticizing the company — and Airbnb's interest in getting tourists to visit the U.S. territory is cause for skepticism.
Check out more places to stay here.
Where to Eat
A friend from Puerto Rico gave me recommendations for my trip on where to eat and insisted on La Bombonera in Old San Juan, where I sat at a counter and scoped out tourists and locals alike. Waiters in bow ties served glasses of fresh-squeezed orange juice, cafés con leche, and spongy mallorcas with cheese, their flaky exteriors dusted in powdered sugar. I could have eaten ten of them.
Maybe my favorite meal was at the Stop & Go in Condado, a divey bar-restaurant hybrid open 24 hours; you could get a plate of tacos, a Medalla, and the island's popular chichaito shot (anise liqueur and rum) for about $10. Young people sat on plastic chairs, stuffed dollars in the jukebox and danced, and flirted across tables. Another affordable meal was at El Jibarito in Old San Juan, where I ate $4 mofongo slathered in garlic sauce next to uniformed schoolgirls who'd just gotten out of class.
Here are some more restaurant recommendations from chefs in Puerto Rico.
What to Do
I was in town for a baseball series that marked the first regular-season MLB games that had been played in Puerto Rico in close to a decade. I have been to a lot of MLB games; I've never been to one as fun as the one I attended at Hiram Bithorn Stadium. The venue's capacity is small, at 18,264 (Boston's Fenway, by contrast, holds some 38,000; the Dodgers have the largest capacity, at 56,000), but the seats were packed and the fans were exuberantly joyful and loud. Also: During the ninth inning, a friend from Puerto Rico attending the game with me asked if I wanted a beer. I said yes but that they probably wouldn't be selling — in MLB stadiums, sales stop after the seventh inning. "This is Puerto Rico," she said, and returned a little while later with multiple glasses (the line had been long, so the vendor encouraged her to get several at once). This is all to say: Make sure to schedule your trip when you can see a game played in Puerto Rico's league — the LGPRC (Liga de Béisbol Profesional Roberto Clemente). Games are played from November to early February.
Build time in for simply walking around Old San Juan — the architecture is stunning and reflective of the island's long history as a colony of Spain. (Try this self-guided walking tour.) Make sure to visit the Gato Jirafo sculpture near the San Juan Bautista cathedral; a local pointed it out to me when he saw me petting a street cat: "You know, we have a monument to them here!" (Of special note for cat lovers is the neighborhood La Perla, a neglected area near the city wall in Old San Juan that experienced a revival after Luis Fonsi and Daddy Yankee filmed their "Despacito" video there. Its proximity to the ocean meant it was heavily damaged in the hurricane. Street cats are everywhere here, and vendors at outdoor stands sell $2 Medallas and empanadillas that the cats will happily help you eat. Just be respectful if you do visit: People live in the neighborhood, of course, it's not a tourist site.) Later, cab to La Placita de Santurce, which operates a market during the day and serves as a lively bar hot spot at night. Grab a smoothie in the late afternoon, take a nap at your hotel, and then return at night for live music, dancing, and bar-hopping.
Learn some basic Spanish before you go. Most service workers I spoke to in San Juan spoke English fluently (though I spoke with one café owner in French because I didn't speak Spanish and he didn't speak English), but your experience will be much better if you speak Spanish and at least try. If you're planning to stay an extended period of time, you could even take Spanish lessons from a local school, Isla Language, which will set you up with private or group lessons and a home stay.
More tips on what to do here.