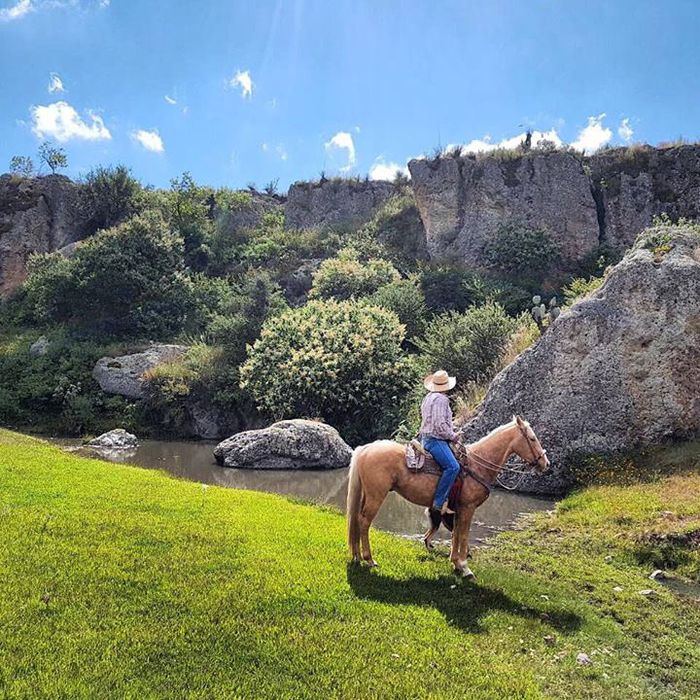 Photo: Courtesy of Rancho Xotolar
When I arrived in San Miguel de Allende in 2005, the town's bohemian past was long behind it. But there were traces of artists and intellectuals, from both Mexico and abroad, who gathered there in the early 20th century: a half-finished David Alfaro Siqueiros mural inside one of the city's oldest art schools; a community of expats and art students and seekers who were still finding their way to town. There were dozens of artist-owned galleries in the city center, most amateur but enthusiastically run, and, not long before I arrived, a French expat erected a giant circus tent near the edge of town where he threw parties and oversaw acrobatics and trapeze classes. At the same time, San Miguel was a largely traditional Mexican pueblo where families gathered in the central plaza after Sunday Mass, mom-and-pop shops closed at midday for a long siesta, and saints' days and religious festivals were frequent and full of pageantry. It was a convivial place with an interesting mix of cultures: French bistros stood beside taco stands, donkeys strolled outside DJ bars, hipsters convened in old cantinas, and American retirees took salsa classes in 18th-century mansions.
In the past decade, San Miguel de Allende has transformed from a close-knit, artsy little pueblo into a bustling and rather cosmopolitan city — it's now one of Mexico's best-known cultural destinations. You'll still find plenty of cheap tacos and quirky galleries in town, but visitors can also schedule a multicourse, locally sourced tasting menu with an internationally recognized chef, work on their laptops at one of the city's cool new food courts, sip cocktails on the rooftop bar of a mega luxury hotel, and lounge at an artificial beach. And if there had been any doubt that San Miguel's star had risen, in 2017 it was named "The Best City in the World" by Travel + Leisure readers. Many locals and longtime expats lament the changes to San Miguel, shaking a fist at the maddening traffic (a relatively new problem here), the oversize trolley-style tour bus that careens down the city's narrow streets, and the rising prices. But openness and change are essential to San Miguel's nature, and the concept shops and tasting menus are, in some ways, just a sleek patina atop a city that is best recognized for its warmth and acceptance.
There is magic everywhere in San Miguel: in the brilliant pink sunsets that light up the sky on winter evenings; in the out-of-tune mariachi musicians strolling through the central plaza on Saturday nights; in the always-astonishing bloom of the jacaranda trees each March, which blankets the cobblestone streets in fallen purple blossoms; and in the easy rhythm of small-town life. Even as it changes, it remains a place of easy beauty and simple pleasures — a place I always look forward to visiting.
When to Go
San Miguel de Allende is located on Mexico's sun-drenched, cactus-studded central highlands, about 150 miles north of Mexico City. The weather is generally dry and sunny throughout the year, though, at over 6,000 feet, the temperature on winter nights can drop below freezing (pack accordingly). During the short summer rainy season, the heat is tempered by powerful afternoon thunderstorms. Though North American winter was once the tourist high season in San Miguel, today it is a year-round destination.
You'll find massive crowds during San Miguel's somber and beautiful Holy Week celebrations, from Palm Sunday to Easter, as well as during the famously raucous Independence Day parties on September 15 and 16. Book a hotel or Airbnb well in advance for these dates. Witness the town's passion for pageantry during the brilliant, colorful, and noisy multiday parties that mark the Día de San Miguel Arcángel, the city's patron-saint day, at the end of September.
Where to Stay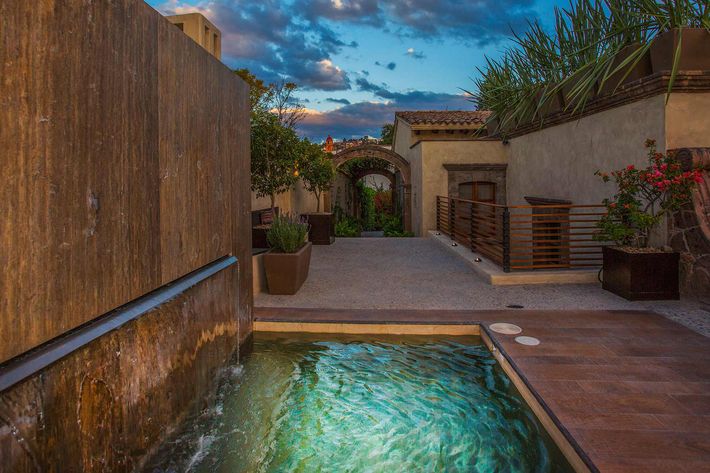 Romance and luxury are intertwined at Casa No Name (doubles from $340), a six-room hotel located in a colonial-era mansion in the heart of the centro histórico. Even in a town famous for its Baroque architecture, Casa No Name stands out: Along the hotel's main patio, a row of Moorish arches frames a beautifully restored 18th-century mural; tucked in back, a lush stone-floored garden looks like something out of a fairy tale. The hotel's spacious bedrooms take advantage of the old mansion's original details, like soaring wood-beamed ceilings, and are elegantly decorated with antiques and original artwork.
San Miguel's picturesque ocher, red, and rust-colored façades often conceal even more stunning interiors — in fact, there are coffee-table books and public tours devoted to the city's homes and gardens. Long before Airbnb arrived on the scene, Katharine Hibberts at Premier San Miguel was managing a slate of memorable vacation rentals in San Miguel de Allende, from smaller two-bedroom homes to lavish multi-bedroom mansions, like Casa Acanto (from $10,000/week), a fully staffed, ultraluxurious property that was featured in Architectural Digest. When I spoke to her recently, Hibberts recommended Casa Abejas ($6,000/week), a historic four-bedroom home with a  friendly in-house staff, a chef's kitchen, and unusual views of the dome of "Las Monjas" church, which towers just above the property.
There are dozens of brand-new boutique properties in San Miguel de Allende, but if you'd like a more old-fashioned feeling — and the not-always-welcome opportunity to wake to the sound of clanging iron church bells in the city's historic churches — Casa Carmen Bed and Breakfast (doubles from $160) has been in operation as a guest house for more than 50 years. Surrounding a central courtyard, bedrooms are full of character, with details like old iron lamps, woven rugs, and creaky wooden bed frames. Both breakfast and lunch are included in the price of the room — a throwback to the days when San Miguel wasn't overrun with restaurants — and are served in the old-fashioned dining room.
Where to Eat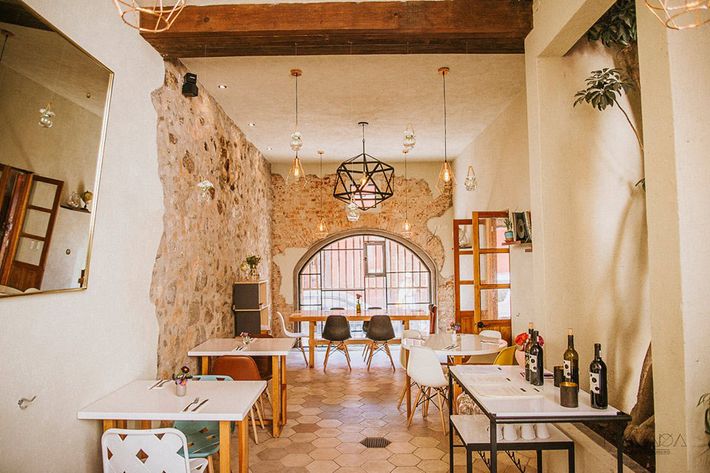 My First Stop in Town
A visit to San Miguel begins on a high note with a lovingly prepared breakfast on the patio at Lavanda, an unhurried, unfailingly friendly morning-only establishment. A highlight of the menu is the clay pot filled with razor-thin slices of potato, cheese, roasted tomatoes, and mushrooms, topped with a fried egg and bacon. I also love their take on huevos rancheros, which are prepared with poached eggs and caramelized onions. Get a flat white or pour-over from what is quite possibly the best coffee bar in town, or try the "cascarita," a drink made with an infusion of cacao mixed with guava, orange, and lime juice. Go early to avoid the otherwise inevitable wait for a table.
Fancy Lunch
A multitude of fancy, fusion, "concept" restaurants have recently opened in San Miguel de Allende, to mixed reviews from the picky local crowd. One spot, however, was consistently recommended to me: Nómada, a modern restaurant run by two young Mexican chefs, which first opened in the back of the now-defunct Mercado Centro, San Miguel's first gourmet food court. Nómada recently relocated to a new space in the ground floor of Casa 88, where the menu changes weekly — a wild-mushroom risotto and a creamy take on the Mexican street snack esquites (boiled and seasoned corn) were the stars of a recent lunch — but you can always expect to find fresh ingredients and a fine selection of Mexican artisanal beer, wine, and mezcal on offer. If you're in search of more traditional Mexican flavors, Nómada's original location has been rechristened Marchanta by Nómada, with a changing menu dedicated to Mexican cuisine, including a weekly "street food" dinner.
Easy Dinner
Watch the moon rise over the lighted domes of San Miguel's Baroque churches from the rooftop at new favorite Salón Oaxaca. A double shot of artisanal mezcal, served straight, goes well with the restaurant's Oaxacan-inspired bar snacks, like garlic-fried chapulines (grasshoppers) or tacos filled with tasajo (thinly sliced cured beef). If you've got an appetite, order one of Salon Oaxaca's top-notch tlayudas, a large corn flatbread that is grilled, brushed with asiento (unrefined pork lard), and filled with black beans and Oaxacan cheese. For vegetarians, the intensely flavorful cheese-and-mushroom-stuffed "Maria Sabina" tlayuda is just as rich and satisfying as the porky version.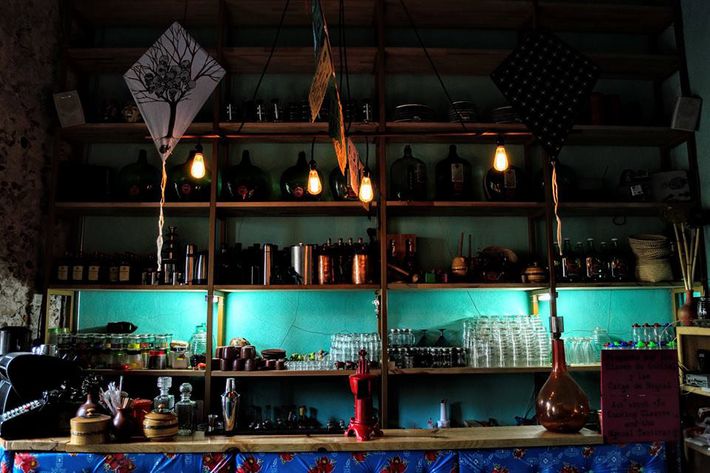 Join the Local Crew
A good time is practically a guarantee at local fave El Manantial, one of the oldest cantinas in San Miguel de Allende. With its swinging wooden doors at the entryway, well-stocked bar, and high ceilings, the atmosphere is old-school Mexican, while the modern seafood-centric menu — which includes excellent smoked-marlin tacos and tangy ceviche tostadas, accompanied by a lethally spicy habanero salsa — goes perfectly with a shot of mezcal from local producer Jaral de Berrio or one of the bar's excellent tamarind margaritas. If the party gets rolling, you can follow the crowd to close out the night at San Miguel's legendary dive bar La Cucaracha.
What to Do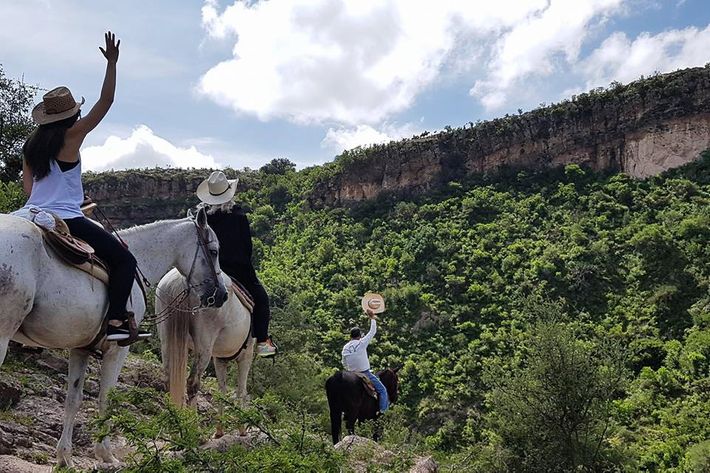 You'll traverse the city's Baroque centro histórico dozens of times during a trip to San Miguel, but it's worth breaking away from the bustle of downtown to see the surrounding countryside. The spectacular desert landscape is the focus at botanical garden and nature preserve El Charco del Ingenio ($2; 9 a.m. to 6 p.m. daily), located on the ridge of a canyon overlooking downtown San Miguel and the surrounding valley. There are weekly guided tours of the preserve, in addition to special events, like traditional temazcal steam baths and yoga classes, but it's a nice place to simply wander, hoping to spot a roadrunner amid barrel cactus and maguey. If you'd like to spend more time under the sun, book a guided horseback ride through desert chaparral with Rancho Xotolar ($95 for a half-day ride), a stunning family-run ranch just outside the city.
Many say the best Mexican food is made at home, and chef Gaby Green will help you test that theory with a personally tailored cooking class at her professional kitchen in the San Antonio neighborhood ($100 for class and lunch, plus $30 for market tour). Green specializes in traditional Mexican recipes, and when you book a class, she will work with you to plan the day's menu, from chiles rellenos to staples like handmade tortillas. Another well-known local chef, Paco Cardenas (co-owner of heavenly French-style bakery Petit Four), offers lively market tours and cooking classes by appointment every Monday ($150, including market tour and lunch). Building on San Miguel's burgeoning organic-foods movement, professional chef and native New Yorker Alicia Wilson Rivero offers wellness-centered cooking courses at her Pura Vida Kitchen, inside the Mercado Sano, a new food emporium dedicated entirely to local, organic, and nutritious foods. Pura Vida's selection of reasonably priced, hands-on group classes changes monthly but covers topics like "fermentation basics" and cooking grass-fed beef.
There are abundant natural hot springs in the historic town of Atotonilco, just ten minutes north of San Miguel de Allende. I never skip the opportunity for an early-morning soak at La Gruta (day pass $9), the most well-known of several local bathing spots. Here, a massive cascade of crystal-clear thermal water fills a steam-filled cave (the namesake gruta), flowing into several adjoining warm pools throughout the day. When you're thoroughly cooked, order breakfast (or a cocktail) from the more-decent-than-it-needs-to-be on-site restaurant, which will serve you at any of the outdoor tables scattered throughout La Gruta's lush gardens. Just up the road from La Gruta, Escondido Place ($8) is another beautiful bathing spot, with several covered warm-water pools and outdoor cold-water pools — and, often, fewer crowds. Your accommodations can help arrange transport, or call Taxis San Miguelito (415-152-0124, 415-152-0395), who will take you to the hot springs and pick you up for about $8 each way.
Resources
The weekly English-Spanish newspaper Atención San Miguel has an insert called "Que Pasa" that lists everything happening around town in the upcoming week, from gallery shows to salsa classes to bird-watching walks. When you're in town, it's essential reading.
Don Day has been writing about San Miguel de Allende's restaurants, bars, and taco stands on his lighthearted blog Don Day in SMA since 2013.
During renovations, the crew uncovered 18th-century tunnels beneath the mansion, which are highlighted beneath a glass floor in the suite Naia.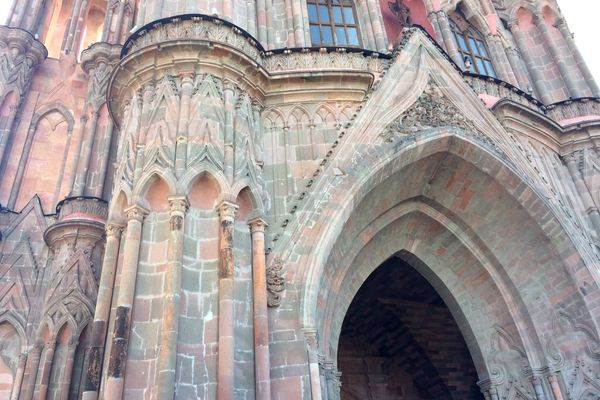 San Miguel's most iconic sight is the neo-Gothic pink-sandstone church known as La Parroquía, in the city's central square. After Mass on Sunday mornings, the Parroquía's multi-ton iron bells are still rung by hand by volunteers. It's a spectacle, and a joyous cacophony, worth witnessing.
Is San Miguel de Allende — a city of fewer than 150,000 residents — big enough to support city-style food emporiums and fancy food courts? Even with all its visitors, it seems an unlikely spot for the next Eataly. But that hasn't stopped entrepreneurs from trying. Following on the heels of now-defunct Mercado Centro, the recently opened Mercado del Carmen boasts bars, tacos, and an Italian restaurant; there are Japanese desserts and gourmet tacos from the founder of San Francisco's Tacolicious in the fancy shared kitchen at "Concept House" Doce 18; and you can get everything from wild mushrooms to local honey to fresh juices from the 40-plus vendors at the food-and-grocery collective Mercado Sano.
Unless you are vegetarian, do not forgo the asiento; it's what gives a tlayuda its rich umami flavor.
About 90 minutes north of San Miguel de Allende by car, the Hacienda San Diego del Jaral de Berrio is a magnificently crumbling, half-abandoned 18th-century hacienda, where a line of small-batch mezcal is produced. You'll need to get a car and a GPS if you want to visit Jaral, but you'll be rewarded with bottles of mezcal for a couple dollars a pop and absolute Instagram gold.
Opened in 1947 — though it relocated from the central plaza to its current location several decades ago — La Cucaracha is San Miguel's most famous dive bar and one of the cheapest places for drinks in town. It's a bit rough around the edges, often entertaining, and popular with a mixed local crowd. Though you'll usually find yourself among bleary-eyed patrons finishing up a long evening, you never know what or whom to expect there. Once, I arrived to find an artsy crowd and Matthew Barney's Cremaster 2 film being projected on La Cucaracha's walls.
When I asked my friend and local tour guide Helene Kahn what she thinks visitors should see in the centro histórico, she recommended stopping into a few of the "atmospheric" and lesser-known churches, like the Templo de Santa Ana with its bright-yellow façade, right next door to the library, and the Iglesia San Rafael, just next door to the Parroquía.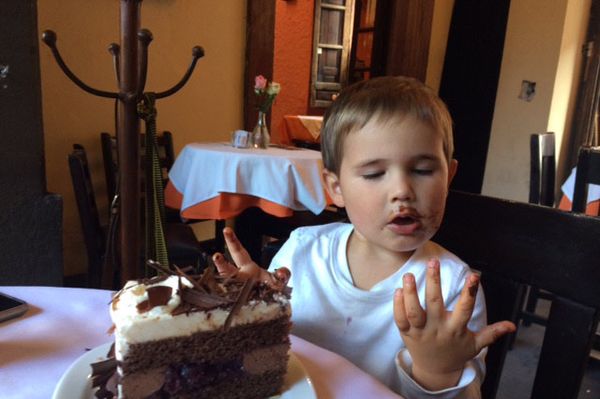 Celebrating my birthday, a week late, at Petit Four.
Little seems to have changed in the 500 years since the dusty little town of Atotonilco was founded. In addition to the hot springs, it's worth visiting Atotonilco's Catholic church and sanctuary, a UNESCO World Heritage Site, the interior of which was dazzlingly hand-painted (and recently restored) with religious murals in the 18th century. It continues to host ascetic religious retreats throughout the year.
On your way out to Atotonilco, you'll pass the stretch of railroad tracks where famous counterculture figure Neal Cassady died of exposure in 1968 just before his 42nd birthday.