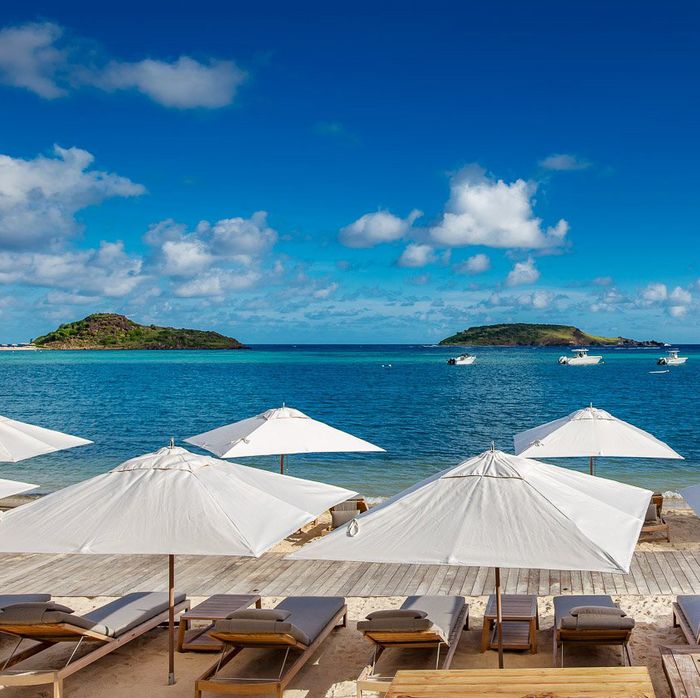 Le Barthélemy Hotel & Spa is the first newly built hotel in St. Barts in two decades.
Photo: Le Barthélemy Hotel & Spa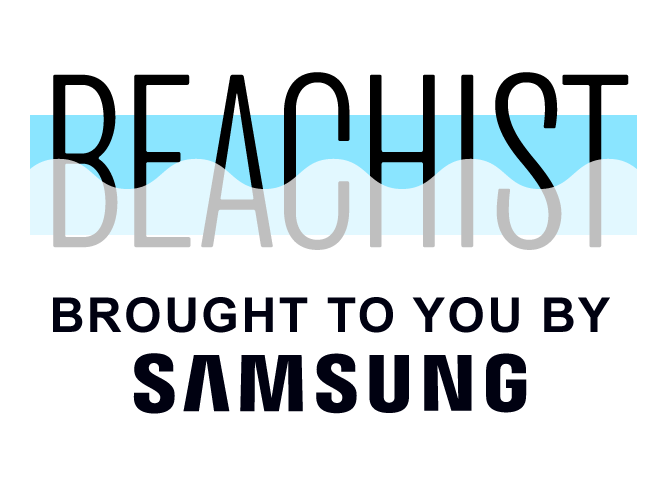 Confession time. I've traveled extensively throughout the Caribbean, and visiting St. Barthélemy (or St-Barth to locals) had never once crossed my mind. Perhaps the island's reputation as a hideaway for beautiful one-percenters made it seem totally inaccessible to a mere mortal like me. But a recent visit has convinced me: My assumption was completely false — and I'd been missing out on a truly magical place.
St. Barts blends the sophistication of France's urban centers and the geniality of the French countryside, with a tropical setting of craggy mountains, crystal-clear turquoise waters, stretches of sun-drenched coastline, and bougainvillea-filled gardens. Make no mistake, this paradise is more expensive than other Caribbean islands (especially since local currency is the euro). But there's ways to enjoy St. Barts whether your budget is large or small.
When to Go
High season is December through March (especially the last two weeks of December), which means that you may be rubbing shoulders with Academy Award winners — and that bookings must be made at least six months in advance. Prices lean toward exorbitant. But starting in early April, rates drop significantly, and there's still the West Indies Regatta and St. Barts Film Festival to enjoy. July and August are considered the rainy low season, but St. Barts is rarely in the path of hurricanes and storms usually occur at night, making for stunningly green mountainsides.
How to Get There, and Then Get Around
St. Barts is solely accessible by sea and by air, with a heart-dropping landing into Gustaf III airport (pilots are specially trained to perfect the landing on the short runway). For New Yorkers, the major gateways to St. Barts are through St. Maarten and San Juan. From St. Maarten, hop on a 19-passenger, 15-minute flight via WinAir ($71), and from San Juan, go luxe with an hour-long shuttle flight on Tradewind Aviation ($295 one way). Upon landing in San Juan, a Tradewind employee greets you at the gate and whisks you to the private lounge for snacks and drinks (including beer and wine) and free WiFi — where you wait while staff gets your checked luggage and transfers it to your the shuttle flight. On the eight-seat jet, more complimentary snacks and drinks await. No TSA checkpoints required.
On island, there are no ride-share companies, and taxis are strictly regulated — but easy to find at checkpoints like the airport and central Gustavia. Otherwise, ask you hotel to call a taxi for you. Skip renting a car from the major providers on island unless you truly have a ton of stuff, because driving up and down the steep, unlined streets can be an adventure on its own. If you insist on driving, rent a doorless, Mini Moke electric 4x4 from local company Maurice Car Rentals (from 40 euro/day). The rugged vehicle drives on both road and sand, and the team at Maurice's can give you advice for navigating tricky terrain.
Where to Stay
Budget-hack tip: Most five-star hotels close for the entire month of September and sometimes a few weeks in late August and early October. If you plan a trip during this time, villa rentals are a good option, and you can score low rates. For example, a one-bedroom villa with WIMCO Villas starts at $1,950 a week in September, as opposed to $4,950 per week during the holidays.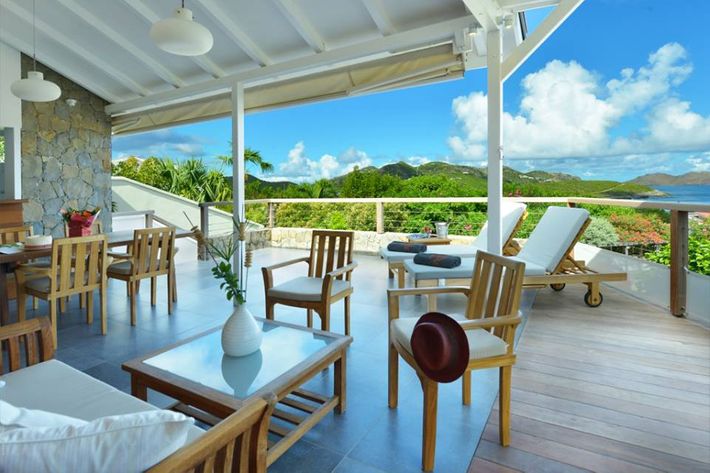 At Le Guanahani resort (from $487 per night), 18 acres feel intimate and secluded thanks to garden paths that wind through lush bougainvillea, hibiscus, and palm trees along a private peninsula (with two beaches!). Sixty-seven vibrantly hued cottages in turquoise, yellow, and lavender are scattered throughout the property, comprising 30 rooms, 27 suites, and 10 unique signature suites with all accommodations featuring a private terrace and sea views. Known as the most family-friendly resort in St. Barts, Le Guanahani offers complimentary programming for children 2 to 12. Their parents can head to the adults-only pool within the Spa My Blend by Clarins, as well as the Marechal lagoon, which tends to be less crowded.
Le Village, in the bustling town of St. Jean, is easily the best value in St. Barts (from $205). The family-owned property is situated on a hilltop surrounded by terraced gardens filled with local courbaril and gaïac trees, fragrant frangipani, and jasmine. The luxurious St. Jean Beach is only an eight-minute walk away. Owner Catherine Charneau now runs the 25-room hotel after her father opened it in 1969, welcoming guests like Greta Garbo and food critic Craig Claiborne. For a deep insight into the island's culture, chat with Catherine. As a multi-decade resident, she's a treasure trove of information and can help guests integrate themselves into the local community. Before heading to the beach or infinity pool, borrow a book at the travelers' library near check in. All reading material has come from guests over the years and reflects a range of languages and personalities.
Opened in October 2016, the sleek and elegant Le Barthélemy Hotel & Spa (from $760) is St. Barts's first new-build hotel in 20 years. Located on Grand-Cul-de-Sac Beach, the 46-room property has an open-air lobby with bird-cage swing chairs for lounging, a breezy waterside Mediterranean-inspired restaurant, and a stunning infinity pool. The small but tranquil Le Spa features esteemed skin-care brand La Mer. If you're looking for a serious splurge, ask for the ground-level Ocean Lux Piscine Privee junior suite, with a private plunge pool and direct beach access; or, if you're traveling with friends, book the six-bedroom villas equipped with a full kitchen, 55-foot swimming pool, and wine cellar.
Choosing a Beach
St. Barts's 16 beaches are all free and open to the public. Each has its own personality, which means that you should most definitely beach-hop while in town. Here are six not to miss.
Shell Beach
As the name implies, Shell Beach is covered in shells instead of sand (which is more comfortable to walk on than you might expect) and is the closest beach to the main town, Gustavia. Rent a chair from Shellona restaurant ($47) overlooking the beach, or just bring your own towel to lounge. If you swim out about 20 meters, you'll see a rope used by adventurous swimmers to climb out of the water and cliff-jump.
St. Jean
St. Jean Bay is arguably the most active beach on the island, and split into two parts by the Eden Rock Hotel. To the left of the hotel, watch the thrilling landing of planes at nearby Gustaf III airport. To the right of the hotel, indulge in a wild day party at the beach club Nikki Beach, where dancing on the tables and Champagne showers are encouraged. Across St. Jean Bay, the water is calm and shallow.
Saline
There's a hike over a sand dune to get to Saline, but the completely unspoiled beach is well worth it. Plus, although nudism is "forbidden" in St. Barts, this is the beach where you'll get away with taking a dip in your birthday suit.
Gouverneur
Another undeveloped gem, Gouverneur Beach is a favorite among locals and is postcard perfect with powdery white sand and crystalline water. There's a convenient parking lot for visitors, and the little tidal pools among the rocks are great for kids. As with Saline, there's no businesses nearby — so arrive equipped.
Toiny
Great if you're a skilled surfer. But due to strong and unpredictable rip currents, if you're not experienced, it's probably best to skip it.
Colombier
This remote stretch of beach is accessible via a 30-minute hike or, more conveniently, by boat. It's an excellent spot for both swimming and snorkeling, and from certain areas you can spot the home once owned by David Rockefeller, who is widely credited with sparking tourism to the island in the 1960s.
Beach Eats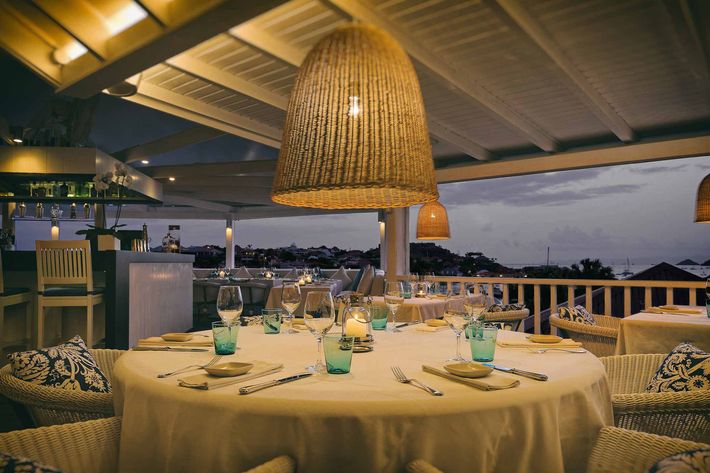 Grab and Go
Because some of the best beaches are uninhabited, you'll need to bring food and drinks with you. At AMC grocery store in Gustavia, pick up cold bottles of water, snacks, and bottles of rosé (from $6). Marché U across from the airport features an impressive selection of produce, French cheese, and everything you'd need for sandwiches. Mayas to Go in St. Jean is beloved by both locals and visitors for their French-Caribbean-inspired prepared foods and pastries. If you stay at Le Barthélemy, ask about the Picnic Chic package — a wicker basket filled with lunch items like quinoa salad with prawns, glasses, plates, and silverware ($75 per person). For a sweet treat while strolling through Gustavia, head to Le Petit Deauville for sorbet and ice cream (from $5).
Casual Dinner
Most everywhere on St. Barts, you could wear a sundress and sandals, but the island is about as casual or formal as you want it to be. Get into a chic jungle vibe at Bohemia within the Tropical Hotel. Surrounded by vines and palm trees and with visits from the occasional wandering turtle, the restaurant boasts a Mediterranean and Asian fusion menu and a terrific spaghetti Puttanesca with lobster ($51). Tropical is owned by the same group as Maman in New York — so, yes, you can get those amazing Maman cookies here as well.
Get Dressed Up
St. Barts is a veritable culinary powerhouse, so do yourself a favor and eat out each night if you can. The colorful and precise presentation at Bonito is sensational, and you can't go wrong with the tasting of ceviches and tiraditos ($33) followed by sautéed mahi mahi with salsa cruda ($41). Also in Gustavia, L'Isola is celebrated for its sophisticated Italian cuisine and top-notch service. At Orega, Japanese and French cuisine fuse in dishes like Toro-tuna tartare topped with Petrossian caviar ($53) and duck confit with sautéed palm hearts and bok choy ($34).
Off-Beach Activities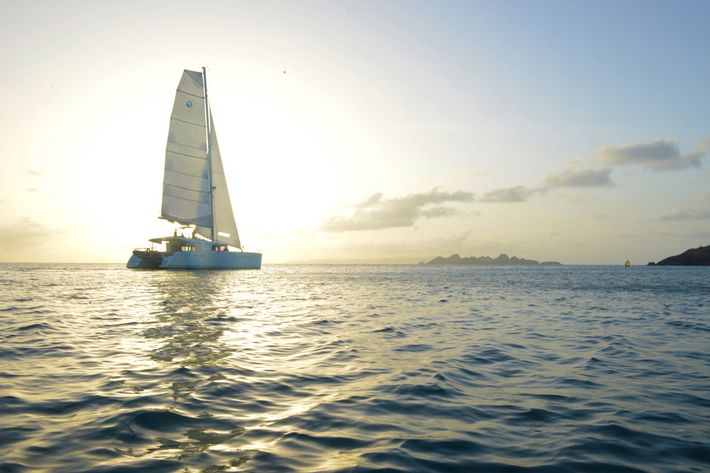 Early in the morning, before it gets too hot, hike to the natural pools at Grand Fond, tucked away among otherworldly rock formations. The 30-minute trek requires some rock scaling and maneuvering over loose surfaces, so wear closed-toed shoes and consider hiring a guide. Hiking up Mount Vitet is an option — but at 938 feet, it's the highest point on the island, so this is no walk in the park. Put yourself in safe hands with personal trainer and guide Geoffrey Pain of Sport and Fit for either an individual hike ($140/hr) or group of four ($70 per additional person). Afterward, stretch out with an afternoon vinyasa yoga class with spiritual-health instructor Diana Bourel at Venus Beauty and Health Spa in Gustavia.
On the water, island-hop with a half-day ($800) or full-day ($1,175) catamaran excursion with St. Barth Sailor. The private charter offers add-ons like an open bar ($35), snacks ($24), and a full lunch catered by Esprit restaurant ($59). Sail as far as St. Maarten (additional $117), or just spend the day circling St. Barts and accessing the harder-to-reach beaches and key snorkeling spots. Near Colombier Beach in particular, make sure to don snorkeling equipment to spot sea turtles, sting rays, and colorful schools of fish. Guests can bring their own snorkeling equipment, take advantage of stand-up paddleboards ($59 for a half-day), or simply float in the calm, open waters. Experienced scuba divers can also add on a diving package (rates start at $470 for four people).
St. Barts is well-known for its high-end resortwear boutiques along the streets of Gustavia, with designers like Prada, Louis Vuitton, and Roberto Cavalli offering exclusive to St. Barts collections. In June, take advantage of annual sale days to score major discounts off classic labels. Be aware: Just like the hotels close in September, the high-fashion boutiques shutter as well for Fashion Weeks around the world. Snag stylish swimwear and striped beach blankets at Kiwi St. Barth in St. Jean, then head to La Casa del Habano for a Panama hat. Voila St. Barth is a local-favorite boutique of sailor-meets-preppy ensembles: linen dresses, crisp white beach bags with rope handles, trousers in bright colors. Stop by Calypso St. Barth for something fancy for dancing the night away at Le Ti. The evening starts off tame enough, with a burlesque show ranging from sensual performances to mimes, but by midnight, you better be twirling on the tables.