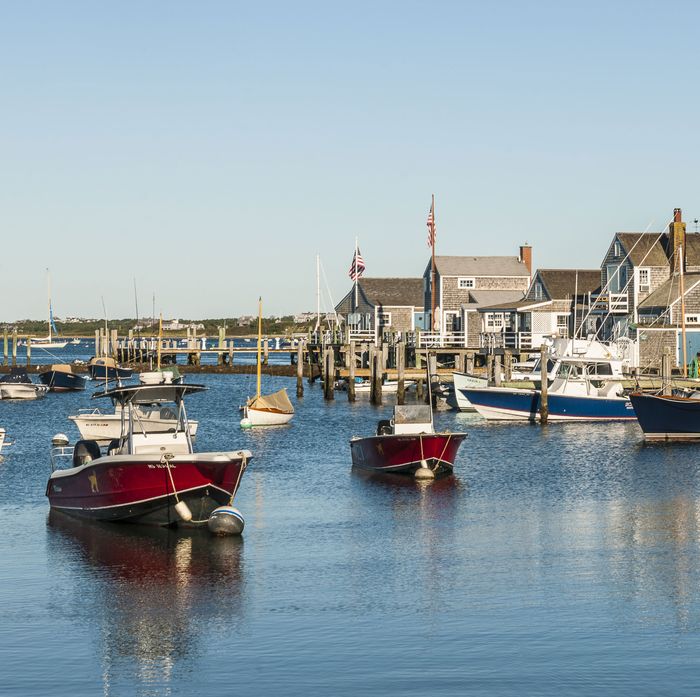 Photo: Maremagnum/Getty Images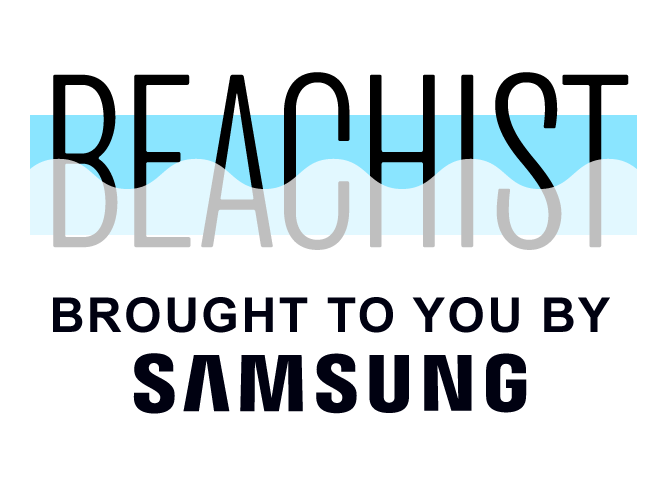 Learn to sail, drink frozen lemonades, and go off-roading on Nantucket beaches. Plus: Peep one-percenter houses while eating soft-shell-crab sandwiches on the tiny Massachusetts island.
How to Get There, and Then Get Around
No bridges lead to Nantucket, so you'll have to arrive by air or sea. Driving can take four to seven hours from New York to Hyannis, Massachusetts, then you board a ferry ($36 round trip) for two hours (save an hour on the $70 high-speed option) to Nantucket Harbor. Or skip the road rage aboard the Seastreak high-speed ferry ($260 round trip), which takes six hours from the East 35th Street Ferry Terminal on summer Fridays, returning Sunday evenings. There's free Wi-Fi and a cash bar. JetBlue goes from JFK to Nantucket's ACK with two or three nonstop 70-minute flights (from $144) daily in the summer. Or go (very) luxe to skip the airport-security-line hassle on a Tradewind Aviation small-plane shuttle service (from $795 each way) out of Teterboro or White Plains. Arrive just 15 minutes before boarding to take one of the fleet's 25 daily flights.
If arriving by ferry, you'll pay a hefty $400 in the summer to bring your car on the island. Better to rent a Jeep or moped from Affordable Rentals (from $129 a day for a two-door Jeep). Or use the Wave ($1 each way) shuttle buses to get to the beach and around the island. Many hotels run free shuttles, and cabs and ride-sharing are an option. Biking is easy since the island isn't overrun with cars. Rent from Nantucket Bike Shop (kids from $12.50 a day, adults from $17.50), where you can choose any size bike, tandem bike, and kids' trailer, plus add-on helmets, training wheels, and baskets. Or take a bike tour with Nantucket Bike Tours (from $65 a person), customizing your level of difficulty and the duration.
Where to Stay
Note: Late June to mid-September is prime time on Nantucket. Hotels might run specials if they have gaps, and midweek is slightly less expensive. Locals say September and October are the best times to be on the island since the crowds dissipate and most restaurants are still open. 
The Cathy Sue is a 32-foot Pacemaker Powerboat boat (from $250 per night) docked in Nantucket Harbor. The cozy boat sleeps four and has bright chevron-patterned touches, but the best part might be morning coffee on the deck watching Nantucket's historic wharf come to life. Take the water taxi to the boat's mooring ($5 each way), but be back by midnight, when the water taxi stops running.
For a classic New England B&B experience, try the Union Street Inn (from $149; from $599 mid-June to mid-September). The cedar-shingle house dates to 1770, with original oak floors, fireplaces, and wavy-glass windows. The owners, former New Yorkers with Henri Bendel and Ian Schrager pedigrees, outfitted the inn with luxury touches like Frette linens and a locally sourced breakfast on the garden's brick patio. Don't miss the housemade carrot cake and sparkling-wine happy hour. One block off Main Street, the inn feels tucked away in its spot nestled by an ivy-covered hill. Union Street provides beach coolers, chairs, and umbrellas and, for those renting a car, a coveted downtown parking space.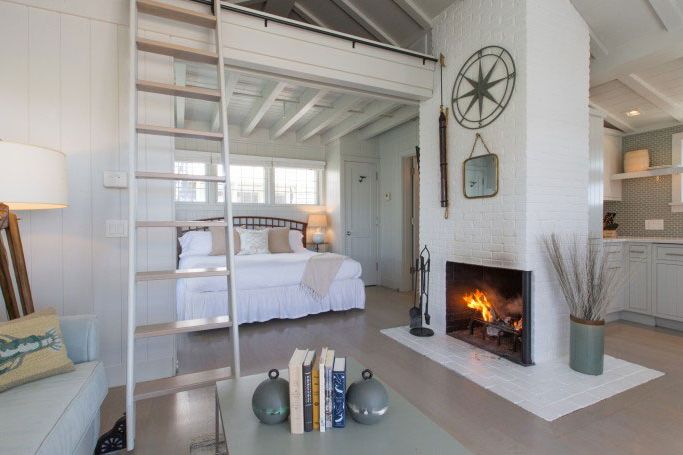 Bring your crew and stay in one of 11 breezy shingle cottages at the Harborview (from $575), located on an enviable spot of beach facing the harbor. Opt for the petite, one-bedroom Water's Edge, which sleeps four; its deck is nearly hanging over the water, perfect for a drink from your stocked-to-order kitchen. Get active and borrow one of the resort's Sunfish sailboats, paddleboards, or kayaks. Or go extreme with the resort's partner Next Level Water Sports, which can arrange kite surfing or hydrofoiling.
Choosing a Beach
Nantucket has no shortage of beaches, but not all offer lifeguards, bathrooms, and public transportation. For those amenities plus a location near town, head to Jetties Beach, a popular spot on the calm North Shore. Rent umbrellas and buy sunscreen at newly opened Sandbar's next-door beach shop, or just grab a picnic table on the deck and sit while sipping a frozen blue lemonade ($13), made with blueberry vodka from Nantucket's Triple Eight Distillery. Rent a sailboat or take a lesson through the Jetties Sailing Center (from $50 for rentals; $200 for lessons), a nonprofit that promotes access to watersports on the island.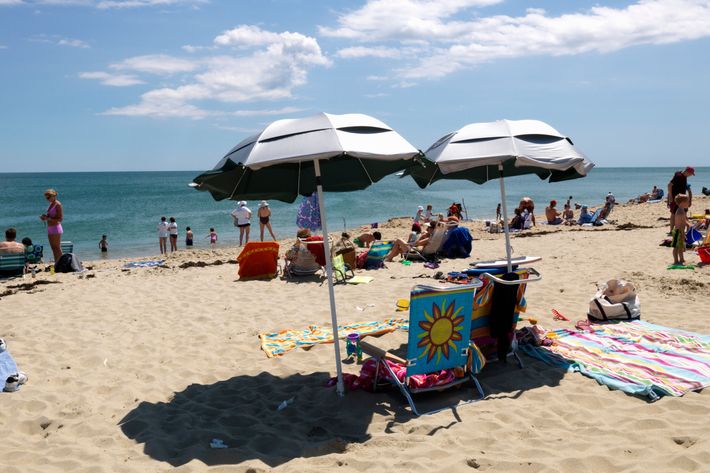 For bigger waves and a younger crowd, take the Wave Shuttle bus to Surfside Beach, a popular South Shore option, and grab the burger at the Surfside Beach Shack. If you have kids in tow, head to Children's Beach, right in the harbor — not ideal for swimming because of the boat traffic, but host to a park and daily family activities including yoga, tie-dyeing clinics, and puppet shows. Plus, it's home to the Hungry Minnow snack bar, with ice-cream sandwiches, pretzels, and the like. To avoid crowds, head east on Milestone Road for 20 minutes to Sconset Beach, stopping at the Sconset Market on Main Street for a sandwich and the shop's famous brownie. Be careful: Lifeguards are on duty, but Surfside faces east, to the Atlantic, and the drop-off is steep.
If you don't want to swim, go shelling at Water Tower Beach off Washing Pond Road, where you'll take a dirt road down to the beach — it was the site of the original harbor and now has a calm, almost lakelike character. And if you have a Jeep with a beach permit, head to Low Beach, one of the few South Shore beaches that allow off-roading. Brush up on the rules before heading out. Speaking of rules: No plastic, including cups and bags, is allowed on Nantucket, so stick to glass bottles and paper bags on the beach, while keeping in mind that alcohol is officially not allowed.
Beach Eats
Grab and Go
Get a lobster roll or a soft-shell-crab or swordfish-steak sandwich (from $13.95) with the locals at the Straight Wharf Fish Store, a fish market with a small takeout counter. Then take your lunch to one of the nearby South Shore beaches like Gun Raft, the Bluff, or Radio Tower Beach — pick whichever has the fewest cars — to sit and watch the waves.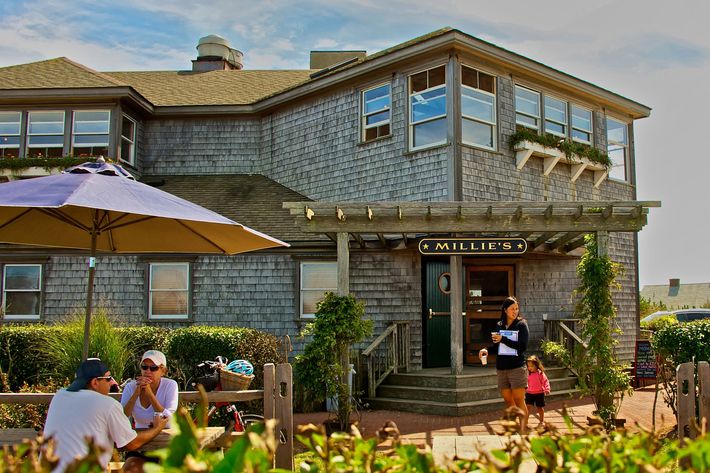 Casual Dinner
Shorts and a button-down is the uniform at 90 percent of the restaurants on island. For the best sunset-viewing, head to the Madaket area in the marshy western end. By the beach, you'll find Millie's Restaurant, a fish-focused Tex-Mex spot where you can eat outside, or in the enclosed upstairs dining room for optimal sunset viewing. Try the yellowfin poke ($19) and blackened Mahi tacos ($20).
Get Dressed Up
Have dinner on the porch of a former sea captain's house turned inn at Greydon House, just off Main Street and the wharf. The hotel opened in October, and its patio and veranda are now available for alfresco meals from an Aureole alum. Try the crispy calamari ($24), whose squid-ink aïoli is painted on the plate with a brush. Or order the tuna appetizer, cubed and served with pineapple, yuzu sauce, flower blossoms, and avocado gel. Or duck into the new raw bar and seafood-tapas spot After House. Sample oysters from the East Coast (from $3.25) with a variety of sauces like cilantro-Thai-chile dressing and miso yogurt, and try one of several imported tinned fish like octopus in paprika sauce from Spain ($25).
Off-Beach Activities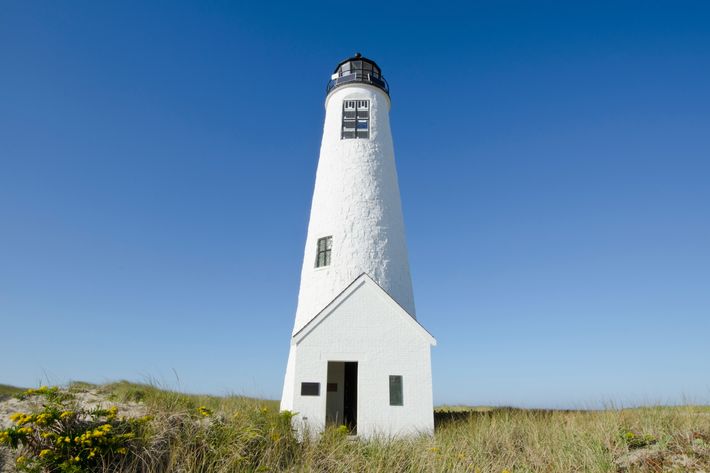 Nantucket has three lighthouses but none set as dramatically as the Great Point Light: Take a three-hour Natural History Tour ($60) to the Point in a guided 4x4 vehicle. You won't climb to the top, but the views are still incredible — and you may see some seals on the beach. Plus your money goes to the Trustees of Reservations, a nonprofit that helps save the piping plover birds that nest there. For more excellent views, hike the Sconset Bluff Walk, about 30 minutes east of town. The one-mile walking path, surprisingly open to public access, takes you through private gardens and past rose-covered cottages of the one-percenters, with views out to the ocean.
Nantucket's nautical charm will make you want to set sail. Do it with Captain Jim Genthner of Endeavour Sailing, who's been circumnavigating Nantucket for 30 years. Genthner built his 13-passenger sailboat himself and runs hour-and-a-half sunset cruises ($60) full of local maritime lore leaving from Jetties Beach daily. Bonus: You can bring a bottle of wine.
Take the free shuttle from the Nantucket Visitors Center on Federal Street to Cisco Brewery, a compound 15 minutes south of town that also houses the Triple Eight Distillery and Nantucket Vineyard. Take a 45-minute tour and tasting ($20) and, afterward, cab to Cisco Beach to watch the surfers take the island's biggest waves (amateurs can learn at Nantucket Island Surf School).
Let a Local Plan Your Trip
Kevin Withrow, who grew up on Nantucket, returned last year after spending a few years in hospitality in Brooklyn to become innkeeper at Greydon House.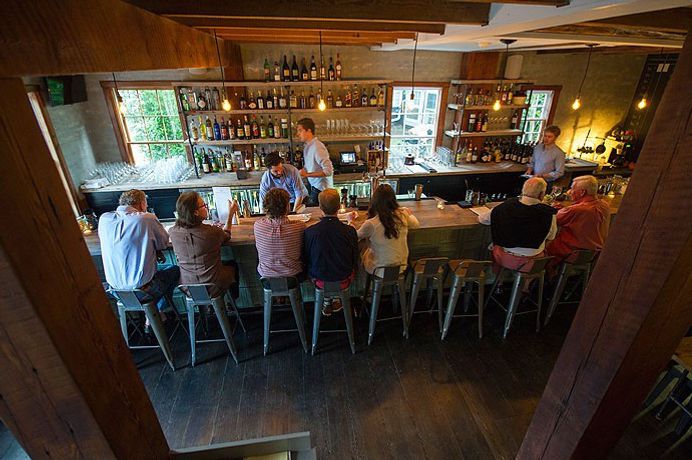 I'd start with a Bloody Mary and brunch at the Proprietors Bar & Table. They're charcuterie experts and have things like pig's-ear fries and fois gras "Twinkies" — it's really different for the island. Their French toast is literally a cube of brioche, like four-by-four-by-four, with candied pecans and bacon. The lobster-crème-fraîche-caviar crêpe is delicious, too.
Then I'd get in the Jeep. I'm a huge advocate of being mobile out here — I think renting a car is best way to see the island. I'd go grab some beer for later at Nantucket Wine and Spirits and then probably do a little bit of off-roading and take a quick spin through the Middle Moors, a huge piece of conservation land all the way out east on Milestone Highway in the Wauwinet and Quidnet areas. It's the most picturesque, beautiful terroir on the island. And it's really accessible. There are miles and miles of roads. All these dirt roads and paths converge out there. If you don't rent a car, you could totally bike. The amount of green space out here is really incredible.
Then go to Quidnet Beach. There's a lot of tiny cottages down there, and it never gets too crazy. There's a dirt road from Quidnet that leads out to Wauwinet. Take a walk through Squam Swamp. It's a 400-acre preservation land known for these walking trails. When you get into Squam, it's almost psychedelic-looking because the whole floor of the forest is lined with this moss. There are holly trees that are over two stories tall and beech trees that almost look like sculptures with all these bends in them. You feel like you're in Alice in Wonderland. It's one of those parts of the island that a lot of people don't see.