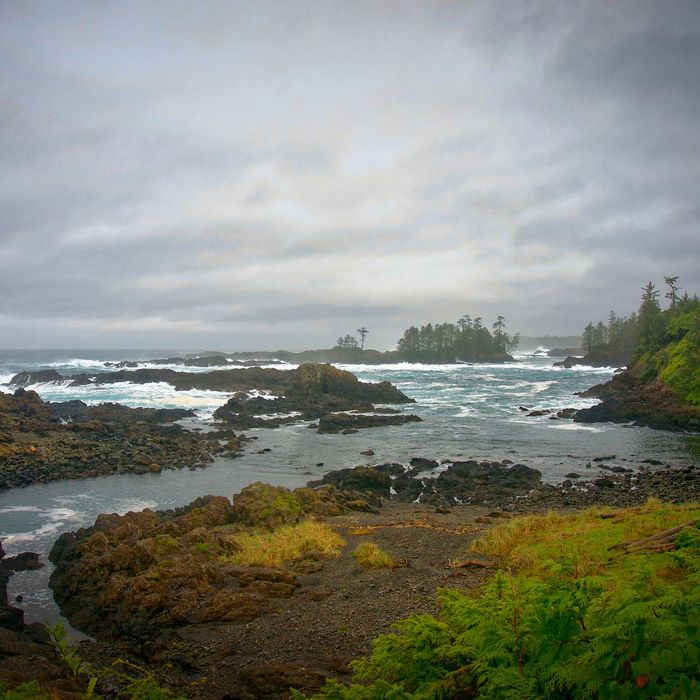 Vancouver Island is especially popular during storm-watching season.
Photo: Jeffrey Mccaskill / EyeEm/Getty Images
How to Get There
Orca Airways offers daily, 45-minute flights from Vancouver to Tofino's Long Beach airport. Those driving from Vancouver should plan for a five-hour trip, starting with a ferry ride (book in advance) from Horseshoe Bay to Nanaimo on Vancouver Island. Once there, head north on Route 19 for 25 miles, then west on Highway 4 for 95 miles until the highway ends. Then drive north for 15 miles through Pacific Rim National Park Reserve to Tofino. (Ucluelet is 40 miles south.)
Where to Stay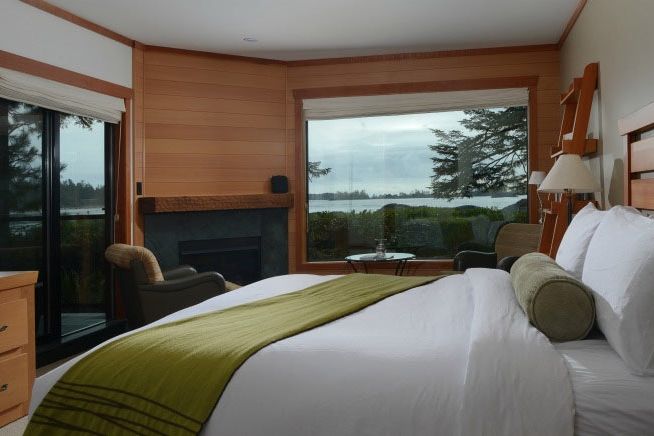 From a 4,000-bottle wine list at the hotel's recently expanded Pointe Restaurant to Helly Hansen rainwear in every closet to heated bathroom floors, the Wickaninnish Inn (from $290) has perfected the art of pampering guests in its blustery (but beautiful) winter weather. Contemplate the ocean from your beach-facing room, indulge in a treatment at the Ancient Cedars Spa, or stroll through the Relais & Chateaux resort and admire its collection of local art. If you're up for a true splurge, ask for the oceanfront, king-size Canopy Suite (from $975), with its floor-to-ceiling windows, fireplace, private balcony, and remote-controlled replica of the night sky, designed with assistance from a professional astronomer.
Cedar-shingled Long Beach Lodge Resort (from $209) on Cox Bay Beach, with its 41 rooms and 20 luxe cottages (each with its own fireplace and hot tub), was built by Victoria native Tim Hackett, who became enamored with the beach while camping there in the 1960s. Nearly every room has jaw-dropping ocean views, and the cavernous Great Room, a common area swathed in Oriental rugs and warmed by a central fireplace, is flanked by floor-to-ceiling windows that showcase the resort's spectacular setting. The farm and ocean-to-table menu features bold entrées such as Humboldt squid and slow-braised bison. Work off your dinner come morning at the on-site Surf Club Adventure Center.
Ucluelet's rugged-yet-refined Cabins at Terrace Beach (starting at $159) are steps from the one-and-a-half-mile Lighthouse Loop of the Wild Pacific Trail, an extensive walking path carved along the coastline with views of Barkley Sound and the historic Amphitrite Lighthouse. Choose from a handful of cabins with a variety of backdrops: tucked within the rainforest, overlooking inland Spring Cove, or directly on Terrace Beach, where you'll nod off at night to the sound of crashing waves. Suites (each with its own fireplace; from $229) sleep anywhere from two to six and some include private decks, Jacuzzis, and kitchens. Pets are welcome ($20 per pet, per night).
Where to Eat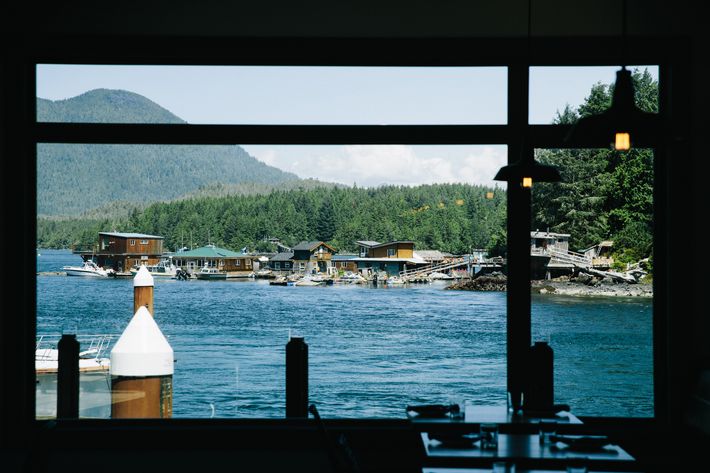 A sculpture of a prowling wolf greets guests at Wolf in the Fog, set in a cabinlike space with giant windows, birch-bark chandeliers, and hipster-y servers milling about. The specialty here — fried oysters, smoked and wrapped in shoestring potatoes ($4) — will seduce even the most finicky oyster connoisseurs. Dishes (all locally sourced) are meant to be eaten family-style and range from pepper-glazed black cod with Brussels sprouts, parsnip, and bacon ($23) to pork belly with green-papaya salad ($18), procured from nearby Quist Farm. The cocktail list is taller than a Sitka spruce, and the dessert menu offers artisan cheese platters for one ($5), three ($12), or six ($20).
Named after the year Tofino was founded and smack on Clayoquot Sound with views of the UNESCO Biosphere Reserve, the industrial-feeling 1909 Kitchen at Tofino Resort + Marina turns out fish-forward presentations with rustic flair. So local is the menu that the restaurant's chef forages herbs from Tofino Botanical Gardens and gooseneck barnacles — historically harvested only in the waters near Galicia, Spain — from rocky outcrops off Tofino's coastline. Order the albacore-tuna tataki ($14) or the seasonal seafood platter to share ($72); you can even bring your daily catch into the kitchen and the cooks will prepare it for you. Pair your meal with the 1909 Sea-Ser, made with Pacific Rim Humpback Vodka,  Gekkeikan Sake, fresh Wasabi, Shiro Dashi White Soy, pickled ginger and Tofino sea asparagus.
The recently opened family-run pizzeria Abbondanza in quiet Ucluelet has people pouring in from all parts to try the 14-inch, alder-wood-fired pies with names like Happy Hippie ($22; three kinds of mozzarella with fresh veggies) and Meatball ($20; with housemade, hormone-free-beef meatballs.) Dough is hand-spun; sauces include tomato, béchamel, and pesto; toppings are seasonal and, of course, locally sourced.
What to Do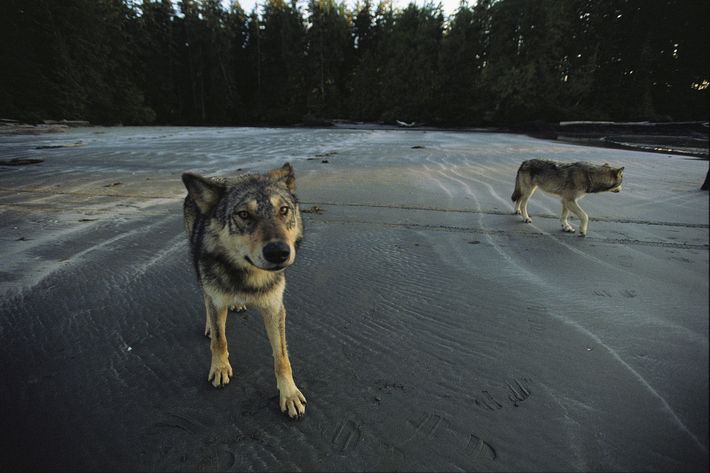 Despite Tofino and Ucluelet's evolution into what many now call Hollywood North, a stylish retreat for actors and film execs involved in big-screen projects on Vancouver Island, the region—bordered by the 150,000-acre Pacific Rim National Park – has managed to retain its 1960's hippie vibe and laid-back, wilderness appeal.
With miles of surf-worthy beaches and a water temperature that consistently stays at about 50 degrees Fahrenheit, Tofino and Ucluelet are ideal spots for both novice surfers and seasoned longboarders. Some of the best waves occur in winter, but as long as you're wearing a wetsuit (plus a hood, gloves, and booties for serious heat-seekers), you'll stay warm. Andy Herridge at Wick'd Surf School in Ucluelet will happily outfit you with a wetsuit and board from his shop then go over the fundamentals, safety tips, and etiquette you'll need to get up on a board. In Tofino, guests of Pacific Sands Beach Resort can simply wake up and wander from their guestrooms over to the on-site Surf Sister Surf Shack to book a lesson.
Official storm-watching season in Tofino and Ucluelet runs November to March, peaking from December to February, when ferocious waves, pounding surf, and torrential rains are considered prime conditions. Most hotels (including those in Where to Stay) offer luxurious storm-watching packages; travelers determined to hike during the storms are advised to go with a seasoned guide or naturalist, bookable through your hotel with outfits like Ucluelet-based Hello Nature Adventure Tours or Long Beach Nature Tours in Tofino. Both companies also offer year-round excursions beyond storm-watching season, from half-day to weeklong trips highlighting the region's natural and cultural history. Hello Nature's Coastal Explorer, for example, leads hikers on a morning trek through towering, old-growth forest, over unique rock formations and past dazzling tidal pools on Ucluelet's sparsely populated coastline. Those feeling peckish post-hike might want to hop on over to the original Tacofino truck, parked on Tofino's outskirts, for the perfect power snack: fish tacos and ginger-lemon Tofino Kombucha.
Wildlife-viewing on the Pacific Rim is a breathtaking experience, affording animal lovers the chance to spot whales, porpoise, black bears, bald eagles, sea otters, sea lions, and occasionally the elusive Canadian coastal sea wolf. In March and April, as many as 22,000 Pacific gray whales migrate along the coastline; orcas, humpbacks, and blue whales can also be seen. Skilled guides with reputable wildlife-watching companies lead boat excursions along the coast and to the region's outlying islands, including Meares Island and Vargas Island. The Tofino Resort + Marina Adventure Centre offers daily three-hour whale- and bear-watching boat tours, chinook-salmon-fishing trips, and excursions to Hot Springs Cove, where you can soak in natural springs fed by geothermal waterfalls.
Expert's Tips
From Pete Devries, Tofino native, internationally ranked pro surfer, winner of the O'Neill Coldwater Classic Canada, and star of The Seawolf.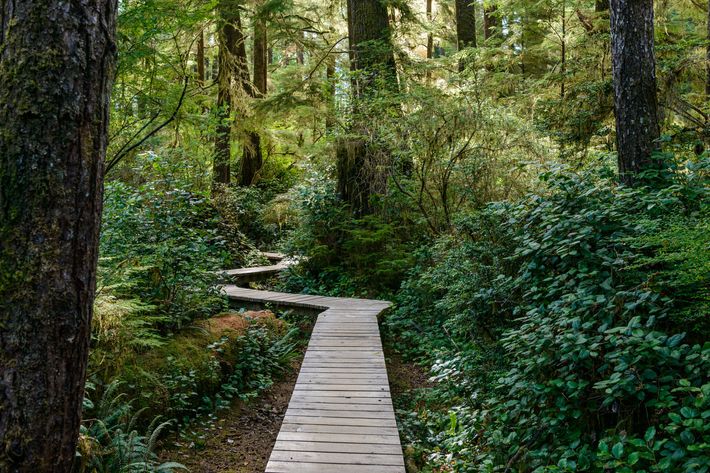 I love winter in Tofino. It's a little quieter and we get those stormy days that I really enjoy. If you want the true West Coast experience, January is great. But be warned, that comes with rain almost every day.
An ideal day in Tofino is a beach day with good friends, surfboards, a frisbee, a soccer ball, and a bunch of food. If the weather's bad, head to the Great Room at Long Beach Lodge or the heated patio at Shelter Restaurant. My favorite place is SoBo. Get the fish tacos or the Thai chicken (and a margarita) if you go.
The best beach for surfing depends on the sandbars and time of year. The nice thing about Tofino is that we have beaches for every range of swell. I surf Cox Bay the most, but in winter, that changes to North Chesterman Beach.
Everyone knows the beaches here are amazing, and if you put a little effort in, you can hike to the more hard-to-reach places, like Radar Beach and Schooner Cove. The hike up Cox Point is fairly short and gives a good overview of the area. I would also try to get up in a plane or helicopter with Atleo to experience the beauty of the island from the air.
Resources
View snapshots of Tofino on the Instagram of the town's much-loved mayor (and social-media maven), Josie Osborne.
Check out Tofino Footprints, a video series spotlighting enterprising locals at work in the conservation and culinary realms.
Visit Discover Ucluelet for the low-down on restaurants, hotels, shops, and more in Ucuelet.
Access Tofino-Ucluelet Westerly News for news, sports, and entertainment in both towns.
Click on Tourism Tofino for details on everything from grocery stores to surf reports on Tofino's beaches.