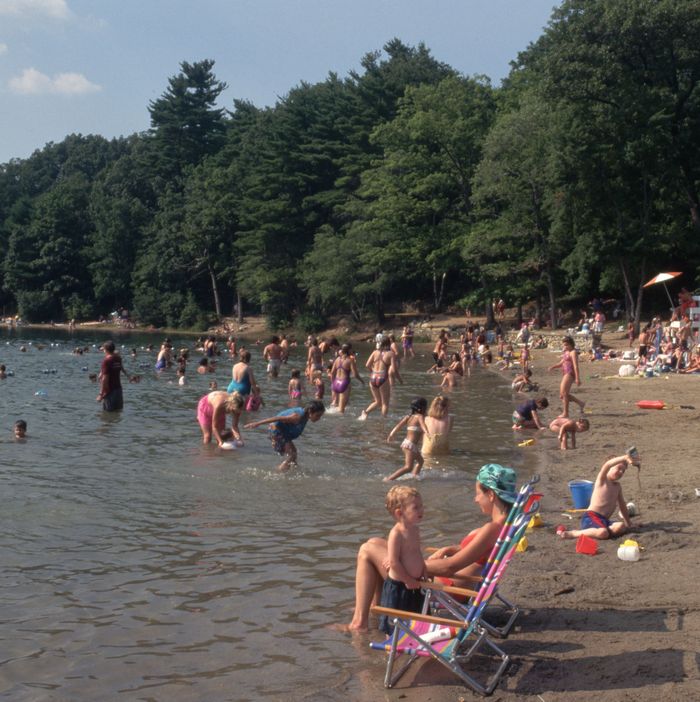 Photo: Lee Snider/Getty Images
As I approached the Walden Pond parking lot on a blazing-hot summer's day, I saw a sign stating that the state park was filled to capacity and, for the time being, would be closed to new visitors. I pulled over, and within a minute a park ranger was at my window, shooing me along. Luckily, I had a big-shot celebrity riding shotgun: Elisa New, the Powell M. Cabot Professor of American Literature at Harvard University and host of PBS's Poetry in America. This was a bit like showing up to a Hollywood nightclub with Vince from Entourage. New flashed her Harvard ID, velvet ropes were lifted, and I parked a stone's throw from the park's brand-new visitor center.
Walden Pond State Reservation is a five-minute drive from Concord, Massachusetts — the sort of New England town that always smells like apple cider — and just a 30-minute drive from Boston. With some 500,000 annual visitors, it's Massachusetts's second-most-visited state park. (Note: Unless you plan to bring your own Harvard professor of transcendental literature, be sure to call the park hotline, 978-369-3254, or check out its Twitter account, @WaldenPondState, before visiting to see if it's at capacity.) The park's popularity is owed in large part to the legacy of Thoreau, who, of course, is best known for his book Walden; or, Life in the Woods, first published in 1854. (Much was made last year of Thoreau's bicentennial.) A mainstay in high-school classrooms, Walden is a circuitous meditation on nature, industry, society, ethics, philosophy, and religion, and the pond was central to Thoreau's thinking.
What makes Walden Pond a top summer destination is that it's a rare living literary-history site that won't make you feel bad for not having read the book — because it's also a beach. If, during a visit, you're not in the mood to contemplate the nature of reality, or of nature itself, take your clothes off and sunbathe, swim, or snorkel. Read a romance novel you bought at Walgreens. Play Frisbee. Order a pizza. I once watched a guy practice righting his kayak, tumbling into the water over and over again like it was penance.
After I'd parked, Professor New and I walked down to a wide beach, which I expected to be crawling with people but was instead lightly populated and peaceful. New playfully noted that Thoreau would've been disgusted by the state park's capacity policy. But there were half as many people on Earth in Thoreau's time, so he probably never had to battle pasty New England sunbathers for towel space.
We found a pleasant trail at the end of the beach and set off on a walk around the rim of the 61-acre pond. Suddenly, New stopped us in our tracks. "It's really beautiful what we're listening to," she said, trying to locate a songbird performing out of sight. "Thoreau wrote a chapter called 'Sounds' about receptivity of what's right next to you. It's different from what you see. Your eyes are in front of your head and always future-focused and linear, but what you hear comes from all around you."
In "Sounds," Thoreau writes about the songbirds, roosters, and whippoorwills around Walden and "the cheap and natural music of some cow," but much of the chapter is spent ruminating on the man-made whistle of the train that passes the pond periodically. It's a common misconception that Walden is a rant against modernity, commerce, and a global culture. Instead, Thoreau welcomes the train whistle. "I am refreshed and expanded when the freight train rattles past me," he writes. "I feel more like a citizen of the world at the sight of the palm-leaf which will cover so many flaxen New England heads the next summer, the Manilla hemp and cocoa-nut husks, the old junk, gunny bags, scrap iron, and rusty nails." To Thoreau, the train, though unnatural, is a symbol of an abundant world and, while New and I don't hear the whistle as we continue our walk, it's Justin Bieber's "Despacito," spilling from the Bluetooth speakers of a group of tweens lounging by the water, that reminds us of this world's rich bounty.
New and I hiked for less than ten minutes before we came upon the original site of Thoreau's cabin, which is now nothing more than a pile of rocks and a plaque. "I went to the woods because I wished to live deliberately, to front only the essential facts of life," it read. Thoreau is nothing if not quotable. His work is thick with breezy lines that look just as good on the walls of yoga studios and "welleries" ("This world is but a canvas to our imagination") as they do on libertarian greeting cards ("That government is best which governs the least").
After the cabin, we continued our walk around the pond, past areas New described as "microclimates," small alcoves where families and couples had staked out their own private beaches. These alcoves are the secret to getting the most out of Walden. They offer privacy and perfect sweeping views of the pond. As we walked, we saw a couple shoulder-deep in the water kissing, a few pot-bellied uncles asleep in lawn chairs, and a group of teenage boys chucking fist-size rocks toward their friend's head while he treaded water. It was a game, I think. Though none of these people were reading Walden or listening attentively to a tour guide, by experiencing "the tonic of wildness," they were communing with Thoreau more than any visitor to the Mark Twain House has communed with Twain, or Hemingway in Key West, or Hawthorne at the House of Seven Gables in Salem. Walden offers an experience that musty old houses can't — a barely changed reality that visitors can touch.
Walden Pond is humble — it took us about 25 minutes to stroll around its entirety — so it's easy to imagine an alternate reality in which Thoreau wrote about another body of water, and Walden faded into obscurity, the highlight of someone's corner-office view. Thoreau himself acknowledges Walden's modest size, but he claims the pond makes up for its small circumference with its depth — at 102 feet deep, it's the deepest naturally occurring pond or lake in Massachusetts — and its water's clarity, which, a park ranger informed me, is the result of an abundance of algae called Nitella that rests at the bottom of the pond. Thoreau described the water as "of such crystalline purity that the body of the bather appears of an alabaster whiteness," i.e., wicked pale.
As the afternoon sun pounded down on us, it was hard to resist the urge to jump in the water. On another trip to Walden, I did just that, floated, limbs akimbo, for an hour or so, wondering what Thoreau would've thought of this museum–cum–nature preserve, where some come to pay homage to Thoreau while others treat it as their own Daytona Beach. Thoreau has caught a lot of shit over the years from people who felt duped when they learned he'd have dinners at his mother's place, welcomed visitors regularly, and traveled into town when he felt like it. (Though I wish they were true, stories about Thoreau stealing pies off townspeople's windowsills are unfounded.) Armchair critics say such social interactions, in contrast with Thoreau's call to solitude in nature, make him a hypocrite. But those critics are missing the crux of his entire experiment: that nature and wildness should be accessible, a daily ritual. I asked New if she thought Thoreau would be pleased by the Walden Pond of today.
"I don't doubt he would," she said without missing a beat. "People are playing, and he likes that. Are they playing, or are they making art? Both."