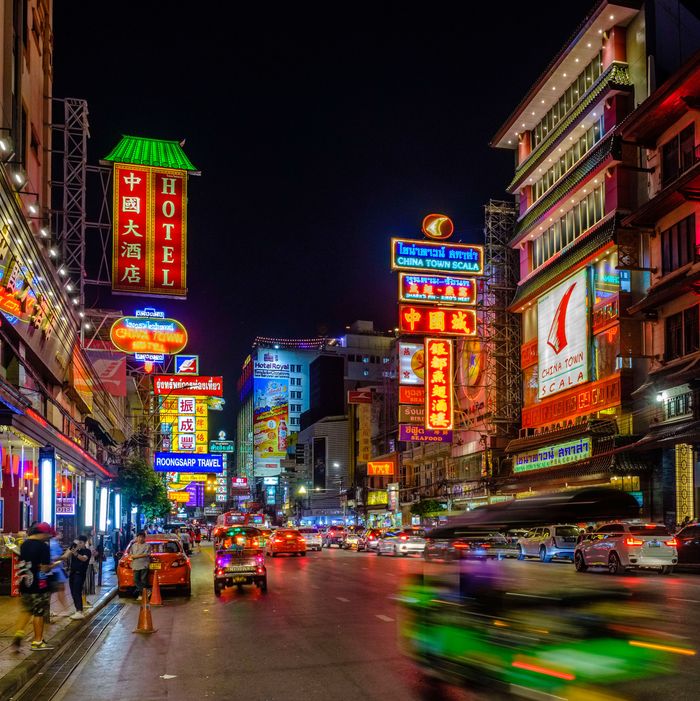 Yaowarat Road in Bangkok's Chinatown.
Photo: Frank Bienewald/LightRocket via Getty Images
Ask anyone who has spent less than 48 hours in Bangkok what they thought of Thailand's dizzying capital and several themes emerge. It's hot. It's polluted. The traffic is terrible. The skyline is ugly. And, most preposterously, the street food scares me.
If these fly-by-night farang (the Thai word for foreigners) do anything in their limited time outside Suvarnabhumi Airport, they might buzz through a sanitized "night market" like Asiatique or eat-pray-love their way around the TripAdvisor-approved temple circuit. If they're feeling adventurous, maybe they take a tuk-tuk to the backpacker slum of Khaosan Road, where they sign up for regrettable tattoos and snap cliché photos of deep-fried scorpions. Or perhaps they wander through the go-go bars of Soi Cowboy, bewildered smiles plastered across their faces.
Whatever they get up to before boarding their onward flights — typically to the Thai islands, the digital-nomad mecca of Chiang Mai, or another destination in Southeast Asia — they never really see Bangkok. And yet they can't get out fast enough.
Admittedly, Bangkok isn't an easy city to tackle when you're short on time. To give it a fair shake, you need at least five days — long enough that you won't spend your whole trip sitting in traffic. Unlike Tokyo, Paris, and other world capitals, Bangkok's extremes are acute and its charms slow-burning. More than 8 million people live in this sweltering jumble of concrete and neon and there is tension at every turn: between the military rulers and the progressives who pillory them behind closed doors, between the mushrooming condo buildings and colorful but decrepit shophouses, between the newly minted Michelin-star restaurants and the street vendors who've been forced to shut down shop.
Visitors often have difficulty wrapping their heads around the fragile political landscape, the pervasiveness of Buddhism, and the unimpeachable influence of the Thai royal family. The passing of beloved King Bhumibol Adulyadej on October 13, 2016, and the year-long mourning period that followed have led to a notable resurgence in national pride. Savvy millennials have seized upon this renewed interest in cultural heritage, launching galleries, fashion houses, and other businesses that celebrate Thainess. The travelers who get the most out of Bangkok are the ones who follow the news, support local entrepreneurs, and leap off the tourist track, exploring spirited neighborhoods like Chinatown, ducking into underappreciated temples like Wat Chaichana Songkhram, conversing with curators at provocative art spaces like Gallery VER, and digging into steaming bowls of braised duck gizzards (we promise it's good).
Over the course of this week, the Urbanist will be highlighting the very best of Bangkok — food, drink, art, culture, shopping, spas, hotels, and more — through the recommendations of those who know it best: 31 people who live there. Thailand's hi-so ("high society") culturati may be nudging Bangkok in the direction of moneyed metropolises like Singapore and Hong Kong, but everywhere you turn, the proletariat is fighting for the soul of their city.
Open your eyes. Stay a while. There's plenty to see here.
Your Everything Guide to Bangkok
Where the Locals Would Stay in Bangkok If They Weren't Local
The Best of Both Worlds: Bangkok's High and Low Food Spots
A Perfect Afternoon: What to Eat, See, and Do in Bangkok's Old Town
One Night in Bangkok? This Is How You Should Spend It
You Can Do Better Than Khaosan Road (and Other Tourist Traps)
Top Bangkok Spas for Foot Rubs, Yuzu Baths, and Crystal Healing
Where to Rummage for Vintage in Bangkok
An Insider's Guide to Bangkok's Underground Art Scene
Bangkok's Best Day Trips: Wild Elephants and a Siamese Theme Park
10 Souvenirs You Should Buy in Bangkok, According to Locals
What to Read, Watch, and Download Before Visiting Bangkok