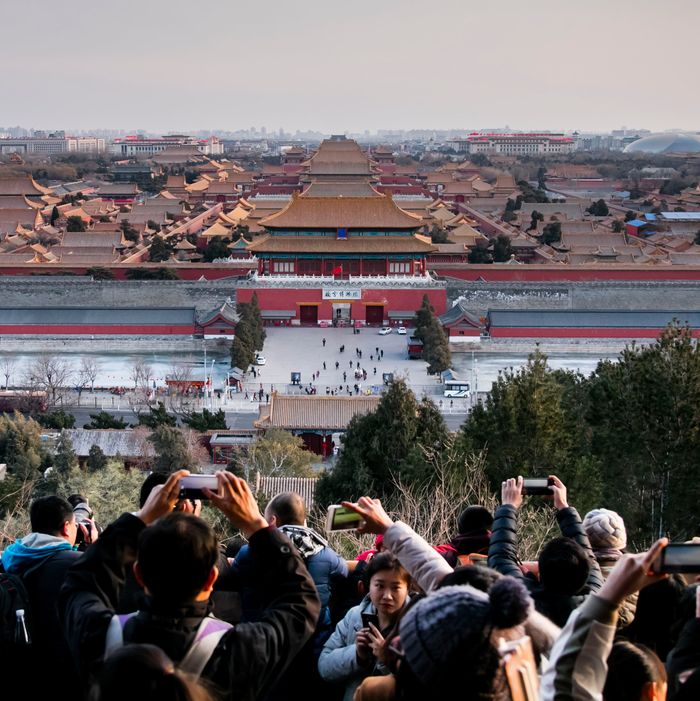 Visitors photograph the roofs of the Forbidden City from Coal Hill in Beijing's Jingshan Park.
Photo: Vincent Isore/Getty Images
Strolling around Sanlitun, a glamorous shopping mecca and 24-hour catwalk in central Beijing, it's easy to forget that the city is the home of what is essentially a one-party dictatorship, currently orchestrating a crackdown on dissent that has horrified human-rights groups.
On its surface, the capital of the People's Republic of China is just as glitzy as any other modern metropolis. Its vibrant fashion scene, bolstered by a new generation of increasingly successful homegrown designers, dovetails with the usual heavyweight international brands hankering for expendable cash from China's rapidly growing middle class. Indeed, you could spend your whole trip — and most of your annual salary — having a blast in the area, crashing out in trendy five-star hotels and popping Champagne bottles in the thumping nightclubs that encircle the imposing architecture of the 1959 Workers' Stadium. In 1970, during Mao Zedong's Cultural Revolution, the stadium hosted "struggle sessions" in which alleged counterrevolutionaries were condemned to death in front of braying crowds; now it hosts pop concerts and soccer matches.
That central party zone for moneyed Chinese youth is part of the intrigue of modern-day Beijing. But for many of its 22 million residents, the true spirit of the city runs through its hutongs: traditional residential lanes where neighbors live pressed against one another, fusing communities that strengthen with each new generation. Traversing these atmospheric lanes, you'll see grandpas in frumpy pajamas playing mahjong within spitting distance (there's a lot of spitting in Beijing) of the latest hipster coffee shop.
Often the hutongs are clustered near Beijing's most famous historical sites, such as the Forbidden City complex that was once the mysterious isolated home to the emperors, and the leafy Temple of Heaven, where locals practice tai chi in the shadow of the towering main temple. Also sprawling Tiananmen Square, a magnet for flag-waving domestic tourists happily posing in front of Mao's state portrait. (Media mentions of the 1989 student-led pro-democracy protests that ended in massacre here are censored in China, as part of the government's chillingly effective efforts to muzzle dissent and block information that could threaten the Party's power.)
The hutongs, like much of Beijing, are in constant flux. With city authorities seemingly intent on diverting every restaurant and bar into shiny shopping malls, backstreet eateries are often bricked up at a day's notice by officials citing previously tolerated license violations. Clubs and music venues shutter for weeks on these officials' whims. Therefore, to get the most out of the city, now more than ever it's vital to seek the advice of those who already revel in it.
Beijing's choking air pollution, general grittiness, and the bluntness of many of its residents can be a jolt to the system. But it's a jolt to be embraced in a city offering unlimited reward to those who make an effort to get under its skin. All this week, the Urbanist will be diving deep on the Chinese capital, interviewing 25 locals about their favorite hotels, bars, eateries, shops, day trips, and more. When you're drinking throat-scorching baijiu with new friends in an unmarked bar, discovering Beijing's exhilarating underground rock scene, or finding your new favorite artist in a tiny hutong gallery, we're certain you'll agree that the challenges of Beijing are well worth embracing.
Your Everything Guide to Beijing
Where the Locals Would Stay in Beijing If They Weren't Local
Survival of the Delicious: Exploring Beijing's Backstreet Eateries
Where to See Art in Beijing (Beyond the 798 Art Zone)
The Best Places to Drink Craft Beer in Beijing
The Fashion Insider's Guide to Shopping in Beijing
Where to Eat Near Beijing's Biggest Tourist Attractions
Say No to Beijing's Superclubs and Yes to Its Underground Nightlife
How to Explore Beijing's Historical Hutongs
To See Chinese Punks Lose Their Minds, Hit Up These Livehouses
Scuba Diving the Great Wall of China and Other Escapes from Beijing
What to Read, Watch, and Download Before Visiting Beijing