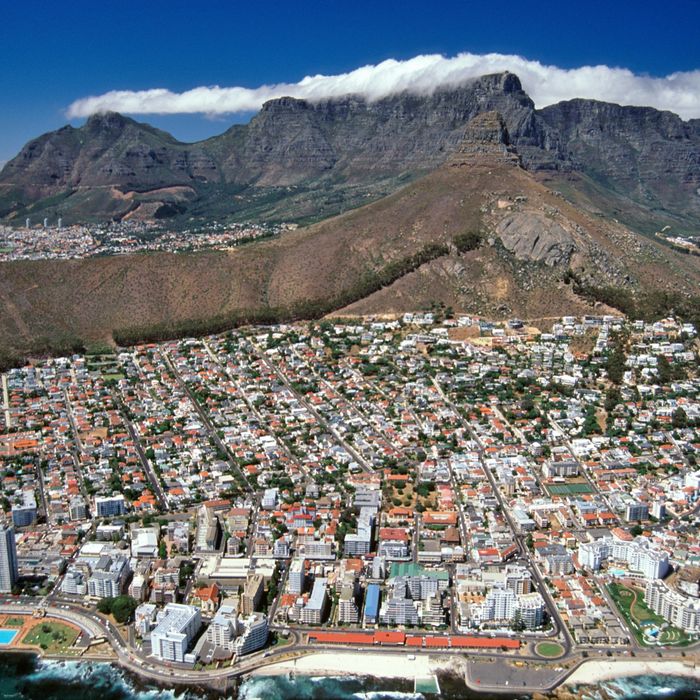 Cape Town and Table Mountain in South Africa.
Photo: Eric Nathan/Getty Images/Gallo Images
Most Cape Town fans will wax rhapsodic about its natural splendor. As they rightly should: Within its city limits you'll find some of the world's most beautiful beaches nudging their way toward the slopes of the dramatic flat-topped mesa that sits at its heart, resulting in staggering vistas that less blessed cities could scarcely dream of. This is the kind of place where man-made skyscrapers can't hold a candle to the true star of the city's skyline, Table Mountain, one of the world's New7Wonders of Nature; it's where the sounds of traffic can easily be muffled by the crashing of the waves.
Yes, there are mountains you must climb and beaches you must bask upon, but the beauty of the Mother City, as it's fondly known, is not merely skin deep. The singular energy comes from its denizens, who are taking inspiration from their surroundings and reshaping the city's post-apartheid narrative. Cape Town's artists are finally getting their due, with the buzzed-about opening of the Zeitz Museum of Contemporary Art Africa late last year refocusing the attention of global art luminaries to the tip of the continent. The restaurant scene is exploding, with local chefs returning home after stints in Michelin-pedigreed kitchens across the globe to bring innovative culinary concepts to their hometown. Whether it's dining or art, fashion or wine, creativity is the theme at the moment in Cape Town — and there are countless places the city's creative spirit manifests itself. This past year, that spirit has prevailed even during a severe water crisis of a magnitude that's unprecedented anywhere on the planet: Residents have banded together to implement new methods and campaigns to avoid the worst-case scenarios. And so far, it seems to be working.
This week, the Urbanist is taking you to Cape Town, with the people who know it best as your guides: 24 of the ultimate Mother City insiders, who shared their best tips on galleries, markets, wine farms, coffee shops, hikes, rooftop bars, and more. Cape Town's looks might be what entice you to make the long flight (15 hours to Johannesburg, plus another two to Cape Town), but it's everything else that will make you want to stick around.
Your Everything Guide to Cape Town
Where the Locals Would Stay in Cape Town If They Weren't Local
What Travelers Should Know About Cape Town's Water Crisis
How to Shop Like a Local in Cape Town
Where Cape Town's Hottest Chefs Eat Out
The Best Markets in Cape Town, According to Locals
A Top Sommelier's Lowdown on the Western Cape Winelands
Your Perfect Saturday Night — Or Thursday — in Cape Town
Art, Art Everywhere: The Gallery Hopper's Guide to Cape Town
Penguin Beaches and Other Ways to Escape Cape Town
10 Souvenirs You Should Buy in Cape Town
What to Read, Watch, and Download Before Visiting Cape Town