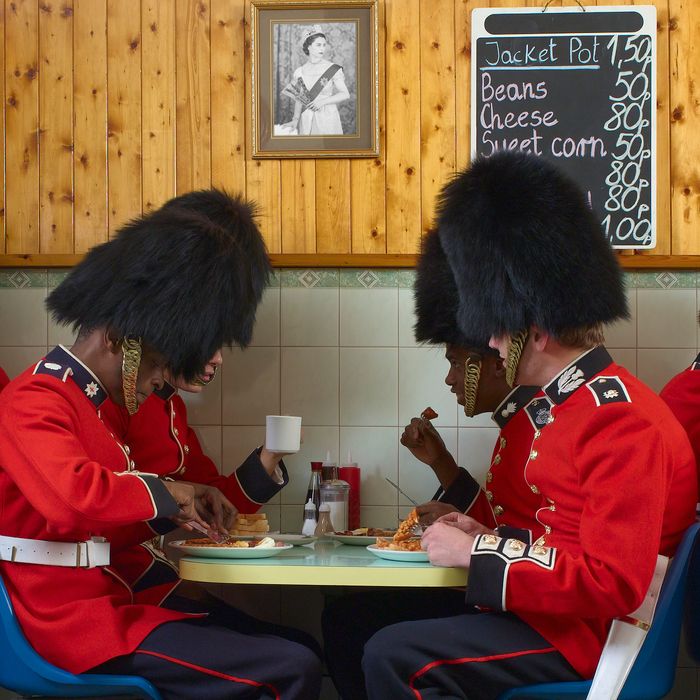 The guards have to eat, too.
Photo: Gideon Hart/Getty Images
When it comes to food in the capital, fish and chips is the first thing that comes to mind for many travelers. While that is always worth seeking out, you can also eat up and down and around the world in this town. With this in mind, we asked a quartet of local food experts to give us the dish on their favorite dishes — some being British classics and the others unique to contemporary, cosmopolitan London.
Potted shrimp, pickled cucumber, and toast at Great Queen Street
"While potting and pickling have been traditional ways of preserving perishable foods in Britain for centuries, this dish conjures up the summer and makes the best of British ingredients. It's a real treat when it appears at Great Queen Street — a converted pub with scrubbed wooden tables and a simple interior, smack bang in the middle of Covent Garden. Thankfully the hoards tend to pass it by in favor of more familiar chains, so it retains the feeling of an intimate neighborhood restaurant. The menu changes with the seasons, and the last time I visited, my table of three didn't leave a scrap. The pickled cucumber is a lip-puckering mixture of sweet and sour and, with thick slices of chewy, crusty sourdough, a perfect contrast to the nutmeg-seasoned buttery shrimp." —Polly Russell, food historian and curator behind the British Library's Food Season
Curry at Hoppers Soho
"Britain's favorite dish is a curry. This can vary across different cultures and styles; to me it's like the tiki drink of food. It doesn't need to be a spice bomb — who likes eating fire? — but there should be a real depth of flavor. Many friends from my Saint Martins days still love Tayyabs — it's keenly priced and BYOB, so a definite student fave. The [Punjabi] lamb chops are legendary — fiery and richly flavored, they match the loud bustle of the space. But bringing new flavors from South India and my ancestral Sri Lanka is Hoppers. Order the fish kari. I have an affinity for it as I have fond memories of my mum's cooking. [Theirs] uses fenugreek, mustard seed, Sri Lankan curry leaf, tomato, and coconut, but the gorkha gives it an amazing smoky sourness that contrasts with the mackerel at its base. The sauce, being rich and tangy, works perfectly when mopped up by some hoppers. Seafood curries balance the sweetness and spice for me and are an instant transport to sunnier climes. Drink their salty [masala] buttermilk to cool off, or an Arrack cocktail to set the destination."
—Ryan Chetiyawardana, a.k.a. Mr Lyan, the bartender behind Dandelyan at Mondrian London and "cocktail restaurant" Cub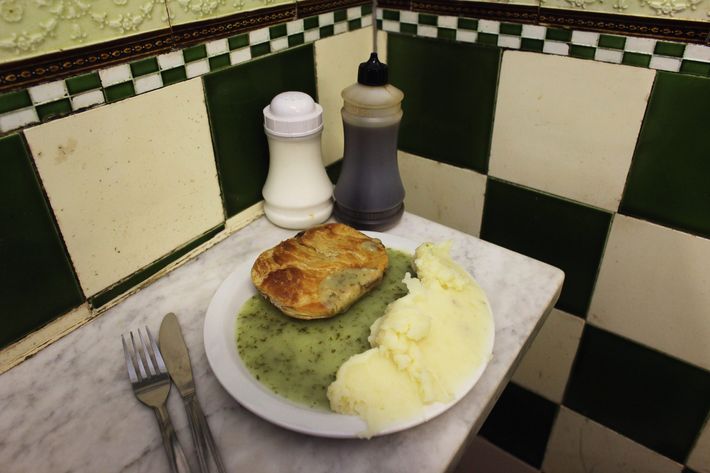 Pie and mash at M.Manze
"M.Manze was established in 1902. Stepping inside is like time travel back to the London of yesteryear, when the food was terrible, leaving you with mottled pink and gray skin. The interior is a tiled jewelry box, with archaic advertising and refrigeration technology that has been running since the 1940s. This ancient preserved design is the chief pleasure of the M.Manze experience. But now you've seen it, you are going to have to go all the way! The dish to order is pie and mash. In fact, it is the only dish you can order (save for jellied eels). Bathe it in green sauce (parsley sauce with the consistency of wallpaper paste) and revel in tradition. If the British had a reputation for bland and repellent food, this plate is the reason. Though the food is abhorrent, the experience is unparalleled and well worth it. We just hope that the post-Brexit foodscape shares none of its characteristics. If you want a pie to relish, then head to the Pie Room at Holborn Dining Room in the Rosewood. Their head chef Calum [Franklin] has been studying historic pies, but tweaking them with an irreverence for tradition that ensures a genuinely pleasurable meal." —Sam Bompas, one half of Bompas & Parr, creators of architectural jellies, immersive culinary experiences, and the forthcoming British Museum of Food, whose inaugural exhibition, "SCOOP: The Wonderful World of Ice-Cream," debuts in King's Cross (July 3–September 30)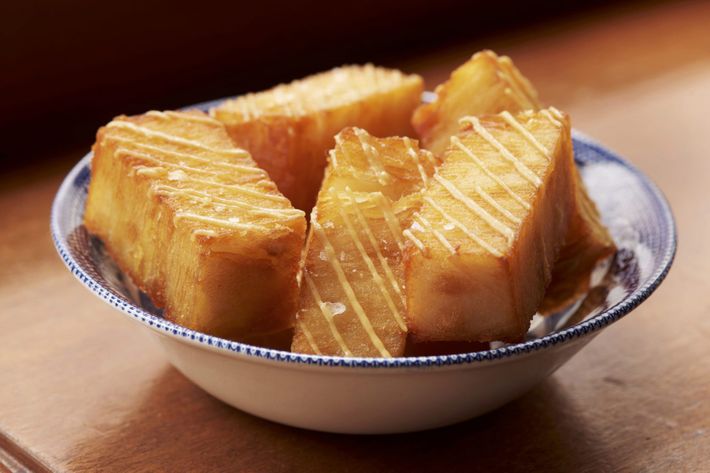 Potatoes at The Quality Chop House
"It is easy to wax lyrical over the simple potato. The variety that this country alone produces is staggering, and the ways to cook it, from gratin to mash, make it a perfect companion to every dish. But [holding] a special place in my heart is the crisped, golden orb of a roasted potato. A well-established side to the traditional British Sunday roast, this starch can take center stage when done well, and as someone controversially not that into Yorkshire puddings, it takes up 50 percent of my plate. The second-best in town — the first being my friend Catherine's — is at the Quality Chop House. An eating house for over 100 years that used to cater for a working-class clientele, it feels caught in time, despite the "of now" wine list and cooking talents. The key is crispy golden goodness on the outside, and soft buttery goodness on the inside. Chef Shaun Searley's offering is a confit that has been sliced and put back together, but taste, texture, and feeling meet the criteria of a perfect roasted spud. This has all the ideals of home and comfort that a Sunday roast gives, but in just one dish."
—Anna Sulan Masing, writer, poet, academic, co-curator of food-and-literary salon series Voices at the Table and co-founder of the TMRW Project, which supports emerging culinary talent
Soufflé at the Anchor & Hope
"The Anchor & Hope was London's first "gastro-pub" — before the term became bastardized — mixing social drinking and elevated food delivered with soigné nonchalance. There are no reservations and when you arrive, it is invariably loaded to the gunnels with roistering and saucy patrons. Head to the bar and bide your time. Dinner never disappoints. You can gorge like an ogre on steaming hunks of flesh, with their cuts so tender that you can carve them with a spoon. Of all their dishes, the soufflé is king. While regular soufflés aim for vertical glory, the Anchor and Hope soufflé is cooked in a wide, shallow dish, so it is born to fail. This results in a glorious range of textures, from the encrusted side to a liquid moat surrounding an airy castle of savor: three different cheeses mingle with hazelnut, courgettes, mint, and abundant cream. No plate has made me jealous of the creator's guile until eating this. It is perfect for service as there is no way for guests to reasonably complain of a collapsed soufflé! I find it hard to control myself around eggs and cream and this [dish] is a lesson in the art of losing control." —Sam Bompas
Squid-ink flatbread at Black Axe Mangal
"Eating at Black Axe Mangal is not a subtle experience, and this is why the squid-ink flatbread sits so well. It's a masterpiece regardless, but in the loud buzz of this tiny restaurant it channels a bold joie de vivre that feels shed of all the fluff and pretentiousness that can often surround something this revelatory. It's served simply — piping straight from the Kiss-adorned clay oven, on a metal plate — but like the restaurant, it pops. What strikes you first is the color contrast: unblemished light pink of the cold-smoked cod's roe, bright orange of the butter-basted yolk, and the imposing black of the bread — fermented overnight, with smoked potato and squid ink in the dough and the perfect charcoal char — all dusted in pinks, blues, and greens of edible glitter and blitzed seaweed. Anywhere else this final flourish would seem a gimmick, but here, with the Metallica soundtrack and super-friendly service, it just feels fun. Perfected when [chef Lee Tiernan] ran this as a pop-up out the back of a Copenhagen nightclub, the flatbread is chewy, malty, and sweet and has the funk to match the cod's roe, whilst the egg yolk oozes decadence into the whole proceeding." —Ryan Chetiyawardana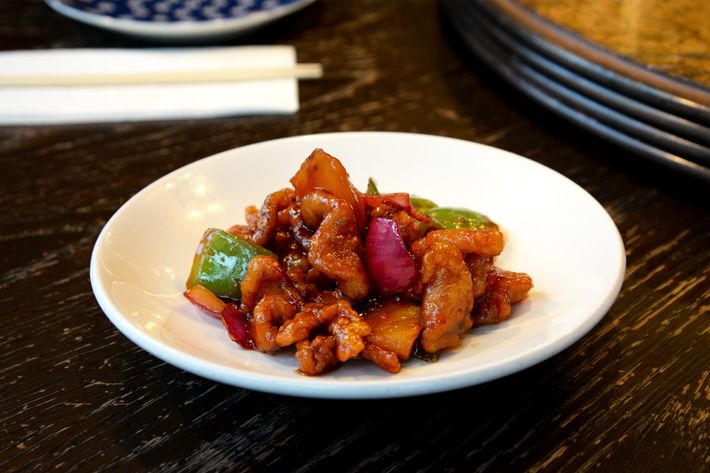 Sweet-and-sour pork at The Duck + Rice
"The brainchild of restaurateur Alan Yau (formerly of Wagamama, Hakkasan, Yauatcha, and Park Chinois), the Duck + Rice brings together two great British traditions: the pub and the Chinese takeaway. Imagined by anyone less ingenious than Yau, this high-end meta-concept would probably fall flat on its face, but here it works. The interior is mock-flock meets pub-paneling [while] retro favorites like chop suey and egg fried rice are cooked to perfection. But the sweet-and-sour pork both takes me back to childhood and reminds me how delicious this dish can be when cooked by a clever chef with good ingredients. Rather than minuscule cubes of indeterminate meat wrapped in a greasy, craggy batter drenched in a sickly sweet sauce, the Duck + Rice's version comes with substantive pieces of crispy battered pork in a sauce flavored with fresh orange peel and ginger. There are cocktails and a wine list, but I think the ice-cold Pilsner Urquell tank beer is the thing to have." —Polly Russell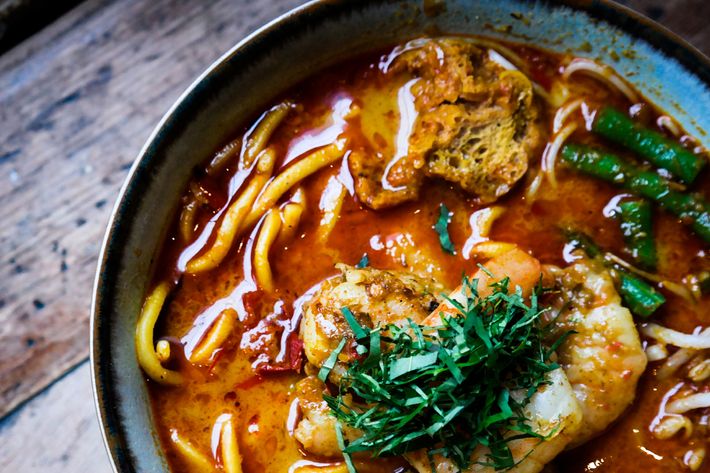 Laksa at Sambal Shiok
"I have followed Sambal Shiok from street market to pop-up, and now it will be opening a permanent restaurant [in North London] on my way home from work. The bliss. As a half-Malaysian, it's important to get my fix of laksa — a noodle soup with chili, lemongrass, tamarind, and coconut milk. Mandy [Yin], the owner and chef, makes one inspired by her childhood [in Malaysia] — a touch of Nyonya from Malacca (her father's hometown) and her Kuala Lumpur primary-school lunch. Left to sit for 24 hours to ensure that all the flavors develop fully, it has a deep kick to the spice and a little more tamarind than usual. It is completely unique and so incredibly moreish." —Anna Sulan Masing