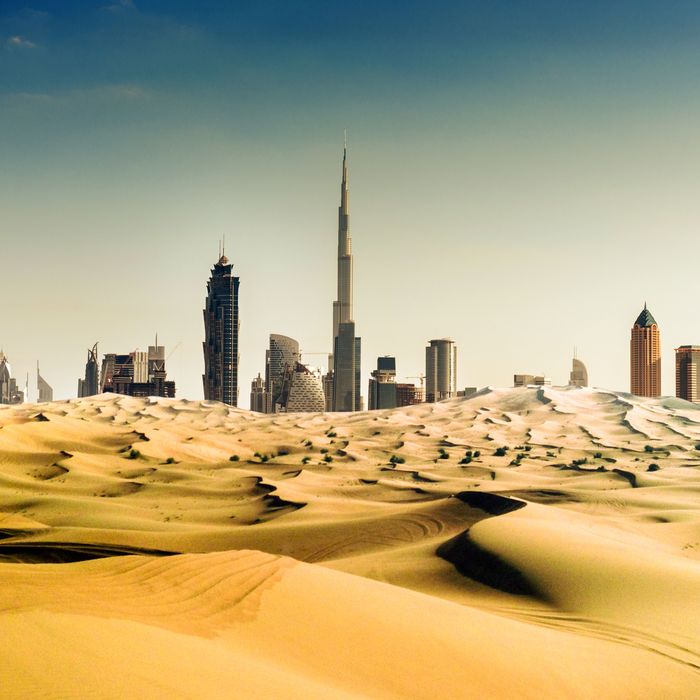 The Dubai skyline, as seen from the Arabian desert.
Photo: Francesco Salvaggio/Getty Images
Hands up, who here has ever read a scathing article about Dubai? Because wow, there is a lot of negative press around the United Arab Emirates' (UAE) most populous city. Most recently, a travel essay by Andrew Marantz in The New Yorker trod a similar path to that of countless others, labeling Dubai a "non-place of a city" and little more than a glorified transit point. Have a brief wander around a couple of malls, take the elevator up the Burj Khalifa, then fly off again.
As far as Marantz and the rest are concerned, Dubai, with all its glitter and gold, is asking for it. A city that, before the federation of the UAE in 1971, was just a torpid trading port, and home to fewer than 200,000 people. Thanks to the discovery of oil in the late 1960s, it's now the talk of the world on the back of a numbing list of superlatives: home to the world's tallest building, largest shopping center, fastest police car, and so on.
So what? Dubai enjoys — and excels at — smashing world records. It shines in luxury and opulence. It likes gold, sparkly things, and big, splashy superlatives. Bold and brash is what has put this city on the map. Dubai is unafraid to be loud and perhaps a bit ridiculous, which on the surface can distract from the fact that it is also home to a wildly diverse group of people.
The population of Dubai now stands at around 3 million, only 230,000 of whom are Emirati. Foreigners representing every corner of the globe, including immigrants from the Indian subcontinent and the Philippines, vastly outnumber nationals, and many have lived and worked here for decades in finance, hospitality, and every industry in between. While the biggest bonus of working in Dubai may appear to be tax-free salaries — not including expatriate returns — the exorbitant cost of living balances out this benefit. All-inclusive packages with accommodation and education allowances are not as common as they once were; rent is still staggeringly high; and even a bottle of wine at dinner can often feel extortionate.
That said, most transplants find it hard to leave. Like the city itself, the people who live here are ambitious and keen to push the limits. From opening boutiques, to launching cafés, or organizing farmers' markets and music festivals, expats in collaboration with Emirati locals continuously invest in what they want "home" to look like. Beyond the pop-ups and start-ups and sky-scraping build-ups that have shaped and reshaped the skyline over the last ten years, policy changes have also followed. Case in point: the gradual loosening of alcohol-licensing laws in this still-conservative Islamic country, where not long ago enjoying a crisp Chablis with lunch would have been unimaginable outside of a hotel — at least for tourists. (Muslims in the UAE are still not legally permitted to consume alcohol.)
So rather than a "non-city," we find a new city — one trying hard to catch up but also one of possibilities, with room for superlatives and all the in between. This week, the Urbanist will be tackling Dubai head-on. We've enlisted the help of 35 resident experts to share the best of this city of contrasts, from the swankiest beach clubs and gold-dusted cocktails to the spiciest hole-in-the-wall curry shops. In other words, it's the kind of travel intel you won't discover in a couple of malls and a skyscraper on a day-long layover.
The Everything Guide to Dubai
Where the Locals Would Stay in Dubai If They Weren't Local
The Best of Both Worlds: Dubai's High and Low Food Spots
Worthwhile Alternatives to Dubai's Biggest Tourist Draws
The Skeptic's Guide to Art and Culture in Dubai (Yes, It Exists)
The Best Shopping in Dubai, According to a Fashion Director
The Bottoms-up, Balls-out Thrill Seeker's Guide to Dubai
How to Live Like a Sheikh in Dubai (For a Day, Anyway)
The Best Day Trips From Dubai: Sharjah, Hatta, and More
Dubai After Dark: The Perfect Night Out For Every Personality
The Best Souvenirs to Buy in Dubai, According to Locals
What to Read, Watch, and Download Before Visiting Dubai