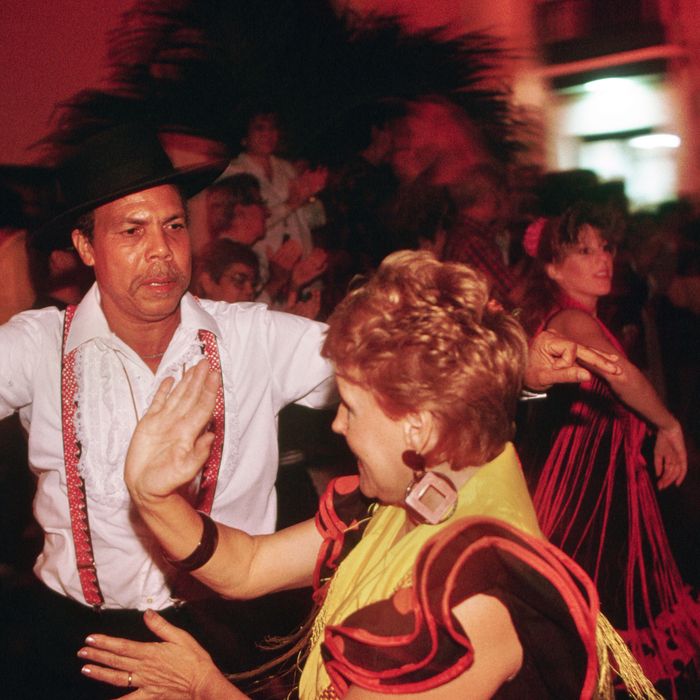 Revelers dance in the street during a carnival in Old San Juan, Puerto Rico.
Photo: Bob Krist/Getty Images
Puerto Rico's biggest export is its music, which has been embraced the world over. It's impressive that such a tiny island has produced not just myriad chart-topping musicians (Luis Fonsi, Daddy Yankee, Pablo Casals, Tito Puente, Ricky Martin, Bad Bunny, etc.), but entire genres like salsa, merengue, bomba y plena, reggaeton, and Latin trap. What follows are clued-in locals' top picks for experiencing live music and euphoric dancing.
For salsa …
"La Plaza del Mercado Santurce, a.k.a. Placita, is a must for music. This is the main marketplace in Santurce, and when the market shuts down at night, all of the restaurants and bars surrounding it come to life. Each one is playing Puerto Rican music; there might be a salsa band at one spot and a trumpet player at another, and even some places have semi-karaoke — I say 'semi' because the singers are really good. Everyone is singing and dancing and spilling into the streets; it's super fun. You can really feel the Puerto Rican experience when you are right in the middle of it." —Alberto Carrión, musician, composer, and star of the popular Telemundo TV show Voces Expertas
"Yerba Buena in Condado has Big Band Mondays with Grammy-winner Humberto Ramírez, a famous jazz trumpet player. Make a reservation because it gets crowded, even though it's kind of a well-kept secret. Humberto will have an accompanying band of about 16 musicians there from seven to nine or ten o'clock." —Margarita Alvarez, fashion designer and a finalist on season 16 of Project Runway
"To dance salsa, Cambio en Clave is an amazing, magical experience. It was started by Rafa Cancel, an environmental lawyer who has created a new salsa community. You and your partner can sign up, but you're not signing up for couples classes. Rafa spends the first half-hour demonstrating steps, with a camera on his feet so you see what's happening. He is such a radiant, charming, fantastic person that every woman and every man falls in love with him during this class. He also uses humor to put people at ease. The second part of the class, all the women line up on one side and all the men on the other side and every 30 seconds you change partners. You see old ladies dancing with skinny dreadlocked dudes — all combinations of people. And of course many marriages have come out of it!" —Wesley Cullen, general manager at the Casa Bacardi distillery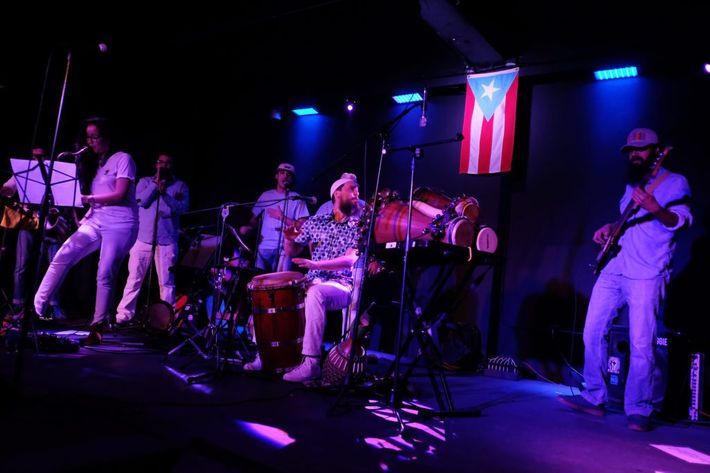 For hip hop, reggaeton, and Latin trap …
"La Respuesta is a classic. Every day they have something different: live hip-hop, reggaeton, live emcee battles, or breakdancing battles. You can go there at 3 in the morning on a Monday and it will be bustling. You think, What the hell are these people doing tomorrow morning? A lot of people from the restaurant industry hang here."
—Victor Monserrate, innovation design engineer
For jazz …
"Carli Café Concierto at the bottom of the Banco Popular building in Old San Juan is the destination for jazz. Carli Muñoz has been a jazz musician all his life. But his claim to fame was that he was the organ player for the Beach Boys for a long time. When the Beach Boys come to Puerto Rico, either to play at the Coliseo [the Colosseum] or on their own on vacation, they always come to Carli's to see him and hang out." —Alberto Carrión
For bomba y plena …
"Every Sunday, I go up to the street to El Callejón de la Tanca in Old San Juan. From about 3 p.m. on, they have a nice jamming session of our traditional, percussion-driven music and dance, bomba y plena. This is the greatest-kept secret. People from the neighborhood in La Perla come up and they meet there and just start playing, and it is a giant melting pot of everyone, a real community gathering. That is where I can go and shake my bones and not be judged. People bring scarves or wear flowing skirts, the traditional clothing, and even if they don't have it they still get into the circle and dance." —Sylma Cabrera, owner of Pure Soul Design clothing boutique
For bohemia …
"For romantic ballads and more traditional Puerto Rican songs, there are Wednesdays at Yolo. A lot of famous people go there to sing. Pianist Martin Nieves plays on Wednesday nights. Others, like Ángel "Cucco" Peña, will just drop in. He is a singer and composer and producer who has worked with everyone from Ricky Martin to Marc Anthony to Gilberto Santa Rosa. Chucho Avellanet, an actor and Latin pop star, also goes there. Doña Ana, a long-standing Puerto Rican soul food place in Bayamón, has became known for its music, too — and it's actually owned by a musician, Rubén Rodriguez. He has a house band that plays classic bolero and really old ballads, and anyone can get up and sing. He just opened another branch in Condado." —Alberto Carrión