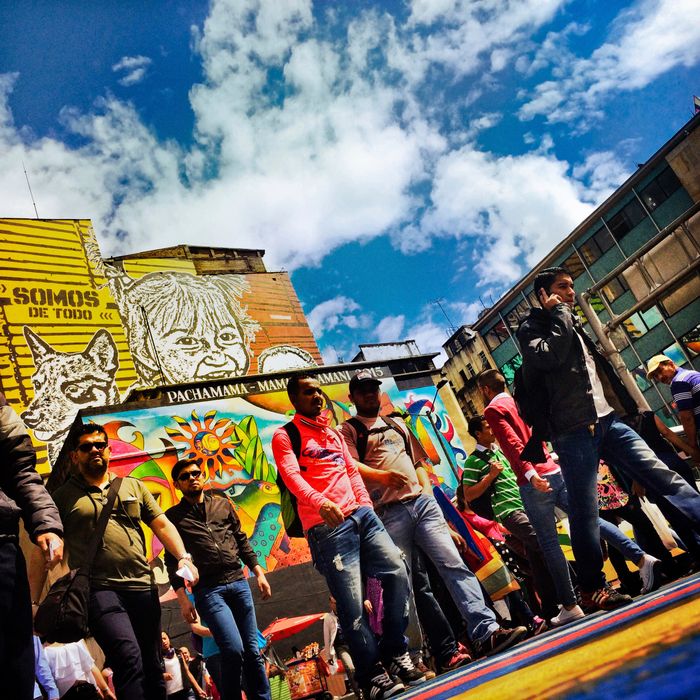 Pedestrians cross the street in front of a graffiti stencil by artist Toxicómano Callejero, in the center of Bogotá, Colombia.
Photo: Jan Sochor/LatinContent/Getty Images
Bogotá, Colombia, doesn't always give gringo travelers the greatest first impression, especially when stopping for a day en route to the sunny Caribbean coast. It's often gray and dreary and everything interesting is spread out across different neighborhoods, so sometimes there are long periods of being stuck in hellacious traffic. Tourists might have a moment of awe at the gold museum or earn a nasty hangover after a night of drinking aguardiente at whimsical steakhouse Andrés Carne de Res, but they miss out on where 99.9 percent of the city's 8 million residents like to hang.
If you came to Bogotá a decade ago, you would have stuck close to La Candelaria, the colonial quarter that is home to most museums, or maybe ventured north a bit for dinner, but in recent years large swaths of the city have opened up. Artists have taken over neighborhoods like San Felipe and La Macarena, launching galleries and hip cafés, while countless luxury hotels, including a W and two Four Seasons, have sprouted all over town. Ancestral drinks now appear in the pairings of tasting menus and old bull rings host concerts. Bogotá is still its wild self though; those who know where to look can find a popular drinking game that involves gunpowder, or soulful bowls of rib soup served at 4 a.m.
While Colombia's economy has slowed recently, it had been going bonkers for the last eight years, and everywhere you turn in Bogotá, you see a city that has undergone a major urban renewal. A modern, rapid-transit bus system has been around since 2000, but to keep up with growth, a plan for a subway network is starting to take shape. Aeropuerto El Dorado just added a new wing at a cost of $143 million and there are plans to open a second international airport in the suburbs.
With a 2016 FARC peace deal now in place, effectively ending five decades of civil war, Colombia is still trying to sort itself out; many tourists have trouble understanding the political situation in the city, which can be volatile at times. Yet that spunk, that fire, is what makes the capital so great. Street artists who protested police brutality are now encouraged by government officials to create art. Cyclists who took over city streets inspired a car-free movement that has spread around the globe. Modern Bogotá is a city built by the people and for the people.
All this week, the Urbanist will be highlighting the very best of Bogotá — food, drink, art, culture, shopping, hotels, day trips, and more —through the recommendations of those who know it best: 22 people who live there. A sterilized version of Bogotá, with its international chains and emerald stores, is emerging, and many residents, tired of years of disorder, might like it that way. But if Bogotá's history tells you anything, it's the city's shortcomings that make it so dynamic.
The Everything Guide to Bogotá
Where the Locals Would Stay in Bogotá If They Weren't Local
How to Avoid Other Tourists in Bogotá
How to Shop Like a Local in Bogotá
Where Two of Bogotá's Hottest Chefs Eat Every Meal of the Day
The Essential Gallery Guide to Bogotá
All Day and All Night in La Macarena, the Bushwick of Bogotá
5 Archetypal Bogotán Drinks and Where to Order Them
The Ultimate Street Art Guide to Bogotá
One Night in Bogotá? This Is How You Should Spend It
Cloud Forests, Coffee Haciendas, and Other Escapes from Bogotá
What to Read, Watch, and Download Before Visiting Bogotá