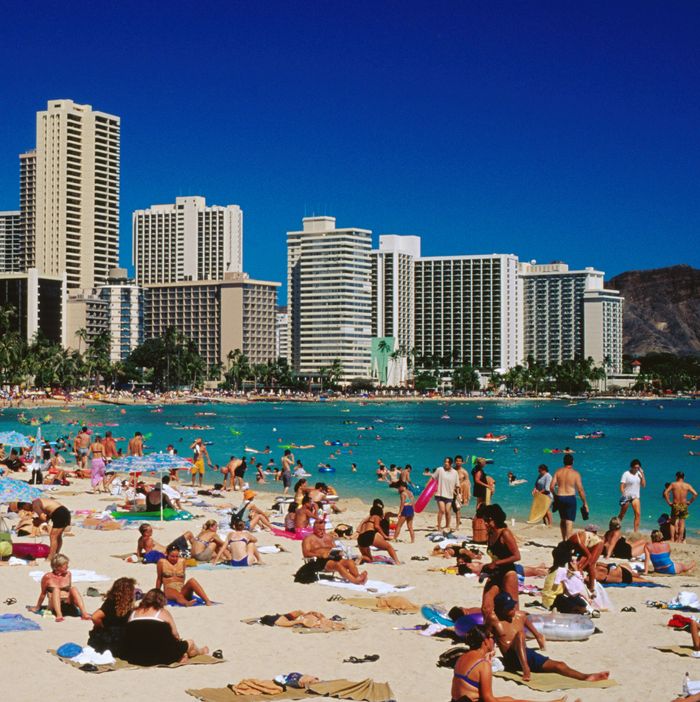 Waikiki Beach in Honolulu on the Hawaiian island of Oahu.
Photo: Richard I'Anson/Getty Images/Lonely Planet Image
Five years in a row now, Hawaii has experienced record-breaking tourism. In 2016, 8.9 million visitors flooded America's westernmost state, spending $15.9 billion in the process. That means that on any given day, you could find about 220,000 tourists crowding the Big Island of Hawaii, the surfer's paradise of Maui, the Garden Isle of Kauai, or the capital island of Oahu.
Waikiki, in particular, with its turquoise water lapping against a shore hemmed in by Diamond Head, iconic resorts, and high rises stitching up the sand, has wooed and enchanted visitors for more than a century. Most come from the mainland U.S., Canada, and Japan, so it's easy to forget as you're walking the streets of the capital that — hey, a lot of these people don't actually live here. For the 400,000 or so who do, it's an inspiring time to be in Honolulu.
While the area around Waikiki Beach remains a hotbed for tourists, a wave of homegrown entrepreneurship has also thrust Honolulu's former warehouse district and multicultural residential enclaves into the spotlight. A bike-share program launched last summer makes it easier than ever to scuttle between Waikiki and downtown, where one of the country's oldest Chinatowns is now populated with hip restaurants, bars, boutiques, and galleries. The once–Native Hawaiian neighborhood of Kaka'ako, meanwhile, is being reimagined as a playful stomping ground for Instagram-obsessed millennials. (As you can imagine, not everyone thinks this is a good thing.)
Ask a local what it's like to live year-round in Honolulu, with its enviously balmy weather, postcard-perfect beaches, and the best poke in the country, and they'll probably say it's awesome — but it comes at a price. The cost of living here is astronomically high, the traffic is abysmal, homelessness remains an issue, and sometimes you get a false missile alert blasted to your cell phone at eight in the morning. But for all of Honolulu's woes (and really, what city doesn't have them?), there's no denying the intense sense of community that comes with being isolated in the middle of the Pacific Ocean. Most Honolulu residents and business owners move through the world on the twin concepts of kōkua and mālama, Hawaiian words that capture a spirit of compassion, collaboration, and putting what's good for society above what's good for oneself. One look at the throngs of people jockeying for a sliver of pristine white sand or taking selfies with a sorbet sunset, and it's obvious that everyone who comes here — tourists and locals alike — just want a piece of paradise. They're in it together.
All week long, the Urbanist is taking you on an insider's tour of Honolulu. We've interviewed 24 islanders, including Native Hawaiians, long-term residents, and in-the-know transplants, to ask them where they go for the best mochi doughnuts, the cutest reversible bikinis, the craziest-fun karaoke bars, the most breathtaking sunrise spots, and more. It's everything you need to plan the ultimate vacation, 4,899 blissful miles away from New York.
Your Everything Guide to Honolulu
Where the Locals Would Stay in Honolulu If They Weren't Local
Where Organic Farmers and Top Chefs Eat in Honolulu
Honolulu's Best Beaches for Surfing, Snorkeling, and Sunrises
The Best Boutiques in Honolulu, According to Locals
What to Do in Kaka'ako, Honolulu's Hippest Neighborhood
Poi Donuts, Shave Ice, and Other Exemplary Honolulu Desserts
Slack-Key Guitar and Indie Hip-Hop: A Live Music Guide to Honolulu
The Insider's Guide to Honolulu's Chinatown
Mai Tais, Lava Flows, and Japanese Whisky: Where to Drink on Oahu
Hike a Volcano, Harvest Taro, and Other Ways to Escape Waikiki
What to Read, Watch, and Download Before Visiting Honolulu