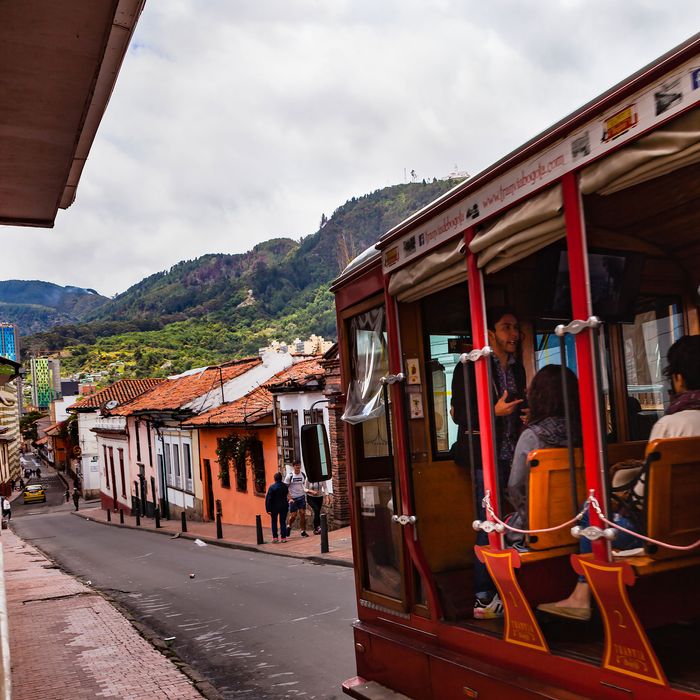 A tourist bus modeled after the old trams drives down a street in the historical La Candelaria district of Bogotá.
Photo: Devasahayam M. Chandra Dhas/Getty Images
Whether you like it or not, someone will probably drag you to all the museums downtown and in La Candelaria — and, admittedly, some of them are really great. And for a night of rumba and insane photo ops, it's obligatory to visit kitschy-fun steakhouse Andrés Carne de Res. But if you want to go where the locals go, take the following advice from these resident experts.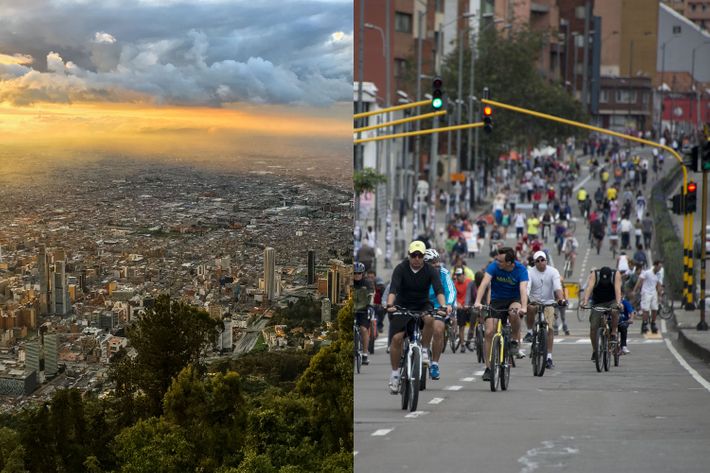 Instead of climbing Monserrate, ride in the … Ciclovía
You can get a good workout with a sweaty hike up Monserrate, the green mountain that flanks Bogotá's eastern side, but the top is perched with a crowded church and an overpriced handicraft market. Join the locals where they get their fresh air on Sundays and holidays from 7 a.m. to 2 p.m. That's when 76 miles of highways and streets are closed for pedestrians and cyclists for the Ciclovía. This idea of a mostly car-free city for one day a week began here in 1974, when 5,000 students took over the city's streets and bus lanes with bikes. It became an official event a few years later and has since expanded to cities around the world. "It's a good chance to walk or cycle all the way up to Usaquén, a beautiful neighborhood in the north on Bogotá, and you don't have to deal with traffic," says Ursula Levy, a radio journalist for the show "Dos y Punto" on Caracol Radio. "On Sundays, Usaquén has the most beautiful Mercado de las Pulgas, or flea markets, you'll ever see. It's clean and vendors sell from pop-up tents. You can find everything from antiques to vintage clothes to upscale handicrafts and vinyl records, plus there are awesome restaurants open for brunch."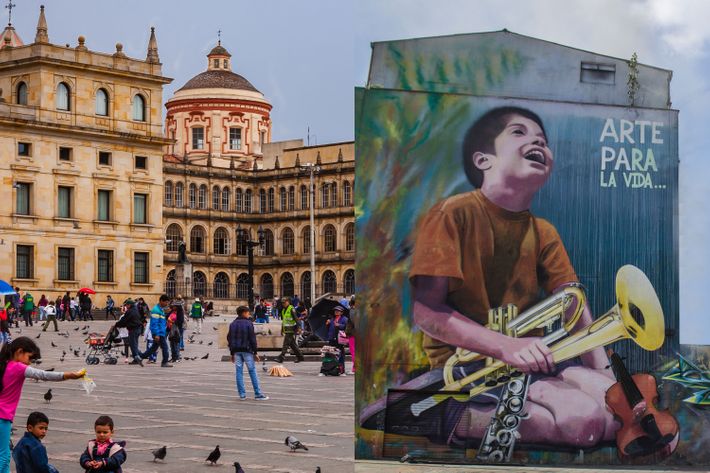 Instead of walking around La Candelaria, explore … Barrio San Felipe
The colonial and Republican-era cathedrals and buildings, home to grand plazas and cultural institutions, that line the streets of La Candelaria are without a doubt the majestic heart of Bogotá. Still, aside from all the graffiti-covered walls and parade of sticky-floor dive bars for the college and backpacker crowd, it can be hard to walk a block without seeing a copy of Lonely Planet Colombia. If you want a more authentic experience, try tourist-free Barrio San Felipe, where young artists are taking over a grid of streets between Calle 72 and Calle 80, and Carrera 24 and the Autopista Norte. "San Felipe has started to gather a refined selection of galleries and it has become my favorite place to visit in the city," says Gaeleen Quinn, founder of the Bogotá Wine and Food Festival. "It's the go-to place I tell my friends to check out when they're visiting. My favorite gallery is Sketch Room, which has a collection of drawings and eclectic works that are always interesting and well-curated by Liz Caballero. Other great galleries are Doce Cero Cero, SGR, and Beta. There are also studios where you can see artists at work. But go now! It's changing really quickly."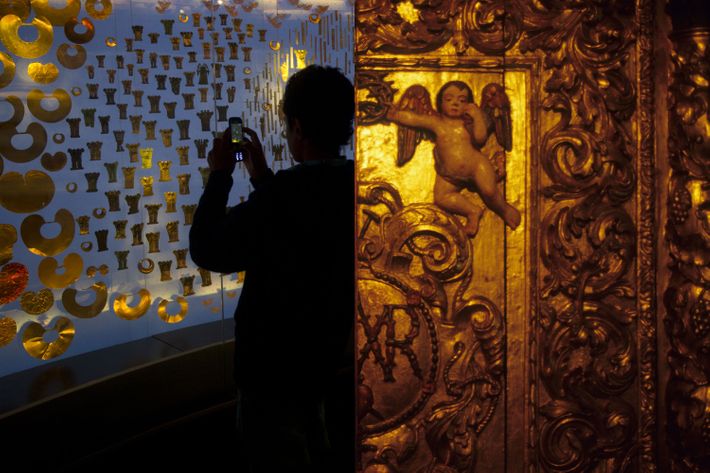 Instead of touring the Museo del Oro, hit up the … Museo Nacional de Colombia
So the gold museum is probably your only chance to see a gold raft that helped inspire the El Dorado legend glow in the dark, not to mention 55,000 other Pre-Columbian gold pieces, but why limit yourself to one type of artifact? The Museo Nacional, Colombia's largest and oldest museum, has an arguably more impressive collection. Originally designed as a prison by Danish architect Thomas Reed in 1874 and shaped like a Greek cross, the sprawling brick building contains 17 permanent thematic galleries that include things like 10,000-year-old arrowheads from Antioquia, sketches by Alexander von Humboldt, paintings by Fernando Botero (so you can maybe skip the Museo Botero too) and, yes, even gold pieces like an ornithomorphic pendant from the Quimbaya culture.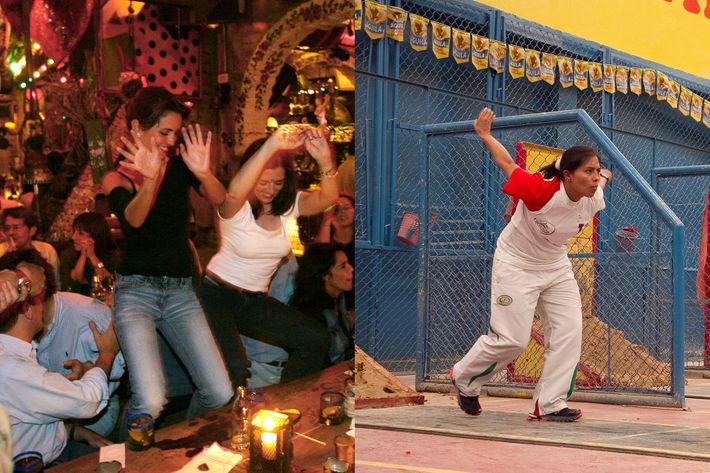 Instead of dancing all night at Andrés Carne de Res, learn to play … tejo
An almost three-square-mile steakhouse with a 64-page menu, walls lined with tens of thousands of pieces of bric-a-brac, that can squeeze in thousands of people a night who stay to dance until the early morning, is admittedly pretty cool. It's just that it's what every tourist does for a night out in Bogotá, plus it's a pain in the ass to get all the way out to Chía and back (and the urban outpost just isn't the same). If you want to change it up a bit, discover tejo, a game that involves heavy drinking and explosions. To play, you must visit a tejo club somewhere in the city, such as Club de Tejo La 76 (Carrera 24 #76-56) in Chapinero, and you'll toss a tejo, or steel disc, at a metal ring set with gunpowder that will explode upon impact. "It's a different kind of activity and how we realize our identity as Colombians," says broker Juan Manuel Ríos. "The crash into the mecha (target) and a loud bang, along with a beer with friends, is the best way to break the everyday routine." Tejo is so popular, in fact, it was declared a national sport in 2000.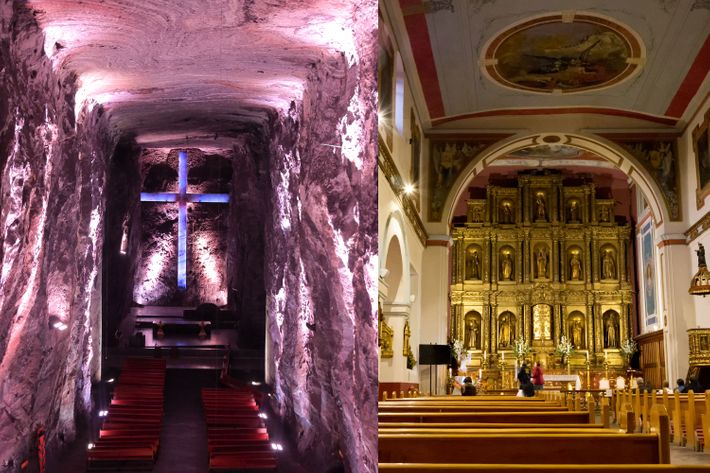 Instead of the Salt Cathedral of Zipaquirá, go to … one of the 1,500 other churches within city limits
The subterranean cathedrals carved out of a salt mine in Zipaquirá, 25 miles north of the city, brings in the religious pilgrims, though the cheesy lighting and unrelenting smell of rotten eggs can be a bit much. Not far from the gold museum and rather plain-looking from the outside, the Iglesia de San Francisco contains a spectacular gold-covered altarpiece that dates to the 17th century and a smallish statue of Christ with real-looking hair that allegedly grows. Then there's the 16th-century Iglesia Santa Bárbara, built by a man after his house was hit by lightning. It was dedicated to Saint Bárbara, whose father was struck by lightning after beheading her and is now the patron saint of people who work with explosives. In La Candelaria, check out the Iglesia de la Candelaria, a former convent built by Augustinian monks between 1686 and 1703; it contains paintings by Gregorio Vásquez, the most famous Colombian artist of the colonial period. And right on Plaza de Bolívar is the neoclassical La Catedral Primada, home to the remains of Bogotá founder Don Gonzálo Jiménez de Quesada.