The lobby of the luxury Burj Al Arab Hotel in Dubai.
Photo: CD/Getty Images/AWL Images RM
There's no denying Dubai's reputation for excess and extravagance. The discovery of oil in the 1960s, together with the strategic foresight of the ruling Al Maktoum family — currently led by Sheikh Mohammed bin Rashid Al Maktoum — helped propel the city into unimaginable riches and transform it into the glittering metropolis it is today. This is a city positively dripping with luxury, from its record-breaking skyline to its showy hotels and endless array of shopping opportunities. There's even a souk dedicated exclusively to selling gold. You might be tempted to scoff at such unabashed displays of decadence, but once your eyes have adjusted to the bling, you might try embracing it, if only for an afternoon. When it comes to the finer pleasures in life, Dubai is second to none.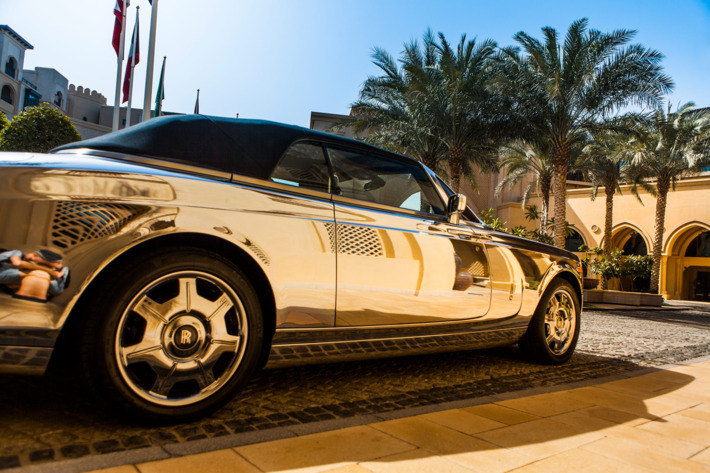 Hit the streets in a supercar
Cruise along Dubai's main drag, the 12-lane Sheikh Zayed Road, and within one 300-foot stretch, you'll see more expensive cars than most motor shows. If the sound of a turbo engine sprinting from zero to 100 makes your heart beat faster, call the folks at 911 Rent a Car. Take your pick from an eye-popping selection of flashy machines and you too can live life in the fast lane for a few hours (from $500). The only question is: Ferrari or Lamborghini?
See the city from on high
The next best thing to a magic carpet is a charter ride on a private helicopter with HeliDubai. Book a 40-minute sightseeing tour (from $500) to admire all of the city's man-made wonders from above, including the Burj Khalifa, the world's tallest building, and the Palm Jumeirah, the palm-shaped archipelago so distinctive it's visible from the moon. The company also offers a VIP transfer service, if you don't want to deal with that Sheikh Zayed Road traffic. Consider this a guiding rule of thumb for your trip: If it doesn't have a helipad, it's probably not worth visiting.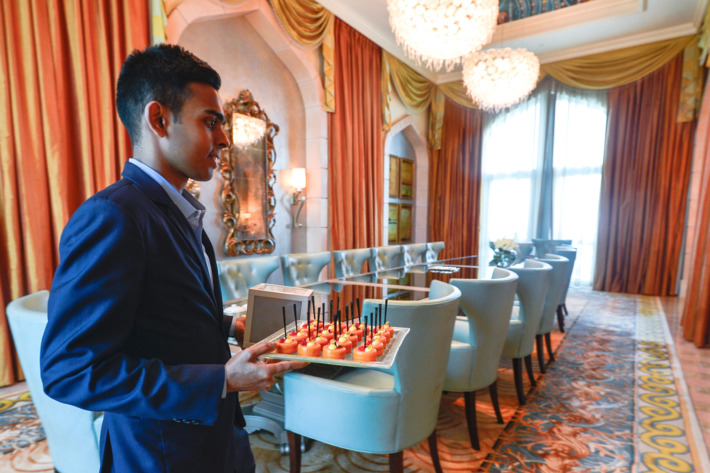 Sleep in a palace
To rest your head someplace that's fit for a king — or at least a Kardashian — book yourself into Atlantis, the Palm's Royal Bridge Suite. Located at the top of the resort's iconic archway, the sumptuous 9,945-square-foot hideaway is accessed via its own guarded entrance and elevator. Inside, you'll find three bedrooms with en suite baths (toiletries reportedly include 22-karat-gold shower gel), a 16-seat dining area, a bar, a library, a games and media center, and a private massage room. It will set you back $30,000 a night, but that includes 24-7 butler service and your own personal chef.
Shop like a VIP
The Dubai Mall is the world's largest shopping mall by total area, spread over 13 million square feet and boasting more than 1,200 stores. Spend upward of $13,000 in a single month, and you'll be invited to join an exclusive club called the List. Perks include a porter service, invitations to special events and previews, and transportation around the mall in a private buggy. There's even a VIP lounge (complete with complimentary gourmet canapés) you can retreat to when you tire of mingling with the plebs.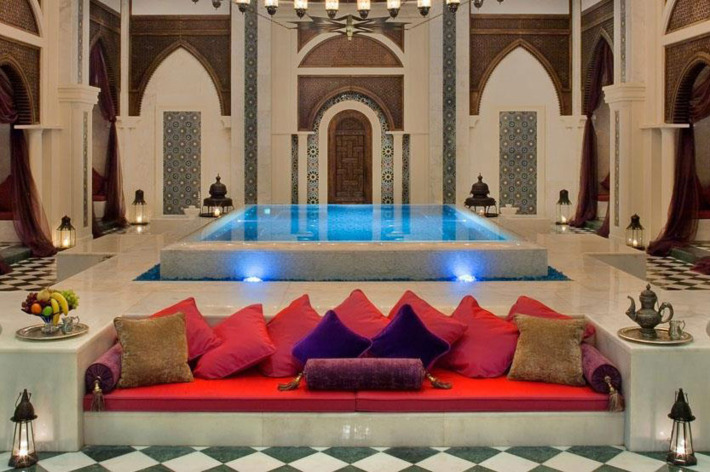 Pamper yourself with a 24-karat facial
When it comes to spa experiences, Talise Ottoman Spa at the Jumeirah Zabeel Saray resort is the gold standard — literally. The palatial spa, one of the largest in the Middle East, is famous for its 24-karat-gold facial, which is part of a full-day treatment billed as the "world's most luxurious spa experience." It comes with a $7,000 price tag, which includes a one-night stay for two at the resort, a Champagne and caviar lunch at the spa, and a "premium gift" upon departure.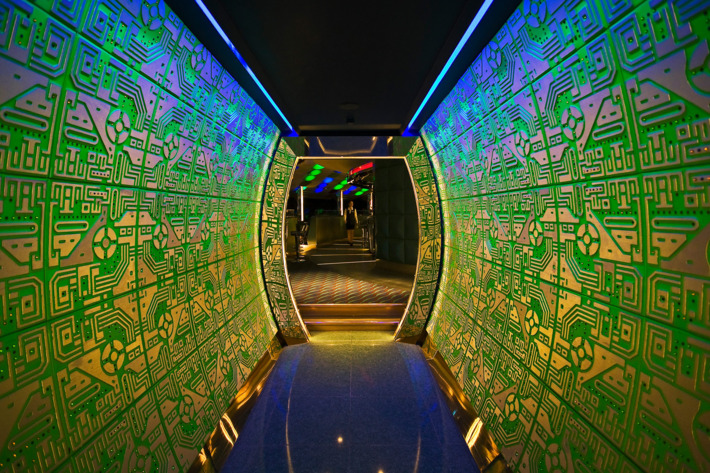 Sip away your life savings in a seven-star hotel
The Singapore Sling has got nothing on the Birth of an Icon, a $2,000 cocktail that lists "gold dust" (dehydrated Cointreau) among its ingredients. Order it at Burj Al Arab, the sail-shaped landmark most people outside of Dubai know as "that seven-star hotel." Its Skyview Bar is located on the 27th floor, more than 650 feet above sea level. Spend an evening here nursing extortionate tipples with names like Diamonds Are Forever, served in a Swarovski crystal glass you can take with you as a souvenir.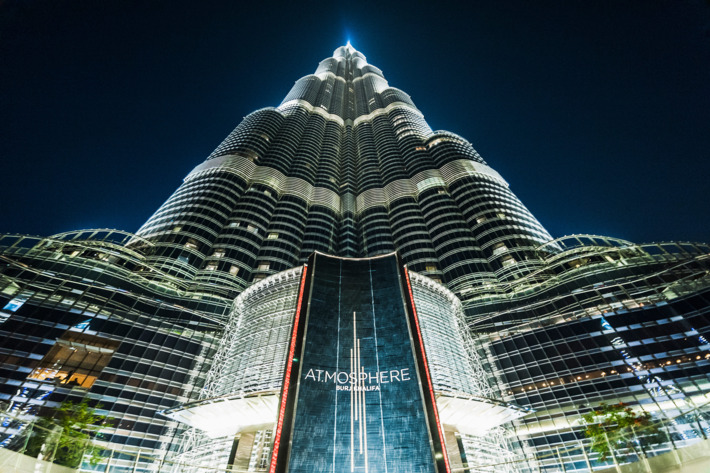 Dine in the clouds
Dining doesn't get any more high end — or high up — than this. Catch an ear-popping elevator ride to the 122nd floor of the Burj Khalifa, and step off at At.Mosphere, which, at 1,450 feet from the ground, is officially the world's highest restaurant. The fine-dining spot is open for breakfast, lunch, and dinner, as well as one of Dubai's most lavish high teas. The food is appropriately fancy — think caviar, fresh oysters, and Hokkaido wagyu — and you'll pay a premium for those views, too.
Spend the day at a luxury beach club
Even lazing by the pool is competitive in Dubai. If you want to be a player while the sun is shining, it's essential to pick a good day club. It's like a nightclub … but with a lot less clothing. Drift Beach has to be one of the most Instagrammable spots in the city. Nestled within the celebrity-favorite One&Only Royal Mirage resort, the private club looks out over a kilometer of pristine sand, with the glittering Dubai Marina skyline forming the ideal backdrop for those infinity-pool photo shoots. Sun loungers dotted around the pool and beach can be reserved for around $100, or you can treat yourself to a plush VIP cabana, which comes with a bottle of premium Champagne for two, for around $800.