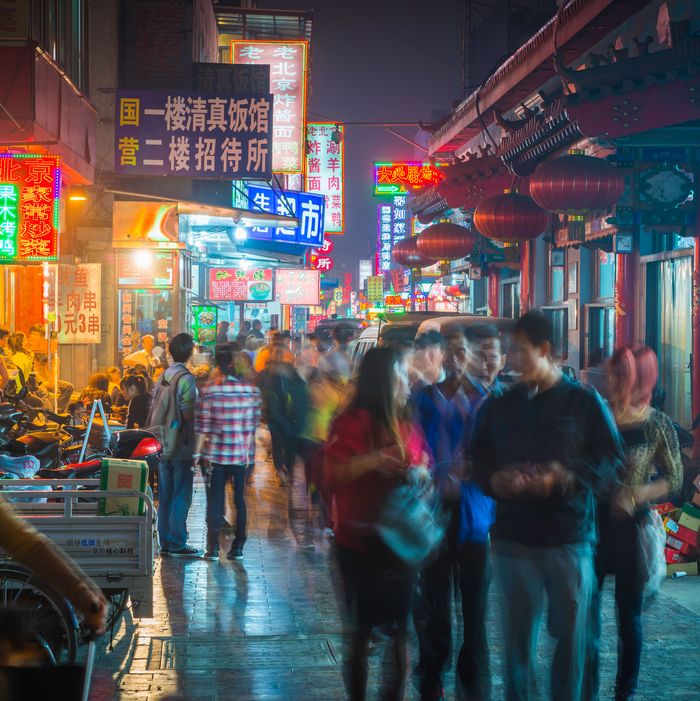 Qianmen Night Market in Beijing, China
Photo: William Fawcett/Getty Images
Do you know where to find the best grilled pork neck in Bangkok? The sweatiest Punjabi dance party in San Francisco? The dapperest raffia chapeau in Barcelona?
We do, and we can't wait to show you.
Welcome to the Urbanist, a new pop-up travel blog from New York Media. For the next two-and-a-half months, our team of international correspondents will be posting exhaustively reported, thoroughly vetted, up-to-the-minute field guides to some of the world's most exciting cities — places like London, Dubai, Beijing, and Bogotá.
The Urbanist takes its name from a travel section in New York Magazine, launched in the spring of 2011. Our goal was to give readers the kind of obsessive, entertaining, and actually useful city guides we'd want to read ourselves when landing in a new destination. And unlike many contemporary travel guides, we don't rely on outdated reporting or armchair internet sleuthing to determine what's worth your time.
Our methodology is simple: We believe expert-driven travel recommendations are the best travel recommendations, so we include advice exclusively from people living or working in the cities we're featuring. Artists, architects, historians, florists, fashion designers, fishermen, polo players, yoga instructors, drag queens, museum directors, woodworkers, and soap stars are all fair game. The only caveat is that they must be an expert in their field (food, retail, cannabis, whatever) or bona fide city-philes: the sort of people who track restaurant openings on spreadsheets, even if they don't work in the restaurant industry; or who think nothing of hopping a bus to a far-flung neighborhood and scouting the streets from morning till night. You probably know people like this in your own city; maybe you're one of them. And now, you'll get to know them in cities around the world. The Urbanist's friends are your friends and their suggestions on what to eat, see, do, and buy in their respective hometowns are everything you need to build the ultimate insider's itinerary for your next trip.
The ten-week, round-the-world series kicks off today with one of our favorite Asian cities: Bangkok. Our reporter interrogated more than 30 locals, squeezing from them the type of granular tips — a budget hotel with a swanky swimming pool, the best way to order extra fish skin for your tom yum noodles, an idea for a side trip where you can see Insta-famous Siamese ruins — that you won't find anywhere else.
See you on the flight over?
The Urbanist Archive
Week 1: Bangkok
Week 2: San Francisco
Week 3: Barcelona
Week 4: Cape Town
Week 5: Honolulu
Week 6: Bogotá
Week 7: Beijing
Week 8: Dubai
Week 9: London
Week 10: San Juan