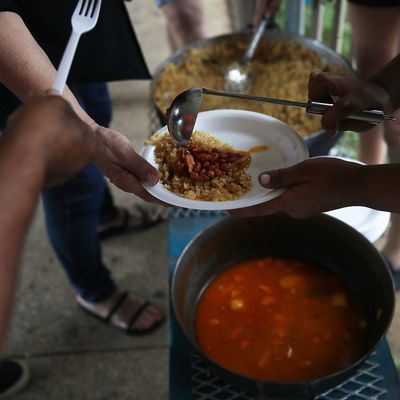 Photo: Joe Raedle/Getty Images
"How can I help?" has replaced "Why isn't Puerto Rico a state?" as the number one question asked by visitors, according to locals. And while recovery efforts are well underway, help is still needed as Puerto Rico heads into another hurricane season.
Visiting the island is help in itself. Airbnb just announced that it will donate its fees from booked trips to recovery organizations such as the All Hands Volunteers Organization for the next three months. Tourism dollars mean that more than 50,000 people will keep their jobs and businesses will keep running. Booking hotels, patronizing restaurants and bars, shopping in local stores, sustaining artists by visiting galleries and supporting musicians by taking in live music are all helpful to the economy. Getting outside the capital will aid communities even more in need. "Taking day or overnight trips and spending money in a community outside of San Juan is important, too," says Manolo Lopez, founder of the Cosa Nuestra Relief Fund. "Go to Arecibo, Ponce, Mayagüez, Isabela — these are towns with a lot to offer, so much charm, and beautiful beaches. They depend on their local economy to get back on their feet."
For hands-on opportunities, the virtual platform Connect Relief is a great place to start. The site lists active brigades for everything from food distribution to home reconstruction. Americas for Conservation and the Arts offers opportunities for social media experts, the web proficient, and those who can aid with volunteer coordination. Chef José Andrés's World Central Kitchen (WCK) is certainly the most high-profile initiative, having served millions of Puerto Ricans after the hurricanes. Their efforts continue as there are still many in Puerto Rico who are food insecure and lack access to healthy meals. "You can be a part of that solution by cooking fresh meals at one of our #ChefsForPuertoRico kitchens," says Erin Schrode, Chief of Operations for WCK in Puerto Rico. "Volunteer to chop veggies delivered from local farms, cook heaping pans of paella, package up meals for dispatch, and deliver food to the communities and vulnerable populations who need it most islandwide."
The island's agriculture is still reeling since the hurricanes. Visit Rico is a nonprofit recruiting volunteers to support farms through farm stays. Founder Camille Collazo says that another great way to help farmers, who have lost many buyers because of post-hurricane island flight, is to visit the farmers markets throughout Puerto Rico. "If you are in the capital, go to theMercado Agrícola Natural in Old San Juan on Saturdays or to the Cooperativa Orgánica Madre Tierra in La Placita Roosevelt. On the West Coast, go to the farmers markets in Aguadilla and Rincon. Mercado Agrícola Natural de Ponce in the south. And Luquillo on the East Coast has one that's new and really lovely."
Like agriculture, the ecological system has also suffered devastation. Volunteers with Para La Naturaleza can clean and maintain ecological gardens, take bird censuses, and help endangered species like crested toads.
There has been a spate of school closings, because of people leaving the island, and budget cuts. Those that remain are subject to budget cuts and need hands to help paint, repair playgrounds, and mentor children.Instituto Nueva Escuela connects volunteers and schools.
Finally, Puerto Rico's animal shelters have been inundated with abandoned cats and dogs after the hurricane. Amigos de los Animales needs volunteers to help construct and clean up shelters, photograph animals for its adoption website, and, of course, adopt homeless pets.