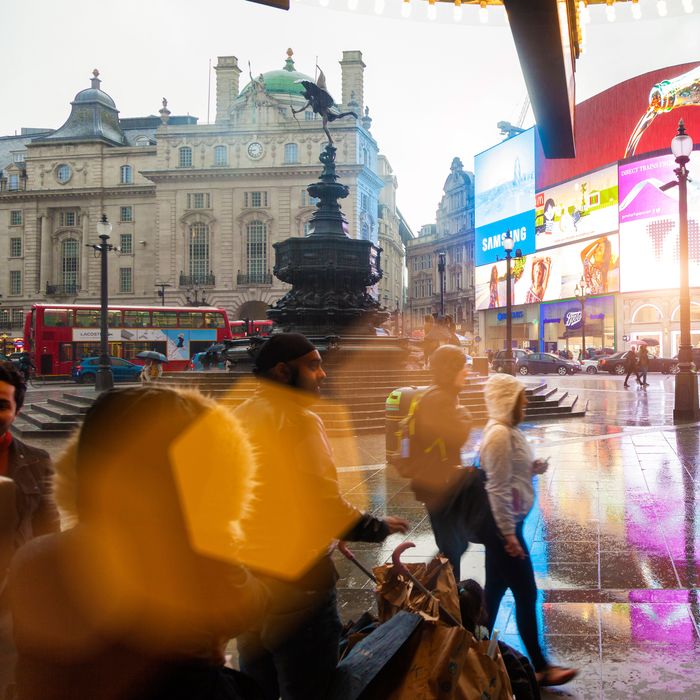 Photo: luis davilla/Getty Images
There's a phrase that nearly all Londoners, and perhaps all Brits, know: "When a man tires of London, he tires of life." The quote from Samuel Johnson, an inventor of the dictionary, uttered well over 200 years ago, still rings true today. London is a global city, where every whim is catered to and the sun never sets (the 24-hour drinking laws help). For centuries, the sprawling metropolis has been a bastion of internationalism, integrating the flavors from waves of trade and immigration into one totally unique dish.
Aside from its burgeoning financial sector, a.k.a. the City or the Square Mile, it's worth noting that London's biggest industries can be broadly defined as "culture." Those intangible, priceless things that make life so beautiful? London takes those very seriously. Some of the world's best design, fashion, art galleries, auction houses, and theaters can be found here, with plenty of room for the upcoming, new, and experimental to brush up beside them. London's recent explosion in top cuisine has also made it a culinary capital of the world, shedding its reputation as a place of boiled cabbage and mushy peas. Outside of Paris, in fact, it holds the most Michelin stars in Europe.
But London is also one of the world's oldest inhabited cities and despite ever thrusting into the future, its past can be felt everywhere. It's a palimpsest of all its diverse people and histories, and its roads still echo with those legacies. Take an evening walk through the cramped and cobbled East End and it doesn't take much to imagine the streets lit by oil lamp and prowled by Jack the Ripper.
London combines both the grandeur of age with the dynamism of now — it is a busy city, constantly in flux, adapting and evolving, but it doesn't always get it right. There are tensions: Speak to any resident and the cursed G-word (gentrification) won't be far behind. Impossible property prices overshadow the experience of the city's mostly young population. Immigrant areas give way to luxury apartment blocks. But these are also national fractures, felt across all corners of the United Kingdom, though perhaps more acutely in its capital city. Day to day, for Londoners, it's business as normal. Whatever happens, London will adapt, just like it always has. Whatever is going on outside, inside the city there will always be culture, fine food, global influences, and everything you need for a good old-fashioned knees-up.
In this week's Urbanist, we take you on a whirlwind tour through the buzzing metropolis, and peek into the hidden corners often missed by tourists. This is how 38 Londoners do it, across all its diverse and creative walks of life.
Your Everything Guide to London
Where the Locals Would Stay In London If They Weren't Local
The Fashion Insider's Cheat Sheet to Shopping in London
My Favorite End: A Novelist's Guide to North London
My Favorite End: A Rapper's Guide to East London
My Favorite End: An Art Curator's Guide to West London
My Favorite End: A Comedian's Guide to South London
Now and Then: Two Ways to Experience the Architecture of London
Where the Founders of The Gourmand Eat and Drink in London
London's Best Watering Holes, According to Legend Tony Conigliaro
Don't Leave London Without Trying These 8 Essential Dishes
All the Galleries, Theaters, and Art Hubs to Know in South London
Kew Gardens, Margate, and Other Escapes From London
11 Souvenirs You Should Buy in London, According to Locals
What to Read, Watch, and Download Before Visiting London