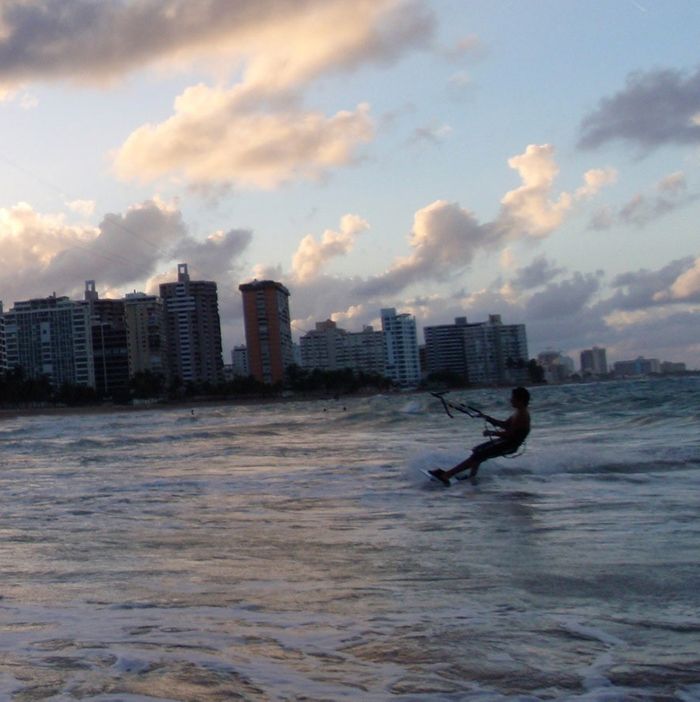 Kite surfing in San Juan.
Photo: rossbeane/CC BY-SA 2.0
While it's tempting to spend your vacation in Puerto Rico chilling on the beach and hanging out in bars, you'd be missing out on the island's abundance of watersports, cycling, and other adrenaline-pumping activities. Here, we asked the fittest locals we could find what they do to burn some calories in San Juan.
Watersports
"Paddleboarding is the thing to do in Laguna del Condado. Outfits like San Juan Paddleboarding are out there every day. The lagoon is calm and it's nice to see the city from a different perspective. Another great way to get on the water is with a Jet Ski tour. WOW Surfing School takes people out in San Juan Bay, so you are speeding around El Morro fort. It's thrilling. Kite surfing is big in Ocean Park, too. It's fun to do — and even to watch — from the beach. 15Knots is the popular outfitter there. And surfing is big, of course. Playa La Ocho is a great surfing beach." —Armando Riesco, actor in The Chi and writer/director of "Seneca," currently shooting in Puerto Rico 
Yoga
"I love to do yoga on the beach in Parque del Indio in Condado. Most mornings there will be a class there — one at 7 a.m., one at 8 a.m., and one at 9 a.m. It's pay by donation, just show up and go. While you are doing it, you are looking out to the ocean and the breezes are exhilarating. And in Lote 23, which is a collection of food trucks and kiosks in Miramar, there is yoga for free on Sundays at 9 a.m. Afterward, you can spend the day eating!" —Margarita Alvarez, fashion designer and a finalist on season 16 of "Project Runway"
Biking
"The Old City has some nice bicycle paths. Paseo Puerta de Tierra is the newest, stretching from Old San Juan to Condado. If you start from the Old City, you will have gorgeous vistas of the forts before you go down the hill with the ocean by your side. You'll end up on stylish Ashford Avenue, with all of the shops, hotels, and restaurants. It's safe and scenic. I highly recommend San Juan Bike Rental to rent bikes. They do great maintenance on equipment — I use them to take care of my own bicycle. They'll even deliver the bikes to your hotel or Airbnb. And Rent the Bicycle in Old San Juan gives great bicycle tours." —Omar Alicea, artist and graphic designer at La Tempera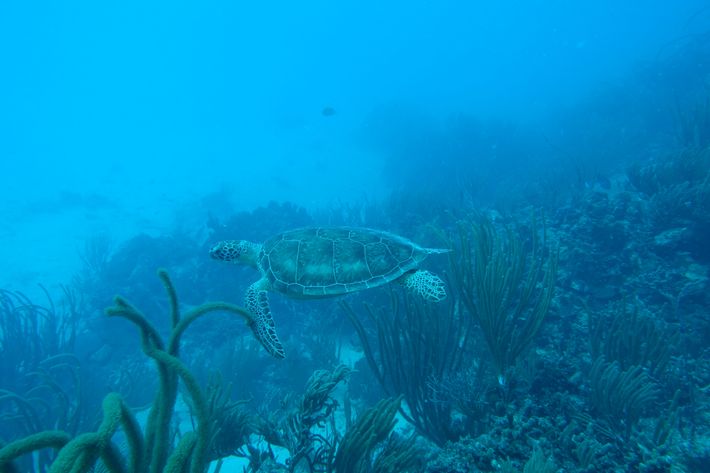 Fishing and Scuba Diving
"For those who like to fish, we have some of the world's best tarpon fishing grounds. You do it in an environment that is really calm and serene, amongst the mangroves. I recommend Extreme Fishing PR and Magic Tarpon. For offshore fishing, I recommend Caribbean Outfitters with Captain Omar Orraca. You can expect to catch some snook, jack crevalle, and, in the right season offshore, mahi mahi, marlin, and wahoo. To just admire the fish, there is easy and quick scuba diving [with Scuba Dogs] in Escambron Beach. You might see parrot fish, snapper, barracuda, turtles, manatees — it can be really exciting." —Victor Monserrate, innovation design engineer