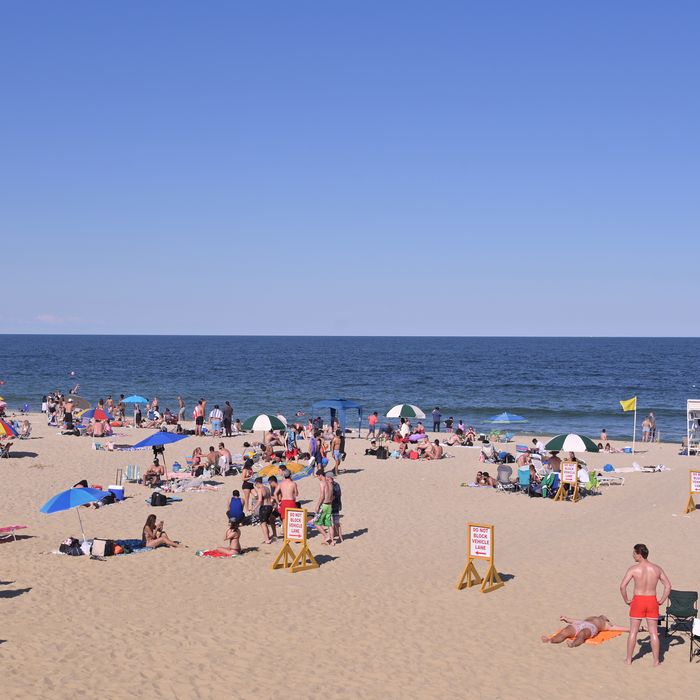 Beachgoers on June 14 in Long Branch, New Jersey.
Photo: Michael Loccisano/Getty Images
New Jersey's beaches were some of the first to open to the public this summer. So, Jersey shoreward! The Strategist writer Kayla Levy spoke to regular beachgoers — many of whom have frequented beaches up and down the shore for decades — including a reporter who has ranked every single beach in New Jersey twice.
➽ Pick a beach. New Jersey has 44, about half of which are in the north, meaning an under-two-hour drive from New York City. The other half (everything south of Long Beach Island) is closer to Philadelphia and can take up to three hours. Some beaches are known for crowded boardwalks and (often alcohol-fueled) local scenes (including, from north to south, Asbury Park, Seaside Heights, Atlantic City, and Wildwood); others, like northern Point Pleasant and southern Ocean City, are decidedly more family focused. There are the beaches within state parks like Island Beach State Park and Sandy Hook, both of which stop letting people in when the parking lots are full (this is often by early afternoon in Sandy Hook's case, since it is the state's northernmost beach near New York). Up north, in Monmouth County, Sea Bright is known for its fishing and surfing, whereas Spring Lake is an affluent town known for its "feeling of exclusivity," says Debi Unger, who's been going to the county's beaches for over 80 years.
➽ Go south to avoid crowds. It's not entirely surprising that "the further you go from the city, the fewer day-trippers," says Star-Ledger reporter Jeremy Schneider, who's twice ranked the state's beaches — Cape May was No. 1 in both 2018 and '19. Cape May's appeal, says Danielle Klimashousky, a writer and lifelong beachgoer, "is it usually doesn't have people who come just for the day. There are no vendors, just one guy who sells Italian ices on the beach. Also, since it's on the tip of New Jersey, you can watch the sunset over the ocean."
➽ Consider a hidden beach. The public beach in the borough of Deal is hard to find by design, meaning it's less busy, Schneider says. You can enter at the W. Stanley Conover Beach Pavilion on Philips Avenue.
➽ Check the beach's Facebook page before you get in the car. "New Jersey is a home-rule state, meaning each town has a different set of restrictions, regulations, and fee structures," says communications consultant Roger Shatzkin, pointing to Ocean Grove and Asbury Park, abutting beaches where the former is dry and the latter has a bar-filled boardwalk. In order to stay up-to-date, Shatzkin gets Ocean Grove's newsletter, and Felecia Stratton, a local business owner and Sea Bright resident of 30 years, says most residents get their beach news from a popular Facebook group, "All About Sea Bright."
➽ Most beaches charge $5 to $10 for a daily "beach tag," though many are free for children; others, including Atlantic City and Wildwood, don't charge at all (but some free beaches don't have lifeguards, like Keansburg, or charge for parking, like Sandy Hook).
➽ Get your beach tag ahead of time, since many season passes have sold out, and day passes are (now more than ever) a hot commodity. In Asbury Park, day passes are now sold nightly at 6:30 through the ticketing app Viply, and getting one is "kind of like applying for Hamilton tickets: You've got to put your name in right on time, and there's still a chance you won't get one," says Schneider. Many other towns sell passes via Viply — though in Spring Lake, you still have to pick yours up in person at the train station.
➽ Expect parking to be a challenge. More and more people are coming by car instead of by train, and some beachside parking lots are restricted for out-of-towners, including Point Pleasant's this season. Regulars advise that you get there by 9 a.m., or if that's impossible, hunt for parking in nearby residential areas and walk a few blocks.
➽ Avoid boardwalks, except Atlantic City's. "The Asbury Park boardwalk is insane," says Klimashousky, who went there on a recent Saturday and says it was crowded despite distancing measures. But Atlantic City "has more year-round residents than other towns and attracts an older, retired crowd," says Kennedy Bennett, whose family owns a condo there. "I've never really seen it get crazy crowded like Ocean City or Wildwood."
➽ Pick up food from a restaurant that's been operating throughout the pandemic, like Maruca's Tomato Pies in Seaside Heights, which has been serving contactless-pickup pies since March. Domenic Maruca, one of the owners, says social distancing is "second nature. We put markings with tape on the boardwalk now, and customers are aware of what they need to do."
➽ Stay late (or leave early) to beat traffic. "By one or after 8 p.m.," says Stephen Casner, a 30-year Sea Bright beachgoer who likes to stay late to get ice cream at Gracie and the Dudes and watch the sun set over the Shrewsbury River.
*This article appears in the June 22, 2020, issue of New York Magazine. Subscribe Now!