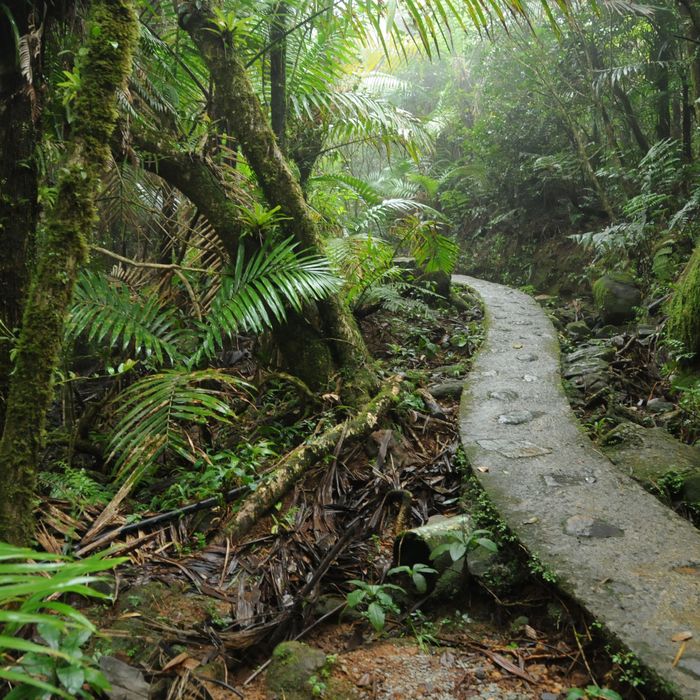 El Yunque in Puerto Rico.
Photo: Diego Cupolo/NurPhoto via Getty Images
San Juan has everything — lovely beaches, a vibrant arts scene, that bustling city vibe. But the riches of nature and the promise of adventure lay just beyond the city limits. Here, five locals go to bat for their favorite escapes from the capital.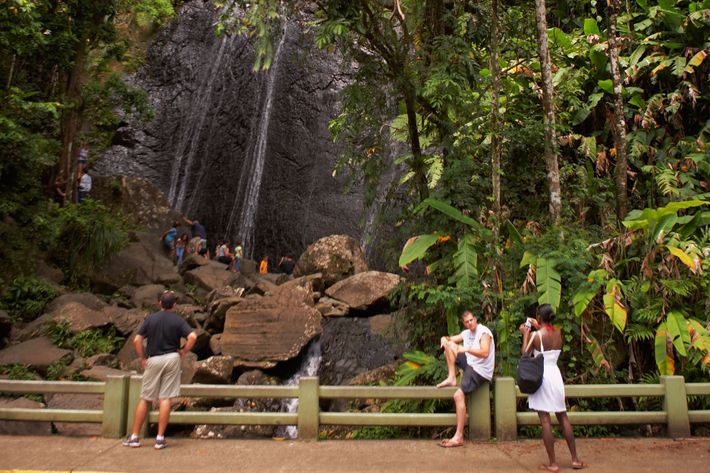 El Yunque
45 minutes from city center
"El Yunque is the United States' only tropical rainforest. It was devastated by the storms. The lower falls have been cleaned up, so you can still hike that part; it's full of lovely greenery and flowers. I recommend going to El Yunque with Atabey Tours. The guide, Andres Carrero, is an adventurer who has lived in Puerto Rico his entire life. He has a deep appreciation for the island and is super socially conscious. He will point out amazing things that people don't normally notice and take you off the beaten path. Remember to wear a bathing suit so you can jump in a swimming hole." —Laura Daen, founder of Mercado Agricola Natural Viejo San Juan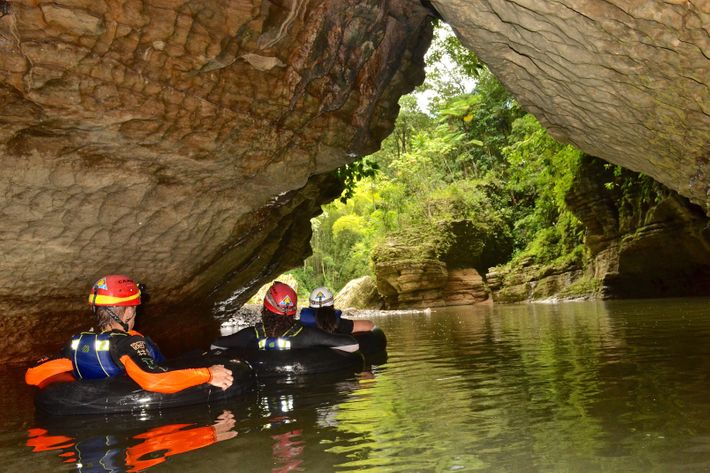 Tanamá River
1 hour from city center
"A tour with Tanamá River Adventures is one of the best choices for the active traveler because it combines hiking, tubing, and caving all in the same day. It is in Utuado, a really lush, green area in the center of the island. Start by hiking through the greenery to the cave, where you'll see the petroglyphs made by the Taíno indians, as well as Taíno artifacts. Continue hiking and take in the mountainous views, then get in a tube and relax down a lazy river winding through a cave. It's a wonderful day." —Michael González, concierge for Experience the Island at Serafina Beach Hotel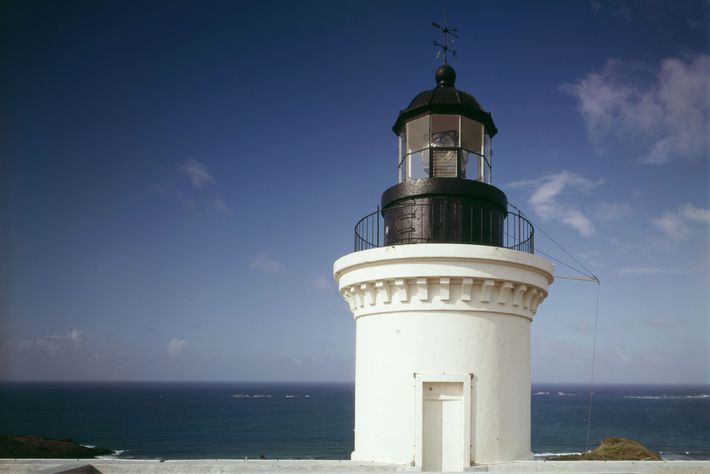 Fajardo
50 minutes from city center
"The best day in Fajardo starts at Seven Seas beach. Park there and walk along the coast line, about an hour to El Faro, the lighthouse. It is a stunning structure that dates back to the 18th century and the hike is easy. If you want a tour of the lighthouse, make an appointment [in advance]. Afterward, snack on arepas with shrimp, conch, or octopus from Costa Mia Restaurant. As an alternative, hire a catamaran through East Island Excursions to Icacos, Palomino, or Culebrita — one of the many islands off the East Coast. That will take a half a day; then at night, you can kayak in the bioluminescent bay with Eco Adventures. It's incredible — the water is glow-in-the dark because of the dinoflagellate organisms in it that glow when the water is agitated. It is best on a cloudy night. If you want the full Puerto Rican experience, try the pork at La Estacion. The chef roasts a whole pork, our classic lechon, in an old Ford Bronco-cum-pig oven." —Rosario Fernández, photographer and artist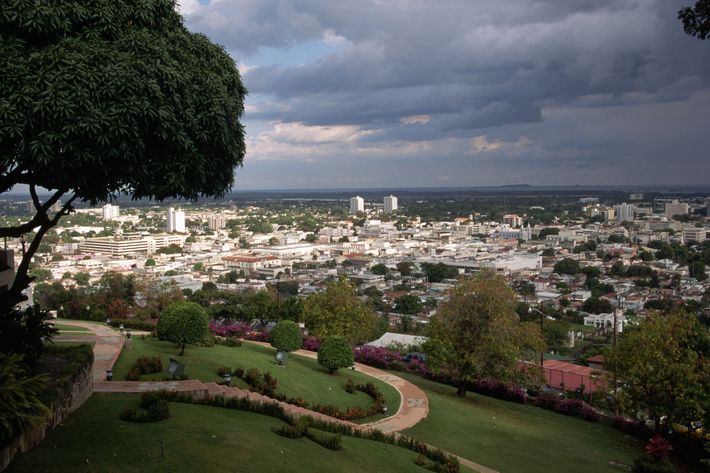 Ponce
90 minutes from city center
"If you come to the South, the first thing thing you will notice are all the big letters of our city, in black-and-red, right across the highway, letting you know where you are. Giant P-O-N-C-E. That was created by the sculptor Carlos Rivera Villafañe and it is a work of public art. At the Serrallés Castle at the top of the mountain you can see the vista of the whole city. Within the castle, there is a collection of old bottles and old labels of rum. And they have a Japanese butterfly garden, too. It's really a very special place to go. After the castle, go to the center of the city. In the Plaza, there is a big fountain similar to the fountains you might find in Europe. There are usually local ice cream vendors around the fringes. I love the Spanish tapas at Lola; try the salmon with honey, mint, and lemon. The main attraction, however, is the Museo de Arte de Ponce. The architecture of the museum is impressive and it holds an important collection of art from Puerto Rico and Europe, significantly from the Pre-Raphaelites. It is the largest art museum in the Caribbean. Sometimes there are concerts held in the beautiful gardens. If you are not into art, there is always the casino at the Hilton Hotel. Or you can walk to the edge of town and marvel at the Caribbean Sea at La Guancha, where you are close to the beach and close to the port of Ponce. There is a tower there called La Torre de Guancha where you can go up and take photos. If you want to spend even more time there is a coffee plantation right outside of town called Hacienda Buena Vista where you can take a tour, taste coffee, and just enjoy the landscape." —Silvia Santiago, senior vice-president, manufacturing, and master blender at Don Q Rum
Piñones
30 minutes from city center
"I love to go to Piñones, which is a mangrove forest, for a quick day trip. I just jump in my car and drive and stop at the kiosks off the beach to have alcapurrias (fritters) or fresh jueyes (crab) and rice. Then I'll just jump onto any of the secluded beaches there, one after the other. Coming from San Juan, the first area you will hit are the tide pools known as Playa La Pocita. They are very shallow, about two to three feet deep, and you could just put your beach chair in and enjoy. Then there are some sand dunes and Tocones and Aviones beach, both of which are surfing hubs. There are great waves and it is fun to watch. After that is Punta Vacia Talega, which is like a lake, it is so calm." —Sylma Cabrera, owner of Pure Soul Design clothing boutique