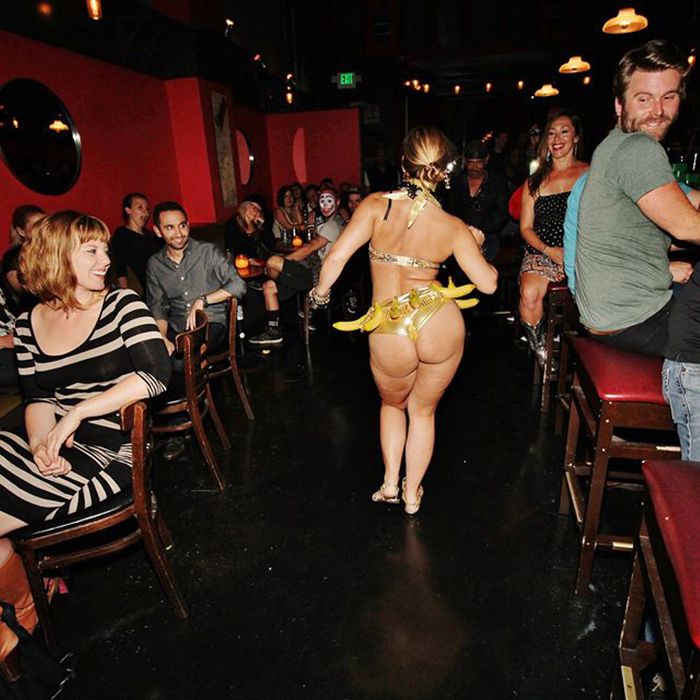 Skylark Bar in San Francisco
Photo: Jody Lyon/Courtesy of Skylark Bar
However you imagine your ultimate night on the town, there's a San Francisco local who's been there, done that, and lived to reminisce about it on Instagram. Here, we ask an event planner, two chefs, and a drag queen to plot out their best multi-stop itineraries for an unforgettable evening.
A Taste of Classic San Francisco
The perfect night out, according to Jordan Langer, president of Non Plus Ultra, an event company that sets up semi-temporary nightlife spaces in abandoned buildings (with the city's blessing, of course!).
Start here >> Mission Dolores Park
"This isn't a massive park, but it's right in the Mission District and there's great people-watching as the day transitions into evening. On any given Saturday, there'll be a random DJ who brings their own speakers and sound system and plays music, or a guy who converted his bike into a mobile bar and makes everyone cocktails."
Second stop >> Puerto Alegre
"It's a very traditional, very authentic Mexican restaurant. They make phenomenal margaritas. It's a good place to bring a group of people, get a couple of pitchers, and just hang out. My business partner and I have gone here once a week for the past ten years."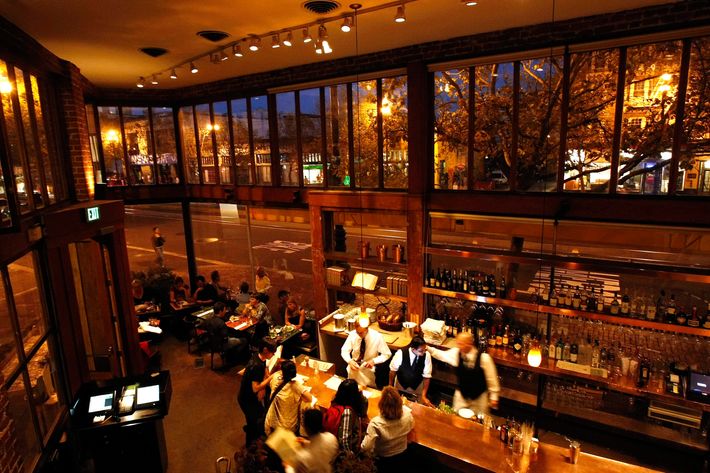 Third stop >> Zuni Café
"One of my favorite restaurants in the city and a San Francisco staple. [Their most famous dish] is the brick-oven chicken, which takes about an hour to cook. It's a full chicken with a kind of bread pudding stuffing inside. My wife and I lived about a block and half away from there for many years. She was [mostly] vegetarian, but she craved Zuni chicken when she was pregnant; it was the only meat she'd ever eat. It's that good."
Fourth stop >> Bix
"Being at Bix is like teleporting back in time. It's a restaurant and bar focused around a large grand piano. Every night they have a jazz pianist and sometimes a singer; the sound is phenomenal. It's a relaxing place for a post-dinner cocktail."
Last stop >> Public Works
"This is a really awesome underground space. It looks raw, but intentionally so. Think abandoned-warehouse party with a top-notch sound system. They've done an amazing job curating cool talent here. A lot of the musicians are cutting-edge and about to break into the festival scene, and there's good electronic music — not necessarily EDM, but house. There's also a monthly show called Non Stop Bhangra — Punjabi music — which is a whole heck of a lot of fun."
Dinner and a Movie, With a Foodie Twist
The perfect night out, according to Sarah and Evan Rich, chef-owners of Rich Table, a California restaurant in Hayes Valley.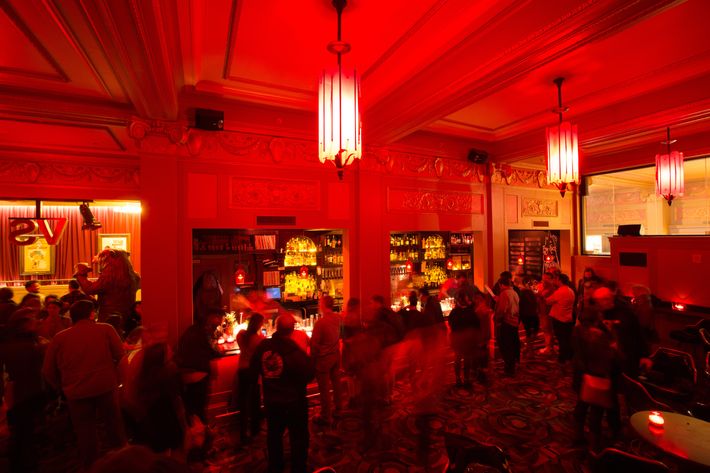 Start here >> Alamo Drafthouse Cinema
"The Alamo is very pretty. It's an old-school theater [the former New Mission] that was renovated, but not so renovated that it's all slick and modern. The ceiling is very ornate — like what you would expect to see at the ballet—and they show modern films. We saw Black Panther there. They have a strict 'no cell phone, no texting, no talking' policy, and it's really nice to be somewhere where people are being quiet. The seats are big and comfortable, and because it's a dine-in theater, you can order popcorn, chips and queso, and wine from your seat."
Second stop >> Benjamin Cooper
"This is a little speakeasy cocktail bar in Union Square. It's inside Hotel G, but the main entrance is on Mason. It's an unmarked white door — there's no sign that says Benjamin Cooper — and you go up a staircase. It's a dimly lit, quiet space with a horseshoe bar. They do really inventive craft cocktails and oysters."
Third stop >> The House of Prime Rib
"This is the greatest restaurant on Earth. It's an institution in San Francisco and busy nearly 365 days a year. You can show up at 4 o'clock and the bar and dining room are already full. It looks exactly how you would imagine some old steakhouse to look: dark inside, with wood and red leather banquettes. The servers all wear suits and there are these big silver carts that they wheel the prime rib out on. You get either a martini or a Manhattan, and it comes with the shaker — so, two cocktails in one. Start off with the chop salad, which they bring out in a big metal bowl. The server makes a show of pouring the salad dressing, lifting the pitcher up high and letting the dressing pour in this long stream as they spin the bowl. Then they serve it with a chilled fork. The only decisions you have to make after that are: What cut of prime rib do you want? Do you want mashed potatoes or a baked potato? And do you want creamed corn or spinach? Get a nice bottle of Cab, then roll yourself outta there when you're done."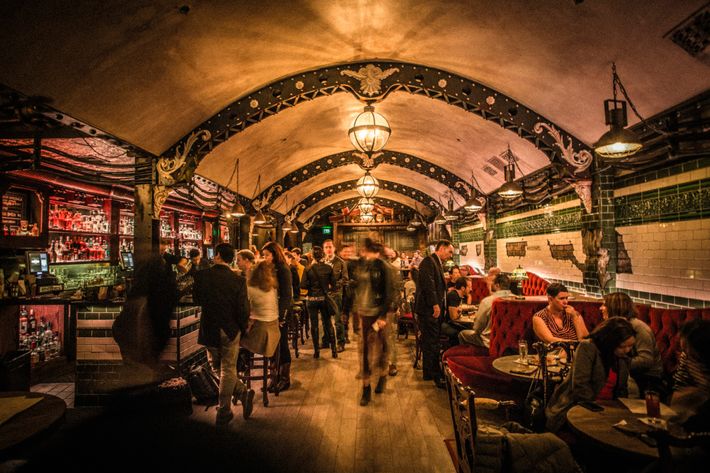 Fourth stop >> Whitechapel
"This gin bar is really cool and beautiful — it looks like steampunk crashed into a London underground station. But they're very serious about their cocktails. They have every type of gin you could want. I'm a traditionalist, so I love the gin and tonic. It has the perfect fizz and the tonic they use isn't too sweet. It could be very easy for them to be like, We make all these fancy cocktails and you want a gin and tonic? But they take it seriously and they do it well."
Fifth stop >> Salt & Straw
"There are amazing ice-cream shops around town and we are happy eating at any of them. But recently we went to Salt & Straw, which is from Portland and just opened in San Francisco. They have a salted caramel that's like … holy shit. They push the salt to another level. The first bite you're kinda like, Ehh, it's a little salty. But then it's so balanced with the sweetness from the caramel that you keep going back for more. It's like a Dorito — so intensely flavored, you're like, Ooh, I need another one; my mouth is salivating!"
Last stop >> Smuggler's Cove
"Smuggler's Cove is the best way to finish off a night. It's like walking into a pirate ship. Though it has all the makings of a cheap, crappy Disney bar, they make their cocktails really well. The Painkiller is the only thing I drink; it's like a piña colada on steroids, with coconut milk, pineapple, rum, and a little nutmeg. It's very dangerous. They ask you if you want two, three, or four ounces of alcohol. For me, three is perfect. I've made the mistake of drinking two of the four-ounce Painkillers in a night and the next day wasn't pretty."
Partying on the Heels of a Drag Queen
The perfect night out, according to Heklina, drag queen and co-owner of the cabaret club Oasis.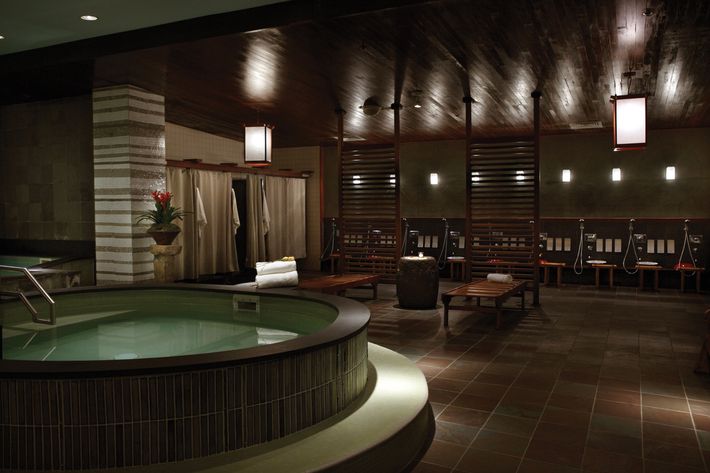 Start here >> Kabuki Springs & Spa
"When I have free time, I'll pamper myself at the Kabuki Springs & Spa. I'll get a massage and sit in the baths when they have mens' days. [The baths are open until 10 p.m.] It's got a Japanese feel to it, with wooden planks and a gong that you can hit if anybody's talking too loud; it's used to silence people because you're there trying to immerse yourself and feel tranquil. I don't think I've actually heard anyone hit the gong, but I love that it's there."
Second stop >> Little Henry's
"For dinner, go to a dive like Little Henry's in the Tenderloin. It's an Italian restaurant run by Chinese people. The food is really old-school but amazingly good. It's also very, very affordable, and the portions are huge. I'd get the hamburger steak: a bunch of ground beef shaped like a steak that comes with noodles and vegetables. My tastes are not hipster tastes. I like comfort food."
Third stop >> Stella Pastry & Cafe
"I like going for cannolis in North Beach. There are several places, but pick Stella Pastry. My idea of a good cannoli is, of course, a crunchy, flaky outer shell with a thick, creamy filling. Late at night is the best time to indulge."
Fourth stop >>
Victoria Theatre
"I was never one of those gays who just likes to go somewhere and dance all night. I like my focus to be on something visual. The Victoria Theater is an old vaudeville theater, a slice of history in the Mission, somehow still thriving and surviving. I have old punk-rock friends who tell me they saw Black Flag there in the '80s. I also attended one of my first drag productions there, Whatever Happened to Baby Jane, when I first moved to San Francisco. They still host drag shows, as well as film screenings and sing-alongs. It has a special place in my heart."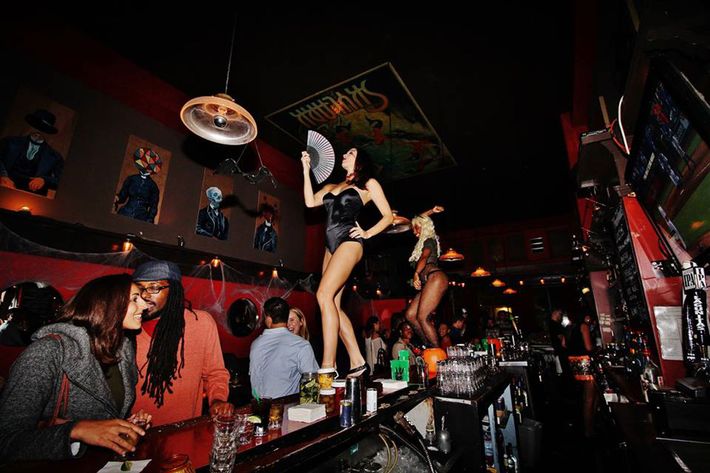 Fifth stop >> Skylark Bar
"This is just up the street from the Victoria Theatre. It's a hipster Mission bar, one of those places where they have all kinds of bourbon and rum, which is very trendy right now. I like anything with vodka, though I do like a good Old-Fashioned. The Skylark is cozy and a dive — my favorite kind of bar."
Last stop >> Badlands
"To dance, dance, dance go to Badlands in the Castro — that's what it's all about there. On Saturdays, they often have VJs spinning Top 40 dance videos until 2 a.m. And, you're in a gay bar, so you know the drinks are cheap and strong!"