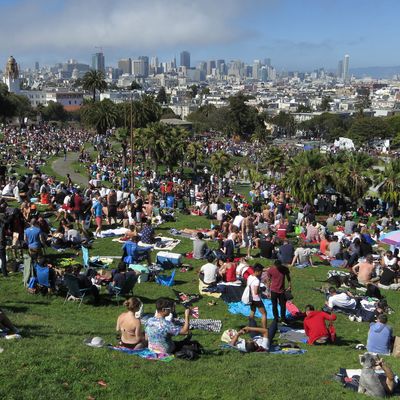 Dolores Park in San Francisco, California.
Photo: Sean Gallup/Getty Images
San Francisco has been disrupted. This isn't news. Even people who camp comfortably beneath rocks are aware that the tech boom has shifted the landscape. Airbnb, based here, has fundamentally changed the way we stay. Facebook is setting up camp in the same tech-brohood (South of Market, or SoMA) that's home to the new megatower from cloud-computing company Salesforce, which has forever altered the city's skyline.
Naturally, there's been a backlash. This is San Francisco, after all — home of the protest, of the free-wheeling, of the revolutionary. Amid the throngs of young techies living the good life with their Teslas and their meal-delivery services throb the issues of gentrification and lack of diversity, homelessness, and affordable housing.
But old, radical San Francisco isn't going down without a fight. Recreational use of marijuana is now legal and dispensaries are spreading like weeds. Activism is thriving. Chefs continue to get creative with the local bounty. For those who fear that San Francisco is losing its soul, it's heartening to hear that, for many locals, the siren call of the city is not only what was, but what's next.
As the City by the Bay grapples with its dichotomous new identity, in-the-know travelers can take advantage of both old and new worlds. They can play in an ambitious new urban park during the day and catch a drag show at a 110-year-old vaudeville theater at night. They can immerse themselves in an art scene that has set anchor in a former shipping neighborhood and then dine in a rule-smashing sushi restaurant.
To assemble our Urbanist guide to San Francisco, we spoke with 27 locals, picking their brains on Japanese spas, fortified wine cocktails, secret fairy houses, artisanal broom shops, and more. Their insights and tips, condensed into posts we'll be running throughout the week, will help you plan the ultimate vacation to what has (arguably) become one of the most interesting cities in the world.
Your Everything Guide to San Francisco
Where the Locals Would Stay in San Francisco If They Weren't Local
How to Explore the Dogpatch, San Francisco's Artsiest Neighborhood
The Architecture Buff's Guide to San Francisco
Where Cannabis Enthusiasts Go to Get High on San Francisco
The Best Breakfast Spots in San Francisco, According to Locals
San Francisco's Hottest Tables—And Where to Go If You Can't Get In
Where Star Bartender Nicolas Torres Drinks In San Francisco
A Day Out in Divisadero, San Francisco's Epicenter of Cool
San Francisco After Dark: Three Ways to Party Like a Local
The Best Day Trips from San Francisco
What to Read, Watch, and Download Before Visiting San Francisco