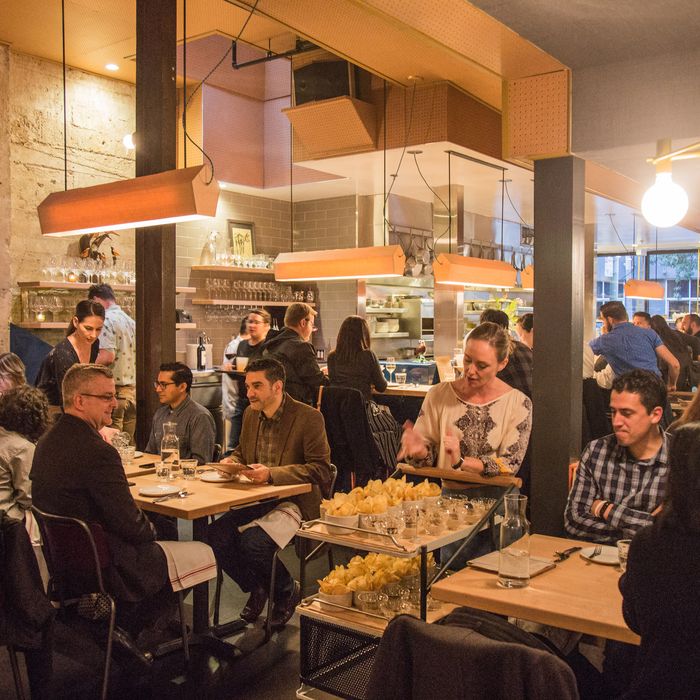 State Bird Provisions.
Photo: Adam Brioza/Courtesy of State Bird Provisions
The restaurant scene in San Francisco has never been stronger, but getting a booking often takes forethought and dogged persistence. We asked a trio of hungry locals where they always make reservations in advance, and their favorite alternatives when it doesn't pan out.
Reserve in advance …
State Bird Provisions
"This is still one of the hardest reservations to get in San Francisco. Reservations open two months out and [while they book up quickly], they reserve some tables for walk-ins. There's no set menu — it's all served dim sum–style. As soon as you sit down, the waiters and waitresses start wheeling by carts of individual dishes. Anyone at the table can pick and choose from the bites as they glide by. There is a melt-in-your mouth, treat yo'self burrata bread that is not to be missed. It's one of the few mainstays on the menu, as is their namesake dish, an incredible fried quail. The restaurant's beautiful design is a huge part of the draw. They recently redid their interior and it's peppy, fun, and colorful. They're always mixing things up so that you don't feel like you're getting the same experience you got three years ago." —Molly Goodson, co-founder of the Assembly, a women-only clubhouse and wellness space in the Mission
No luck? Go here instead …
The Progress
"If you can't get into State Bird, right next door is its sister restaurant, the Progress, which generally has more availability and is also a little larger. They have a similar sensibility: Both use interesting, fresh ingredients, and they're both known for having attainable wine lists. But whereas State Bird is all dim sum–style, so you can choose your own adventure as a diner, the Progress serves family-style entrées in a New American-California style. You can share a whole fried trout with pickled ginger or the barbecued half duck. For the vegetarians in the group, definitely try the nettle ravioli." —Molly Goodson
Reserve in advance …
Robin
"Robin is a really hot, new restaurant that has filled the sushi void — but to get a spot at the bar, you have to book at least three or four weeks out. The quality of the omakase is next-level. But it's also a really fun environment. They play hip-hop, they have really cool glassware and plates, and the chefs are all young and cool. If it's your first time, you have to sit at the sushi counter. The chefs will tell you really specific, geeky things about where the fish was caught and what part of it you're eating. They source both from the Tsukiji Fish Market in Japan and locally. They also do a lot of really interesting things with California produce, especially fruit. A recent favorite of mine was the arctic char with persimmon." —Jen Pelka, owner of The Riddler Champagne bar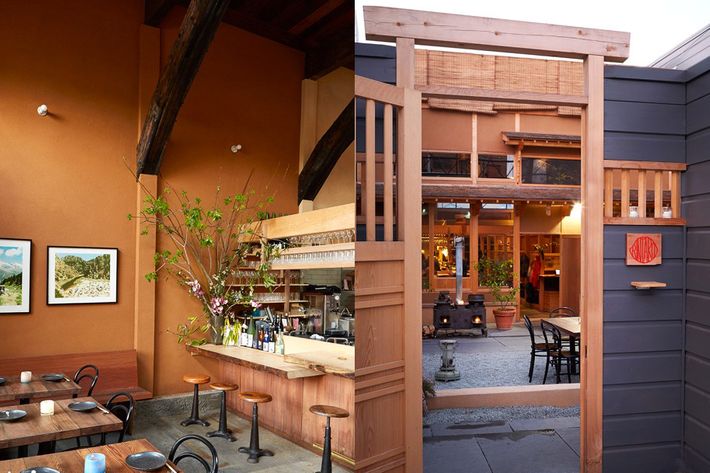 No luck? Go here instead …
Rintaro
"This izakaya is similar [to Robin] in that it takes its sourcing really seriously and each bite is something you really savor. We almost always have good luck walking in, but it's also relatively straightforward to get a reservation. Rintaro is very traditional Japanese, but done in a hip way. I like to sit at the bar where you can watch the chefs making the sashimi. Their yakitori is spectacular. I love all the different pieces of the chicken: heart, liver, and chicken oyster, which is the best. It's that little piece by the butt. If you're jonesing for sashimi, you can do sashimi. They also do really yummy fresh tofu — they have a little bowl of silken tofu that is soft and supple. It has ponzu, yuzu kosho, scallion, and ginger. A lot of very similar flavors and it's really transportive to Japan." —Jen Pelka
Reserve in advance …
Eight Tables
"Our good friend George Chen recently opened up this unbelievably fancy and perfect restaurant in China Live, which is essentially a Chinese Eataly. The same building houses our residency space for filmmakers. It's very tough to get a reservation at Eight Tables — because there are only eight tables. Before you even start drinking, it's 225 clams a person. They do new Chinese, which is a continuing trend here." —Noah Cowan, executive director of the San Francisco International Film Festival
No luck? Go here instead …
Market Restaurant
"This is the restaurant downstairs, also run by Chen. There is tons of walk-in and bar space, plus a little shop where they sell their sauces. There are several stations — one for Peking duck, one for soup dumplings — and you can order from anywhere. I'd get the Peking duck, which is a little different because they do a kumquat glaze that adds this lovely tartness. They also have a dish called Sichuan 'working hands' dumplings. They look like potstickers but with a tissue-paper-thin wrapping and what I would call a savory pork meatball in the middle. They are just little divine pillows of pleasure. My boyfriend always orders Sichuan blistered green beans, which come sprinkled with toasted Yunnan olives, pickled radish, and salted plum. They also have a terrific wine list, including a strong California pinot list that's perfectly selected for Chinese cuisine. I may have tried all of them. The really spectacular one — it's well-known in the wine world — is Flowers Pinot. It's a perfect pairing for Chinese food because it has just a little spiciness to it, and just a little sweetness, but it's not overbearing so it doesn't compete like a more robust red would." —Noah Cowan