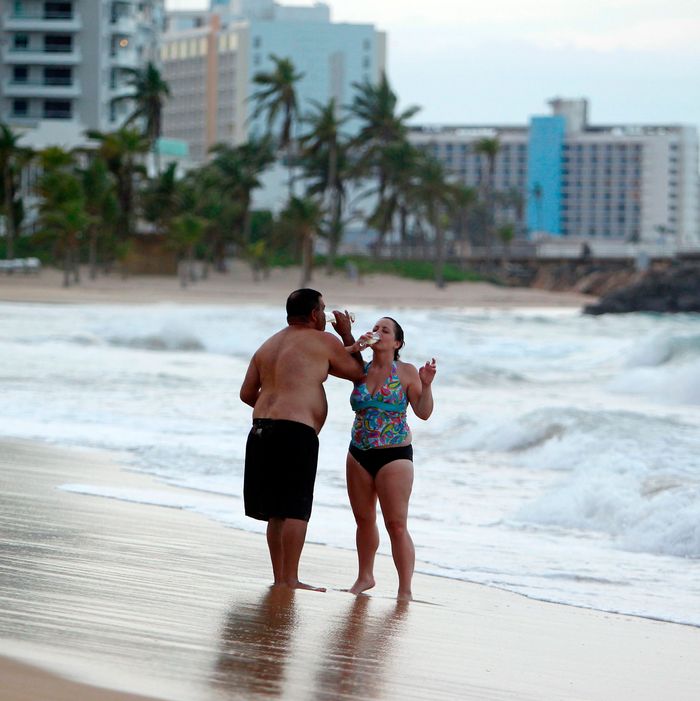 A couple drinks wine on the beach in Old San Juan, Puerto Rico, in November 2017.
Photo: Ricardo Arduengo/AFP/Getty Images
La piña está agria. You might hear someone mutter this phrase today in Puerto Rico. It literally means, "the pineapple is sour." The figurative translation: "Times are tough."
Yet despite recent struggles — devastating hurricanes, controversial death tolls, population drain, economic crisis, Zika — there is much sweetness in Puerto Rico, especially in its capital city of San Juan. Tourists who visit the island these days are likely to see only surface traces (downed power lines, inoperative traffic lights, boarded-up windows) of Irma and Maria. Founded in 1521, the oldest city under U.S. jurisdiction continues to provide a fascinating, fun, and passport-free getaway for Statesiders.
Recovery has been both slow and quick. Though San Juan is up-and-running, pockets of the island are still without power. While some businesses have had to call it quits, new hotels, restaurants, and shops have opened since the storms, demonstrating an unabashed sense of hope. The art and design scene continues to flourish, with no choice but to create. World-class musicians like Luis Fonsi and Bad Bunny remain relevant as the music world continues to look to the island for the next hot trend, while salsa is still the sexiest dance done 'round the world. A wave of social consciousness pervades the island like never before, as evidenced when thousands took to the capital's streets in a May 1 general strike. And thanks to grassroots efforts, the island's agriculture is returning, inspiring local chefs to turn inward, instead of relying on imports. The swift regeneration of the island's greenery reflects the stamina and resilience of the populace.
Outside interests and money are also moving in, their motives and impact yet to be seen. It is the local nonprofits that are inspiring the island's comeback, taking matters into their own hands to rebuild and return, better than before. Within the realm of recovery and improvement, however, there are those things about San Juan that will never change: its history, its diversity, its distinct cosmo-trop style, its charming brand of hospitality, and those lovely, sunny, breezy beaches.
In our final installment of the Urbanist, New York Media's pop-up travel blog, we are diving deep into San Juan, from the Old City to the bustling financial district of Hato Rey; from the beach-fringed resorts of Condado to the gritty, artsy drags of Santurce. Shopping, music, food, drink, day trips, volunteerism, and more are shared via the pro tips of 36 islanders.
Just bear this in mind: A little patience goes a long way in Puerto Rico right now. The internet might be spotty. There may be a brief power outage. When that happens, do what the locals do: Grab a bottle of rum and head for the beach. Tourism is an essential part of the island's recovery. According to the tourism board, 80 percent of the hotels and restaurants have reopened and 14 cruise vessels (four more than last year) are serving the ports. Yes, Puerto Rico needs your business. But soon after touching down and settling into the easy energy of San Juan, you'll realize that you needed Puerto Rico, too.
Your Everything Guide to San Juan
Where the Locals Would Stay in San Juan If They Weren't Local
Life After Maria: How Travelers Can Help Puerto Rico Recover
A High-Low Art Lover's Guide to San Juan
Eco Goods and Guayaberas: Shopping Like a Local in San Juan
Muévete!: How to Break a Sweat in San Juan
Where San Juan's Top Chefs Eat Every Meal
Piña Coladas and Carbonated Negronis: A San Juan Drinking Primer
Fun Things to Do When It Rains in San Juan
From Tito to Trap: Inside San Juan's Music and Dance Scene
Rainforests and Rum Castles: The Best Day Trips from San Juan
What to Read, Watch, and Follow Before Visiting San Juan