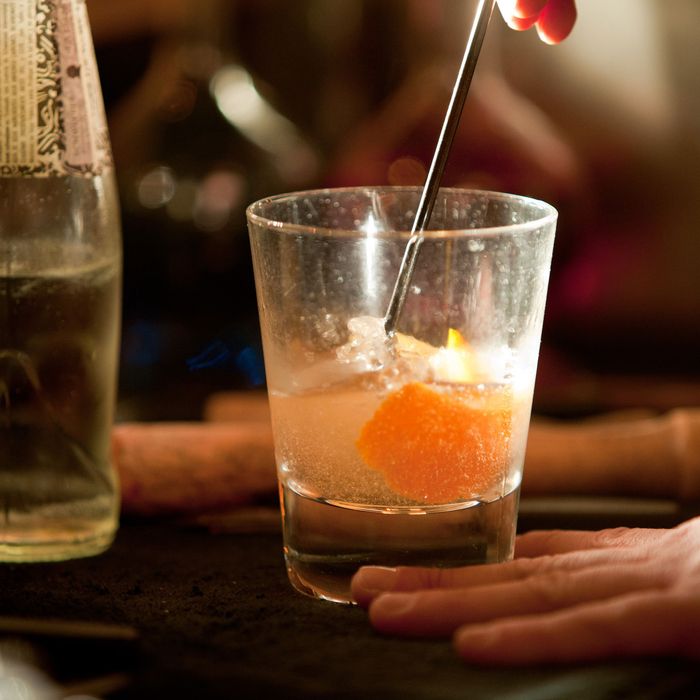 Negroni in Barcelona.
Photo: Adolfo Fernández/Courtesy of Negroni Cocktail Bar/Adolfo Fernández
For much of its natural history, Barcelona was stuck on three drinks: beer, wine, and vermouth. Spirits took a back seat, which meant that cocktails, other than unsophisticated well drinks, were chronically underserved outside of a few storied institutions, like 85-year-old Boadas Cocteleria. That changed with the advent of the gin-and-tonic, called simply "gintonic" in Spain, which took the city by storm in the early 2000s and inspired entire bars devoted to creative twists on the G&T. Nowadays, a full-blown cocktail revolution has erupted across Barcelona, and there's never been a better time to drink it all in. Bartender and cocktail writer Mar Calpena walks us through half a dozen of her favorites.
For a Cuban getaway, go to …
Caribbean Club
"This tiny bar behind Las Ramblas resembles an old transatlantic ship cabin; the atmosphere will transport you to Old Havana. Here, classic cocktails like Painkillers are served by owner Juanjo González, an alumnus of Boadas. Aside from old-school drinks like daiquiris, you can sample obscure Cuban classics like Canchánchara, a concoction of brandy, honey, and sugar."
For a history lesson, go to …
Sol y Sombra
"Elegant Sol y Sombra in El Raval shines with a menu of historical cocktails; [drinking there] is like a session in archaeology. Head bartender Jordi Baqués not only brings old drinks back from the dead, but he prepares them with suitably vintage spirits — many of them out of production. [Try a classic Gibson: gin and dry vermouth, garnished with a pickled onion.] Some nibbles are served, but since it's right next door to Suculent, a delightful [locavore-minded] restaurant from the same owners, go there first!"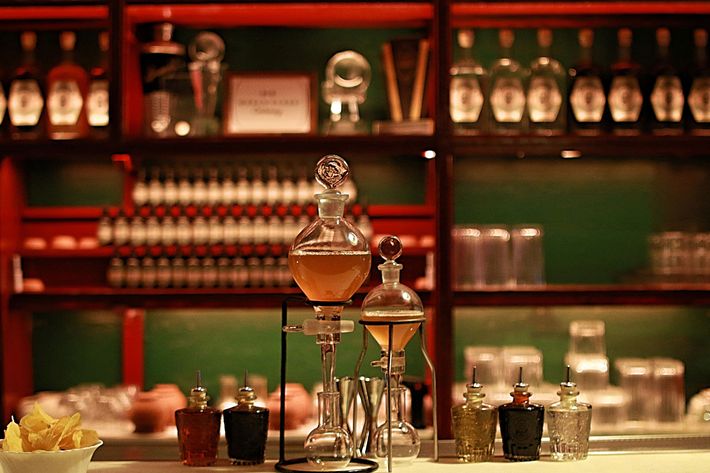 For a science experiment, go to …
Dr. Stravinsky
"This year-old bar in El Born has earned many accolades and awards due to its innovative offerings, but don't let that fool you: Stravinsky is one of the friendliest speakeasies in the city. The interior looks like a laboratory and is filled with jars and beakers stuffed with herbs and flowers. [From the new spring menu, try the De la Tierra Fizz with beet vodka, lemon juice, absinthe, sugar, egg white, and soda.]"
For a bespoke experience, go to …
Negroni
"This is a no-menu bar with a friendly, young atmosphere and a team of bartenders who take pride in personalizing each cocktail to the guest's tastes. You'll feel at home in no time."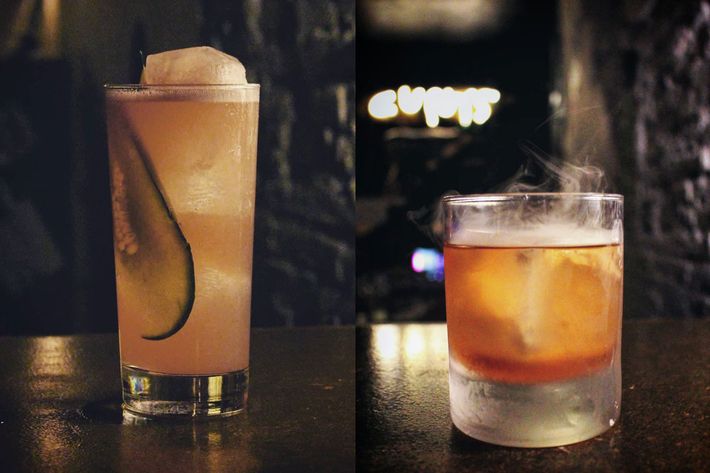 For baller drinks on a beggar's budget, go to …
Two Schmucks and Macera Taller Bar
"Two Schmucks is a favorite of the globe-trotting cocktail community, and features a fortnightly changing menu designed by guest bartenders. Macera, which also has an outpost in Madrid, is cheap and cheerful — all white wood and a hipsterish crowd, with an emphasis on craft-spirit infusions. That makes it the perfect place for an early drink before heading to the clubs."