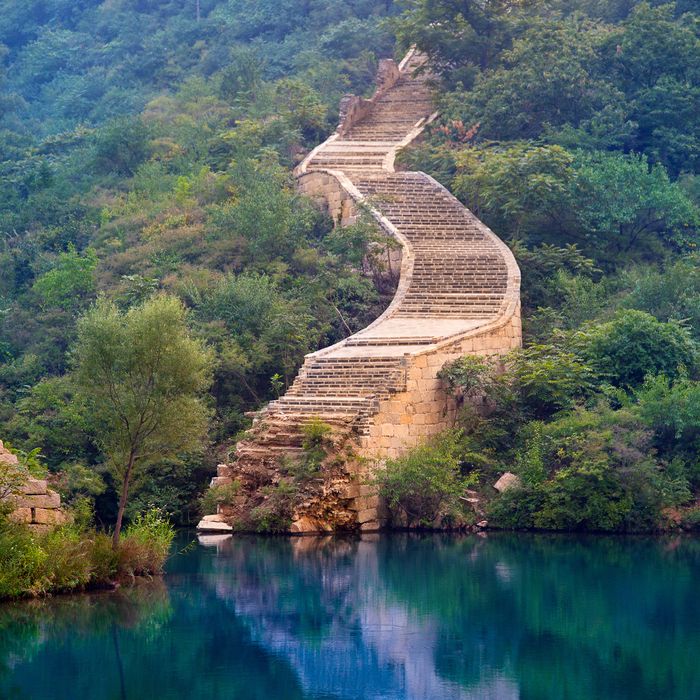 Why yes, you can scuba dive the Great Wall.
Photo: Laoshi/Getty Images/iStockphoto
Beijing's biggest historical attractions are clustered near the center of the city. Here are some unexpected and intriguing ways to spread your wings a little while visiting.
Idea No. 1: Walk the Great Wall of China, then scuba dive it.
Seeing the Great Wall, one of the Seven Wonders of the World, is top of the list for most tourists visiting Beijing. Exploring the Mutianyu section is perhaps the best way to do it in one day; the journey there takes about an hour and a half by road, with most hotels able to sort out a seat on a minibus or book you a car and driver. Take plenty of water and food to avoid the extortionate prices in the commercialized area at the foot of the wall.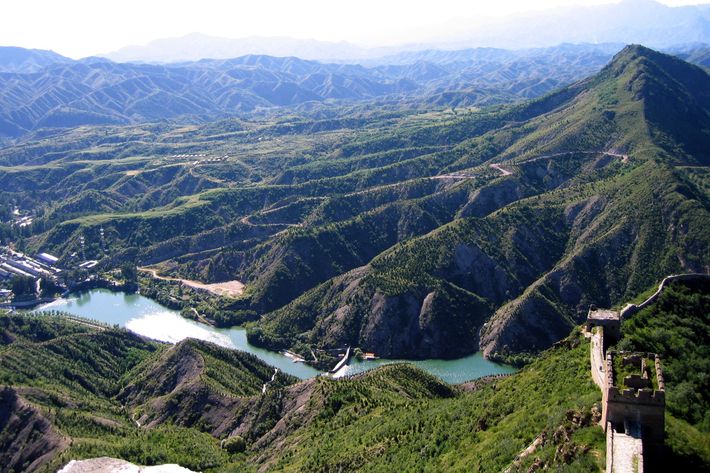 Then, for an entirely different view of the wall, don a wetsuit and flippers and scuba dive it. Following an earthquake in 1976, the Panjiakou Reservoir, a three-and-a-half hour drive northeast of the capital, submerged a 328-foot-long section of the structure that divers can now swim around and explore.
"After the earthquake, much infrastructure around Beijing was being rebuilt, and the city needed water," explains Steven Schwankert, founder of SinoScuba, which runs dive trips with English-language instruction to the Great Wall from Beijing every autumn, the season in which conditions are optimum. "The simplest way to get it was by building a dam and making a reservoir. Preservation of the Great Wall wasn't such a priority then, so they went ahead and submerged sections of the wall to make the reservoir."
Schwankert continues: "I first dove the area in 2008. The experience forces you to be close to the wall, otherwise you couldn't see anything because visibility down there is really bad. You're able to swim in and out of windows, and you can see the workmanship well. When you're on land, you have that 'I can see the wall from space' feeling, but when you're diving it, the structure feels more human. You really get a sense that people were stationed on it.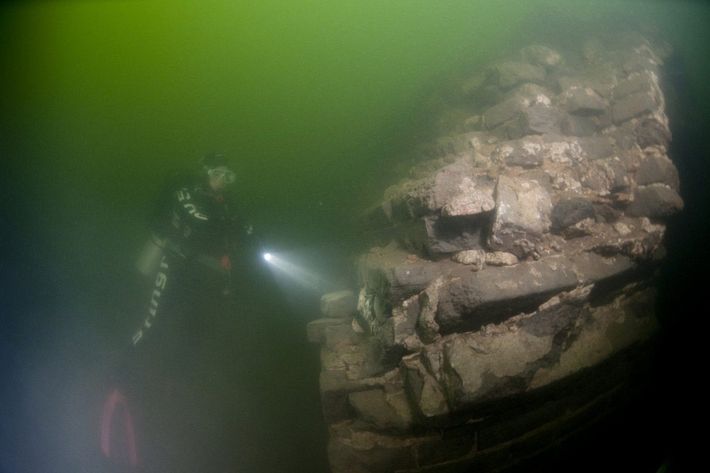 "The centerpiece of the dive is always the signal tower, which has an archway right next to it that invites exploration. The area is known for fish farming, and every once in a while some escape from the net — so you'll be diving and suddenly see a flash of scales. The fish will be more surprised to see you, though. It's pretty chilly down there, but it's the only wonder of the world you can scuba dive. You can't dive the pyramids."
Idea No. 2: Make the rounds to Beijing's quirkiest museums.
The capital is not known for having top-class museums, with attractions such as the Forbidden City and Tiananmen Square arguably offering greater insights into the city's history. It does, however, have enjoyably quirky museums such as the China Watermelon Museum, the gun-heavy Beijing Police Museum, and House of Marbury, a weird shrine to U.S. basketball player Stephon Marbury, who played for various Chinese teams from 2009 until his retirement earlier this year.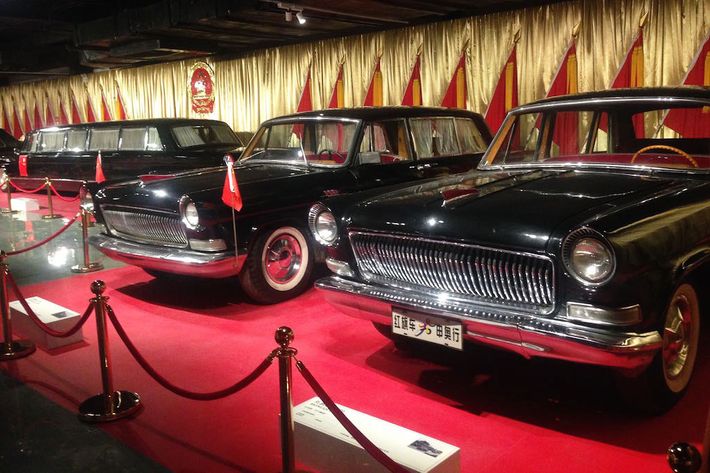 After exploring those, it's worth a visit to a museum further out of town and therefore overlooked by most tourists. Odd yet historically fascinating, the Beijing Classic Car Museum is based in Hairou, a district around 31 miles north of Beijing's city center. Owner Luo Wenyou has a huge, intriguing cache of both Chinese and foreign motors, including a stretch limousine made for Mao Zedong and cars that still bear damage from being attacked by Red Guards during the Cultural Revolution.
"I've been into cars since I was little — I even chased tractors around in my village and later became a driver for a state-owned organization," says Wenyou. "I would change my white gloves every day, wore sunglasses, and even in the winter I'd lower my window when there was a crowd so people could see me. It was rare to see a car on the street in China in the late 1970s. Even celebrities didn't have them. I started collecting cars, then after I competed in the 1998 Louis Vuitton Classic China Run rally in China, I decided to sell all my companies at low prices and start up this museum. During that rally, my Hongqi [a Chinese car brand that mainly made vehicles for government officials] was surrounded by crowds in Dalian, so I was penalized for being in the way of cars behind me. I remember a grandpa holding his granddaughter, then when I drove by, he was so excited he started clapping and dropped her."
Wenyou's hobby is an esoteric one in modern China, where flashy supercars are viewed as more desirable than those of historical note. He's happy carving out his niche, though. "Now I have around 300 cars," he says. "One I am particularly attached to is a car that was owned by Liu Shaoqi, chairman of the People's Republic of China from 1959 to 1968. It was decided that he was a traitor [during Mao's Cultural Revolution purge in the late 1960s], so when the Red Guards saw his car, they would throw stones at it to express their anger."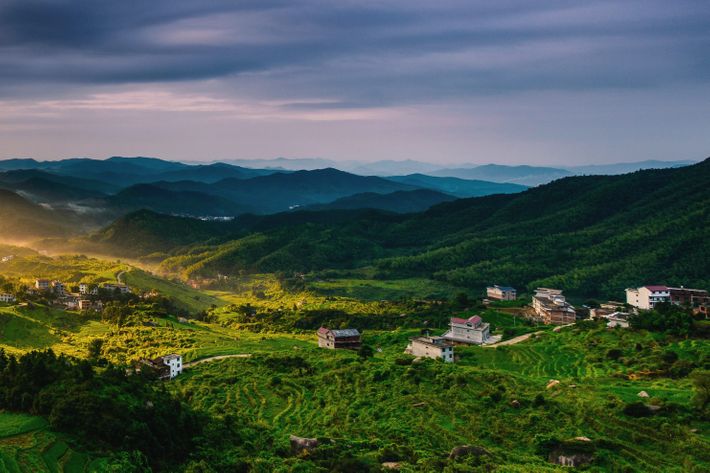 Idea No. 3: Cycle the winding hutongs and stunning countryside.
Weaving through the maze of residential hutong alleys that comprise the lifeblood of Beijing is an unforgettable experience, as you dodge beer-swigging locals and scraggly dogs sniffing for food. Many hotels in the city offer the use of bicycles cheaply or for free. Not many visitors realize that away from the hutong bustle, Beijing is surrounded by stunning countryside that's ripe for hiking and biking. Serk Cycling has earned a reputation as the capital's most trusted bike-tour company, organizing group day trips, including equipment hire, to those wishing to escape the smog.
Beijing is surrounded by low mountain on three sides — east, west, and north — which is why the ancient emperors chose the area as the capital. The best time to cycle is spring and early autumn, when the temperature is around 70 degrees: not too hot, not too cold.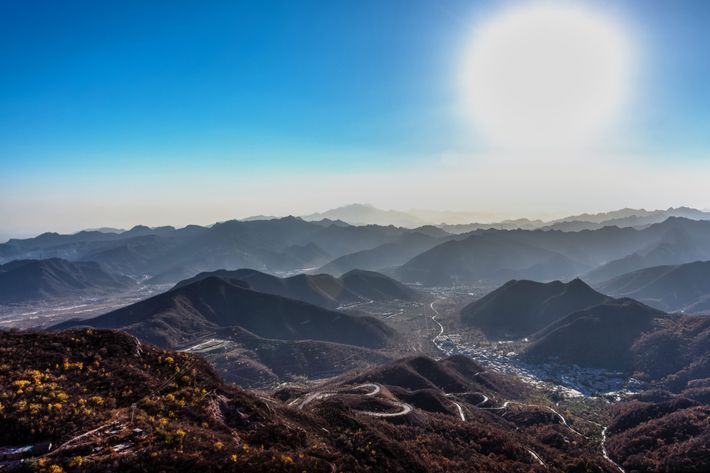 "Going west from the city center, you pass Xishan National Forest Park, Ling Shan, and Miaofengshan," explains Chen Yu, a Beijing-based software engineer and regular rider with Serk Cycling. "The latter place is the ultimate destination for cyclists: a 4,000-foot-high mountain without any placid buffering slopes. There are cafes on top of Miaofengshan where you can write your name and journey time on the walls, and there are small canyons such as Youzhou Canyon and rivers like Jiudu and Shidu in the area."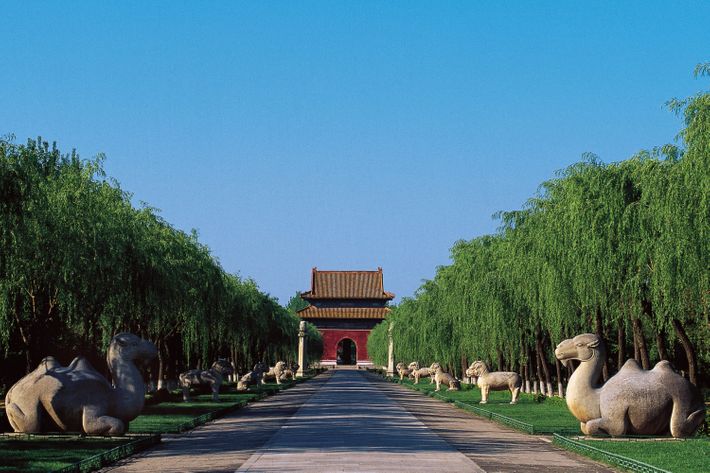 Yu rides into the Beijing countryside at least once a week. "Going north there are the Changping and Yanqing districts, with a number of mountains behind the Ming Tombs, such as Yuquan Shan, a.k.a. Jade Spring Mountain," he continues. "Ten-Mile Gallery, a long scratch of valley road, is a spectacle in autumn with its red and yellow leaves. Going east, Yanqi Lake is an ideal cycling destination with quality hotels in the Huairou district. It has a couple of hills nearby with nice little cottages and villas.
"One of my favorite cycling destinations is Miyun: a hilly district in northeast Beijing. Instead of high mountains, it has many undulating, zigzagging hills, a bit like Ardennes in Belgium. The cycling route, which is fairly flat, circles a big reservoir. The entire circuit is about 62 miles, but you don't have to finish it all — Serk designs 18.6-mile rides there, too. On the Miyun route, you'll see forests and farmhouses. We sometimes buy supplies from villagers, and if you're lucky you'll see shepherds. There are cottages and villas available if you want to stay over, but there are military-controlled areas around here, so make sure you follow the map and don't get lost."