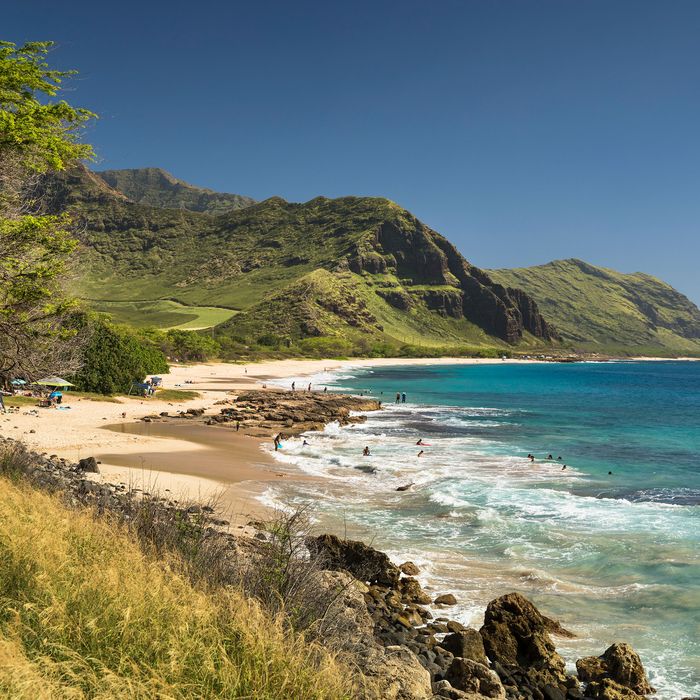 Keawaula Beach on Oahu.
Photo: LanaCanada/Getty Images/ iStockphoto
For an authentic Hawaiian experience, it's essential to bust out of Waikiki. Keola Naka'ahiki Rapozo, co-founder and creative director of local streetwear brand Fitted Hawaii, is a passionate advocate for traditional Hawaiian culture. He mentors Honolulu's youth through the Hawaiian language-immersion school Ke Kula Kaiapuni O Anuenue, but he has a trick or two up his sleeve for travelers, too. When you're full up on Waikiki, says Rapozo, head for the countryside to hike an ancient volcano, see the site where Hawaiian chiefs were born, get muddy volunteering on a taro farm, or visit an albatross sanctuary. Here are two of his favorite full-day getaways and what to eat, see, and do along the way.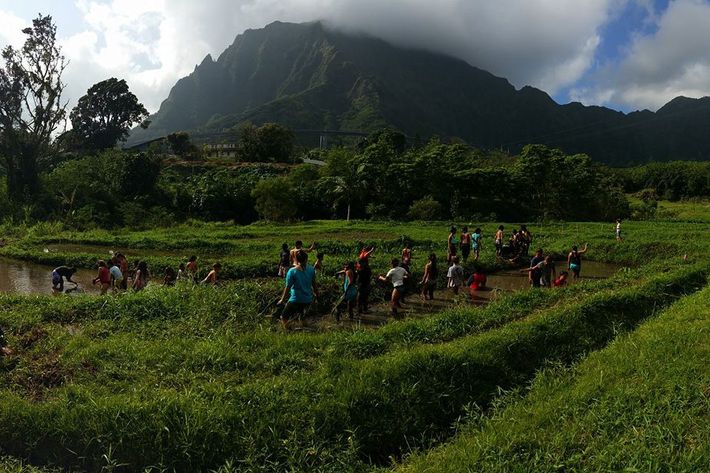 Ultimate Day Trip No. 1: Heeia Ahupua'a
40 minutes from Honolulu
"The Heeia ahupua'a is the only modern, functional ahupua'a on this island. An ahupua'a is an ancient Hawaiian system of land management that is a self-sustaining source of food, from the mountaintop to the ocean. Email info@papahanakuaola.org in advance to request a tour of the farm and volunteer to work the land for a few hours. I've seen guys down there in their 60s, and I've brought my 5-year-old daughter. You'll be cleaning the yard and cutting grass, so wear clothing you aren't afraid to get muddy.
Heeia ahupua'a is home to a kalo [taro] farm. The nonprofit organization Kako'o 'oiwi has weekly work days here, where you get dirty pulling weeds in the mud, planting without tools, or harvesting. You might also plant ma'ia [banana], 'uala [sweet potato], or breadfruit. It's fun to learn about sustainability in a Hawaiian context, alongside a farmer or educator. Companies and schools go down there, so there could be 100 schoolkids working the land with you.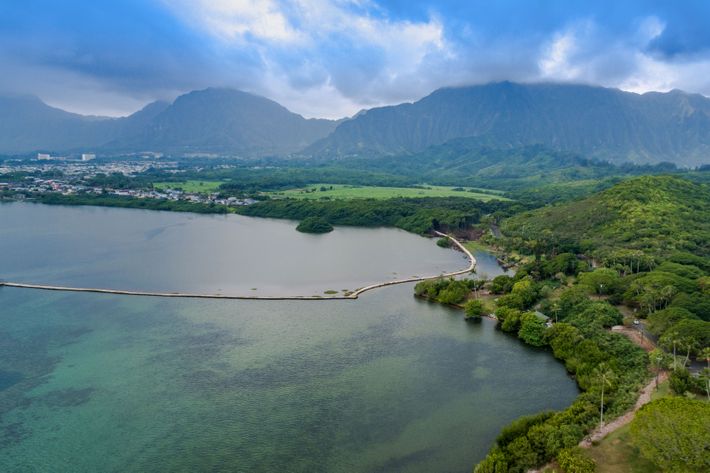 The restoration of the ancient Hawaiian He'eia fishpond is another incredible thing to see. The scale of the pond and simple yet complex thinking behind its design are so unique. All of the nutrients upstream get sent downstream, creating life in the pond and in turn giving life to the community; so it's critical how the guys malama [take care of] the land upstream. I've done work days here with Paepae o He'eia, a nonprofit organization that takes care of He'eia, and we'll help carry rocks to kōkua the fish pond [restore its stone retaining wall]. There are also days where you help harvest oysters or fish.
After working the land for a few hours in the morning, head to Waikane Store to grab the Mochiko fried chicken or sushi. From there, head up to the North Shore via Kahuku, where there are all these fruit stands selling cold bags of fresh-cut guava, lilikoi, pineapple, and kiwi.
On the way back to Honolulu, stop by Kukaniloko, an ancient stone birthing site located in Wahiawā and easily accessible via H-1 or the tail end of the Kamehameha Highway through Kahuku. Its proximity to the piko, or center, of the island made it a sacred gathering place where important ceremonies, meetings, and other sociopolitical and cultural exchanges occurred. It is known for the birthing stones of exalted chiefs, but also as a place to observe time and study the celestial. The last king born there was Kakuhihewa, the 15th king of 'Oahu. When visiting, please be respectful — no climbing or moving rocks, don't leave rubbish, and if you see rubbish on the ground, it's always pono [good practice] to remove it.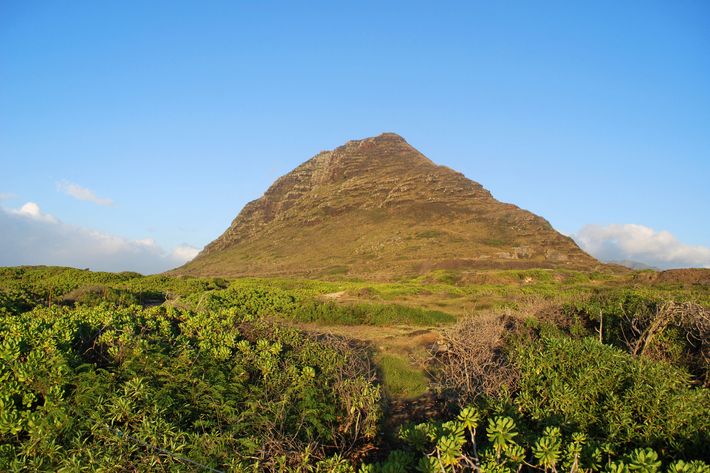 Ultimate Day Trip No. 2: Keawaula Beach and Ka'ena Point State Park
1.5 hours from Honolulu
"Keawaula Beach at Yokohama Bay, or Yoks for short, is a beautiful place to swim when the waves arenʻt big. Depending on the season, there are tide pools your kids can play in, too. This area offers an opportunity to hike to where west meets north at Kaena Point, Oahu's oldest volcano. It's a super-easy hike but it takes about 45 minutes to an hour, plus you'll want to hang out at the point for a bit to enjoy the true beauty of this island, from the rugged mountains to the wild ocean. [Sunset is a great time to go.] There's a bird sanctuary on the Mokulei'a side; this is where the albatross lay their eggs and nest. It's fenced-off because they're trying to limit the number of predators (cats, dogs, mongoose) that can sneak inside, but you can pass through a revolving gate to get in. You might even see an endangered Hawaiian monk seal while you're there. To reach Ka'ena Point from Waikiki, jump on the H-1 and take it to Waianae till you can't take it any farther."