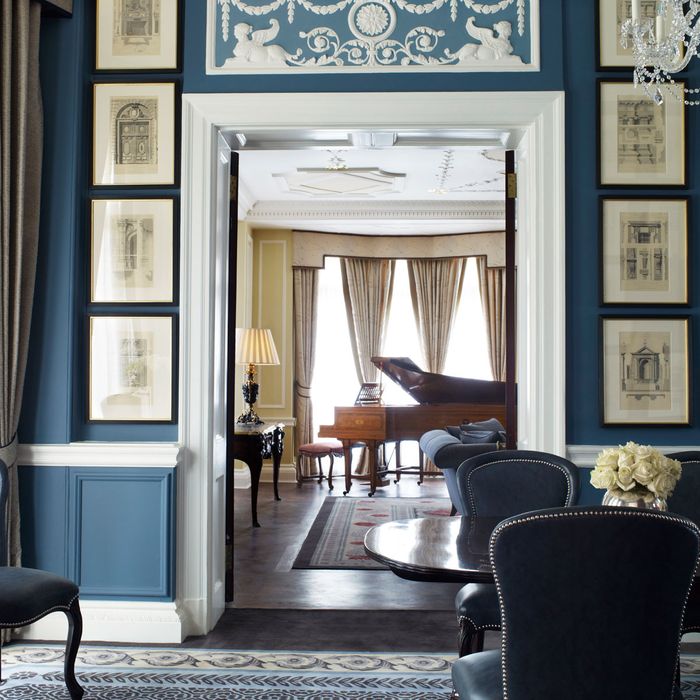 Claridge's in London.
Photo: Courtesy of Claridge's
Choosing accommodations in London requires strategy: The city is sprawling, after all, so you want to stay in an area that's convenient to your interests. And while the U.S. dollar may go a little further now than it did a few years ago, the city still isn't known for being cheap. So we asked four in-the-know locals what they would do. From stately townhouses to a floating hotel, their suggestions suit a range of styles and spending habits.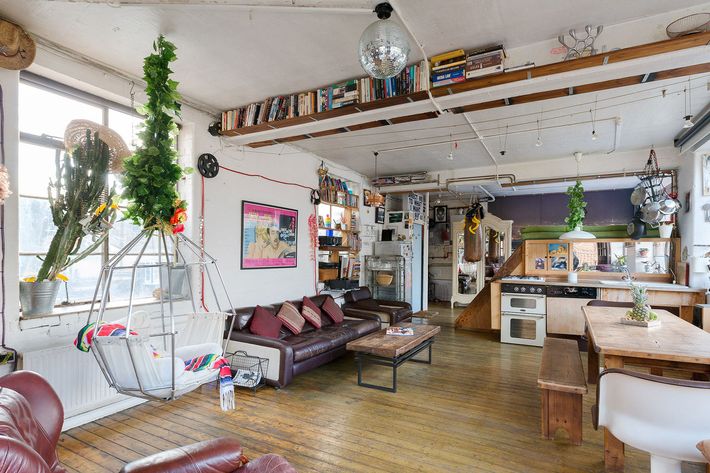 The Plum Guide's East End Bazaar (from $187)
"I like staying in homes when I go to a city — you feel part of that environment, like a local rather than a tourist. I used to check Airbnb, but because there is such an abundance of choices, it can sometimes be hard to find one that you like. The Plum Guide handpicks the most stylish flats independently, so I now use these for my friends coming to London. There are hundreds to choose from, but this East End loft apartment gives you the chance to be a Shoreditch hipster for a night. It's decorated with colorful artwork and vintage furniture, and even comes with an HD projector." —Bengi Unsal, senior contemporary music programmer at Southbank Centre
Z Soho (from $90)
"Soho is the playground of London, with enough bars, restaurants, and theaters to keep you entertained for days. If you are planning on spending your time making the most of all of this, rather than chilling in your room, the Z hotel is perfect. The building is a conversion of 12 Georgian townhouses, and while the rooms may be small, the interiors are sleek, and the prices won't break the bank." —Zoë Paskin, restaurateur behind the Palomar, the Barbary, and Evelyn's Table at the Blue Posts pub
Good Hotel (from $110)
"One of London's gems sits quietly on the waterfront of the Docklands, very literally residing on an inlet of the River Thames. It's an area of London I don't frequent that often, as it's slightly off the beaten track — and that's why I love it so much. Built in the Netherlands as an immigration detention center, the whole thing was transported across the North Sea. The rooms are tranquil and serene, and the hotel feels open and light. The biggest appeal for me is the slight detachment from the intensity of the center of town and the breathtaking views of the River Thames. You feel in the mix without the stress." —Charlie Casely-Hayford, model, menswear designer, and one half of luxury fashion brand Casely-Hayford
Grange Strathmore (from $155)
"This is the poet Etel Adnan's favorite hotel. It's a townhouse on a quiet street in Kensington, walking distance from all these great museums on Exhibition Road: the National History Museum, the Victoria and Albert, and the Serpentine, where I work. The bar is nice and cozy — it has a fireplace — and it's where Etel Adnan likes to write her poems. She wrote one for my Instagram (every day I post a handwritten note): 'The world needs togetherness, not separation. Love, not suspicion. A common future, not isolation.'" —Hans Ulrich Obrist, artistic director of the Serpentine Galleries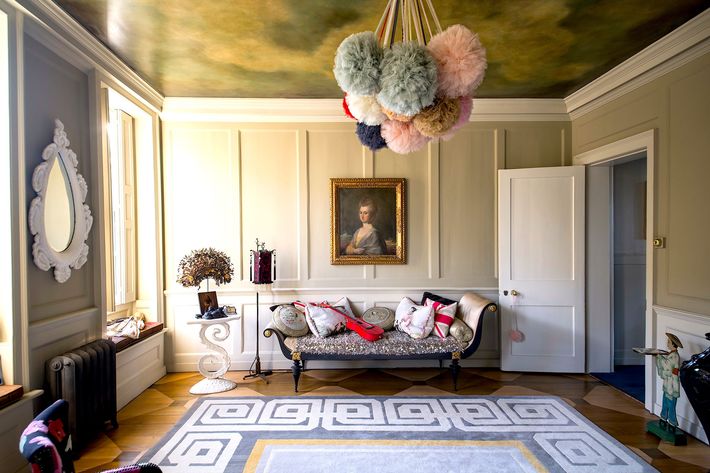 40 Winks (from $155)
"This is actually the family home of interior designer David Carter, who is so welcoming. However, to call it a B&B is a bit unfair — they prefer 'micro-boutique hotel.' Set within a Queen Anne townhouse, the rooms make the best of their original features and wooden floors. There is also an opium den–esque drawing room, which adds to the naughty and mysterious feel. As it's located on the Mile End road in the heart of the East End, from here you can explore markets like Columbia Road and Spitalfields and delve further into Hackney, where there are infinite things to eat, see, and do." —Zoë Paskin
The Pelham (from $220)
"I stayed at the Pelham when I moved to London, before I had an apartment. It's small and it's charming, just near the Serpentine, and I had a good time. I love that it has a library for residents and nonresidents, and these intimate spaces for conversation. I do many meetings there. And one can go on foot to Kensington Gardens, where we commissioned Christo to do a public artwork: a 20-meter-high Mastaba, which will float on the lake (June 19–September 9). Also, the artist Lee Ufan created a mirror sculpture (through July 29), so people can take selfies in the park." —Hans Ulrich Obrist
Dean Street Townhouse (from $255)
"Although I love all Soho Houses, [I'd prefer to stay in] Dean Street Townhouse. Its Georgian style feels really chic, and the bars and restaurants are really good; as a vegetarian, I appreciate all the different options on their menus. Plus: Location, location, location! It's in the center of the city, walking distance to most attractions and close to some of the best restaurants in London." —Bengi Unsal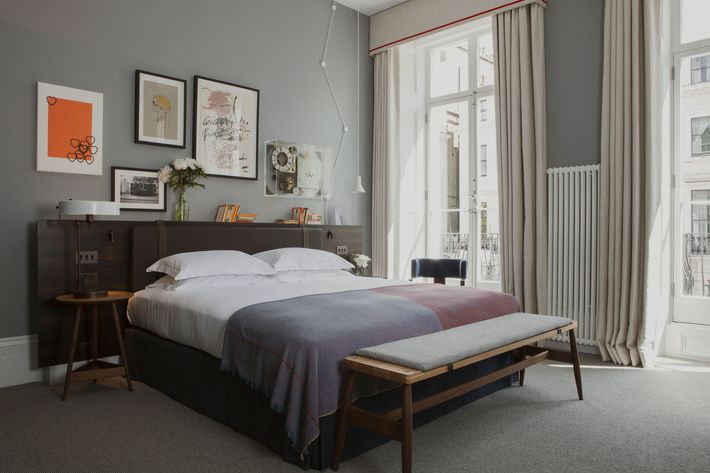 The Laslett (from $280)
"Notting Hill Carnival is my favorite weekend in the year, so there's always been a built-in attraction to the Laslett, around the corner from Portobello Road. Its name is taken from the chief organizer of Carnival, Rhaune Laslett. The bedrooms inhabit five Victorian mansions, each decorated with pieces by local artists and furnished in antiques found at the market. The interior is really evocative of the area's West London identity and provides a dose of serenity — I think that has a lot to do with the vast amount of natural light the windows let in. Henderson Bar serves food and drinks with locally sourced ingredients, and there's a small library with a collection of books on London-based creatives. It's kind of like staying in a friend's townhouse with all of the perks of a hotel." —Charlie Casely-Hayford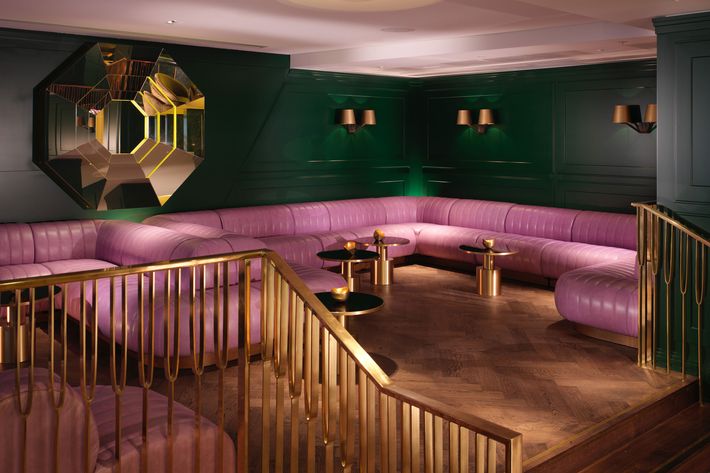 Mondrian London at Sea Containers (from $515)
"Right on the Thames, the location couldn't be better. It's definitely worth booking a riverside room, so you can get the best view of London's skyline from the wall-to-wall windows. There are also two fantastic bars at the hotel: The rooftop Rumpus Room has panoramic views, whilst Dandelyan on the ground floor does amazing cocktails — interesting modern twists on classics. The Barren Old Fashioned has peat, ginseng, and banana bitters. It's also surrounded by culture, with Tate Modern, the National Theatre, and Southbank Centre​ close by — very convenient when we have [Robert Smith's] Meltdown festival going on (June 15–24), or when I leave work at 2:30 a.m. after Concrete Lates, our new electronic-music club night." —Bengi Unsal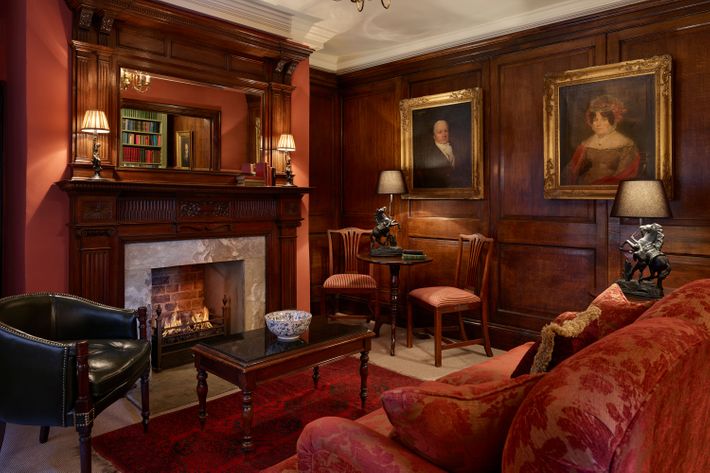 The Rookery (Rook's Nest from $520)
"You might walk past before you realize you're in the right place, but once inside I challenge anyone not to fall under the Rookery's spell. A restored Georgian townhouse hidden away in Clerkenwell, right in the center of London, the whole building has so much character. But the best room of all is the Rook's Nest. It's an unusual and kitsch Georgian-style suite spread over two floors. You could forget you were in London here and feel like you were on some secret adventure in another time." —Zoë Paskin
New Road Residence (from $975)
"Within the Myrdle Street conservation area, off Whitechapel Road, a 1797 Georgian house was restored by an old friend, James Brown, and his partner, Christie Fels — the duo behind the wonderfully unique Hostem concept store. They imbue so much culture into the four-story residence without it feeling maximal, as the space is so tastefully done. Rooms are eclectic yet elegant with a muted color palette, carefully curated with art, furniture, books, and textiles. New Road is definitely one of the most unique spots in London to stay — a truly immersive experience." —Charlie Casely-Hayford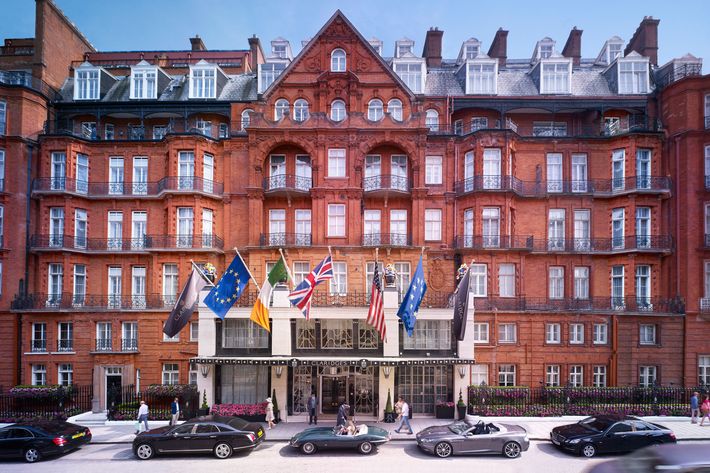 Claridge's (from $1,040)
"There are the grand hotels in London, of which one of my favorites is Claridge's. For me, it's less about the design — it's about people. It's a place where dignitaries stayed during the war, a refuge for kings and politicians. But it's also a place where a lot of artists and actors spend time. Many disciplines meet in the long history of this hotel, which has since the 1800s been reinvented and reinvented and reinvented, and of course there's a Michelin-starred restaurant, Fera. Many artists also have created works there. For example, Luigi Ontani — a living sculpture in his own right. And I'll never forget interviewing the Brazilian musician Caetano Veloso; we did a book, and that entire book happened in his suite." —Hans Ulrich Obrist