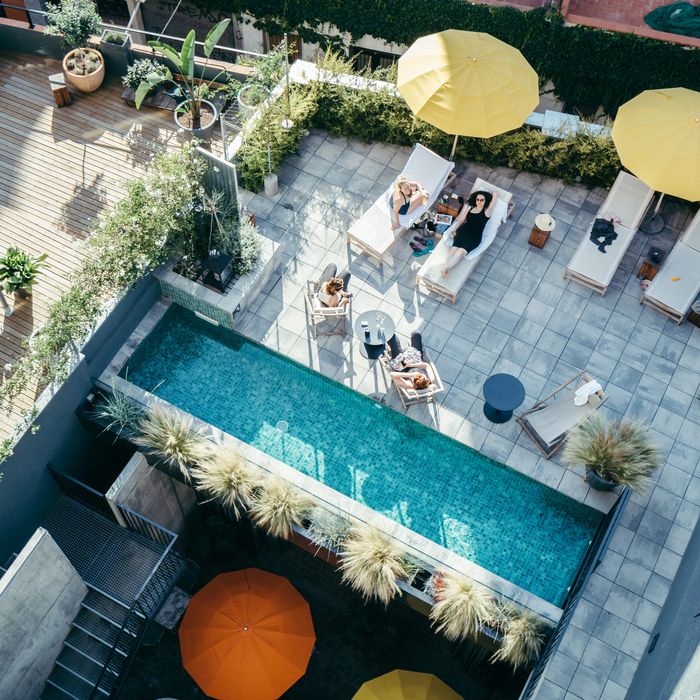 Hotel Brummell in Barcelona.
Photo: Christopher Stark
We asked four local aesthetes — an architect, a filmmaker, a creative director, and a UNESCO chairperson — to give us their best hotel recommendations. Scroll down for a bank turned hostel with a bar in the old vault, a luxury hotel with a courtyard full of orange trees, and a sexy boutique inn with shrapnel in the walls.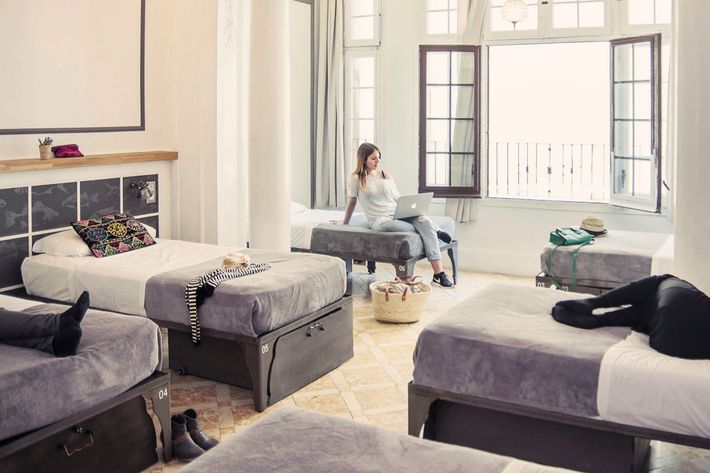 Casa Gracia (from $34)
"This hostel has plenty of style and cozy corners to hang out. It's set at the top of Passeig de Gràcia, a few narrow streets away from Gràcia, Barcelona's very hipster neighborhood. The building used to be a bank; not to miss is the secret underground cellar bar that used to be the vault." —Tarana Suri, creative director at fashion consultancy firm Front Row BCN
Hotel Brummell (from $137)
"A bit off the beaten track in Poble Sec, Hotel Brummell is an easy walk to the city, and Montjuïc hill is just outside the door. It's a thoughtfully designed hotel with a creative soul; the mix of Sri Lankan antiques and custom furnishings make for a great atmosphere. The staff are happy to share their insider tips and the Brummell city map gives you insight into Barcelona's lesser-known gems. What else? Yoga classes in Veronica Blume's The Garage, located in the same building, are included in the price of the room!" —Barbara Appolloni, architect
Hostal Boutique Khronos (from $121)
"For budget travelers, I like the Hostal Boutique Khronos, which is a five-minute walk from the Passeig de Gràcia. It's owned by a nice Catalan-British couple, clean and designed with bright, modern, minimalist decor." —Eduard Vallory, chair of the UNESCO Centre of Catalonia, director of the training program for the School Teachers' Continuous Professional Development of the Generalitat of Catalunya, and director of the Escola Nova 21
Casa Marcelo (from $80)
"Casa Marcelo is a sweet, five-room pension sandwiched in between super-touristy El Born and the Barceloneta neighborhood, so guests can go and then come back and hide once they get too overwhelmed!" —Robin Willis, filmmaker, producer of the podcast Hardboiled, and author of the book Bar Pinotxo, God Is in the Garbanzos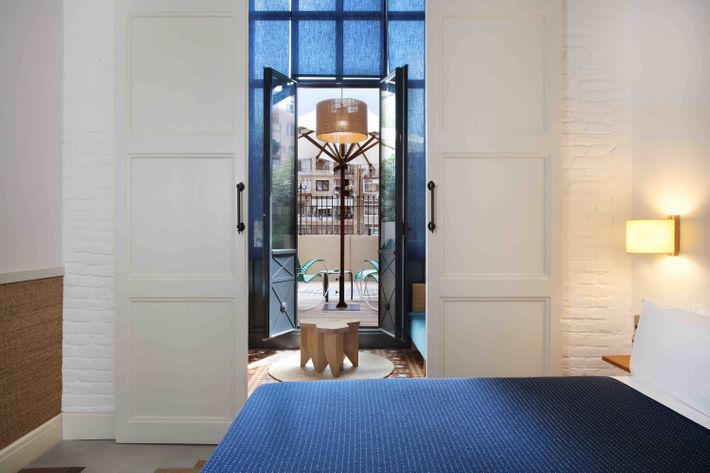 Casa Bonay (from $143)
"My secret meeting place that always impresses prospective clients is the lobby of the very fashionable Casa Bonay. This is a hotel, yes, but it also hides in its vast interior two ultracool restaurants — the late-night Libertine and the Asian spot Elephant Crocodile Monkey — plus a great coffee shop [Satan's Coffee Corner]." —Tarana Suri
Hotel Alma (from $315)
"This is in a perfect location, on Carrer de Mallorca near Passeig de Gràcia and just a few minutes' walk to Gaudí's La Pedrera. I love the elegant interiors, the use of noble materials — wood, leather, steel — and the pure, simple detailing. There's also a fantastic private garden and a rooftop where you can relax." —Barbara Appolloni
Hotel España (from $232)
"One of my less expensive favorites is the Hotel Espanya, which is a beautiful Art Nouveau–designed hotel in the heart of the Raval neighborhood, just off La Rambla. This means it's also close to the Gran Teatre del Liceu, the opera house of Barcelona, as well as the famous La Boqueria market." —Eduard Vallory
Hotel Praktik Garden (from $105)
"Praktik Garden is in the Eixample district, which is architect Ildefonso Cerdá's fever dream addition to the city. He designed Eixample to be organized into snub-nosed blocks of buildings with big open centers that housed parks where the various social classes could meet and intermarry. That part never really happened, of course, but the neighborhood is still organized into blocks with beautiful gardens in the center. [Architect Lázaro Rosa-Violán designed this hotel's common space around one of Cerdá's intended gardens.]" —Robin Willis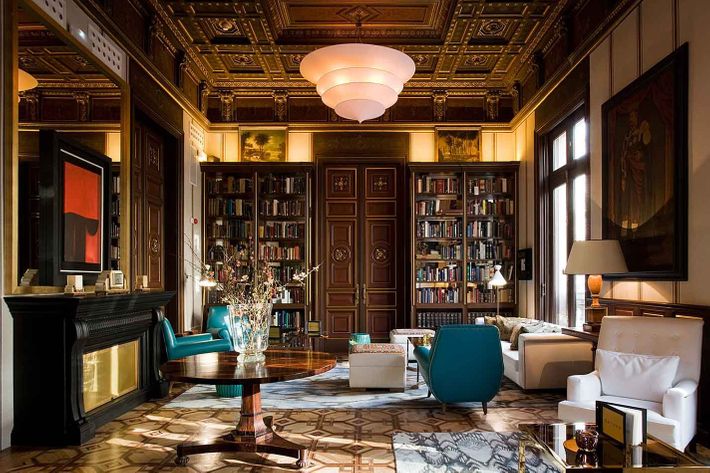 Cotton House Hotel (from $483)
"A truly luxurious hotel, with lots of beautiful wood and marble detailing, the Cotton House Hotel is located inside a 19th-century building that was once the Cotton Textile Foundation. You can even get a custom shirt tailored for you from the comfort of your hotel room!" —Tarana Suri
Mercer Hotel Barcelona (from $477)
"This hotel represents an important recovery of Barcelona's ancient heritage: Part of the old Roman wall is incorporated into the building's structure. The architect, Rafael Moneo, kept the historic details — the medieval façade and balconies, the courtyard with orange trees and 17th-century columns — and integrated them beautifully with contemporary design." —Barbara Appolloni
Hotel Casa Fuster (from $322)
"An expensive but classy, beautiful, and stylish option is Hotel Casa Fuster, on the top of Passeig de Gràcia, the Fifth Avenue of Barcelona. It was built in the modernist style by famous architect Lluís Domènech i Montaner, whose portfolio also boasts the UNESCO World Heritage site Palau de la Música Catalana." —Eduard Vallory
Hotel Neri (from $444)
"This is a luxury boutique hotel deep in the Barri Gòtic neighborhood in Plaça Sant Felip Neri. The square is the quietest and prettiest plaza in Barcelona, but also where the Fascists bombed leftist Republicans during the Spanish Civil War; check out the bomb shrapnel in the [hotel's] exterior walls. Though it's located in the tourist zone, Hotel Neri is hidden away. It's a special hotel; if I had money, I would stay here and have sex with someone I love." —Robin Willis