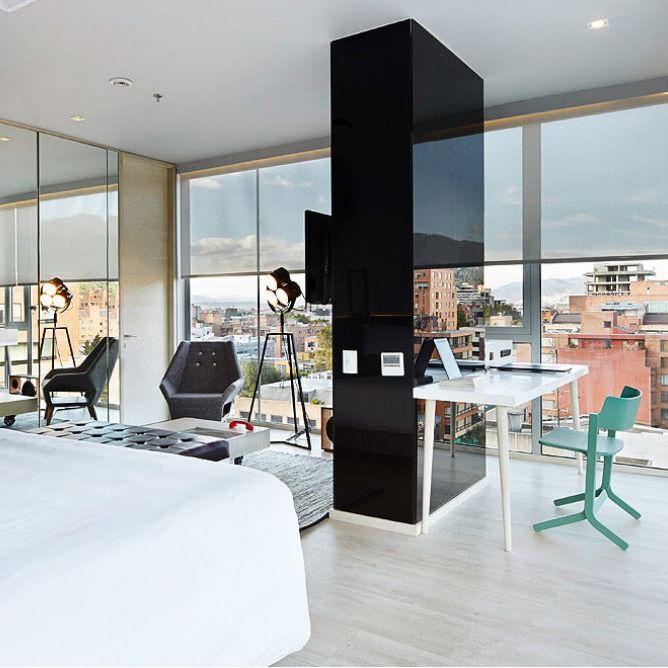 The Click Clack Hotel in Bogotá, Colombia.
Photo: Courtesy of Hotel Click Clack
Most hotels in Bogotá are spread out from downtown to the far north of the city in a long, often gridlocked strip; it can take more than an hour to get from one end to the other. Staying near where you plan on spending most of your time and walking can make a big difference in the ease of your travels. We asked four local aesthetes to give us their best hotel recommendations, from Art Deco houses to high-style design hotels.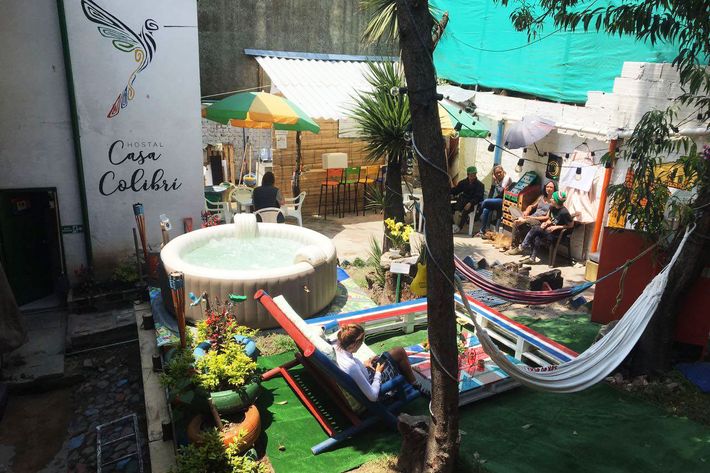 Hotel Plaza 36 (from $59)
"It's located in the middle of Teusaquillo, a residential neighborhood steps from the city's business district [Centro Internacional], and not far from the Museo Nacional de Colombia and Museo del Oro, the historic center of La Candelaria, Plaza Bolívar, and so on. It is cheap and includes breakfast — it's definitely not fancy but it's comfortable, especially for a longer stay. I wouldn't recommend walking around in the evening though, as it can be a little dangerous. During the day, it's fine." —Michelangelo Cestari, board member of Melting Pot Foundation, an international culinary training program
Hotel B3 Virrey (from $60)
"When I'm producing for foreign-film teams who want to be comfortable while minimizing accommodation expenses, Hotel B3 is the go-to base camp. Street-facing room windows are bordered by a massive vertical garden with a resident hummingbird population. But what I like most about the B3 is that it's in one of the safest and most walkable neighborhoods in the city. Cafés, supermarkets, bakeries, and cocktail bars are all within a few blocks, and there are public concerts and aerobics classes held in the plaza adjacent to the hotel every Sunday." —Gregg Bleakney, adventure filmmaker behind WhereNext
Casa Colibri Hostel (from $18)
"If I was going to be mostly sightseeing, it would be best to just stay in La Candelaria, so I don't have to deal with the traffic. From Casa Colibri, Bogotá's colonial architecture is all around and you can walk to most museums. The private rooms and backpacker dorms are basic, but the old house they're in was recently renovated and they surround a nice outdoor patio with hammocks. And for some reason there's a crazy rooster that lives there and runs around." —Sebastian Moreno Henao, research and development chef at El Cielo
Aventureros de la Candelaria (from $10)
"This cheery red and yellow hostel is in a decent location in La Candelaria. It's basic, but you won't find much cheaper anywhere in the city. You can get private rooms with bathrooms, though if you're here you're probably just looking for a place to sleep and will go with the dorms. There's a communal area where you can play pool and sapo, a traditional Andean game where you toss small discs at a metal frog." —Lina Gutiérrez, freelance writer and editor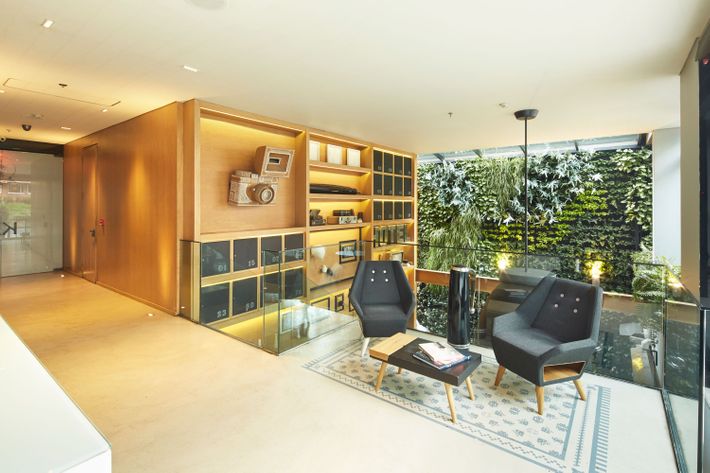 The Click Clack Hotel (from $96)
"Last year, I gifted my dear Colombian musician friend a night at the Click Clack for his 30th birthday. The gift serendipitously turned into an evening party with friends at the hotel's hip rooftop bar. Although the rooftop gets the lion's share of the credit for the Click Clack's swanky reputation, my favorite part of the hotel is the relaxing basement breakfast bar. Surrounded by green walls and creative interiors, breakfast at the Click Clack is the perfect antidote to an evening of cocktailing on the roof. The hotel is also just a block away from Parque 93, where, on a sunny weekend day, you can watch Colombia's upper-class families stroll hand in hand to brunch." —Gregg Bleakney
Casa Lėlytė (from $121)
"A beautiful boutique house that rents out four high-design rooms. The owner, a chef named Angelica Bernal, is vegetarian, so she opened a vegetarian restaurant there with casual, cafeteria-style food. It has a gorgeous backyard terrace for a nice breakfast or brunch, or to just relax in the afternoon with a book. It's very well located on 64th Street, between Carrera 3a and 3b, in the middle of Chapinero Alto, the hipster area where restaurants like Villanos en Bermudas, El Chato, Café Bar Universal, and many others are located, plus new shops and galleries." —Michelangelo Cestari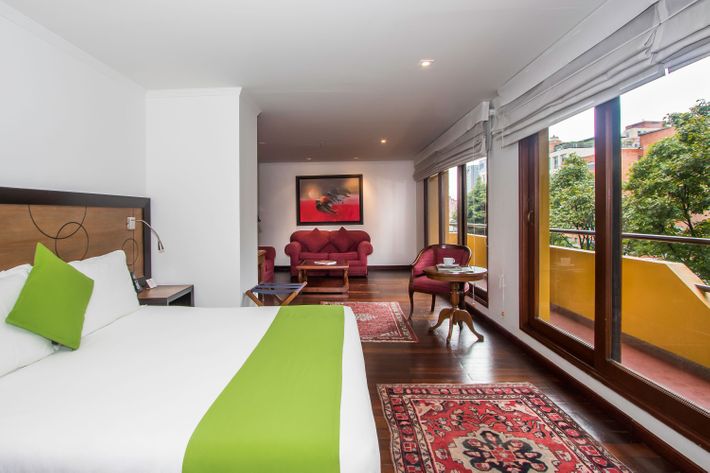 Hotel Emaus (from $64)
"It's at the edge of the Zona G, where you have forests and Monserrate behind you and it really doesn't feel so much like a concrete jungle but more like a real jungle. Plus, the bigger-than-normal rooms are homey, with wood floors and throw rugs. It's central enough that you can Uber it to La Candelaria pretty quickly, but most of the city's best restaurants are right around you." —Sebastian Moreno Henao
82Hostel (from $40)
"A traveler for the magazine SOHO once described this as 'the perfect example of something that doesn't have to be very elegant to be very good.' 82Hostel has one major plus: It is so close to the Zona T and Calle 85 you can walk there, though far enough that you're not in the hubbub of rumbeaderos (partygoers). It's an easy base for exploring during the day and going out for drinks and getting to know the locals at night. Each day of the week there is a communal activity offered. For instance, on Mondays they offer free Spanish classes, while on Saturdays they set up bus transportation to Andrés Carne de Res and back." —Lina Gutiérrez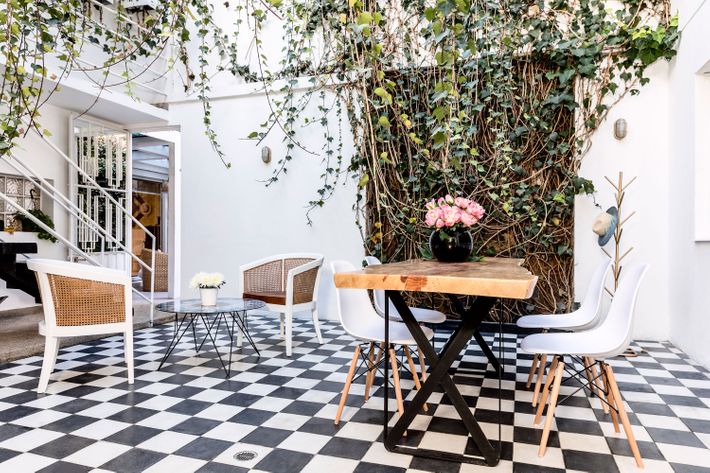 Casa Legado (from $222)
"This is a concept hotel in a 1950s home in Quinta Camacho, but it feels very Bogotana. The owner has brought in pieces of her life, like an old door that was part of her grandfather's farmhouse, and each of the seven rooms are named and inspired after her nieces and nephews and take on a character of their own. For example, the Luisa is very playful, with shelves that hang by ropes like swings, and the wallpaper is covered in plants. The owner's friends who are all cool and like to chat, are always there hanging out." —Lina Gutiérrez
B.O.G. Hotel (from $194)
"Beautifully designed — it's a member of Design Hotels — with comfortable and well-decorated rooms, B.O.G. is located next to all the fancy and expensive shopping areas like the Andino Mall and the Zona T, plus near parks and green areas. The restaurant is average, but the rooftop bar is better, with a cool swimming pool that looks out over some of the most expensive residences in the country." —Michelangelo Cestari
W Bogotá (from $250)
"When I need a staycation, or a trip to the spa to escape the craziness of Bogotá's urban sprawl, this is where I go. The W has nice suites, a high-end spa with a swimming-pool-sized Jacuzzi, and better 'splurge' for the buck than competitors like the Sofitel or Four Seasons. It's a clean, hip, and comfortable landing spot for jet-lagged arrivées to shake off Bogotá's altitude (8,660 feet). What you miss in local culture by booking the W can easily be made up by walking across the Séptima street to Usaquén Park. Usaquén's weekend flea market is one of the best in the country." —Gregg Bleakney
JW Marriott Bogota (from $351)
"It's one of the best hotels in town and all of the big, international spenders coming to Financial District offices stay here. From the outside it looks like a sort of steel-and-soundproof-window fortress, but inside is another world of Egyptian cotton and gin Martinis at the lobby bar. They have a 24-hour restaurant, one of the few in the city, where you can get a burger and beer at 4 a.m." —Sebastian Moreno Henao