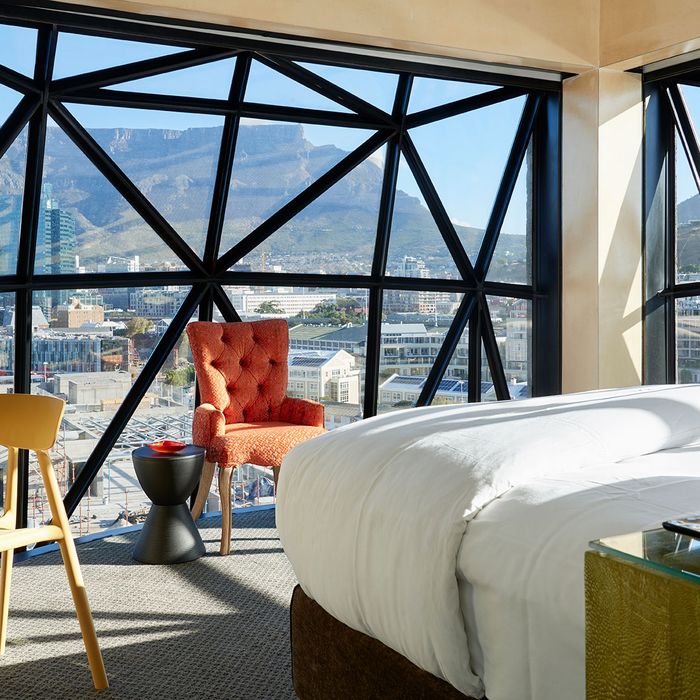 The Silo Hotel in Cape Town, South Africa.
Photo: Courtesy of the Silo/Copyright Mark Williams. All rights reserved
As is the case with many things in Cape Town, your dollar goes a long way when it comes to finding a place to stay. What constitutes a "budget" hotel room in the Mother City is often much nicer than it needs to be, but if you're willing to spend even more cash, you're in for pampering like you've never seen. We asked four savvy locals to share their favorite bolt-holes for every budget.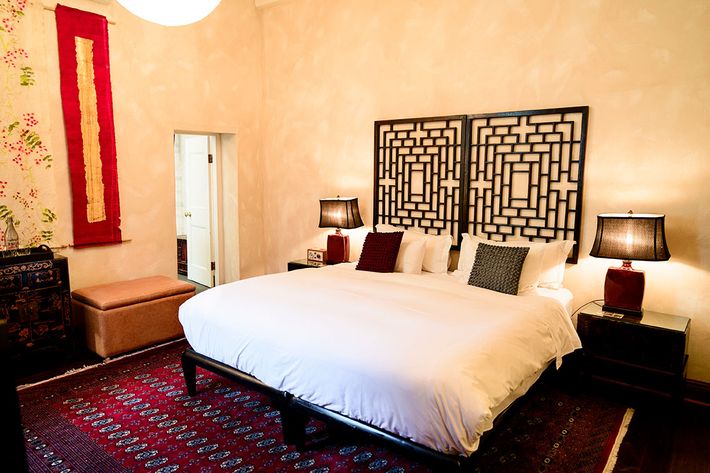 Cape Heritage Hotel (from $133)
"This is where we used to stay whenever we visited Cape Town from our former base on the Garden Route. A comfortable boutique hotel set on an historic city square, with some of the city's best restaurants (Savoy Cabbage and Chefs Warehouse) just downstairs and a vine-covered courtyard to eat breakfast in. It's in a great central location, with buzzing Bree Street close by and the Waterfront, Atlantic Seaboard, and Woodstock a 10-minute drive away." —Trevyn McGowan, co-founder and CEO of the Guild Group, a consortium of companies championing South African design
Cape Collection (from $124)
"This hotel group has two options. One Marine Drive is perfect for a weekend getaway to Hermanus, just 1.5 hours outside of Cape Town. A base of operations from which to explore the five-star food and wine offerings in and around Hermanus, the property provides tons of useful information for tourists, as well as an iPad in each room and a cellphone with a local SIM card, ideal for international visitors who don't want to bother getting their own. There's also a sister location in Cape Town named Blackheath Lodge—both have lovely communal garden spaces and are in residential neighborhoods, allowing you to experience things as a local. You can walk to the Sea Point Promenade and Cape Town Stadium from Blackheath, and check out the Instagram-friendly views of the ocean as well as the parks and restaurants of Hermanus from One Marine Drive." —Nkosiyati Khumalo, Editor of GQ South Africa
Capital Mirage (from $145)
"Located in the hip De Waterkant district and towering over the refurbished low-lying, century-old homes, Capital Mirage enjoys unique unobstructed views of the harbor, the mountain, and the colorful Bo-kaap neighborhood. For a gobsmacking sunset, head up to the rooftop bar." —Seth Shezi, creative director and social media influencer
The Grey Hotel (from $81)
"This lovely renovated and converted Victorian house from the 19th century is located right in the Cape Quarter, a lively area of town with cafés, restaurants, and boutiques and a very special atmosphere thanks to all the little houses. It has 13 rooms, but numbers 3 and 4 boast views of Table Mountain—and both have a private terrace. Its restaurant Shio is probably the most authentic Japanese restaurant in Cape Town and the creations of Chef Cheyne Morrisby are always a treat. On a sunny day—and there are lots in Cape Town—the hotel's Skybar is the perfect spot to hang out and have a G&T." —Barbara Lenhard, co-founder of Opulent Living concept store and gallery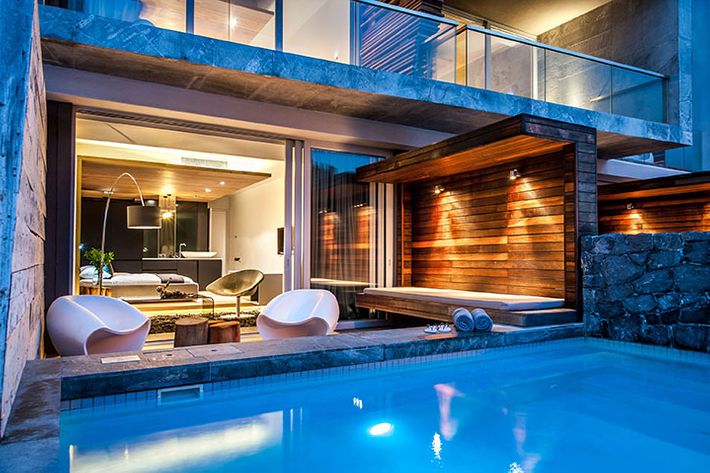 POD Camps Bay (from $295)
"Natural luxury and a serene ambience pervades this boutique hotel—there is a calm, unfussy approach which acts as an antidote to the glam beach atmosphere of the Camps Bay strip. The rooms feel like cocoons: I like the organic focus of the interiors, the raw wood, natural stone, and amorphous sofas juxtaposed with sophisticated, clean lines and well-tailored textiles. The rooms are small but luxurious and [offer] incredible wraparound views of Table Mountain, the Twelve Apostles, and the spectacular coastline." —Trevyn McGowan
Cape Cadogan (from $199)
"This absolute gem was the first hotel I ever stayed in Cape Town and therefore it is very special to me—this is when I fell in love with South Africa. It's on a quiet road in the vibey area of Gardens, in safe strolling distance to numerous hip restaurants and bars. The rooms are a mixture of elegant and cozy. When the charming staff serves you the legendary granola at breakfast, you will also fall in love with the hotel—and maybe even with Cape Town and South Africa as a whole." —Barbara Lenhard
The Ritz (from $161)
"The subject of a recent multi-million-rand renovation helmed by the same team behind the city's popular nightlife spot Shimmy Beach Club, the Ritz embarks on a new chapter in its 45-year history as a Cape Town icon. Its Sea Point location offers instant immersion into the Cape Town lifestyle, and it has a fantastic view of the entire city, mountains to the ocean, particularly from its Top of the Ritz revolving restaurant (which makes every table a good table)." —Nkosiyati Khumalo
Radisson RED Cape Town (from $156)
"Location, location, location! Located in the Cape's hippest district [near Zeitz MOCAA], Radisson Red has all the trendy-cool benefits of staying in this plush neighborhood—without the hefty price tag." —Seth Shezi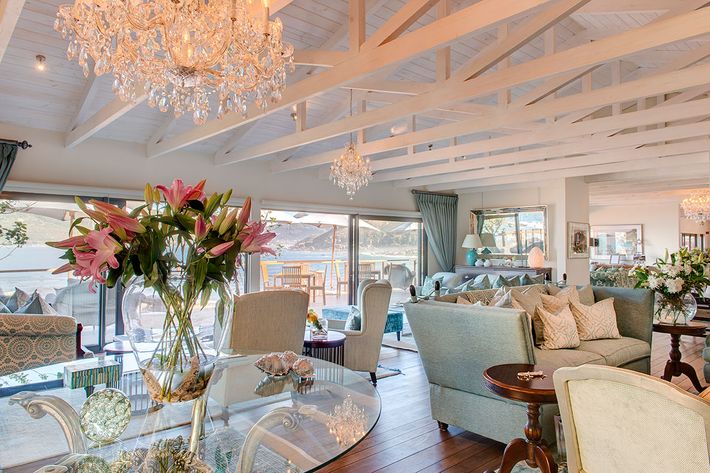 Tintswalo Atlantic (from $612)
"Situated near the cliff-hugging Chapman's Peak Drive, one of the country's most iconic stretches of road, Tintswalo is loved by anyone who's ever had the pleasure of experiencing it. But for travelers needing a reason to book themselves into this hidden retreat, I have two words for them: ocean and gastronomy. The ocean is literally right below you; in fact the restaurant hangs over it, and Chef Guy Clark has looked to the ocean for inspiration for his sumptuous tasting menu." —Seth Shezi
Ellerman House (from $752)
"One of South Africa's most luxurious grand hotels, Ellerman House is a Cape Edwardian mansion with every modern amenity you could possibly want. Exclusivity is guaranteed here with only 13 rooms and two spectacular three-bedroom villas. But the main draw is its outstanding local art — one of the best private collections in the country — displayed throughout the hotel and in a purpose-built gallery in the garden." —Trevyn McGowan
The Silo (from $1,122)
"If the breathtaking views through the monstrous windows did not feature Table Mountain or the Cape Town harbor, this uber-stylish hotel could be in any major city around the world. Hospitality legend Liz Biden is the driving force behind this place and her eclectic, inimitable interior is matched by the industrial-chic architecture of British architect Thomas Heatherwick. Lying in a bathtub (though not at the moment, given our water crisis!) in front of the 56-panel, 18-foot-high windows paints an instant smile on your face. If you don't mind spending a little fortune, this is the place." —Barbara Lenhard
Moondance Villa ( from $4,535)
"Book this four-bedroom house if you really want to go all out — it's an architectural marvel tucked away in one of Sea Point's most exclusive neighborhoods, Fresnaye. Everything from the art collection to the views are breathtaking." —Nkosiyati Khumalo