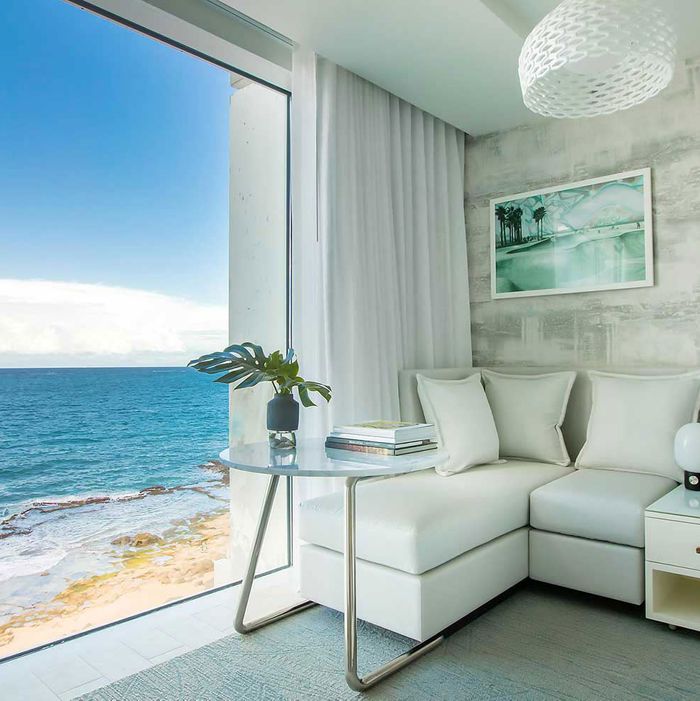 Serafina Beach Hotel in San Juan, Puerto Rico.
Photo: Courtesy of Serafina Beach Hotel
Though hundreds of rooms in San Juan have yet to come back on the market (giants like the Caribe Hilton, The Ritz-Carlton, and El San Juan still haven't reopened), travelers will find no shortage of options. Availability is high and prices are much gentler than pre-hurricane, especially in the off season. Here, a gaggle of in-the-know locals nominate their favorites in every price category.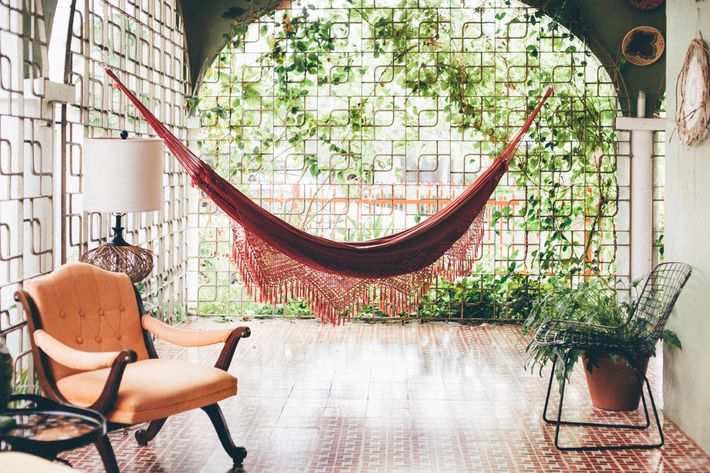 Dreamcatcher (from $84)
"I'm really in love with the Dreamcatcher. It's small and chic, and they have yoga and meditation right on the beach, plus massage, salsa classes, and cooking classes. They brand themselves as a vegetarian hotel; breakfast and brunch are vegetable-focused and they do vegan dinners. It has a really great vibe — the rooms are nicely decorated with furniture by local designers and most of them have terraces. It feels very natural. And you are right in Ocean Park, steps away from the beach. The owners are hands-on and their customer service is fantastic." —Paulina Salach, co-founder of Spoon Food Tours
Conturce Hostel (from $24)
"This hostel is right on Loíza Street, in the middle of an up-and-coming block with boutiques, restaurants, and cafes, and just a short walk to the beach. It's a very artsy strip. The owners redid this old house, and they showcase a great art collection in it. The rooms are dormitory-style. If you're traveling with a group, you can take the whole thing for a good price. They have a pretty terrace rooftop and a bike rental service, too." —Margarita Alvarez, fashion designer and a finalist on season 16 of "Project Runway"
Tres Palmas Inn (from $89)
"This guest house is simple and quiet. It's in a great neighborhood and right on the beach. There's a hot tub on the sundeck and a pool in the courtyard, and it's a nice place to just swing in a hammock and relax. They offer bicycles, body boards, and beach chairs — nice amenities for a small inn." —Wesley Cullen, general manager at the Casa Bacardi distillery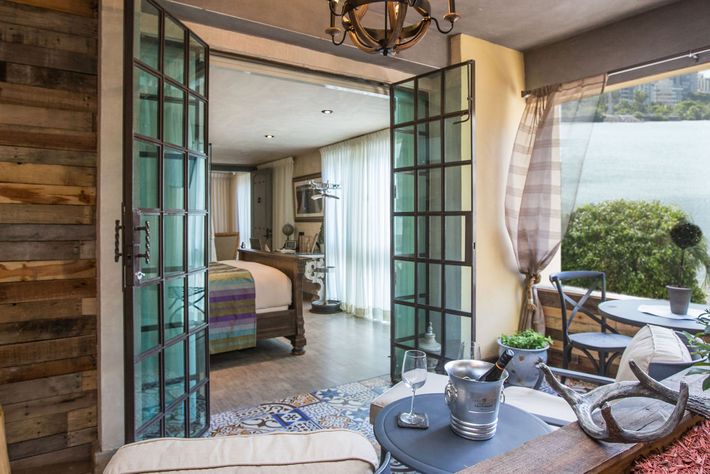 Olive Boutique Hotel (from $158)
"I love the design of this boutique hotel; it feels Mediterranean, like you are in Capri. It's small, beautiful, and intimate, with a lot of wood tones. It feels luxurious and cozy and all of the rooms have outdoor showers and terraces with Spanish tiles. They have a beautiful rooftop, very stylish, where you can have a drink with views of Condado and the Lagoon. One of the island's best known chefs, Mario Pagan, has a steakhouse in it. And they have a new place opening up in the fall, another boutique hotel called OLV: 55. You can't find a lot of places like this in San Juan right now." —Cristina Jiminian, general manager at Café TresBé and Sabrina Brunch & Bistro Bar
Gallery Inn (from $117)
"If you're into art, I highly recommend this place. The owner is an artist and the inn is full of history and textures. It has a really eclectic character and so much personality; when you walk in, it feels like a little maze of wonders. It also has an old feel to it, like 17th- or 18th-century. The rooms themselves are mini galleries and there is even a piano room, where they have live classical concerts." —Rosario Fernandez, photographer and artist
AC Hotel (from $146)
"I'm usually with my kids, so I'd probably stay at the AC in Condado. It's newer, it's near the beach, and they have a pool on the rooftop. But it's also near a really lovely park that's great for kids. You can walk along Ashford Avenue and shop and dine out. There's also a nice bakery/cafe, Sobao, and Spanish restaurant, La Bodeguita, within it. Many of the rooms have balconies and views of the beach." —Carla López de Azúa, co-founder and director of Santurce Pop, a pop-up marketplace and retail incubator
Casa Sol (from $150)
"This five-room bed and breakfast is oriented on sustainable energy. Everything is recycled and the decorations are beautiful. It is very charming and it has a great location within the cobblestoned streets of Old San Juan. It is in a lovely colonial building that has a beautiful courtyard for breakfast. The solar panels allow them to not count on the normal lighting and water system in Puerto Rico — which is really great for the challenges we are having right now." —Anais Nadal, director of El Bastión Cultural Center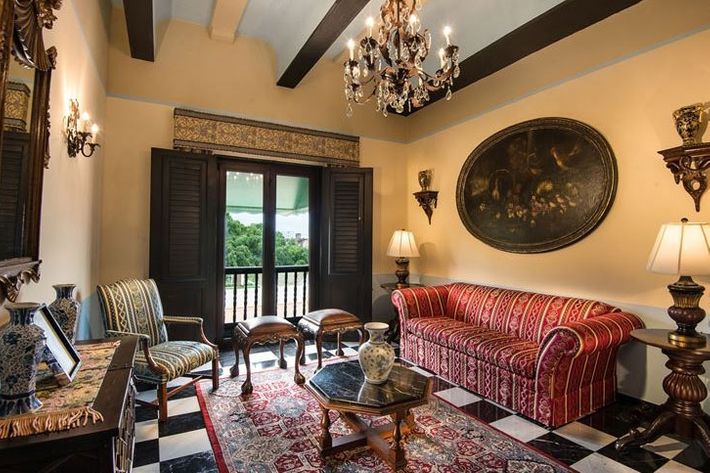 Hotel El Convento (from $171)
"I think El Convento is one of the gold standards of experiencing the old legacy and heritage of Puerto Rico. It was built as a convent in the 17th century. It has the most charm in terms of the authenticity and history, with the archways and courtyard and the beautiful, original black and white floors and gorgeous woodwork. And the location is wonderful, right in the heart of Old San Juan and overlooking the Cathedral de San Juan Bautista." —Fernando Rodriguez, owner of Stewart Rodriguez interior design firm
Condado Vanderbilt (from $194)
"The Vanderbilt is in the heart of Condado and very elegant — Ricky Martin recently had the gala for his Ricky Martin Foundation there; that's the sort of place it is, popular with galas and weddings. It's a recent remodel of what was once Frederick Vanderbilt's property and it was the first luxury property on the island when it originally opened in 1919. The hotel has a beautiful hammam spa and a world-class restaurant, 1919, in it. The pool looks right out on the ocean. They are known for service and hospitality." —Gustavo Arango, fashion designer
La Concha (from $205)
"I like that La Concha still has some of that '50s vibe from when Havana died down and Puerto Rico became the hot spot of the Caribbean. There is still a little bit of that architecture within it; you feel it walking through the lobby, and a casino, too, that hearkens back to those times. But you also have modernized areas like the pools on the side and in the back of the hotel. It has a beach and the guest rooms are large with nice views." —Gustavo Antonetti, co-founder of Spoon Food Tours
Serafina Beach Hotel (from $299)
"Serafina is the newest hotel in San Juan; it just opened in spring 2018. It feels like the place to be if you want to be in on what's happening. It's right on the beach, in Condado, and the design is beautiful. It has a Miami vibe — if you are a Miami type of person, this is where you want to be. There's a new seafood restaurant in it, aMare, and in general the place feels very current. The pool deck has a lively yet sophisticated party vibe on weekends but is more placid during the week. It feels very 'beach within the city.' " —Cristina Jiminian