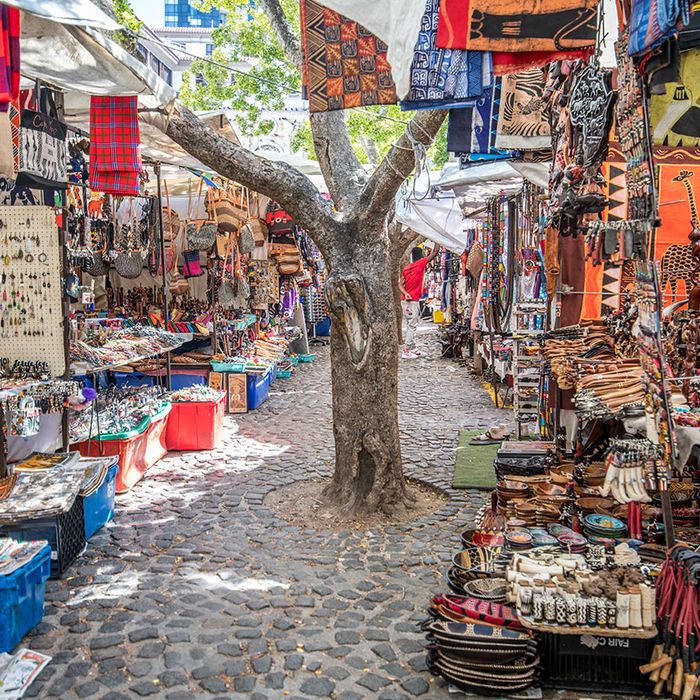 Greenmarket Square in Cape Town, South Africa.
Photo: Edwin Remsberg/Getty Images
Markets are a big deal in the Mother City. It's not only where Capetonians source fresh produce for the week ahead, but it's a scene as well, with each market drawing different crowds for different reasons: delicious global food, indie fashion finds (many of the country's top designers got their start in some of these humble markets), and live entertainment. We asked two Cape Town food authorities — Ishay Govender-Ypma, author of Curry: Stories & Recipes Across South Africa, and Kamini Pather, TV chef and winner of MasterChef South Africa: Season 2, to give us the low-down on the city's vibrant market culture.
Greenmarket Square
Daily from 9 a.m. to 5 p.m.
"As the second-oldest public square in Cape Town, created in 1696, Greenmarket Square is a strip of cobblestones that once served as a slave market and, later, a fruit and vegetable market. Today, it's been reclaimed by African traders and artisans from around the continent. You can find statues, baskets, beaded jewelry, T-shirts, and a wide array of crafts which tend to be the mass-produced variety but sell at the lowest prices in the city. Here, you can engage with charismatic vendors who enjoy a bit of banter. There are cafés and restaurants overlooking the square, where you can watch the scenes unfold or take a break with your bag bulging with curios." —Ishay Govender-Ypma
Milnerton Flea Market
Saturdays 8 a.m. to 2 p.m. and Sundays 8 a.m. to 3 p.m.
"This flea market on the R27 coastal road is no longer as secret as locals would like to keep it, but it's no less a gem. Food stylists, collectors, and cooks arrive early before the crowds descend in search of vintage cutlery, one-off porcelain pieces, and enamel plates among the clutter. And even if the odd, wonky furniture and scratched paintings that look like they belong in the 1970s don't take your fancy, you can buy an old-fashioned soft-serve cone and people-watch against the backdrop of Table Mountain. It's usually packed, so the local's tip is to arrive early, or later in the afternoon for end-of-day bargains." —Ishay Govender-Ypma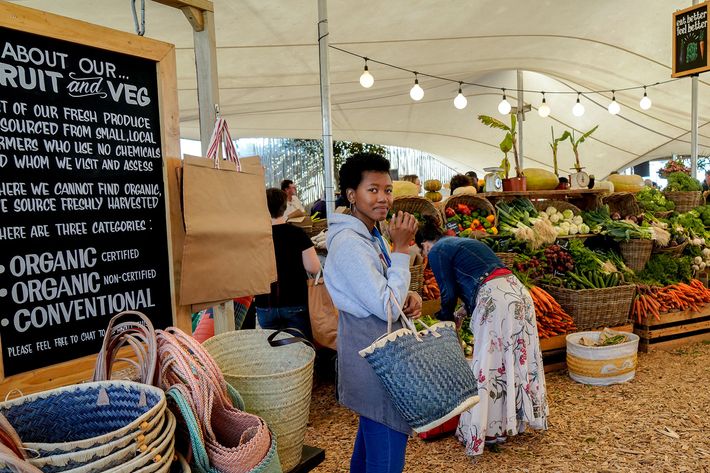 Oranjezicht Market
Saturdays 9 a.m. to 2 p.m.
"This Granger Bay market is one of my favorites because it transports me into any one of the food TV shows that I grew up watching. I chat to the guys from Bosman's meats before I buy my usual trio of sausages: diablo, spicy pork sausage that I love frying up and cooking my omelette in; salsiccia, a dried sausage with red wine and fennel which is really good on its own or on a cheese board; and nduja, made with pork cheek. The cheese supplier at AroundCheese knows what I would like because I see her every week, and the guys from Hoghouse know that my Saturday morning isn't complete without at least two pasteis de natas — Portuguese pastries — and a scoop of the weekly-changing Moro Gelato flavor. The tiramisu is to die for, and so is their marchese, a Haitian vanilla with macadamia nuts and caramelized almonds. I enjoy the market because it is authentically local —everything from the produce to the craft socks and jewelry are produced within the Western Cape." —Kamini Pather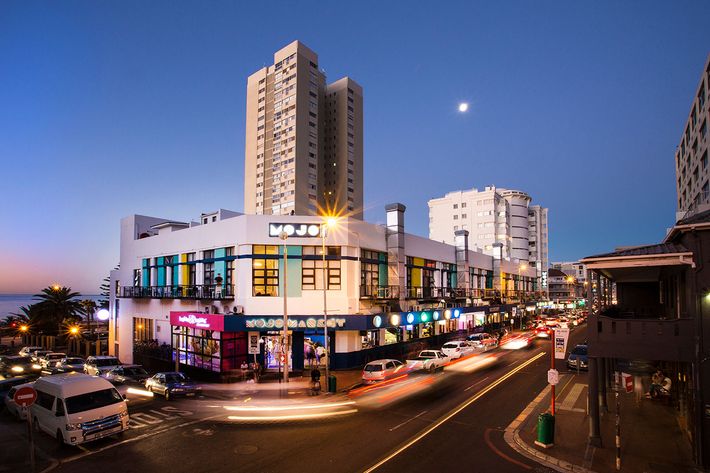 Mojo Market
Mondays to Thursdays 11 a.m. to 10 p.m., Fridays to Sundays 10 a.m. to 10 p.m.
"It's on Seapoint Main Road and is flanked by the sea and the hustle of the city. There are a few foodie gems: BeetBox RX and Hokey Poke are two that stand out. At BeetBox RX, I see their smoothies and juices as having medicinal qualities; and Hokey Poke, while a little trendy, is wholesome food. It's healthy and fresh and leaves me feeling invigorated. Live acoustic bands set a familial atmosphere for a chilled Friday night." —Kamini Pather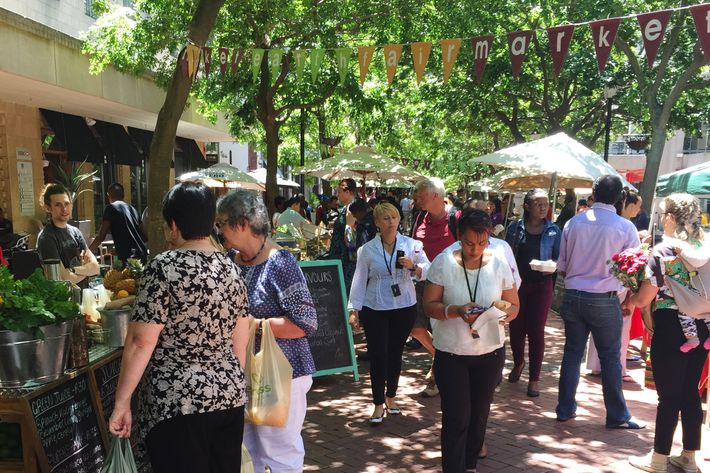 Earth Fair Market
Thursdays 11 a.m. to 3 p.m.
"The Earth Fair Market is set up on St. George's Mall, in the middle of a pedestrian street; the walk through town to get to the market is quite spectacular, and one can get a feeling for the Cape Town Central Business District while snacking on an artisanal pie or macaron. Take a waltz through the Company's Garden afterward — a historic park dating back to the first Dutch settlers in the 1600s —and feed a squirrel or two." —Kamini Pather