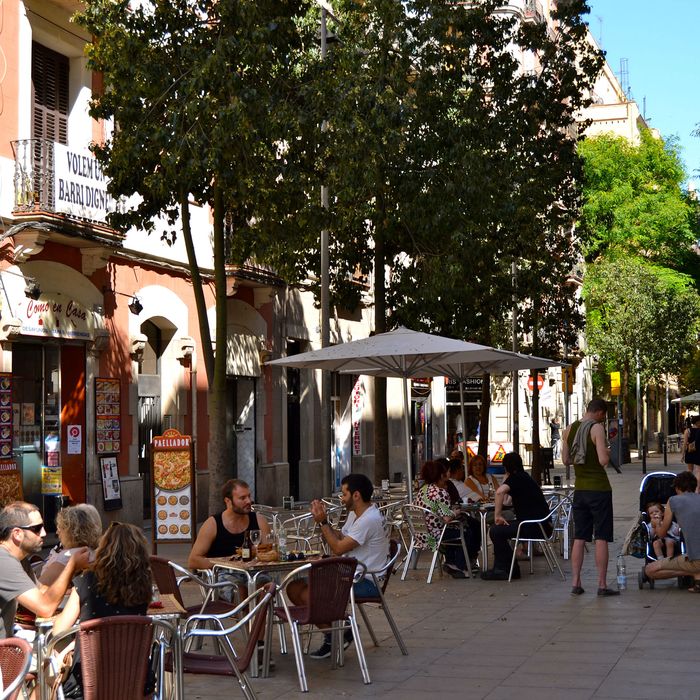 Poble Sec in Barcelona.
Photo: Oh-Barcelona/Flickr/CC BY-SA 2.0
Abutting the towering Montjuïc hill, this district's steep, sloping streets teem with lively, locally owned bars and restaurants — and blessedly few tourists. Brittany-born actress Rachel Lascar, who has worked alongside Sean Penn in The Gunman and is starring in the newly released Spanish film Miss Dalí, has called Poble Sec her home for nearly a decade. "I love Poble Sec for its cultural diversity, its village atmosphere, and for the numerous artists living or working here," she says. From morning to night, here's how Lascar spends a day in her beloved adopted neighborhood.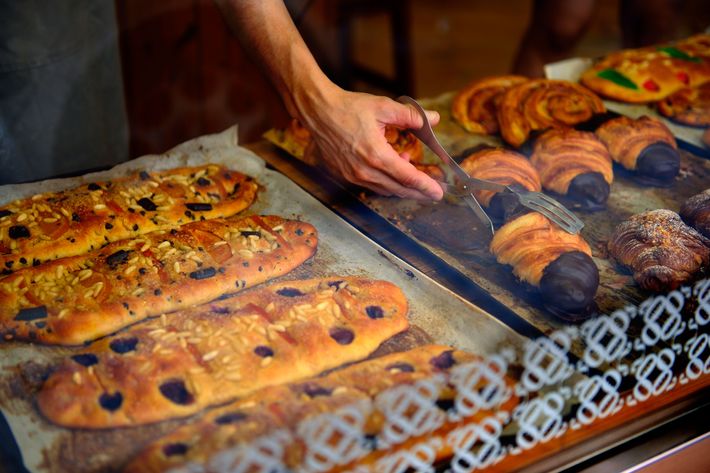 "I pick up a croissant, the best in the area, at La Fabrique or a gluten-free poppy-seed cake at Horno Santa Madrona, an organic bakery with a large selection of delicious cakes and breads. Those are takeaway spots, but if I want a more relaxing breakfast, I grab a table on the terrace of La Bohème, an Argentinean eatery in the middle of Plaça dels Ocellets. It's the best spot for sun in the morning, and I have a hard time deciding between the ricotta cake or pancakes with dulce de leche; they also make very nice empanadas if you prefer to start with something savory.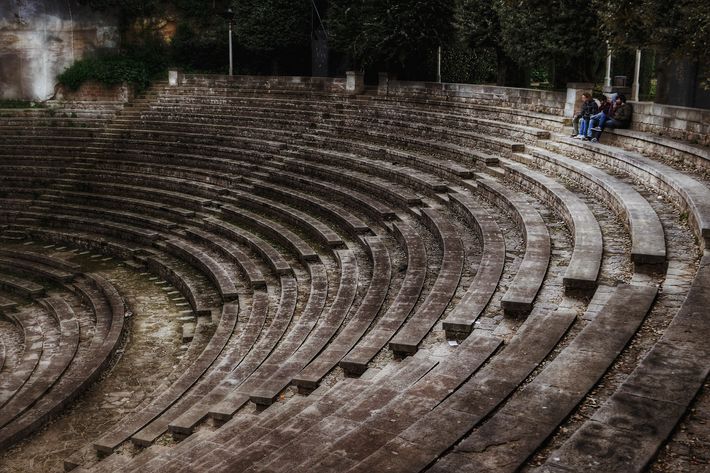 From there, I head to Montjuïc and explore the many gardens on the mountain. Jardins de Mossèn Costa i Llobera is a cactus garden that gives off a very special energy; the paths zigzag up Montjuïc and there are beautiful views of the sea below. I also like to walk through the rose gardens of Jardins del Teatre Grec and take a seat on the large stairs of the Teatre Grec, an open-air theater that puts on plays during the summer. One day I hope to be on stage there!
Another enjoyable walk is though Laribal Gardens, where it feels like you're in Italy with the trees and fountains. Stop at La Font del Gat for a coffee on its lovely terrace. A more secret spot, Jardins de Joan Maragall, are only open on weekends from 10 a.m. to 3 p.m. The manicured gardens with their fountains and statues have a royal elegance, especially with the backdrop of the Palacio Albéniz.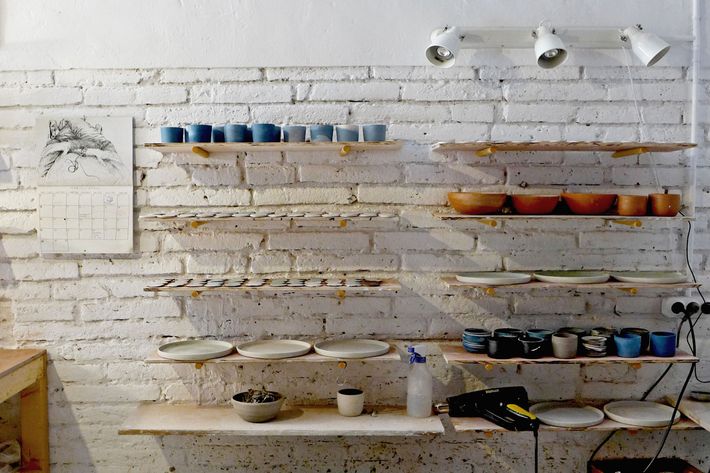 For lunch — which never starts before 2 p.m. and sometimes lasts until 4:30 — I head to Lascar 74. I discovered it one night on my way to another restaurant and saw my [last] name was on the door: I couldn't believe it! Ever since, it's become one of my favorite places. Everything here — from the pisco cocktails to the ceviche to the poké bowls — are amazing, a pure explosion of flavors in your mouth. Many shops close in the afternoon for siesta, but I sometimes pop by Turbot Design, the workshop of Zofia Krakowiak. She makes refined, very personal ceramics. If you have time, you can take a class and leave with your own ceramic creation.
By seven o'clock, it's time for a vermouth. Most bars have their own vermouth, and it's served with ice, a slice of orange, an olive, and sometimes a drop of angostura bitters. I always add sparkling water, too — very refreshing. I used to have it at Quimet & Quimet, but it's packed with tourists now, a victim of its own success. Instead I prefer starting the evening at La Chana, a small, simple bar for locals with great indie and rock and roll music and a warm atmosphere. There are excellent Andalusian specialties like fried fish with salmorejo [a garlicky tomato sauce], and many other tapas, too; my favorite is a mix of potatoes and pulpo [octopus]. Another great place for tapas is La Platilleria. It's cozy and friendly; I like the high tables and the excellent, super-fresh cuisine. The menu is constantly changing but they usually have delicious ham and homemade purees, plus the selection of wine is quite good.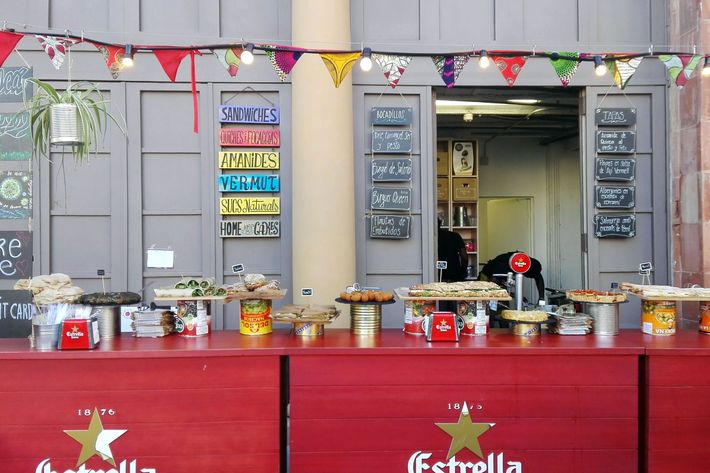 If you like live theater, Poble Sec has many places. I often visit Teatre Lliure, which hosts local and international productions; some nights there are English subtitles. You can see dance performances next door at Mercat de les Flors. La Soleá, for years one of the nicest bars of Poble Sec, has reopened here as La Soleá del Mercat de les Flors; it's got good food, good wine, and great service — the perfect spot for a drink and patatas bravas before going to the theater.
For a late-night drink, I like Malevo, a rustic-style bar with vintage furniture and a cool jazz soundtrack. They also have a big selection of nicely priced Argentinian tapas. Redrum is another option just up the street; it's got a brightly colored Mexican theme, great cocktails, and nice music.
If I'm in the mood for dancing, I go to Sala Apolo. It's been around since the 1940s and was once a ballroom; now there are two spaces with different music and DJs. Just across the Avenue Parallel, Barts [Barcelona Arts on Stage] often has live funk and jazz concerts; it's some of the best programming in town. I have never been disappointed!"