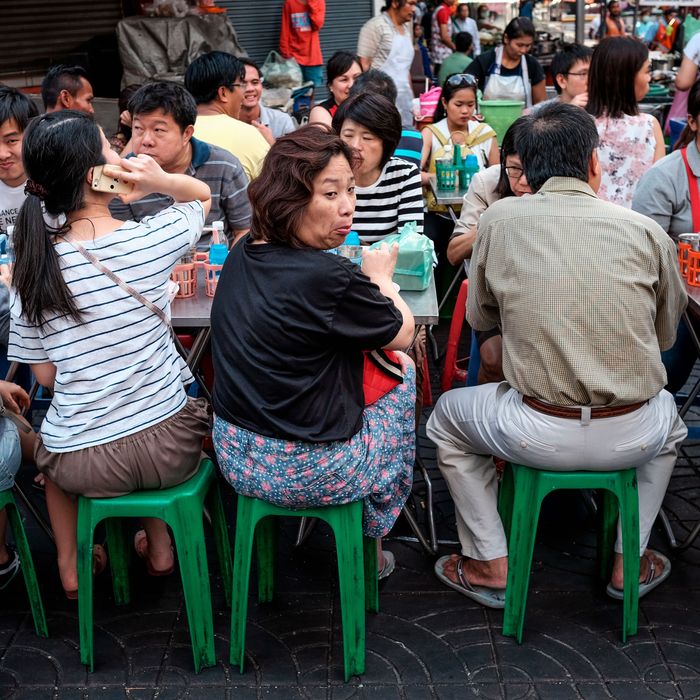 A popular street food stand in Bangkok's Chinatown.
Photo: David Longstreath/LightRocket via Getty Images
If there's one thing that keeps travelers coming back to Bangkok, it's the street food. It's why the internet threw a temper tantrum last year when the Thai government unceremoniously booted longtime vendors from some of the city's busiest thoroughfares. The Tourism Authority of Thailand was quick to release a statement downplaying the imminent death of Bangkok's canonical street-food culture, but how it actually plays out remains to be seen. Till that shoe officially drops, we asked a flock of food-obsessed locals — including a rising pop star, a barely legal craft brewer, and a handful of trendsetting restaurateurs — where they like to eat on the street. Also: where they head for a proper sit-down meal (just in case).
Varatt Vichit-Vadakan, owner of third-wave cafe Roast and co-founder of community mall and creative space theCOMMONS
Go-to street food: Kuay Jab Nay Lek
"This is my favorite street food vendor in Chinatown and where I took my wife on our first date. They serve a soup called kuay jab: rolled rice noodles with hot pork broth, crispy pork belly, pig's tongue, intestines, etc. It may sound scary, but all of the parts are cleaned well and cooked perfectly, and the broth is amazing — full of fresh pepper, sweet pork, and aromatic herbs. It's the ultimate soul food/medicine for when you're about to get sick or need a hangover cure."
Favorite sit-down restaurant: Khua Kling Pak Sod
"This small, homey restaurant serves regional food from Southern Thailand. While the dishes cover many Thai food classics, the difference is in the ingredients. When it's a crab curry (bu pad pong karee), they cook the best crab meat. If it's stir-fried shrimp with vegetable (pad prik khing goong), then you can be sure the prawns are big and fresh. It's nothing fancy, but it's always great to go to a restaurant where you feel as though your own family is cooking."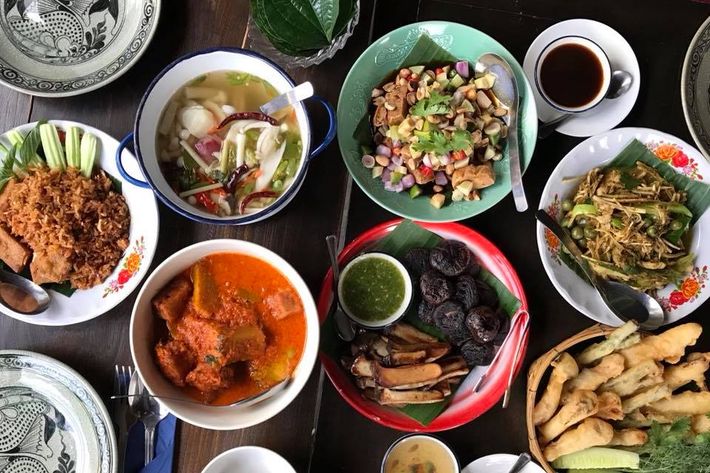 Dan Bark, executive chef and co-owner of the Michelin-starred restaurant Upstairs at Mikkeller
Go-to street food: 608 Charoen Krung Road
"Chinatown is great for street food. The one dish you have to try is toasted custard bread, or kanompang sankaya, on Charoenkrung. It is crispy on the outside and soft inside, and my favorite fillings are orange Thai tea and classic green pandan. The queue for this stand is always very long; both locals and tourists wait up to 30 minutes for their bread."
Favorite sit-down restaurant: Sri Trat
"I go here a lot for lunch. Sri Trat serves authentic Eastern Thai food and nice cocktails. The cuisine is well balanced, with a mixture of salty, sour, sweet, and spicy. It also seems more herb-driven, which I love. One dish we always order is the lhon-poo-kai. It is a coconut-milk-based crab dip served with fresh vegetables and herbs — like a Thai crudite."
Taopiphop Limjittrakorn, founder of Taopiphop Bar Project and head brewer at Taopiphop Ale Project
Go-to street food: Duck Udon 
"This Isaan stall is located near my old high school in the Ratchayothin neighborhood. It pops up in front of a tire shop at night, and serves dishes that are savory and sour, like neua yang (beef brisket), larb ped udon (spicy duck salad), and kor moo yang (grilled pork). I go there with my high-school friends and have long chats about the good old days while watching English Premier League football. Sorry, soccer."
Favorite sit-down restaurant: Mae Choi Doi Luang
"It's located in Khae Rai, a suburb of Bangkok that's accessible by the Nonthaburi Civic Center stop of the MRT's Purple Line. The owner, Mr. Santi, is an O.G. with 40-plus years of experience in Thai and Asian cuisine as a food columnist, critic, and restaurateur. He has his own certificate program, like a Thai version of Michelin stars. I recommend the massaman curry. It tastes and feels like heaven."
Pyra, pop singer
Go-to street food: Doodee Noodle
"This hidden gem is situated in the middle of Prasert-Manukitch — which is pretty much nowhere. Because the stand is located in front of my old record label's office, I managed to eat here almost every day. I'm not a fan of Thai-style noodles, but this stand changed my mind. I recommend the tom yum pork egg noodle soup, or ba mee moo tom yum naam. They put curly batter-fried fish snacks on the noodles, and the result is amazing! Make sure to order extra by saying 'kor perm taro tord.'"
Favorite sit-down restaurant: Supanniga Eating Room 
"If you don't want to do Thai fine dining at the Michelin-starred Nahm or its successor Bo.lan, this is the place to go. Great Thai food in a semi-casual, nicely designed interior. Not too pretentious, while maintaining top-notch service. Go with any of the chef-recommended dishes, like pad nam prik sataw goong sod [Southern-style stink beans stir-fried with prawns and shrimp paste] and pad ka nah pla kem koh chang [Chinese kale stir-fried with fish sauce]. Don't forget to order the dumpling in coconut milk for dessert, either. I'd give them five stars based on that alone."
Dylan Jones, co-owner and chef of the restaurants Bo.lan and Err: Urban Rustic Thai
Go-to street food: Xia Duck Noodle
"The specialty here is five-spiced, braised duck soup with your choice of noodles and parts (necks, beaks, blood, livers, wings, gizzards, etc.). The broth is rich, salty, and sweet; you add your own chilis and vinegar to round it off. If you're more of a goose person, Chua Kim Heng braises theirs in a Chinese-style broth, and it's a little 'fleshier.' Again, you choose the parts you want and it'll be served sliced with braising liquid on a plate. Get a bowl of rice with it and use the fermented orange chili and garlic sauce for dipping the goose. Order a side of pickled mustard greens, too; they rock."
Favorite sit-down restaurant: Gaa
"For a fine-dining experience, you can't beat Gaa. It's totally overlooked, but bloody amazing — an ever-changing tasting menu, with inspiring attention to detail. The food is a reflection of chef Garima Arora's own personal journey and background. There are Indian elements and Nordic nods, but everything on the plate is sourced in Thailand."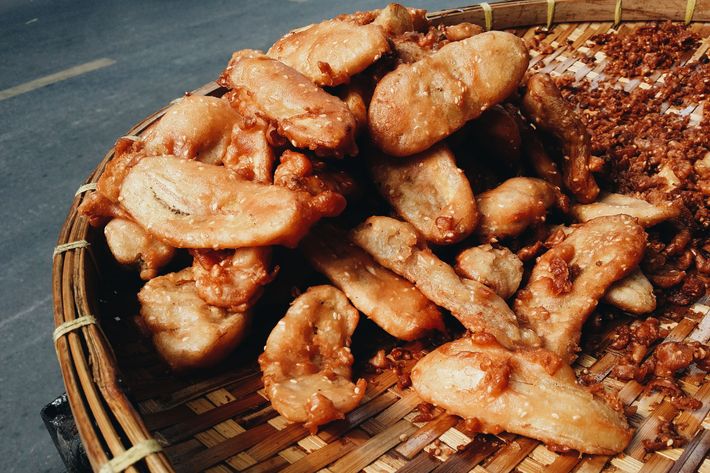 Sébastian de Vizcaya, food and beverage director at the Siam Kempinski Hotel
Go-to street food: Wat Uthai
"This amazing fried-banana stand is on a side street of Sukhumvit Soi 26 [at Soi Attha Khawi 1]. They fry the bananas on demand and ask you to wait if the batch they have is too old. Try the fried sweet potatoes as well — delicious all the way."
Favorite sit-down restaurant: Thai Niyom
"When it comes to 'proper' restaurants in Bangkok, it's hard to keep up with everything; they open and close at a frantic rate. Thai Niyom recently opened at the Mahatun Plaza, right at the Phloen Chit BTS station. It's a tiny place with bright blue walls and a quirky design; the polished wood furniture was inherited from a previous tenant. The menu focuses on Thai comfort food and dishes typically cooked at home. The green curry with beef — quite rare, as it is usually made with chicken — is delicious and the stir-fried cabbage is the best I've had in Thailand."
Chotipong Leenutaphong, owner of the cocktail bar Vesper and Portuguese restaurant Il Fumo
Go-to street food: Saew Noodles
"Saew Noodles [on Sukhumvit Soi 49] is a morning-to-lunch spot. What makes it so special is the quality of their fish balls and the pork offal they select. Their spicy tom yum noodles are well-seasoned to Thai-Chinese taste; it's no wonder there's always a long queue of people during lunch. I recommend ordering this dish dry to get more of the tom yum intensity in the noodles. The soup is good on the side without adding anything to it — very delicate and mild. To order this in Thai, say either 'ba mee tom yum haeng' [for egg noodles] or 'sen lek tom yum haeng' [for rice noodles]. As for toppings, I prefer fried fish skin. It's available as a snack pack on the table for a little extra."
Favorite sit-down restaurant: Khua Kling Pak Sod
"An authentic taste of Southern Thai cuisine. My favorite dishes are hot and spicy yellow curry soup with young coconut shoot and high quality seabass (gaeng leung pla krapong) and braised eggs with pork leg and tofu in sweet soy sauce (kai palo). It's a very homey Thai-Chinese dish, just like Mama used to make! Southern Thai-style green crab curry (gang puu bai chaplu) is also good. It packs in a lot of spices and good-quality crab."
Shane Suvikapakornkul, director of Serindia Gallery
Go-to street food: Khao Tom Jay Suay
"One of the most authentic kinds of street food in Bangkok is khao tom, a rice soup or porridge you eat with lots of à la carte dishes. There aren't many good ones left in Bangkok, but one of the best places to get it is Khao Tom Jay Suay, a.k.a. Khao Tom 100 Years, in Chinatown. The service is fast and the food is excellent; everything is made to order. My favorite items are the chili-fried, de-shelled Asian date mussels; the sour plum and ground pork ball soup; the crispy fried roast pork; and the huge variety of vegetables, like baby corn with white garlic chives or bitter stick beans. 100 Years has been around for three generations and is best in the evening or late at night, as it's open until 3 a.m."
Favorite site-down restaurant: Lay Lao
"It offers traditional Isaan food — Northeastern Thai classics like papaya salad. The must-have dishes here are the grilled pork neck (kor moo yang); the raw ocean crab salad, chilled with lots of garlic, chili, and lime (yam poo talay kai); and the grilled Thai mussels with papaya on the side (hoy seab malagor). The restaurant is clean, the food isn't too sweet, and there are a good variety of dishes on the menu."