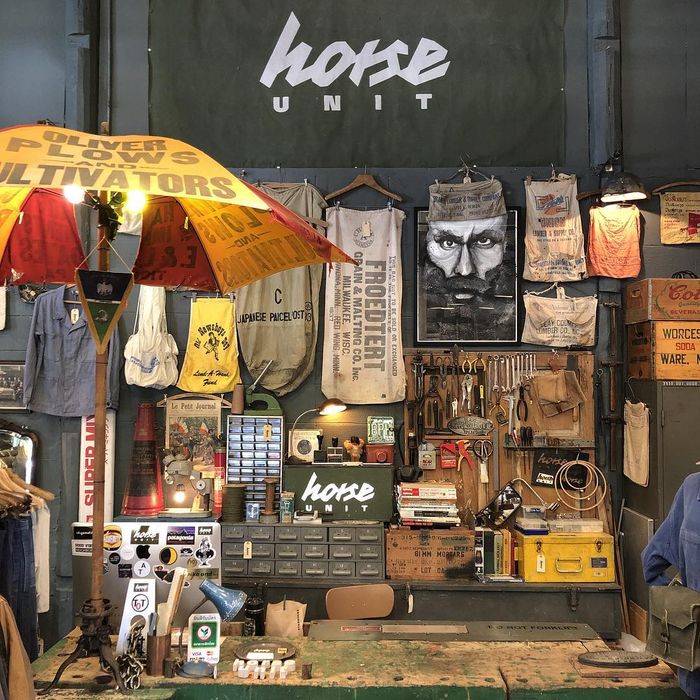 Horse Unit in Bangkok.
Photo: courtesy of Horse Unit
When it comes to collecting decades-old clothing (American-made threads, in particular), the Thais are nearly as ravenous as the Japanese. We asked a trio of local throwback obsessives for their lists of go-to scouting spots. What follows are their best recommendations for military jackets, embroidered caftans, and taxidermied ostriches (because you definitely need one of those, right?).
Best for vintage tees … VTG.
"I don't usually wear T-shirts, but I collect the ones related to punk history and frame them as art pieces. This Ekkamai barbershop sells old designs from The Sex Pistols, Vivienne Westwood, and cool '80s rock bands. I also found a rare Mickey Mouse shirt here once." —Chavin Nantaterm, owner of Black Amber Barbershop and Black Amber Social Club, known for its live jazz and solid whiskey selection
Best for leather goods … (un) FASHION
"Another Ekkamai favorite. They carry vintage leather goods like shoes, boots, bags, and jackets, plus premium leather-care products. Customers can also drink coffee and read magazines in their next-door café." —Chavin Nantaterm
Best for stuffed animals … Nature Decoration
"All of the antique taxidermy in Black Amber Social Club — including our famous twin monkeys — came from this incredible taxidermy dealer in Jatujak Plaza. You can spot a polar bear and tiger there, along with animal skeletons and framed insect specimens. I used to have a huge ostrich from here. It stood in the middle of our barbershop's lobby, but I had to return it because it was too big! I replaced it with a nice brown antelope head, also from Nature Decoration." —Chavin Nantaterm
Best for rare records … 1979 Vinyl and Unknown Pleasures 
"This place never disappoints when I want to buy records from the '70s, '80s, and '90s. The owner is well connected with a dealer from Japan, so if I really want something, he'll usually find it for me. I got the original 1974 European pressing of Miles Davis's Big Fun album from here, as well as a free-jazz record, Chiasma, from the Yosuke Yamashita Trio." —Chavin Nantaterm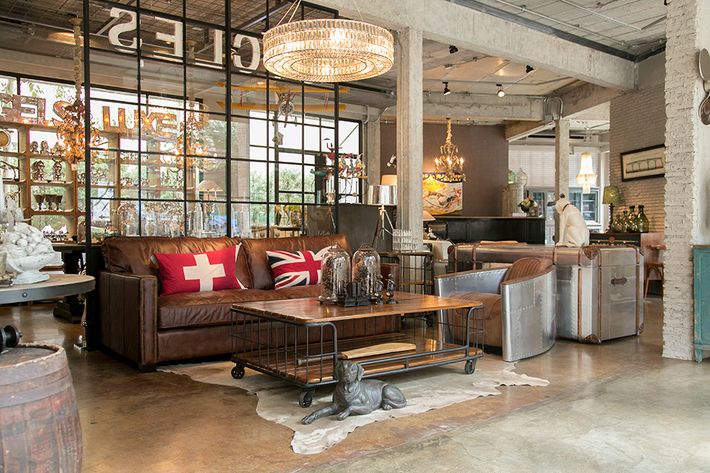 Best for statement pieces … Casa Pagoda
"This stylish furniture shop carries a mix of vintage collectibles and modern items from designers and artists. You can find everything from an old top hat to a big chandelier, plus bar top accessories like a candle holder, ashtray, and ice bucket." —Chavin Nantaterm
Best for boho '70s … Again & Again
"Lots of bohemian styles from the 1970s here, along with new embroidered caftans and cotton pieces with resort vibes. It's mostly vintage, though. Like, I once got a knit dress with cotton and Lurex fringe all over. It's so fancy-looking, but it has a relaxed attitude and is easy to take care of." —Pimdao Sukhahuta, co-founder and creative director of the fashion brand Sretsis
Best for bold '80s … Lost & Found
"This a cool vintage store hidden above ZudRangMa Records, which specializes in rare, old vinyl. One time Lost & Found had a ton of elaborate wedding dresses from the 1980s, with veils and everything. Another time I found old-school pleated skorts, which have become my favorite tennis outfit. I also wear them to work with a white blazer. The hours vary depending on the owner's mood and availability, so check if they're open before setting out." —Pimdao Sukhahuta
Best for cocktail attire … Treasures
"Located on the first floor of theCOMMONS community mall in Thonglor, Treasures is known for its fancy selection of vintage evening dresses, with lots of beading and sequins. They also offer tailoring and alteration services for a perfect fit." —Pimdao Sukhahuta
Best for labels … The Vintage Store
"This shop carries mostly designer pieces — bags, leather goods, and some jewelry — from Chanel, Hermès, Gucci, and other big names." —Pimdao Sukhahuta
Best for Americana … Wooden Submarine
"This is the place for rare American menswear and accessories to make you look handsome." —Vudi Somboonkulavudi, founder of the Made by Legacy market and co-founder of the the cocktail bar Sugar Ray You've Just Been Poisoned
Best for militariana … Horse Unit
"They sell vintage military pieces, including jackets, boots, duffle bags, badges, and pins. Old cameras were recently added to the collection." —Vudi Somboonkulavudi
Best for tribal jewelry … Indigo II Indian
"Native American silver and turquoise jewelry is sold here, along with vintage T-shirts, denim, and indigo-dyed fabric." —Vudi Somboonkulavudi
Best for beachwear … Everything Under the Sun
"Go here for tropical clothes and accessories like Hawaiian shirts and button-downs with bold, colorful patterns." —Vudi Somboonkulavudi
Best for rock-bottom deals … Trapeze Swingers
"They have a big collection of vinyl records, fun T-shirts, and cheap, used clothing for men and women." —Vudi Somboonkulavudi