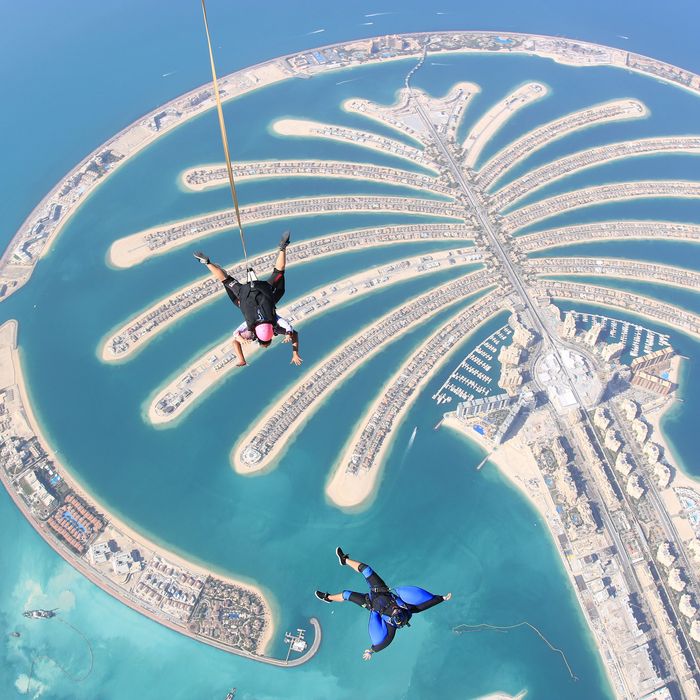 Skydiving over the man-made Palm Jumeirah Island in Dubai.
Photo: Skydive Dubai/Getty Images
The UAE experiences two seasons: hot and hotter. The best time to visit is between October and May, when it's mostly blue skies and temperatures averaging 75 degrees Fahrenheit. (By comparison, June to September hovers around 110 degrees Fahrenheit, or worse.) For eight glorious months, the emirates are a playground for outdoor adventurers. There's an enormous desert in one direction and the warm waters of the Arabian Gulf in the other. What follows are six things you should add to your bucket list, sourced from some of Dubai's biggest adrenaline junkies. #YOLO, right?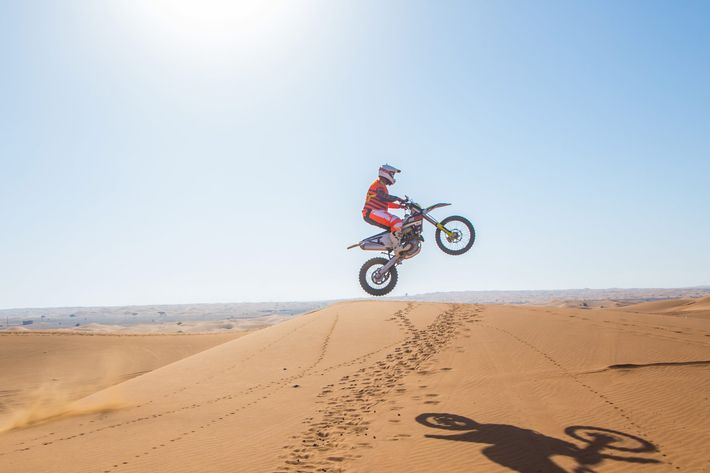 Dirt Biking in the Desert
"Visitors go to Big Red Motorsports to get behind the wheel of a dune buggy or quad bike and get out into nature. If you have some on-road motorbike experience, riding a dirt bike over the dunes is a brilliant adventure, too. There are beginner tours that take you past camel farms and up to Pink Rock mountain, before taking a break at a convenience store hidden amid the dunes." —Lulu Abu Dheays, graphic designer
Kayaking and Whitewater Rafting in Al Ain
"Against the amazing backdrop of the Jebel Hafeet mountain range, there's a place in Al Ain, about two hours from Dubai, where the world's best surfers meet. Wadi Adventure's state-of-the-art artificial pool pumps out two- to four-foot waves with your choice of left, right, and closeout formations. The night surf is my favorite, when the moon rises behind the mountain and the neon beams light up the pool's water. But Wadi Adventure is not just for surfers; there are two enormous man-made rapids for white-knuckle rafting and kayaking adventures, a cable park for wakeboarding enthusiasts, and a high-ropes obstacle course. Definitely a day to remember." —Karina Bensemann, surfer and fitness instructor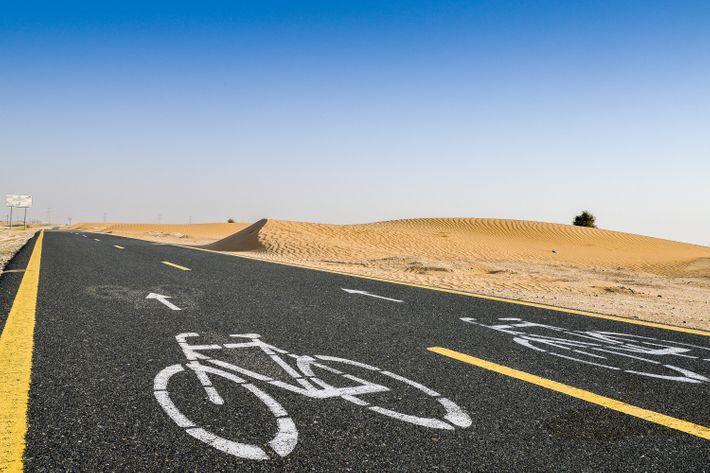 Cycling Al Qudra
"The Al Qudra bike path is one of the most beautiful parts of the city, carving through miles of untouched desert. You can rent road bikes or mountain bikes from the Trek Bike store near the Last Exit food truck park in Al Qudra. In certain parts, herds of oryx can be seen grazing by the side of the 62-mile track — and sometimes leaping across it. You'll see competitive teams training as well as families out on casual rides, so don't feel intimidated. Just make sure you listen out for the sounds of faster riders coming up behind you!" —Matt Fortune, social-media manager at Jumeirah
Surfing and Paddleboarding
"When I moved to Dubai, I never thought I would be able to surf here. But there's a great little beach break with a sandy bottom at Sunset Beach; you can rent boards by the hour from the nearby Surf House. When you're out in the water, waiting for the next set of waves, and you see the sun moving behind the Burj Al Arab while the call to prayer reverberates from the mosques in the distance, it's such a special moment. On the days when there isn't a swell, my friends and I rent paddleboards, grab a cooler with sandwiches, paddle out to the World Islands [an artificial archipelago of small islands constructed in the rough shape of a world map], picnic and come back, turtle spotting along the way." —Bradford Rahmlow, trainer at Barry's Bootcamp
Horseback Riding in Mushrif Park
"Mushrif Equestrian Club is home to well-trained retired horses. You can do a proper desert hack [wilderness trail ride in Mushrif] or a one-hour lesson with a trainer. If you're a relatively confident rider, go straight for the morning desert hack — it feels like a proper wilderness adventure." —Jade Wills, photographer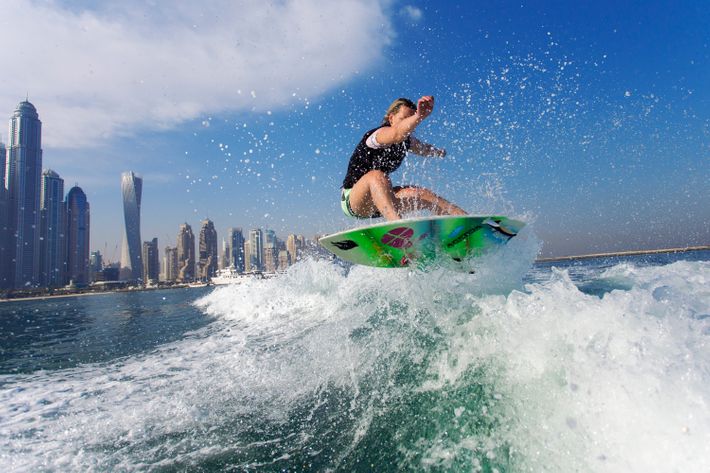 Wakeboarding and Wakesurfing
"There's no better way to start off the week than getting up at 6 a.m. and heading out to Dubai Marina for a cheeky wakeboarding session on the back of a speedboat. Watching the sunrise as you're setting up for your first wake session, while the ocean is still flat and glassy and the city is sleeping, is an amazing feeling." —Simon Mark Hunt, owner of Above Sandboards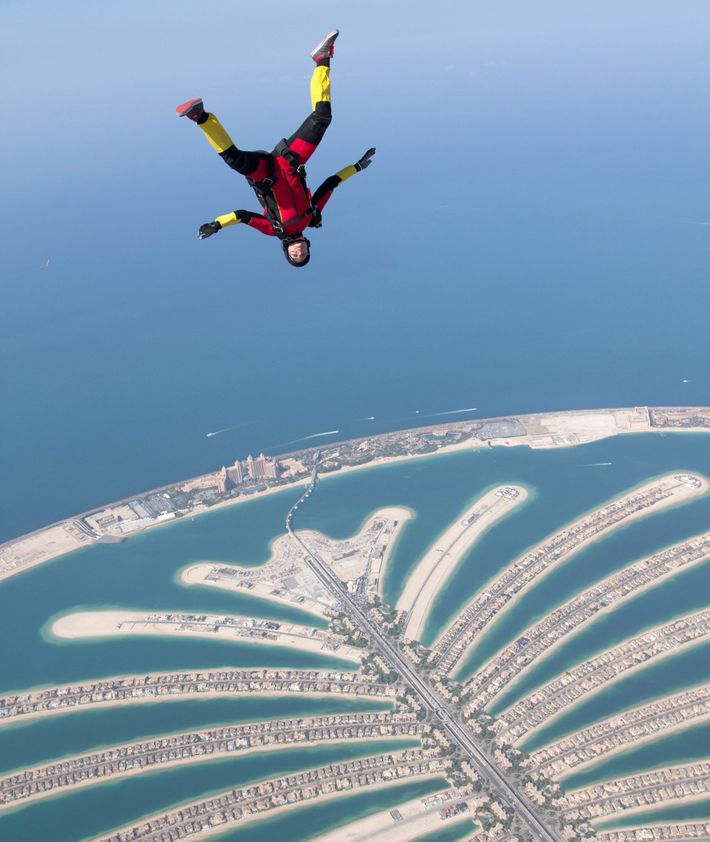 Skydiving over Palm Jumeirah
"Skydive Dubai is a well-oiled machine, helping busloads of people parachute from the skies. When asked about it, I always give the same answer: 'I am so pleased that I did it, but I'd probably never do it again!' It was a scary experience, but there is nowhere more perfect to leap out of a plane than over Palm Jumeirah, especially around 5 p.m., when the sun is lowering in the sky and iconic landmarks, like the Burj Al Arab and Atlantis, the Palm are glittering." —Hannah Shanks, events manager at Franco Dragone's aqua theater La Perle