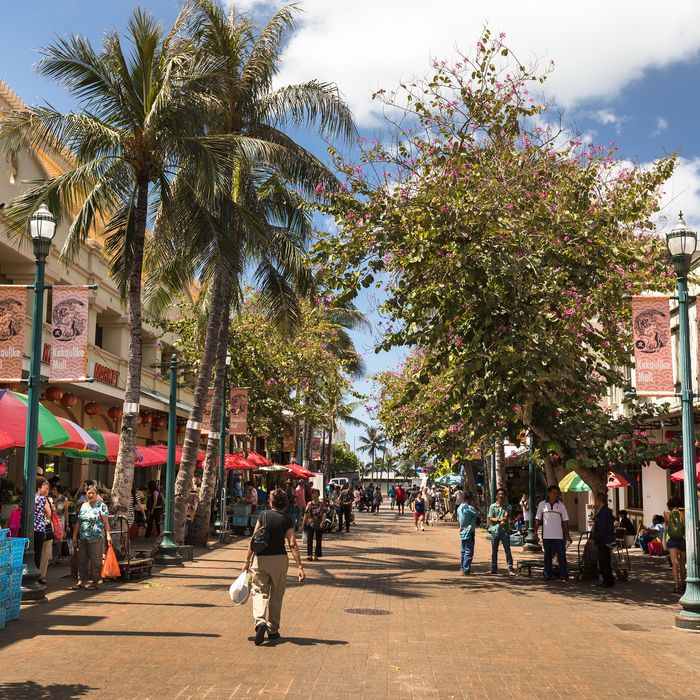 Chinatown market district in Honolulu, Oahu.
Photo: Paul Giamou Photography Ltd./Getty Images
It's gritty, raw, and changing fast. Remnants of Chinatown's dicey past as a red-light district and clandestine gambling spot are fading away as the neighborhood enters a new era of traditional Chinese markets and bakeries co-existing with artists lofts, galleries, performance spaces, hip boutiques, tattoo parlors, and artisanal chocolate shops. Honolulu native Laurien "Lala" Nuss has witnessed this transformation with her own eyes — and had a hand in helping it along. She is the founder of Conscious Concepts, a social enterprise focused on community development and public programming through the arts, and the programs and events manager of Arts at Marks Garage, a nonprofit community arts center in Chinatown. Here's how Nuss navigates this historic neighborhood.
"Being born and raised in Hawaii, no one went to Chinatown when I was growing up. It was considered the seedy area — a lot of drugs, prostitution, and underground gambling rings. This was in the '80s and '90s. But because of the arts, the whole neighborhood has been rejuvenated over the past 15 to 20 years. You experience adversity, diversity, and resiliency here. It is an eclectic combination of Native Hawaiian, immigrant, and creative industry components living and/or working in the same place.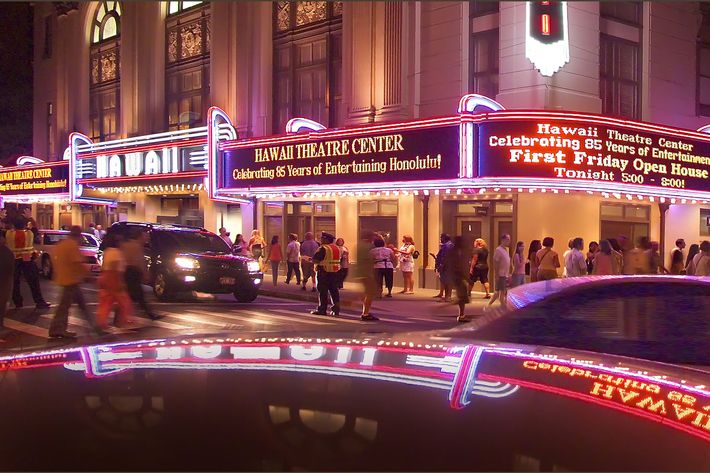 There are two distinct sections to Chinatown. The Arts District, which we say is the Diamond Head side of Chinatown covering Fort Street to Maunakea Street and King Street to Beretania Street, has more of the restaurants, boutiques, cafés, bars, studios, and co-working spaces. The Hawaii Theatre is an iconic piece of architecture. When the historic vaudeville theater and cinema opened in 1922, local newspapers called it 'The Pride of the Pacific.' It was equal in opulence to any theater in San Francisco or beyond.
If you go further west, you still have the traditional flower and lei shops, Chinese herbalists, fruit and vegetable booths, and meat markets. This section of town is an example of the thriving multigenerational, multicultural immigrant community, including Chinese, Lao, Thai, Vietnamese, Micronesian, Korean, Filipino, and Portuguese, plus Native Hawaiians.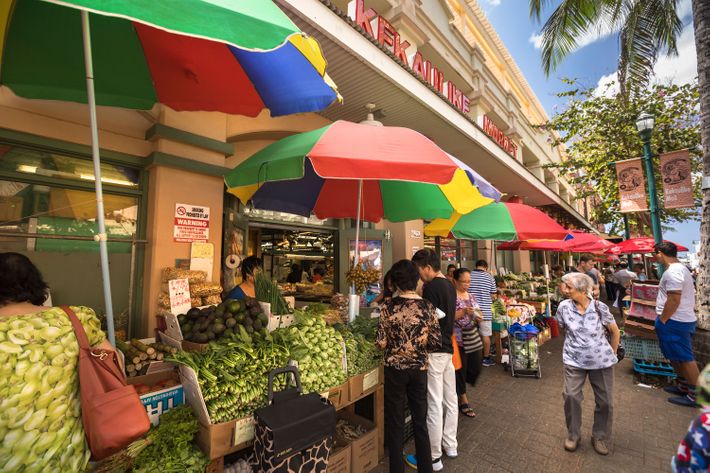 At the outdoor meat market, for example, you can watch butchers chop up fresh pork, beef, and poultry. Chinese baked-goods shops and fruit-juice vendors provide refreshing and sweet treats along your journey. There is a wet market where you can choose fresh seafood from all over the Pacific, and the Chinese trinket shops sell kanji classical paintings, porcelain vases, and jade jewelry.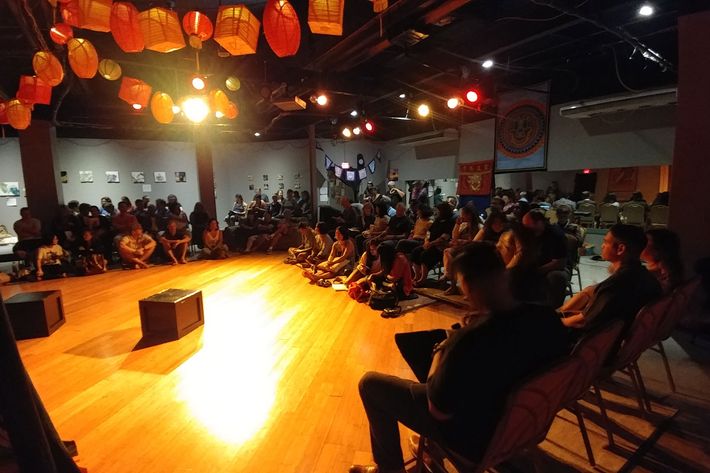 The Old Blaisdell Hotel, a Spanish Colonial–style building that has been turned into a commercial space with creative studios in the Fort Street Mall, has the only live elevator operator left in Honolulu. It's not officially open to the public, but you can still ride the old brass-cage elevator and talk to Javier Fombellida, who is originally from Cuba. He works weekdays from 8 a.m. to 5 p.m. The rent here is cheap, and the first floor is home to Ong King Arts Center, a theater for all kinds of visual arts — from hip-hop performances and poetry readings to theater shows about identity politics. The Mendonca Building, five minutes away, is home to a courtyard landscaped with tall bamboo and willow trees, a waterfall, and a koi pond. It's an oasis in the middle of the urban core.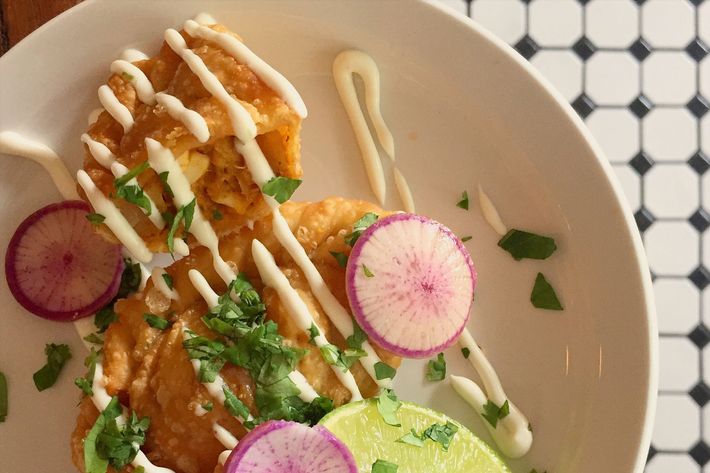 One of my favorite locally owned restaurants in the area is Ethiopian Love. Owner Abe Samuel serves delicious vegetarian and meat dishes. I always order the sambusas (homemade pastries stuffed with brown lentils, green onions, and herbs) and the lamb tibs with onion, garlic, ginger, and rosemary. You also have Grondin French-Latin Kitchen, a fusion bar and restaurant highlighting owner Dave Segarra's Puerto Rican roots through its creative cocktails and Latin-inspired, French-twisted dishes like tapas-style petits plats of chicharróns [fried pork rinds with lime crema and chili salt] or the pan-roasted market fish with corn ragù and annatto rice.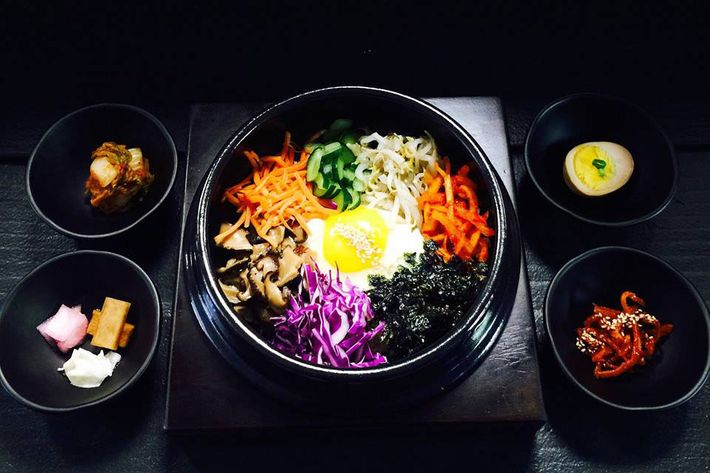 For authentic Korean cuisine, you have Topped, known for the best bibimbap in Honolulu. And Madre Chocolate is another gem. Co-founder Nat Bletter is a chocolate connoisseur, working toward facilitating the local sourcing of chocolate farms in Hawaii. His shop offers bean-to-bar chocolate and truffle-making classes, plus free tastings during shop hours. One of my favorites is the Hawi, Hawaii, Criollo 70 percent cacao dark chocolate: an incredibly subtle and nutty bar with the color and sweetness of milk chocolate, but all the health benefits and flavor of dark chocolate.
First Fridays in Chinatown started 15 years ago. It was the vessel that brought people back to Chinatown to partake in a social, interactive, family-friendly neighborhood experience.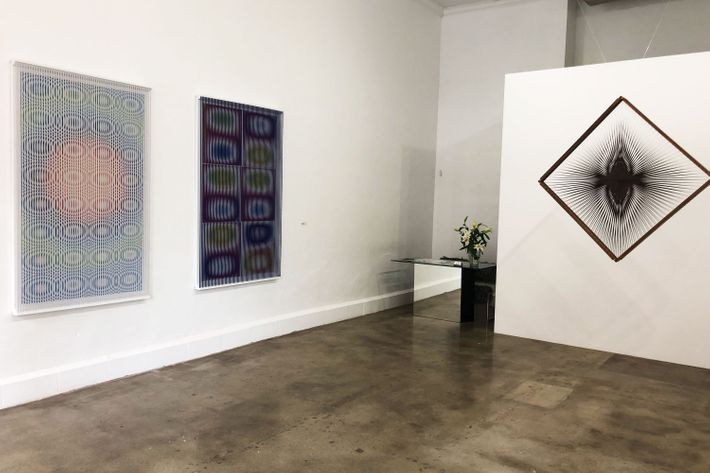 Art galleries to visit include Louis Pohl Gallery, named after a well-known local painter, illustrator, art teacher, mentor, printmaker, and cartoonist. Designated a "Living Treasure of Hawaii" by the 1994 Hawaii State Legislature, he was always an advocate for Hawaii artists. Today, the gallery still showcases watercolors, acrylic painting, ceramics, art glass, and printmaking textiles by locals. Pegge Hopper Gallery is named after its artist founder Pegge Hopper, who originally came to Honolulu from Oakland, California, in 1963. She was working as an art director for a local agency, but after visiting the State Archives and seeing old photographs of Native Hawaiians, she was inspired to start painting again. She established the gallery in 1983 and continually hosts a variety of work — from folk art to contemporary treasures — in the two-level loft space. Ravizza Brownfield is the newest gallery on the block. It's small but impactful, promoting European art in Hawaii while supporting the bridge between East and West.
Black Cat Tattoo Studio usually has something for First Friday, but going here anytime is cool. They have Native Hawaiian tattoo artists, modern tribal artists, and traditional American portrait artists. Tattoo culture in Hawaii is huge. Sailor Jerry was an infamous American tattoo artist who went to Japan and revolutionized contemporary American tattooing by infusing it with Asian techniques and perspectives. He was a resident of Chinatown for the last 20 or 30 years of his life, and the Sailor Jerry's Original Tattoo Shop [now called Old Ironside Tattoo] is still there.
Bars like Manifest, Bar 35, Tchin Tchin! Bar, and the Dragon Upstairs are also collaborating on First Fridays to close down Hotel Street to vehicles and invite the public over for live mural painting, live music, and other performances.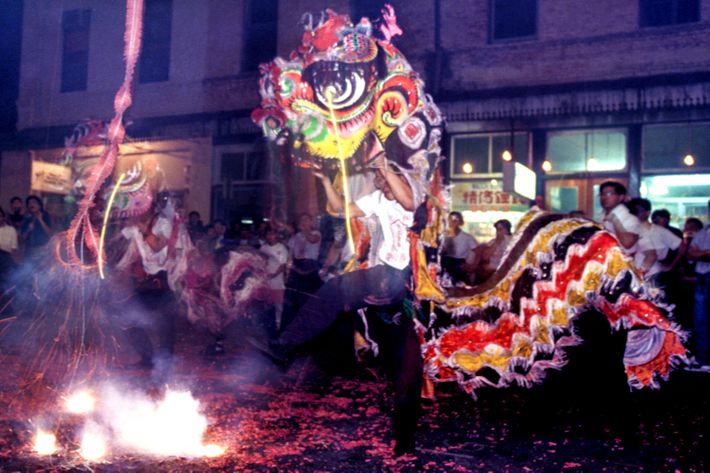 Beyond First Fridays, Chinatown hosts other big events. There's a parade and festival with lion dancers and drummers for Chinese New Year and a huge St. Patrick's Day block party. Also of note: MAMo, a month-long May festival celebrating contemporary Native Hawaiian arts, culture, fashion, craft, and design."
Craving more?
For an even deeper dive into Chinatown, Nuss recommends a juicy narrative walking tour with Carter Churchfield of Honolulu Exposed or a 1.5- to 2-hour walkabout with guides from the Hawaii Heritage Center. The latter includes food tastings around the neighborhood and a short, informational film screening at the historic Hawaii Theatre.