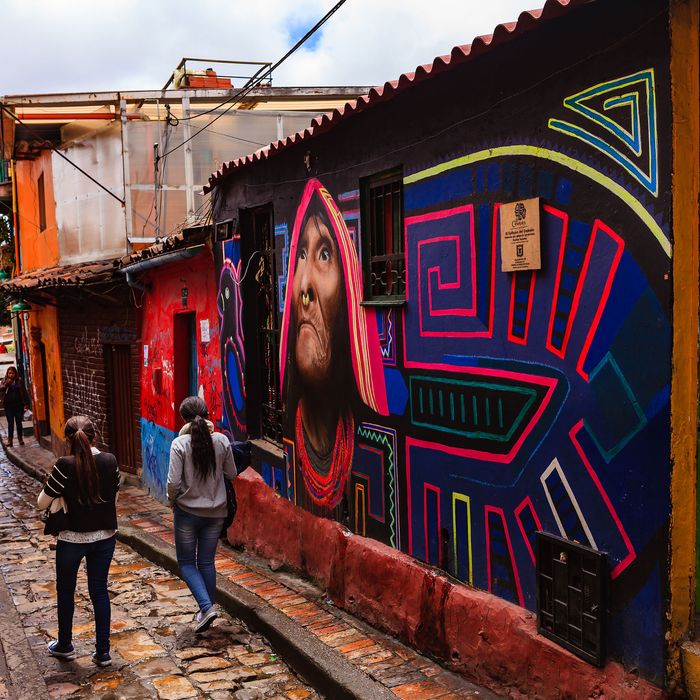 Street art in La Candelaria.
Photo: Devasahayam Chandra Dhas/Getty Images
It wasn't that long ago that graffiti was thought of in the same vein as cocaine in Bogotá. Police cracked down on graffiti artists hard. Too hard. In 2011, they chased down and killed 16-year-old artist Diego Felipe Becerra, better known then as Tripido, when he was spray-painting his signature Felix the Cat image on a wall near Calle 116 and Avenida Boyaca. The police tried to cover it up, tampering with evidence and accusing Becerra of being an armed robber, but his parents and the city's street art community were having none of it. There were protests throughout the city and two officers were eventually arrested. It was a turning point. Today Bogotá is one of the most street-art-friendly cities on Earth, with walls as high as seven stories on major streets being used as canvases. Police now protect the rights of artists and the city frequently supports street art culture through incentives and city-sponsored projects. Christian Petersen, a.k.a. CRISP, a graffiti artist who also gives tours, gives us the lowdown on where to find Bogotá's best public works.
"The first contact you have with graffiti in Bogotá is coming in from the airport along Avenida El Dorado [Calle 26]. Throwups, bombs, paint-roller pieces, graffiti writing, even some of the city's biggest sponsored walls line Calle 26. Long walls from local legends Ink Crew, MAL Crew, Erre, CTO, Kontra, and Jotados, as well as the iconic 'Kiss of the Invisible' by Vértigo Graffiti, have been commissioned by the city along this street. The best day to check out Calle 26 is on Sunday and holidays, when the city closes off the roads for a bicycle route that runs all through Bogotá. It turns Calle 26 into a rolling gallery for cyclists and pedestrians.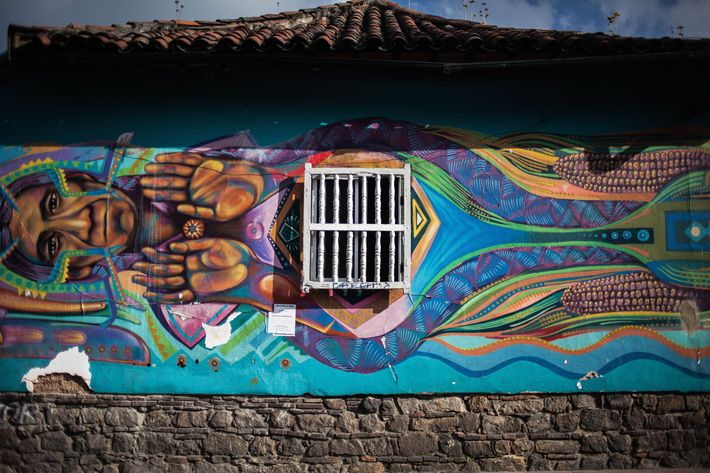 La Candelaria, the most historical part of the city, showcases some of the best work from local and international artists like Ciclope (Argentina), Kiptoe (USA), Kike (Argentina), Amazon (Brazil), and Ericailcane (Italy). The art is spread throughout the area: on hostels, storefronts, parks, cultural institutes, and even on the shipping containers that house the vendors of La Plaza de la Concordia, the oldest plaza in Bogotá. It's a mix of colonial architecture and its rich history, with a mural on every corner.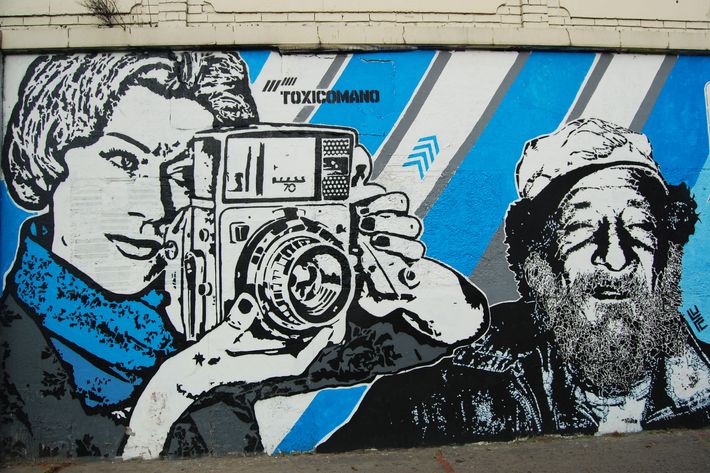 Bogotá's downtown area, including Avenida Caracas and Carrera 10, is the best spot to see big-format walls. In the last few years, the city has commissioned some of Bogotá's tallest walls with many reaching eight floors and up. Above the busy downtown streets are now tower walls from international artists like Mantra (France), Anis (Chile), Mamani Mamani (Bolivia), and Boa Mistura (Spain), as well as collaborative murals from local artists, like the 115-foot-high 'El Beso de Los Invisibles' on the side of a building at Calle 26 and Carrera 13a. Most are within walking distance from one another.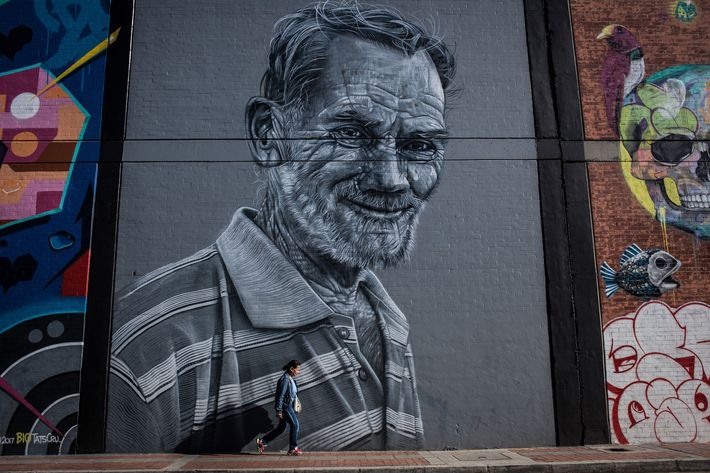 Since 2016, Vértigo Graffiti has also turned Distrito Graffiti [Puente Aranda], an industrial area of the city, into a must-see. With the help of the secretary of Culture, they have invited more than 50 artists to paint two blocks' worth of brick warehouses. Surrounding a convention center, this area has turned into Bogotá's own Wynwood, with walls from international artists like The London Police (England), Sabotaje al Montaje (Spain), Los CMS (Venezuela), Jade (Peru), Spok (Spain), Flop (Brazil), El Pez (Spain), Bikisimo (Puerto Rico), Esteban Del Valle (USA), Kenor (Spain), Farid Rueda (Mexico), El Xupet Negre (Spain), and BIO from the world famous TATS CRU (USA).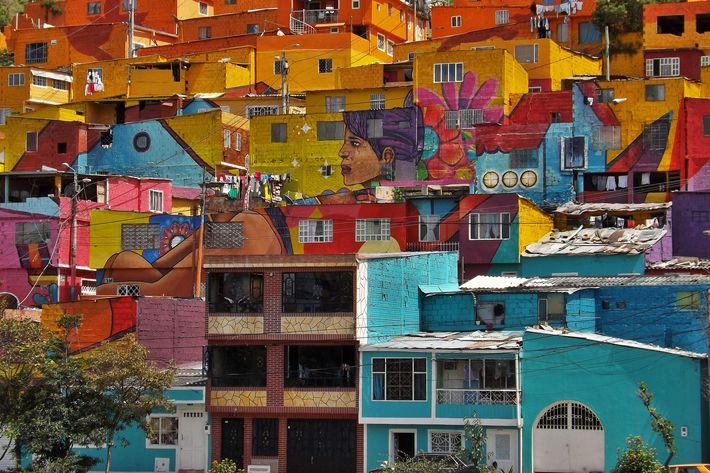 Macro murals, or murals that have been painted on several houses to create a single design, have popped up in the outer barrios of Bogotá. Most of these have one focal point where you can view the mural as a whole. It's being used as a strategy to bring color and opportunity to some of Bogotá's low-income neighborhoods and the secretary of Habitat has created some of the country's biggest murals. The first of the three projects created was in the Los Puentes neighborhood with a total of 383 houses painted. The second was in El Consuelo with more than 500 houses; and the last, recently completed in Buenavista, has more than 700 houses. It's best to join a tour to see these.
The third edition of the LAVAMOATUMBA Project is a two-story house in La Macarena, painted by more than 30 artists from Galería Fénix. The idea was to occupy abandoned spaces with street art and murals, using the space as a gallery before they are torn down. Since its beginning, the project has involved more than 200 artists, filling three different houses with expos, workshops for kids and adults, and film and independent design festivals.
Galería Beta in Barrio San Felipe is a conceptual art gallery that has been supporting the urban art scene in Bogotá since 2016. Through their Proyecto Zeta project, they have created several different exhibitions highlighting the work of many Colombian and international graffiti artists.
One of the first graffiti stores in Bogotá, Skinny Universal in Barrio Galerías opened more than ten years ago. It has become the home of Auster, the first 100 percent Colombian aerosol company, made specifically for graffiti artists. Apart from being a paint store, you can find all type of supplies, accessories, and independent clothing brands from local artists. It also hosted the first-ever Colombia exhibitions of major graffiti artists STINKFISH and OBEY.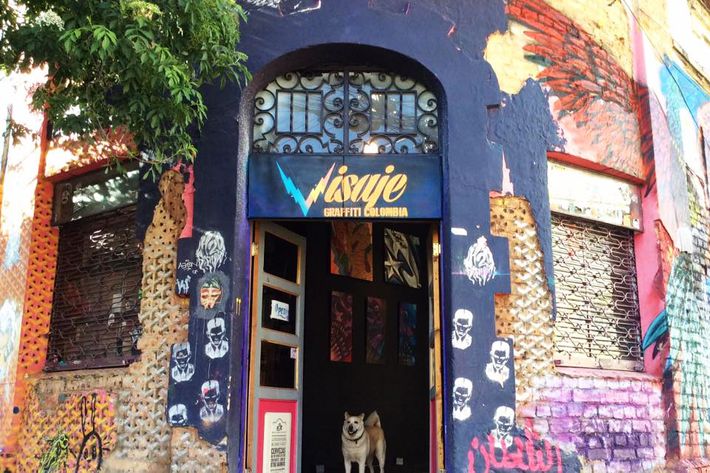 Galería Visaje Graffiti in Teusaquillo promotes cultural activities and events. In recent years, they've held exhibitions promoting the work of emerging artists, as well as showcasing some of the old-school artists here in Bogotá. They also have a great collection of stickers, clothes, screen prints, and original works."