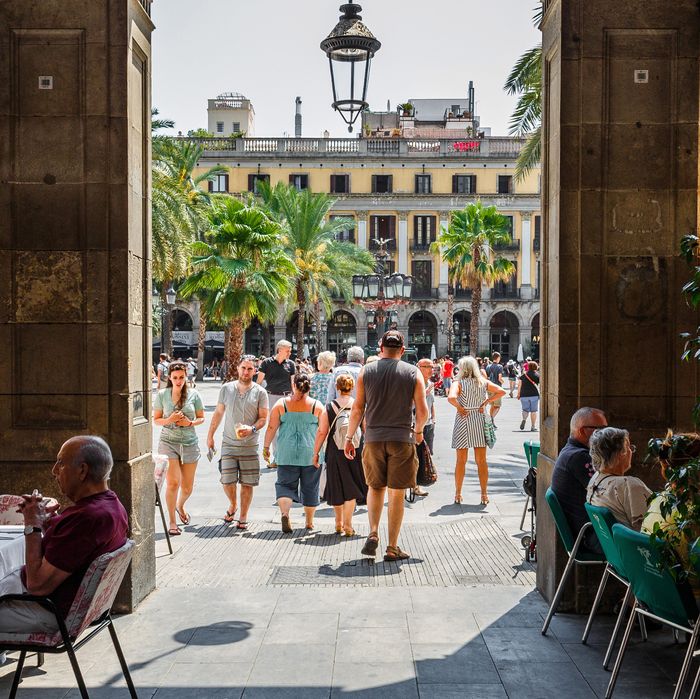 Placa Reial (Royal Plaza) in Barcelona, Spain.
Photo: Andia/UIG via Getty Images
To an outsider, Barcelona is an easily peggable city: Perched on the Mediterranean, it's filled with wide boulevards, dreamy architecture, a lauded food culture, and a live-and-let-live atmosphere that's noticeable within minutes of landing at El Prat airport.
Laid back though it may seem, Barcelona has a long-standing countercultural undercurrent coursing through its veins. As the capital of Catalonia, one of Spain's 17 comunidades autónomas, it is ground zero for a political and cultural struggle that dates back centuries. Today, that struggle has erupted into a full-blown constitutional crisis, with Catalonia's government declaring independence from Spain in October 2017 and Spain declaring that maneuver illegal. Politicians have been jailed, protests abound, and opinions are as numerous and varied as tapas bars. But despite a few violent incidents that broke out around the election itself, the demonstrations have mostly remained peaceful.
In spite of its political issues, visiting Barcelona is still as safe as ever — and frankly, there may be no better time to go than right now. For one, you can learn a lot about Spanish politics, Catalan culture, and the role that nationalism plays in current events. Two: Roughly 12 percent of the city's economy relies on tourism, but a recent dip in visitors means there are deals to be had; hotel rates are lower than usual and tour companies are slashing prices. And though the city has had its challenges with mass tourism, most locals welcome visitors with genuine warmth and curiosity.
All week long, the Urbanist will explore what makes this Catalan capital of 1.6 million so unique. Stick around, because 21 locals are sharing their sagest advice for scuttling off the Gaudí-centric tourist track, thrifting for designer togs, and partaking in the ritualistic vermouth-and-tapas leisure hours that define Barcelona's breezy, sociable personality. This is, after all, a culture dedicated to pleasure. Spend a few days here and it's easy to see why locals consider it one of the most livable cities on earth.
Your Everything Guide to Barcelona
Where the Locals Would Stay in Barcelona If They Weren't Local
How to Get Your Gaudí Fix in Barcelona — Minus the Crowds
How to Shop Like a Local in Barcelona
Vermouth With a Side of Anarchy: The Perfect Night Out in Barcelona
The Most Fascinating Urban Renewal Sites in Barcelona
Where to Eat and Shop at Barcelona's Best Food Markets
The Most Cutting-Edge Galleries in Barcelona
A Lazy Day in Poble Sec, Barcelona's Liveliest Neighborhood
The Bartender's Guide to Barcelona's Booming Cocktail Scene
Girona, Sitges, and Other Worthy Day Trips from Barcelona
What to Read, Watch, and Follow Before Visiting Barcelona