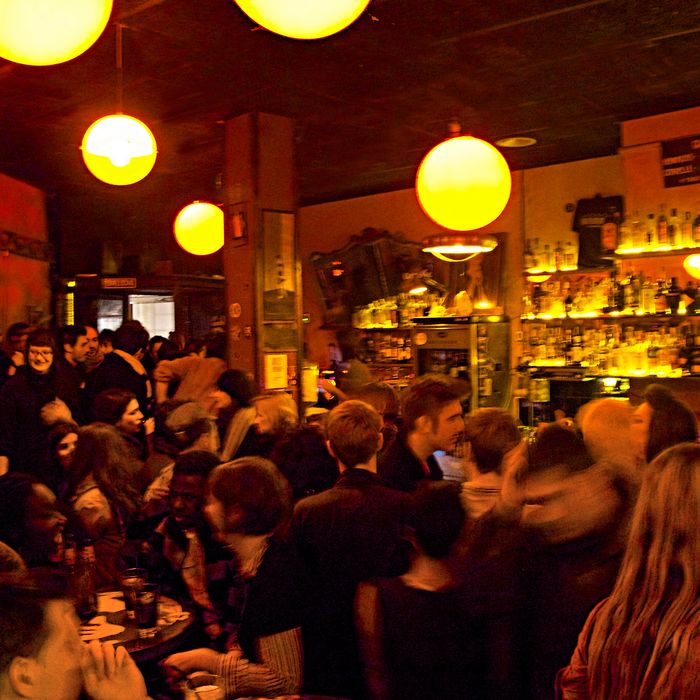 Manchester Bar in Barcelona.
Photo: Courtesy of Manchester Bar
Barcelona is rightly famous for its nightlife, but not for the reasons many visitors think. Although its thumping clubs cater to locals and tourists alike, going out here is an art form: There are certain times to go to certain places, and specific reasons for doing so.
"We don't drink for the sake of getting drunk — we do it to socialize," explains Joan Martinez Vidal, a Barcelona-born stage and television actor who has been indulging in the city's nightlife since he was a teenager. Afternoons for him usually start with a vermouth or a small beer. As the evening progresses, he adds more wine or beer, plus small dishes or snacks at every stop. He'll eat a big dinner around 10 p.m. — and only then is it time to really "go out." Hard liquor, meanwhile, is saved for after dinner; treating yourself to a G&T at 5 p.m. would be frowned upon.
What follows is Vidal's step-by-step itinerary to a typical night out, Barcelona-style.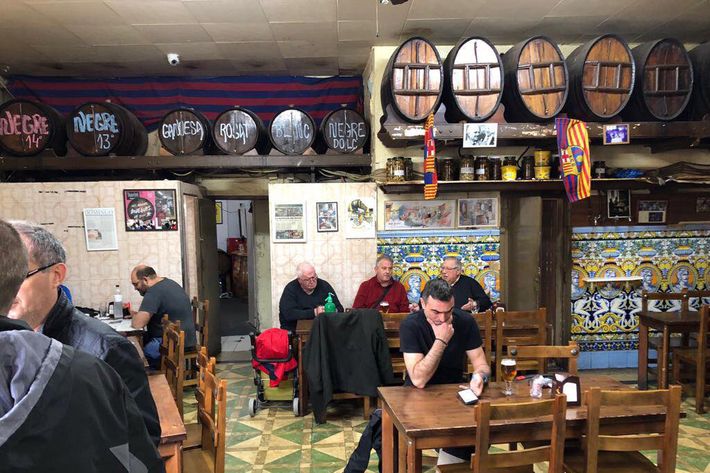 "I'll usually start in the late afternoon by meeting friends for vermouth in the Sants neighborhood. I like the bars in Plaça d'Osca Plaza Osca; Fo Bar, in particular, has a nice outdoor terrace. Since staying still is the closest thing to dying, after one drink we move onto Bodega Salvat for another vermouth and salty snacks like olives, high-quality canned seafood, and cured meats. Interestingly, this small, local bar is hidden among the alleys behind the Sants train station, very close to Can Vies, an abandoned property managed by squatters since 1997. The squatters turned it into a subversive social and cultural center, but the city tried to reclaim and raze it in 2014. Riots broke out for a week in support of the squatters. Eventually, the government acquiesced and the building was not demolished.
Next stop is a neighborhood near where I grew up: Vallcarca. We might watch an informal concert by local musicians at La Riera, where it's common to see live music most nights of the week. This bar looks like any other but has a few elements that make you think twice — like anarchist flags or a picture of Salvador Puig Antich, who was put to death by Franco following his shooting and killing of a policeman during one of his trademark bank robberies, which he used to fund far-left anti-Franco groups and support striking workers.
Around 9 p.m., we'll pass through the Gràcia neighborhood and stop at La Gaviota, a barebones neighborhood bar that my gang of friends and I made into our own over the years, bringing people in from all different corners of our life. Now it's so crowded that you can't get in the door! It has a special energy, like that show Cheers: Everyone knows your name. Or, at least, you might recognize someone you once spent the night with.
After La Gaviota, we walk down to the neighborhood of El Born, where we have a quick coffee at upscale craft coffee shop Federal Café. By now it's ten o'clock and we need to pick up the energy! Next we stop at Gran Torino, a bar themed like an American auto garage, to drink beer and pass a few hours with a young, hip, local crowd.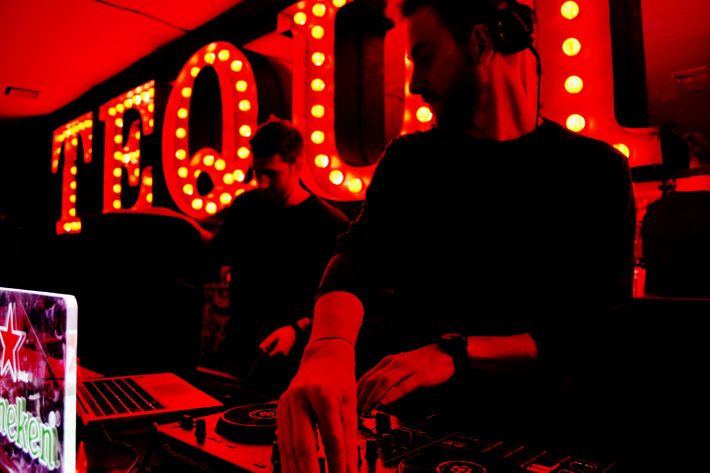 From there, we walk to the Barri Gòtic, home of Barcelona's worst/best bar, Tequila 44. It serves the lowest-quality liquor in a delightfully dingy setting, with the best music: mostly punk rock, metal, and alternative from the 1970s to the early 2000s. Bar stools are affixed to the ground — I heard it was so that U.S. Marines in the 1950s and '60s couldn't throw them at each other during bar fights —and each stool has a pair of headphones. Everyone jams out to the same songs, but it feels more intense because you're wearing headphones. The booze is poison but the bar is so fun, and this is where la penultima happens — it's a bad Spanish habit that means 'the drink before the last drink,' which can turn into many drinks, especially if other people show up.
After 2 a.m., you can find big international DJs at the Razzmatazz club in the Poblenou neighborhood, but after Tequila 44, I'd probably choose another bar with music in Barri Gòtic —either Marula, where R&B, soul, and funk are played, or Manchester Bar, where you can drink along to the Smiths, Pulp. or the Stone Roses. I'd go around midnight or 1 a.m. and then call it night — I have to save my energy for the Sónar festival in June."