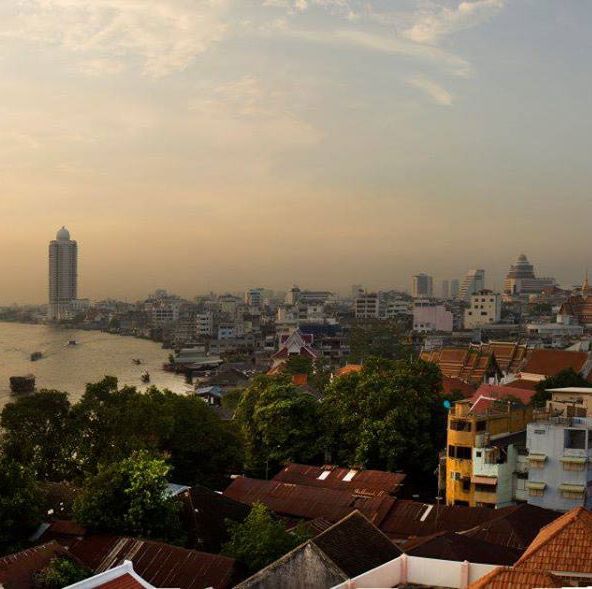 The Chao Phraya River in Bangkok.
Photo: courtesy of River View Guest House
When you have unlimited time in Bangkok, it's good fun to aimlessly wander the tangled sois; a ripe durian stand, mom-and-pop curry shop, or glittering temple is never far away. But when you're on a schedule, it helps to have a guide — and to book it to an area you know is bumping. We asked artist and graphic designer Tachamapan Chanchamrassang, a.k.a. Pomme Chan, to sketch out her ideal afternoon in Old Town, one of Bangkok's buzziest creative enclaves. The best way to scoot around the area is to make use of your own two feet, flag a tuk-tuk for longer stretches, and jump aboard the Chao Phraya Express boat when criss-crossing the river. 
"Over the past year, Thai creatives have moved from expensive neighborhoods like Thonglor and Ekkamai to the Old Town side of Bangkok, where it feels more local and less busy. It's also still affordable. It's like the difference between East and West London, or Brooklyn and Manhattan.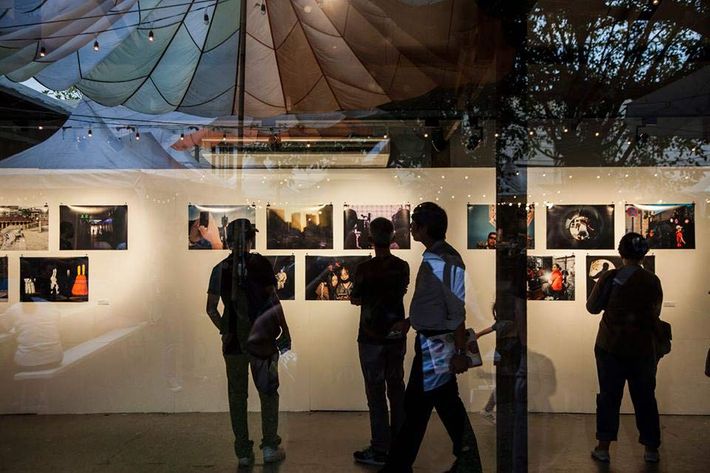 To explore Old Town, start by taking a ferry to the Klong San pier, where a two-minute walk will take you to The Jam Factory. It's a creative arts complex with its own gallery, a bookstore/café [Candide], two restaurants [The Never Ending Summer and The Summer House Project], and a home décor shop [anyroom]. I adore The Never Ending Summer's high ceilings and striking interior, which look very industrial. The food there is different from other places, too; it feels like home cooking with a twist. I love how fresh the vegetables are and the quality of ingredients.
The Jam Factory was founded by Duangrit Bunnag, an award-winning architect. Last year, he opened another community-oriented complex called Warehouse30. It's located on the eastern side of the river, so hop back on the boat to get there. This has become the new place for young, arty people. It's cool, lively, and modern, but not pretentious. Aside from the occasional workshop or creative activity, there's a flower shop [Wallflower], a clothing store [Lonely Two Legged Creature], and a café run by The Fox and The Moon. I particularly like their moon soup, which is a combination of squid ink, crabmeat, and egg yolk. If you want something more filling, go for the cheesy bacon panini. It sounds boring, but it's hard to find good bread in Bangkok.
Next to Warehouse30 and across from the Royal Orchid Sheraton Hotel is a newly renovated neoclassical building from the French-Indochina era called House No.1. It opened to the public last year and is available to rent for private events or tours through its website. Even the exterior is photogenic.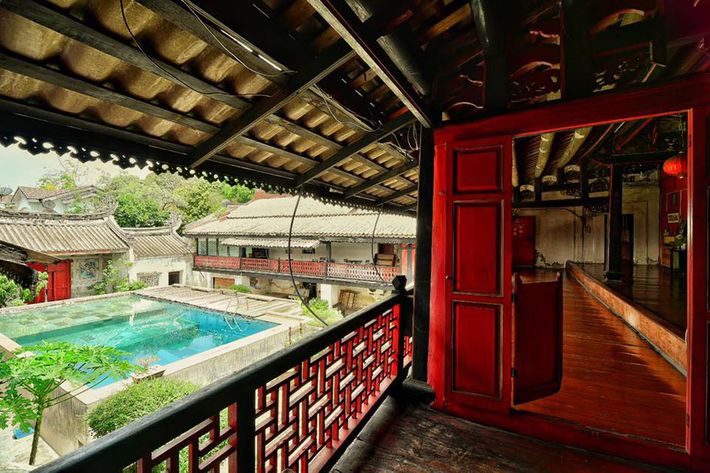 Deep in the Talad Noi section of Old Town [near SoulBar and FooJohn], you'll find the heritage mansion So Heng Tai. It's a strange combination — both casual café and diving center! The place feels very untouched by the modern world. You can still see a portrait painting of King Rama I hanging in there.
Your last stop should be the River View Guest House. Ignore the interior design; your mission is to get up to the rooftop for an amazing view, where you can grab a beer and enjoy the sunset."