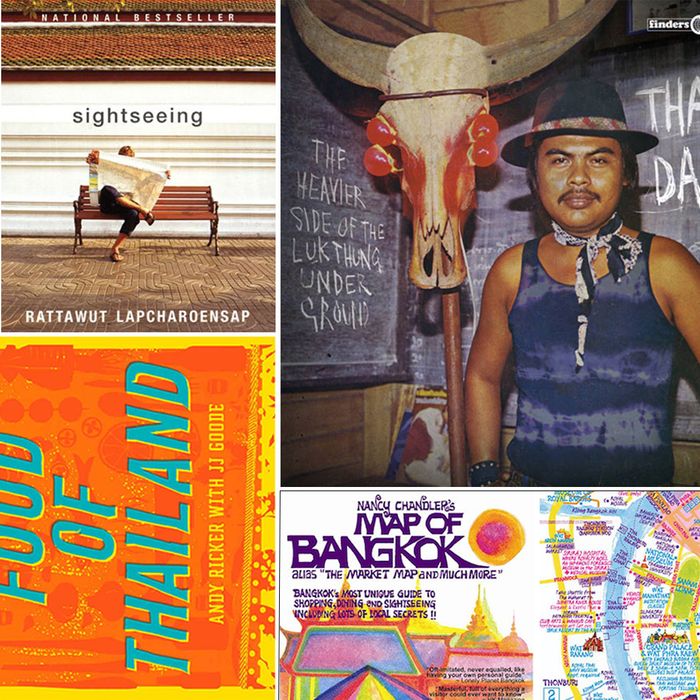 Essential reading, listening, etc.
Photo: Courtesy of the Vendors
Because dozing through The Hangover Part II on the flight over just won't cut it.
Read these …
"My Bangkok: City of Spirits"
Author Lawrence Osborne, he of brutally honest farang memoir Bangkok Days, explores the Thais spooky relationship with ghosts, or phi, in this 2017 article from the New York Times.
Sightseeing
The Guardian described this breakout short story collection from Chicago-born, Bangkok-bred writer Rattawut Lapcharoensap as "storytelling of the highest quality, profoundly human and universal." Beneath the warm-fuzzies, the anthology bristles with anger over endemic corruption and sorrowful poverty.
The Beach
The origin of Leonardo DiCaprio's most divisive film is this gnarly debut novel from screenwriter Alex Garland, a Gen-X icon who has spent the last three years making brain-scrambling sci-fi movies (Ex Machina, Annihilation). The Beach has nothing to do with alternate dimensions or artificial intelligence though; it's about a nightmarish journey that starts on Khaosan Road, the place where common sense goes to die.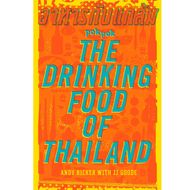 The Drinking Food of Thailand
It may seem counterintuitive to read a cookbook before traveling to Bangkok, but Pok Pok chef Andy Ricker is one of America's foremost experts on Thai cuisine. He began touring Thailand as a backpacker in the '80s and just never stopped. Skimming these 50 recipes in advance of your trip will familiarize you with dishes you should be trying in person (like sai krawk Isaan, or fermented pork-and-rice sausage), as well as ingredients you may want to sneak back through customs upon your grand reentry. (We won't snitch.)
Hear this …
Thai? Dai! — The Heavier Side of the Luk Thung Underground
Thailand's consummate crate digger, DJ Maft Sai, curated this hard-driving compilation of rare records for Finders Keepers, the U.K.'s leading reissue label. If you like the sound of that, stream Thai Beat a Go-Go, a four-part series from Subliminal Sounds, on Spotify or Apple Music.
Watch this …
"Goodbye Pad Thai"
This 23-minute segment from SBS Dateline, an Australian current affairs show, does a nice job summarizing the debate over the Thai government's desire to "restore order" to Bangkok's streets by eliminating its street food vendors. Interviewees include Nahm chef David Thompson and Thai architect Duangrit Bunnag.
Bookmark these …
BK Magazine
While English-language websites like Coconuts and Time Out Bangkok are worth a look, BK Magazine is the go-to for up-to-the-minute event listings, restaurant openings, art previews, and more.
Eating Thai Food
Knock the jaded scowl off Anthony Bourdain's face and what do you got? Mark Wiens, Bangkok's most obsessive food blogger and YouTube star. This expat smiles more than the Joker because he really, really loves Thailand and his enthusiasm is infectious. Among his best video primers are "25 Amazing Things To Do In Bangkok, Thailand," "Thai Street Food in Bangkok with The Food Ranger," and "Eating Thai Food with Andrew Zimmern in Bangkok!"
Download these …
Grab
This popular car-hailing service is one of the reasons Uber lost billions in Southeast Asia and ultimately decided to cut its losses, pull its cars from the street, and invest in the enemy (to the tune of a 27.5 percent stake). Download the Grab app to your smartphone before touching down in Bangkok; it'll save you the hassle of playing Let's Make a Deal with unscrupulous taxi drivers.
Nancy Chandler's Map of Bangkok
The late Nancy Chandler's colorful, hand-painted maps of Thai cities are a thing of beauty. The 27th edition of her Bangkok paper map, complete with a 100-page directory, was last updated in January 2015, but many of the sights she called out aren't in danger of disappearing. A digital version of the map is available for download as a PDF, but if you're hankering to go more micro on a specific neighborhood, know that Chandler also produced mini-guides to Chinatown, Chatuchak Market, and the tony suburb of Nonthaburi.
Follow these …
For visual inspiration before, during, and after your trip, follow these Bangkok-centric Instagram accounts: @webangkok, @teguh_priambodo, @woody_chai, @kentcranford, @falsedigital, @oatts, @docbkb, @sunnysobhani, and @supanitr.