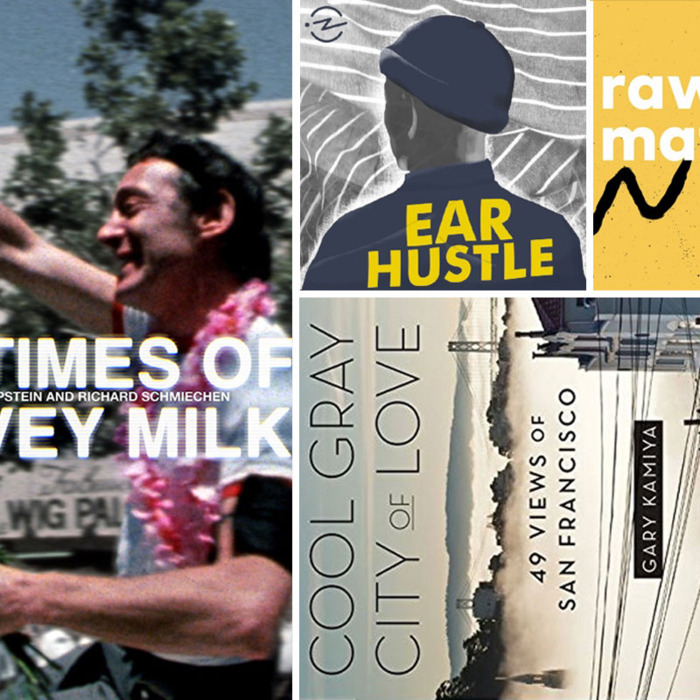 Essential reading, viewing, etc.
Photo: Courtesy of the Vendors
Because the opening credits of Fuller House don't count.
Read these …
San Francisco Magazine
Pick up this award-winning monthly for reviews of the newest restaurants, tips on shows to catch during your visit, and the latest in local politics.
McSweeney's
A satirical website and nonprofit publishing house, for a taste of the wacky literary culture that's still alive and well in San Francisco.
The California Sunday Magazine
This fine new bimonthly magazine, originally launched in partnership with the San Francisco Chronicle and Los Angeles Times, covers the West Coast and beyond, but is particularly — and obviously — known for its California coverage. The must-read profiles cover a range of subjects, from Governor Jerry Brown to megafarmer Stewart Resnick.
Cool Gray City of Love: 49 Views of San Francisco
Oakland-born, Berkeley-raised author (and salon.com co-founder) Gary Kamiya's 49-chapter nonfiction book explores 49 unique pockets of the city, from Lands End to Chinatown and everything in between.
Watch these …
The Times of Harvey Milk
It's hard to find, but the Oscar-winning Harvey Milk is a must for anyone interested in San Francisco's legendary LGBTQ history. Using archival footage, the '84 documentary lasers in on the life of human-rights activist Harvey Milk, the first openly gay politician elected to office in the U.S. and a San Francisco icon even today.
"San Francisco's Leaning Tower of Lawsuits"
You'll have to sign up for a CBS All-Access pass, but if you're dying to know how the sinking Millennium Tower wound up being the biggest joke — and potentially, the most terrifying piece of architecture — in the country, watch this 60 Minutes documentary.
Download these …
Ear Hustle
This bi-weekly podcast, produced by inmates at San Quentin State Prison, explores life on the inside, from prison "firsts" (like meeting your cellmate for the first time) to what it's really like to spend time in the Security Housing Unit (or SHU, for you Orange Is the New Black fans).
Detour
Founded in the Bay Area, Detour offers 20 immersive audio walking tours of iconic spots in both San Francisco and Oakland. Most tours cost $7.99, but after exploring, say, North Beach through the eyes of city natives who were part of the Beat Generation, we think you'll agree that they're worth every penny.
The SFMoMA App
The official app from the San Francisco Museum of Modern Art will change the way you see museums. SFMoMA partnered with Detour to create free, museum-focused audio tours, like a guide to modern art with actor-comedian Kumail Nanjiani (The Big Sick) and Martin Starr (Silicon Valley). Don't be surprised if you find yourself lol-ing in front of a Picasso.
Raw Material
To geek out on art and culture outside the museum, check out the SFMoMA-funded Raw Material app, each season of which is hosted by a different podcaster-in-residence and explores a different theme. (The most recent was a road trip to explore California land art.)
Bay Curious
This podcast, tied to the local NPR station KQED, is a deep dive into Bay Area mysteries, such as how sports teams like the Golden State Warriors and the San Jose Sharks got their names and why there are rainbows painted on the tunnel that connects San Francisco to Marin.
Follow these …
@theperfectspot on Instagram for tips on where the find the most creative cocktails in the Bay Area (and beyond).
@ayeshacurry on Instagram to get a firsthand look at what it's like to be a celebrated chef with two adorable kiddos (plus a third on the way) and to be married to one of the Bay Area's most treasured Warriors: Stephen Curry.
@tablehopper on Instagram to see the dining pursuits of a columnist with her finger on the pulse of the local food scene.
@blaireadiebee on Instagram for nonstop sartorial eye candy; Blaire is a part-time Bay Area resident and full-time fashion inspiration.
@PopUpMag on Twitter for a chance to attend one of their live events, a kind of "live magazine" that weaves together spoken word, video, photography, and radio, set against a soundtrack of live music.