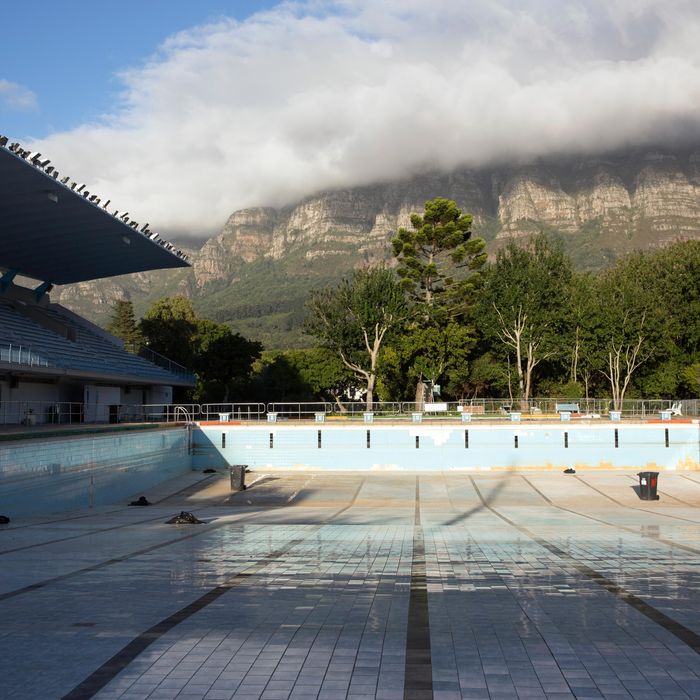 An empty public swimming pool in Newlands, outside Cape Town. It has been closed for months due to water restrictions.
Photo: Per-Anders Pettersson/Getty Images
Cape Town has been in the news a lot over the past year — but sadly, for all the wrong reasons. The city is battling an unprecedented water crisis, thanks to a rare drought that has resulted in unexpectedly dry rainy seasons and alarmingly low dam levels. Earlier this month, dams were at about 22 percent capacity; if they drop below 13.5 percent, what the city has dubbed "Day Zero" will arrive and the taps will be shut off.
While the prospect of being the first major city in the world to run out of water does sound terrifying — and perhaps a sign of where things are headed globally, courtesy of climate change — a monumental water-saving campaign has resulted in some promising news: Day Zero, which was previously projected to be as early as February 2018, has now been pushed to 2019. But residents are still on high alert, restricting their consumption to 13 gallons per person per day (for context, Americans typically use 80 to 100 gallons per day), and bracing themselves for what could be yet another unseasonably dry winter this June through September.
What does this mean for visitors? First of all, don't rush to cancel your trip: Tourists only account for a 1 to 3 percent increase in population during December, the city's busiest month, so their water usage doesn't make too big an impact. Their dollars, however, do: Tourism revenue accounts for 9.4 percent of the country's GDP, and 300,000 jobs in the Western Cape province are dependent on the industry. "Thousands of visitors have been canceling their visits to Cape Town — perhaps they thought it would help," says Lisa Scriven, director of Levelle Perspectives, a consultancy that helps implement sustainable tourism practices. "It's a very slippery slope to where you undermine the industry and you have a real economic crisis," she cautions.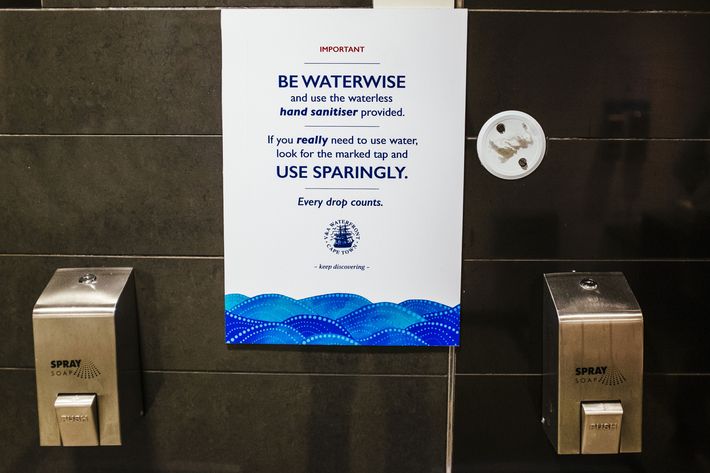 The message is loud and clear: Cape Town is open for business and prepared to welcome tourists — with some major adjustments in place. Visitors are advised of the water restrictions as their planes land at Cape Town Airport, and they'll see billboards and signs alerting residents and tourists alike of the severity of the crisis throughout the airport, shopping malls, hotels, and beyond. Travelers are asked to restrict their showers to less than two minutes; many hotels have removed bath plugs and added timers to help ensure everyone does their part. Others have drained their swimming pools. Additional water-saving methods include turning off the taps while brushing your teeth, recycling shower water to flush toilets, limiting laundry to one load a week per family, and not requesting daily linen changes in hotels. Basically, everything Capetonians have already been doing to adjust to a situation that may eventually be the reality for many other parts of the world. A brand-new site launched just last week to help visitors track their usage: "My Water Footprint is a global first in water usage offsets, enabling visitors to calculate their water consumption during their visit and to make a corresponding contribution to a local project that supports longer-term water resilience," says Scriven.
For the time being, drinking water is perfectly safe, so residents and visitors alike are being asked to not exacerbate a waste crisis by springing for bottled water instead. "I don't know a lot of people who have ever managed to consistently achieve the 'Drink two liters [half a gallon] per day' target for good health, but if you happen to be one of those admirable achievers, it's only going to make up 4 percent of your daily allocation," says Scriven.
With a new approach to water consumption in place, many Capetonians are optimistic that the city will make it through the crisis. "Initially, businesses were in full panic, and messaging was more strict and shock value," says Scriven. "But now the attitude is, 'Hey, we can get through this, but let's be mindful. This is the new normal, let's all get on board with it.'"